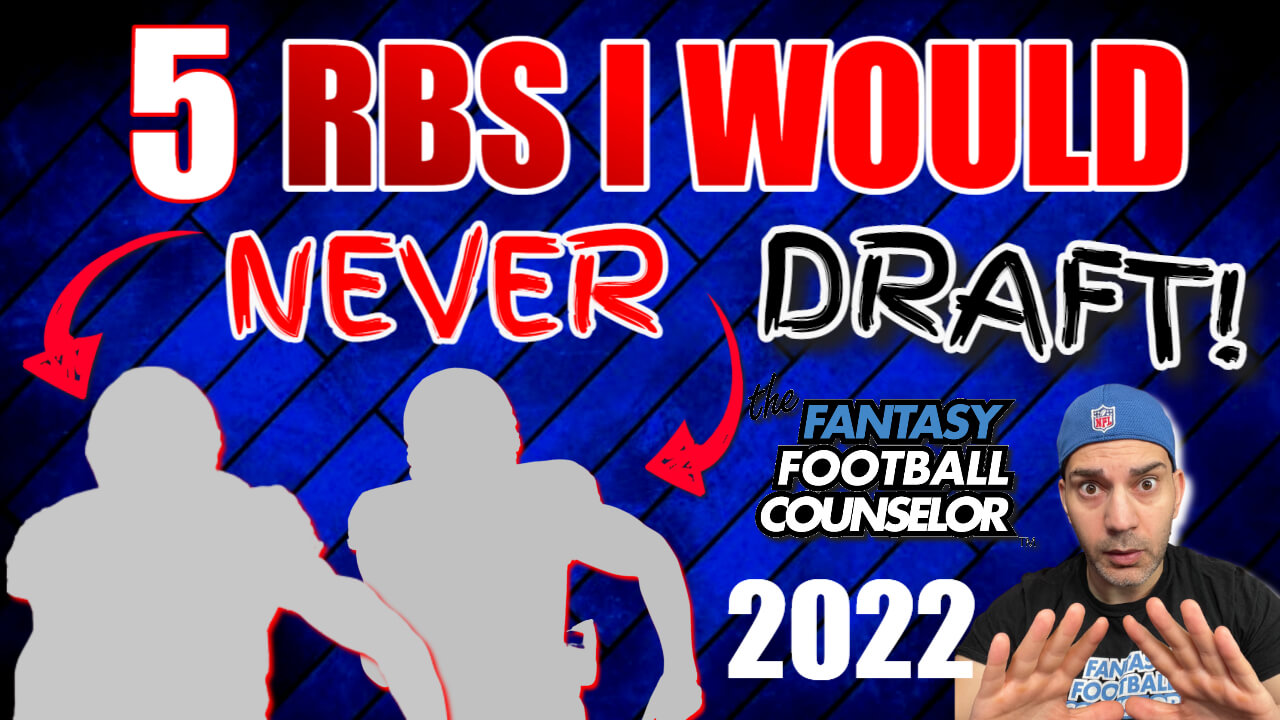 Dalvin Cook
Nick Chubb
Joe Mixon
Ezekiel Elliott
Christian McCaffrey
Let's dive into why you need to stay away from these Running backs!
Dalvin Cook
Cook has not finished a season. That is all you really need to know about this guy. He will always disappoint you and will miss several games during important times of the season. If you are thinking about just handcuffing him with Alexander Mattison, that is not the solution. You need to avoid him completely as he is on regression and already reached his pinnacle season. There is no way but down for this man.
Nick Chubb
Years to wow me and I am not wowed. A few decent years and that is it for Nick Chubb. We have seen all that he is capable of and like Cook, he has peaked. He hasn't finished the last two seasons and always shares a backfield with Kareem Hunt or someone else. The volume and the receptions will never be there and I just don't believe in him. His average draft position will decline this year for sure as last year he busted, but I still will not roster this committee running back.
Joe Mixon
Yes, Mixon is coming off a pinnacle year. I understand that the offense is solid. Last year Mixon produced 292 rushing attempts, 1205 yards on the ground, and 13 rushing touchdowns. This is definitely a pinnacle year and the last time he had a season close to this was back in 2018. I don't see this guy surpassing the yards we say last year heading into 2022. I really love Joe Burrow and Ja'Marr Chase but I am not going to touch Joe Mixon. I am not sold on this guy being a solid and elite running back. Years to wow me and I was finally impressed last year, but I believe it was a fluke.
Ezekiel Elliott
Zeke has seen a regression over the past three years. His rushing attempts have gone down each and every year. While this was happening the rushing attempts of Tony Pollard have actually gone up. Elliott is past his prime and he is heading downward at a steady pace. While he can produce safe top 10 numbers each year, you are missing that high ceiling type player. Going into 2022, you can get Zeke at a value as he is currently sitting 16th on the consensus running back rankings. He could be a solid value but again I don't expect a high ceiling out of this guy. His prime is well behind him and you won't see any fireworks!
Christian McCaffrey
This guy finished only 10 games in the past 2 seasons. The mainstream sheep have him ranked top 3 amongst RBs right now. I don't care if he ends up with 500 points by the end of the 2022 season. I am not paying a 1st round pick on a guy that prefers modeling over the NFL and played 10 games the past 2 seasons. He was hurt most of last year and no one even touched him!
To Catch the full video watch it here: Players to Avoid
Get the 16 Rounds Draft Solution to dominate your 2022 Leagues here: https://thefantasyfootballcounselor.com/16-rounds-draft-kit/