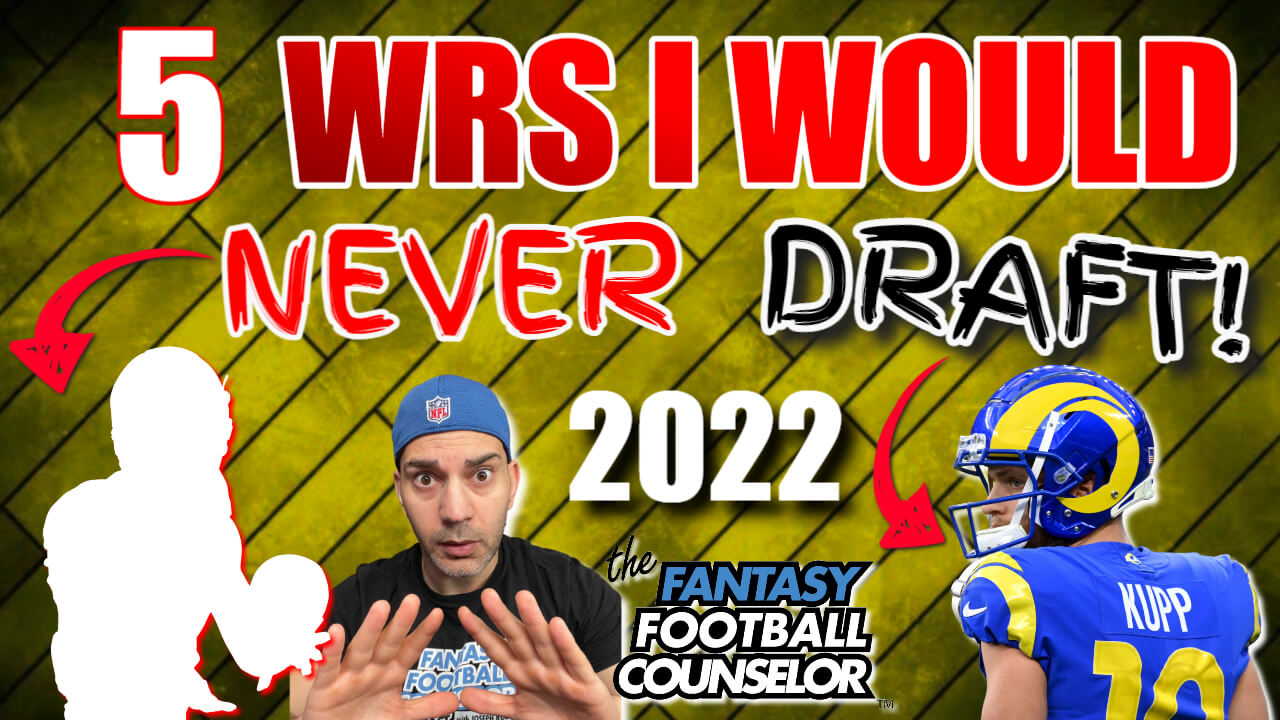 Justin Jefferson
Tyreek Hill
Cooper Kupp
Deebo Samuel
AJ Brown
All right, let's dive into the show. Five wide receivers I would never draft that are big names. Let's get to it.
All right, let's dive into this here. I got a list here. Five wide receivers I would not draft. Wouldn't touch them. Big-name wide receivers I would not touch. Let's dive right into it. The first person is Justin Jefferson. Now you're like, "Well, Joe, how could you avoid Justin Jefferson?" I'll tell you why guys. It's very simple for me. And there are a couple of things. I mean, he's going to be consistent. And again, this one point goes across for all these guys. I'm not drafting a wide receiver early. So I want to get that out, as a point on why I'm avoiding these particular five wide receivers. I would never draft them this year, okay? It's really simple for me. I'm going robust RB, and I'm not, I may not get these wide receivers and that's something I'm okay with and that's something that I've come to accept.
1. Justin Jefferson
So why not Justin Jefferson? Now, Justin Jefferson, last year had a good year and he's currently sitting fourth on the consensus rankings in PPR amongst wide receivers. That's something I look at. The only time I look at consensus ranking is to compare what the consumers have them at and where I could potentially draft them. Where I get the value. There is a ton of depth that wide receiver as well, there will always be the value at wide receiver.
Let me give you a quick example here. for example, last year, Ja'Marr Chase was top 40 amongst wide receivers, right? Diontae Johnson was a third-round pick. He finished top ten. Hunter Renfroe was pretty much undraftable. No one was drafting that guy, right? Deebo Samuel was behind Brandon AU, and I was telling you that. Cooper Kupp was a fourth-round pick. Was a fourth-round pick. Third to the fourth round last year. they had Robert Woods ahead of him. Okay. I told you, Cooper Kupp, I told you de Deebo Samuel. Draft him. I didn't even suggest drafting Robert Woods and Brandon AU. So going back to Justin Jefferson, I'm seeing him here, again, sitting fourth amongst wide receivers. Last year finished fourth amongst wide receivers. No surprise that he is sitting forth amongst wide receivers in the rankings.
So he had 1,616 yards, 10 touchdowns. Now, what you understand is, Adam Thielen, I want to get this point across to you guys, missed a few games. By missing a few games, that opened things up more for a little bit of emergence, let's say emergence, but a little bit of purge at the end there, or a surge there for Justin Jefferson. Adam Thielen had a good year. He had 10 touchdowns, 726 receiving guards, 95 targets, and 67 receptions, finished 28th amongst wide receivers in PPR. Now Thielen is still there, and Thielen could theoretically still be the wide receiver one on the team. You may say "No way, Jefferson is." And again, I'm going to keep talking about this. Jefferson is good, but 167 targets, will that continue for next year? Very possible, but you got a good running team. Dalvin Cook missed a few games. People have him top four again, top three amongst running backs. I'm staying away from him as well. Go check out the running backs episode i did on RBs I would never draft as well.
Here's the deal. Jefferson, too high draft capital in fantasy drafts in 2022. Adam Thielen could theoretically be the wide receiver one. Was strong right at the beginning of the season and again at the end had the injuries, tailed off a little bit. And then Justin Jefferson really kind of took over. And again, Justin Jefferson coming off a couple of pinnacle years, had two great seasons, two Cinderella seasons, looking really good, 1400 receiving yards in the first season. He went up to 1,616, the second season up from seven touchdowns in his rookie season, up to 10 hadn't touched on in the second season. We are trending upwards, which is something that I like to see. The big question is, are we going to be trending downwards next year? That's the big question when I look at Justin Jefferson. And I'm not paying a first-round pick to find out. So predicated on the fact that he has been trending it up, is a decline coming? Adam Thielen is there. And again, I'm not investing a first-round pick on a wide receiver. I'm going to be dodging Jefferson. And you guys can go ahead and draft Justin Jefferson, but that's up to you guys. I am personally staying away. Okay. And I have my reasons.
2. Tyreek Hill
The Second guy here I'm avoiding, number two, wide receiver I would never, ever draft. Time of this recording, he is in talks for a mega-contract and I wouldn't pay him a mega-contract at this point, going into his seventh season. This is not a rookie guys. We're talking about Tyreek Hill. Tyreek Hill's been playing in the NFL since 2016. He is not young. Now here's the thing with him. He has only finished… He's finished a couple. See actually, you know what? I can't knock him. He's finished one, two, three seasons out of his, you know, six that he's played. So he has missed a few games throughout his career, had a great season last year.
The problem I had with Tyreek is first and foremost again, the first-round draft pick, I got to invest high draft capital in regards to getting him. Mind you, he's sitting sixth on the consensus rankings in PPR amongst wide receivers. Sorry, I stand corrected, he's fourth in PPR amongst wide receivers. Jefferson was second. I was looking at standard numbers. So Tyreek Hill's going to be valued very high [inaudible 00:06:52] with Justin Jefferson, but Tyreek Hill is extremely volatile game in and game out. So I am pulling up his 2021 stats here right now.
When I look at Tyreek Hill's numbers from a game to game basis, what I look at is performance. I want consistent performance week in, week out. I don't want like, "Oh, I'm going to have a 40 point game, then I'm going to have a seven-point game. I'm going to have an 80 point game, then I have a two-point game." So that's something that I look at and something that I value when I am looking at wide receiver numbers is consistency. So when I look at his PPR numbers, which I've got pulled up here, if I put it in perspective here, week two, he had a 5.9 game. Imagine drafting a guy in the first round. He has a six-point game. That's your wide receiver one, right? In week three, he had a 9.7 game. Okay. So it's two weeks, right? I'm starting my season off. I've drafted a guy in the first round and here he is now he's gone two weeks out of the first three weeks where he's absolutely bombed.
In week one he had 37.1 points. So I'm happy with him. So I'm obviously going to start him in week two, puts up a dud, week three, puts up a dud. I'm like, "Okay, I'm going to probably bench him now because he's played too bad weeks." What does he do? He has a 47.6 point game in week four. Okay. I'm putting him back in. Then on week five, he has a 14.8 point game, which is safe, back to 22.6, then backs down to 12.7 on week seven. Then you're like, "Okay, I'm getting a little bit of like hot and cold." then he has a good game. Then in week nine, a 7.3 game. you're in week nine. And then you look, he has a couple of other safe games. Then you look at week 13, he has a 4.2 point game. Okay. And week 16, he had a 3.9-week game.
And then week 18, which a lot of people aren't playing fantasy at that point, but a 1.2 point game. so what I'm saying is that, let me just put this. He had 18 games, right? 17 to 18 games. 1, 2, 3, 4, 5, 6, I'd say six to seven games where he was completely not even viable, not even usable. You might as well have plugged in a guy off your bench, right? You're losing six to seven games. That's a lot of games. That's a big chunk of games that have got you investing in a first-round pick. Now you're saying, "Well, Joe, no, one's perfect. We always have down games. I get it." But Tyreek Hill's a wide receiver, where I can get value at wide receiver. I had Deebo Samuel. I got them in like the seventh, eighth round. Last year I was on with. I didn't have to pay first-round pick.
I had Ja'Marr Chase. I got him for value last year. I didn't have to pay a first-round pick for a wide receiver. And that's why you guys got to get 16 rounds because I'm going to give you guys the value wide receivers that you guys can load up on and not pay a first-round pick on a guy that's inconsistent. So I would never draft Tyreek Hill, especially if he gets paid, incentivized. I'm just not… I'm going to stay away.
3. Cooper Kupp
Number three here. You're like, "Oh my God, Joe, why would you not draft Cooper Kupp?" But that's the guy I'm talking about. Cooper Kupp, number three, I'm going to stay away. And it's very simple guys. Cooper Kupp is now going into. He's not, he's not a rookie anymore, guys. He's going into his sixth season as well. Veteran wide receiver coming off his pinnacle year.
He will never, ever duplicate these numbers. These numbers that he had in 2021 were bigger than Michael Thomas' 2019 year and bigger than Antonio Brown's 2015 year. He is not going to duplicate 16 touchdowns, 1947 yards, 191 targets, and 145 reception. It's just not going to happen. He's going to duplicate those numbers. And for that reason, that reason alone, I will not draft him. So Cooper Kupp to me is gone. He's dead to me in fantasy football. I'm just not going to touch him. I'm not going to draft him. Well, you're saying, "Well, Joe," and I get this argument all the time, "there's going to be a decline, yes, but still enough to make him completely viable to be a wide receiver one. You could say that because he had such a pinnacle year. He had 439 fantasy points, Joe, you know, in PPR. Even if that drops down to 390, I'm a happy person."
Yeah. But you know what? People get hurt. And I'm not jinxing him or I'm not saying anything bad, but I'm saying what goes up, must come down. It was a perfect year. And you know, you've got Odell Beckham Jr. now. Cam Akers coming back as well, maybe they're going to run the ball more. Coming off the Super Bowl high, Super Bowl hangover, a lot of teams have that Super Bowl hangover the year after. I'm not sold on Cooper Kupp this year. I'm going to dodge him. you guys can do whatever you want. This is my decision.
4. Deebo Samuel
Number four here, Deebo Samuel. Another guy I was high on. I liked him when Brandon Aiyuk has ranked ahead of him, which was everybody who loved Brandon Aiyuk for the past couple years. And I was telling you, Deebo's the guy, even when he came in as a rookie, Deebo's the guy. In fact, he was on my show. Deebo Samuels on my show. So just look up Deebo Samuel fantasy football council. You'll see the episode, right on YouTube. This was prior to the season.
So 1,405 receiving, there were six touchdowns, eight rushing touchdowns. Guys, eight rushing touchdowns. I don't know what to tell you, other than it's just not going to happen again. And I've talked about this in another episode recently, I'm going to talk about players and wide receivers I'm going to avoid. This is another one. I'm adding some other names here that weren't included in my other one here. But Deebo Samuel's one I'm going to keep adding to the list of players I will avoid this year simply predicated on the fact that he had a pinnacle season yet again, and also Elijah, Mitchell's going to come back healthy, played 11 games last year. He only had five rushing touchdowns. That should go up.
Elijah Mitchell going to be more of a factor here for the San Francisco 49ers. So I'm just going to personally stay away from Deebo Samuel this year. And again, he's going to be drafted very high coming off this amazing year. I sound like a broken record, I know. But I want to emphasize the fact that players that come off pinnacle years are going to regress. And you're saying, "Well, Joe, all these players, and they're not all going to regress." I know. I know. But there are other players that I will be drafting in the first round that aren't going to be wide receivers, then get value at wide receiver later. And if I hit on three of these five, I just saved you guys, right? Because now, Cooper Kupp has that big regression or injury, and you're like, "Oh, well I dodged that first-round bullet." You're going to be in better shape. So my goal is so you guys win.
So Deebo Samuel, another guy I'm going to be dodging. Eight rushing touchdowns, it's not going to happen again. To put that in perspective, guys, I'm going to put this in perspective for you with the eight rushing touchdowns. Okay. I'm going to pull up running backs right now, and I'm going to filter here by rushing touchdowns. Eight rushing touchdowns for Deebo Samuel that would've put him at top 10 amongst running backs in rushing touchdowns, tied with Nick Chubb and Leonard Fournette, along with Melvin Gordon and James Robinson. All tied for ninth last year, amongst running backs in rushing touchdowns. So Josh Jacobs had nine, Derrick Henry had 10, but Derrick Henry played like eight games, which is phenomenal. And he was still top 10 in regards to a lot of things. So here's the deal. Deebo Samuel is not going to duplicate those numbers. It's not going to happen. Great player. I'm avoiding him. Everybody's going to be jumping on him. When they jump on, I get off. Simple.
5. AJ Brown
And the final guy here, and it's mind-boggling to me that these guys have the audacity, the mainstream sheep have the audacity to even put this guy in the top 10. AJ Brown. AJ Brown does not deserve to be in the top 10 amongst the consensus rankings. They should be ashamed of themselves for even offering this. AJ Brown last year, crapped the bed. Period. 869 yards, what is that? Five touchdowns? 180 PPR fantasy points. I don't even know where that finished. I think he finished like 30… Yeah, I got it here. 32nd amongst wide receivers.
This was the guy everybody said top 10. The problem with AJ brown isn't necessarily AJ brown. It's the fact that Ryan Tannehill does not throw a lot. And I warned you this prior to the season. I said Ryan Tannehill was like 17th in passing attempts in 2020. Going to 2021, it's not going to be good for AJ Brown, and I was right because he only had 105 targets. And that's even with Derrick Henry out half the season. 105 targets, 63 receptions, 869 yards, five touchdowns. He peaked at 106 targets. That was in 2020. And yet the mainstream sheep continued to have the audacity to save face, to put in AJ Brown in the top 10. Did you not learn your lesson? This guy is not a top wide receiver. He's just not going to get the volume to be a top wide receiver. We saw it three years in a row.
I'm going to pull up here where Tannehill again finished in attempts here. And Tannehill just does not throw the ball a lot. And that's the thing about him. He was 12th in attempts with 531. So yeah, a little bit better than the 2020 season, but still, he's not going to throw the ball as much as Josh Allen, Pat Mahomes, and Justin herbert, or some of those guys. He's just not going to do it. So you look at targets, you look at volume and it's just not going to be there for AJ Brown. So on a run-first team where I think Derrick Henry's going to absolutely run wild again this year. So AJ Brown is another guy I will never, ever draft. And you're going to have to pay for him yet again because he is seventh on the consensus rankings among WRs this season and that is too high.
So again, big names here guys. This is a little overwhelming, I know. But Jefferson, Tyreek Hill, Cooper Kupp, Deebo Samuel, AJ Brown, are five wide receivers I'll be avoiding. Not investing in early draft capital on guys that I know are going to regress, I know are coming off pinnacle years, and… Just not going to do it. Period. All right?
So make sure you guys are subscribed, thumbs up. Get the 16 round draft solution. You will win your leagues once you get it. I have huge testimonials. Just DM me at fantasy football council on Instagram. I'll give it to you. I'll give you some testimonials. And yeah guys, I appreciate you being here, and fantasy football doesn't end here when people are taking time off. Make sure you guys are subscribed and watch the full WRs to avoid episode as well.