Ja'Marr Chase
Amon-Ra St Brown
Devonta Smith
Diontae Johnson
Adam Thielen
1. Ja'Marr Chase
Number one here. One wide receiver. I absolutely love currently sitting fourth on the consensus rankings. The guy that was ranked 50th. No, I don't think he was 50. He was a little bit lower. I think he was in the thirties in regards to rankings on the Consheepsus. The guy I was thinking about. The other guys I'm thinking about were ranked over 50, but this guy is Ja'Marr Chase. Okay. Now I absolutely love him. I know it's pretty obvious at this point. But last year I was recommending him as a sleeper, my 16 round draft solution while everyone was drafting big, well-known names. I give you names of guys that potentially break out.
So Ja'Marr Chase. I love him so much. And so many people are on Cooper Kupp being the top wide receiver this upcoming year. Why? Because finished on top last year. This was a guy who's recommending a third or fourth round last year, my 60 round draft solution Cooper Kupp, believe it or not guys was ranked behind Robert Woods on the consensus rankings, and in the magazines, everyone lied to you. And I was telling you guys, Cooper Kupp is better than Robert Woods. He'd be like, no, no Robert Woods ahead of him. And everybody had Robert Woods ahead of Cooper Kupp. I'm like, that's ludicrous. Cooper Kupp is the one. Sure enough. Now he breaks out and everybody's riding him all the way to the sunset. It is just crazy how much they love Cooper Kupp now because he had a good year. The problem with that is the pinnacle year decline coming.
So make sure you guys are subscribed, but going off on a tangent with Cooper Kupp, everyone loves him. I actually think Ja'Marr Chase, the guy, the first guy I love here will finish ahead of Cooper Kupp. Now what really separates these two guys, actually what really significantly separates them is the targets. Now here's, here's the amazing thing. Now Cooper Kupp had this pinnacle year. He's naturally going to decline. Ja'Marr Chase had a really good year, finished fifth amongst wide receivers in PPR and he didn't even scratch the surface. Look, if you look at target count, 128 targets with Ja'Marr Chase compared to Cooper Kupp with 191 targets. That is what really separates him is that massive gap of the actual targets.
And in regards to where they finished amongst wide receivers, four spot difference. So that tells me a couple of things tells me that Cooper Kupp had this pinnacle year and he is going to decline a hundred percent. I mean, he's definitely going to decline and Ja'Marr Chase hasn't scratched his ceiling. He only had 128 targets, 81 receptions, 1,455 yards, and 13 touchdowns. Now the touchdowns, I think he's pretty good there. That could go up or down. But I definitely think that the targets are going to go up, which means receptions are going to go up, which means the overall fantasy points are going to go up. So I love Ja'Marr Chase, young dynamic playmaker. He makes difficult catches. This guy comes down with the ball, gets the yards after the catch, gets it done. And that rapport with Joe Bro continues to build. I'm super excited about Ja'Marr Chase and I'm not really a guy to draft a wide receiver in the first round, but man, if I miss out on John Taylor, Derek Henry, and Najee Harris in the first round, I'm attempted to go Ja'Marr Chase in the first round. Again, I don't want to stray away from my robust ARRB strategy, but he's tempting to take in that first round. But I want to let you guys know when we are talking wide receiver and we're talking fantasy ball draft strategy here. You got to understand that there's a ton of depth at wide receiver, which I'm going to dive in and show you guys right now. Now, this is not a sleeper video. This is just wide receivers. I love going into the season.
2. Amon- Ra St Brown
Number two here. Another wide receiver I love is Amon-ra St. Brown. Amon-ra finished 21st amongst wide receivers last year, which isn't bad. So this guy was ranked 60th or 70th, even amongst wide receivers.
Everyone was sleeping on him. He was going undrafted. The reason I loved him and suggested him in my 16 round draft solution was simple. There was no wide receiver there on the Detroit Lions. And you saw Jared Goff make wide receivers really good when he was with the Rams. So you saw the opportunity there for Amon-ra St. Brown to really flourish because there was nobody else there. There was no true wide receiver one. Then near the end of the season, Amon-RA St. Brown really started to step it up. Now the thing about him is again, lower targets, 119. I want to see that go up. Even though he was number one, target getter on the lines. I definitely want to see that go up five touchdowns. I'm definitely going to see that go up 912 receiving guards. That's going to come up. He's coming into his own.
He did play all the games. Knock on wood. He was healthy. You got him for pretty much free. He was stashed under your bench. If he got 16 rounds, I love Amon-RA St. Brown. I think the talent is there. I think the youth is there. I think the upside's there. Lion's got to make some improvements on the old line. Goff needs more time to a throw. They need probably some more weapons there to distract the defenses. If the key in on Amon-RA, that could be a problem. But I still think that he is the guy there he's going to get better. Second-year is going to be a good one for him. I love him. I love the upside and I think the value's going to be there as well. Seeing 27th on the consensus rankings, he's a wide receiver one on his team. As of right now, pre NFL draft, right?
We're going to have to see what happens at the NFL draft and then the depth charts later that's when I released my first version of 16 rounds. So you got to understand guys that Amon-RA St. Brown has the upside. I still think he's going to be good value. Love him.
3. Devonta Smith
Coming to number three, DeVonta Smith. I keep talking about him. A lot of people are going to be sleeping on him. Last year finished 30th amongst wide receivers, clearly saying 29th on the consensus rankings amongst wide receivers in PPR DeVonta Smith continues to build that rapport with Jalen Hurts. I think Jalen Hurts and him return. Another problem with this guy. And that shows how much ceiling is left. 104 targets. I think the target count goes up. He gets comfortable. He gets into his own. And again, the Eagle spent high draft capital on him.
Similarly, the same thing, the Bengals did, high draft capital in their wide receivers like Ja'Marr Chase. These guys are young, they're talented. And it was a very good wide receiver class that came in regards to rookies. So DeVonta Smith's a guy that is just really tempting to grab and make sure I try to roster him because I do see the talent. I do see the upside and 104 targets, 916 yards, and five touchdowns. That 916 yards can definitely go up. And I'm super excited for DeVonta Smith going into the season. And I think again, the value's going to be there saying 29th amongst wide receivers. And this is what I mean. I mean, you can get yourself in stack Amon-RA and DeVonta Smith later. And the other wide receivers sleepers, which we'll talk about. That's why I got to subscribe. We'll do a sleeper episode with tons of sleeper episodes. You're going to get that value at wide receiver and these guys could really flourish and be top 10 wide receivers. That's so much upside is there, but the Eagles again, have to make some improvements. DeVonta Smith's got to get the ball more, but I definitely love the upside. Okay. So DeVonta Smith's another guy I love.
4. Diontae Johnson
Coming in at number four here, another guy I absolutely love is Diontae Johnson. The talent is there. The upside is there. The ability is there, the target counts there, there's only one knock to him this upcoming 2022 fantasy football season. And that is the quarterback. If the season was going to start today, Mason Rudolph is slated as the starter. That can be a huge issue for Diontae Johnson. If he actually ends up being the starter, going into the season, I love Diontae Johnson. There is no competition there.
Chase Claypool has proven that he's good, but he is not the guy. When you're looking at the guy, that's getting the volume, the guy that's getting the receptions, the guy that's running the best routes. You know, he's running everything. And he, and he comes down with the ball. It's Diontae Johnson. He finished eight touchdowns last year, 1,161 yards, and 169 targets with 107 receptions. That's really good. Now the problem again with Diontae is not so much Diontae, but the quarterback throwing to him a lot of uncertainty at the time of this recording, but I definitely do love Diontae Johnson this year I still think there's a ton of upside. The talent is there. And, but again with Big Ben being out, I do have some question marks for sure, but in regards to talent, in regards to the guy who set on the depth chart to be the one at the time of this recording, I absolutely love Diontae Johnson and I will not stop loving him.
So in regard to where he's sitting on the rakings, he's sitting outside the top 10 on the Consensus, the consensus rankings right now sitting around 12th. This was a guy I was telling you to draft last year. And I was telling you guys to draft him, draft him. I got him in around the fourth round, draft him. He's going to be a wide receiver one, but the mainstream we're sleeping on him. Right? Finish 12th. Oh sorry. They finished eighth amongst wide receivers last year. So definitely a good return on investment last year. And I don't see him slowing down this season at all. It all depends. It's predicated on who's throwing the ball, how much volume he is going to get. That's the only knock, but I love Dionne Johnson this year.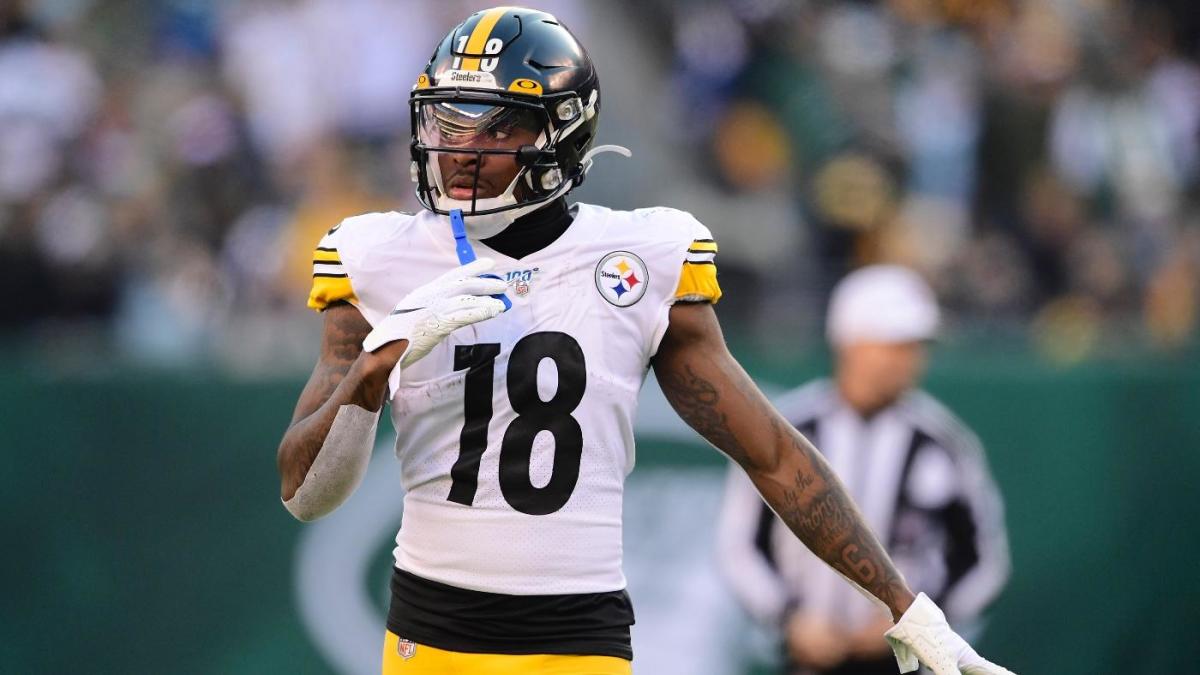 5. Adam Thielen
Come to number five is Adam Thielen. Now I know he's not a sexy pick, but here's a thing. People are going to spend a first-round pick on Justin Jefferson. Okay. Where Adam Thielen is the one on the team. And I know you're crazy. No, Justin Jefferson is the one. Yeah, maybe, but here's the thing Adam Thielen at the beginning of the season was the guy Jefferson eventually took over. But the problem is Adam got hurt near the end of the season. And you could say, well, Joe, he's injured. He's not the guy, but still, this could be like a Cooper Krupp, Robert Woods situation. You were saying, well, Joe, that's not possible, Justin. Jefferson's so young. He's so good. I get it. But Adam Thielen had 95 targets compared to Jefferson's 167, but just Thielen only played 13 games to Jefferson 17. That's a four-game difference. And Jefferson was more of a PPR guy. Thielen's more of a touchdown guy. Now I'm not necessarily saying that Thielen's going to beat Jefferson in fantasy points. But what I'm saying is the value is immense. He's sitting 31st on the consensus rankings. Whereas Jefferson's like a top five. I can get Thielen later and theoretically get almost a wide receiver one for a value. I love the value. I love the talent stale he got hurt again, but he's still going to be a touchdown machine. And I still think he is the one on that team. And I don't care. I'm not spending a first-round pick on Justin Jefferson. I'm just not going to do it. So I get Thielen after I get him for value. I can stack them with Devonta Smith. I can stack him with Amon-RA St. Brown and I've got my wide receiver core as a solid base. Now, are they a Deebo Samuel, Devonta, and Cooper Kupp? No, but here's the thing. What goes up must come down.
We saw it with Michael Thomas. Michael Thomas going back to 2019 at a pinnacle year. Everyone drafted him round one and he fell off. It just happens like that guys. If you finish on top, you're not necessarily going to finish on top of the year after. Okay. The only guy that really did had really good consecutive seasons throughout the years was Antonio Brown, but he was an absolute anomaly when it comes to wide receivers, there's a lot of volatility and he can get value later. I don't invest early on a wide receiver. I just don't. I loadout in the most scarce position, which is running back. And then I stack wide receiver ones later, and there's a ton Devonta Smith and Aman-RA St. Brown, Diontae Johnson, Adam Thielen. Like all these guys could be wide receiver ones on their team and you're getting them for a great value. And there's a ton of sleepers.
There's a ton of breakouts. Rookies are going to come in. There are going to be some value rookies as well, that is going to break out as well. So what I'm trying to tell you is this, you can wait on wide receivers and what I love about wide receivers isn't necessarily the wide receiver. Yeah. I love Davante Adams, but what I love is the wide receiver based on the value that I get them okay. So if I can get him a value, that's great. I'm not going to overpay. Do I love Cooper Kupp? Yeah. I loved him last year. I had him in the fourth round. I got him. People drafted Robert Woods, loved him. I don't love him anymore. He was last year's goods. Right? I'm moving on to the next best thing. Who's going to emerge and step up the depth chart? A lot of people had Brandon Aiyuk had a Deebo Samuel last year, everyone did the mainstream did. I said, Deebo Samuel. He was like an eighth, ninth-round pick. He finished what? Third amongst wide receivers. Right? So a lot of people are going to love Deebo Samuel, but is he going to get the rushing touchdowns that he had last year? I really doubt it. Again, I'm not going to dive into Deebo Samuel and all that stuff right now. And people that are going to decline, stuff like that. What I'm focused on is the five wide receivers I love right now and why I love them. Again, the values there, the talent is there, the opportunities there, and the depth chart height. They're good on the depth chart is there as well. Okay guys, make sure you guys are subscribed. Thumbs up, guys. We're ramping up for fantasy football. 20, 22. It never stops here on the number one fantasy football podcast. Subscribe, thumbs up. Let me know. When the comments below, who do you love for fantasy football? 2022 at the wide receiver position.
If you're watching on YouTube, leave a comment below, get that 16 round draft solution and subscribe if you're not. Thanks for being here, guys, I'm out.
Watch the Full Episode: https://youtu.be/7UQmNkLPg38
Follow on Instagram as well: Fantasy Football Counselor