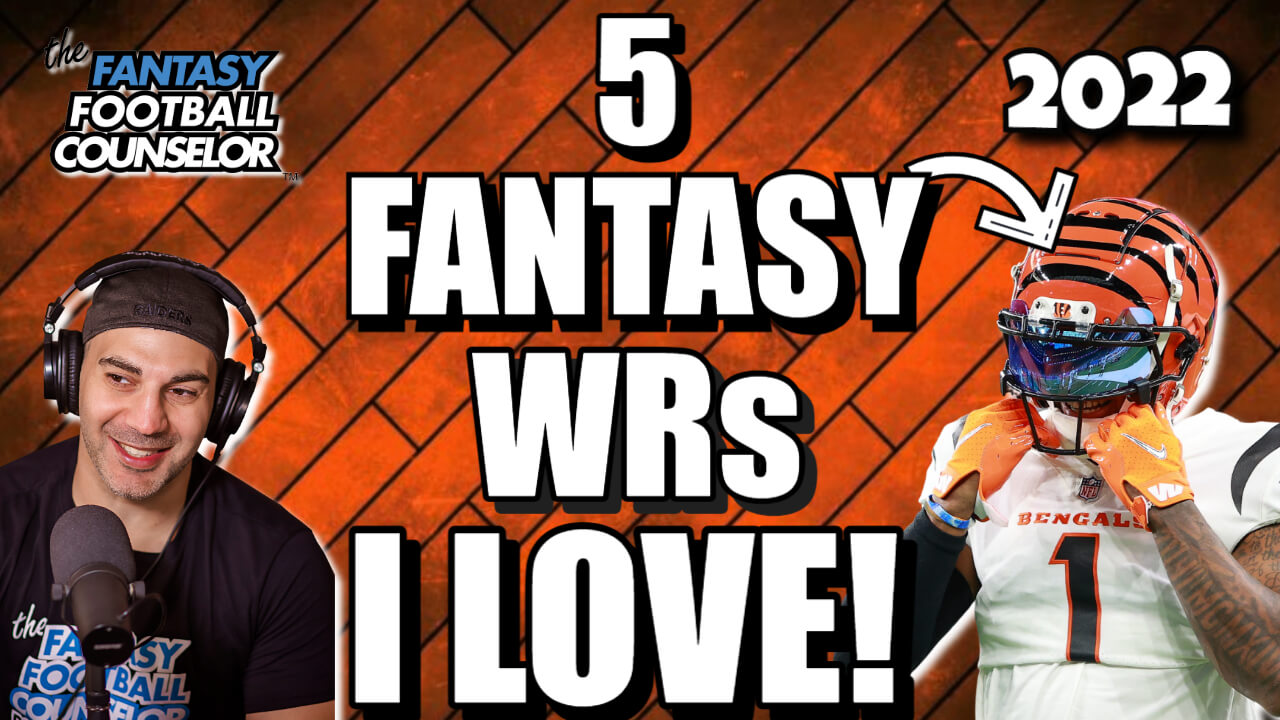 5 Fantasy Football WRs I love in 2022 | WR Rankings
February 28, 2022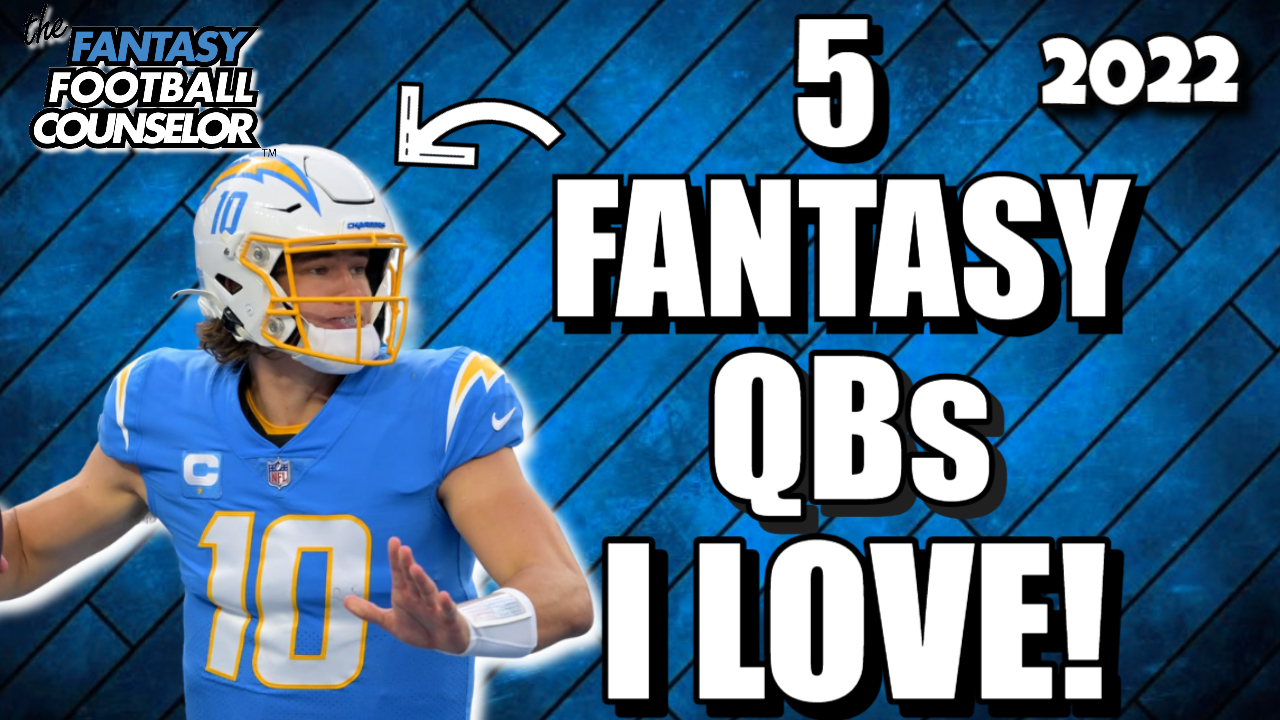 5 Fantasy Football QBs I love | QB Rankings 2022
March 3, 2022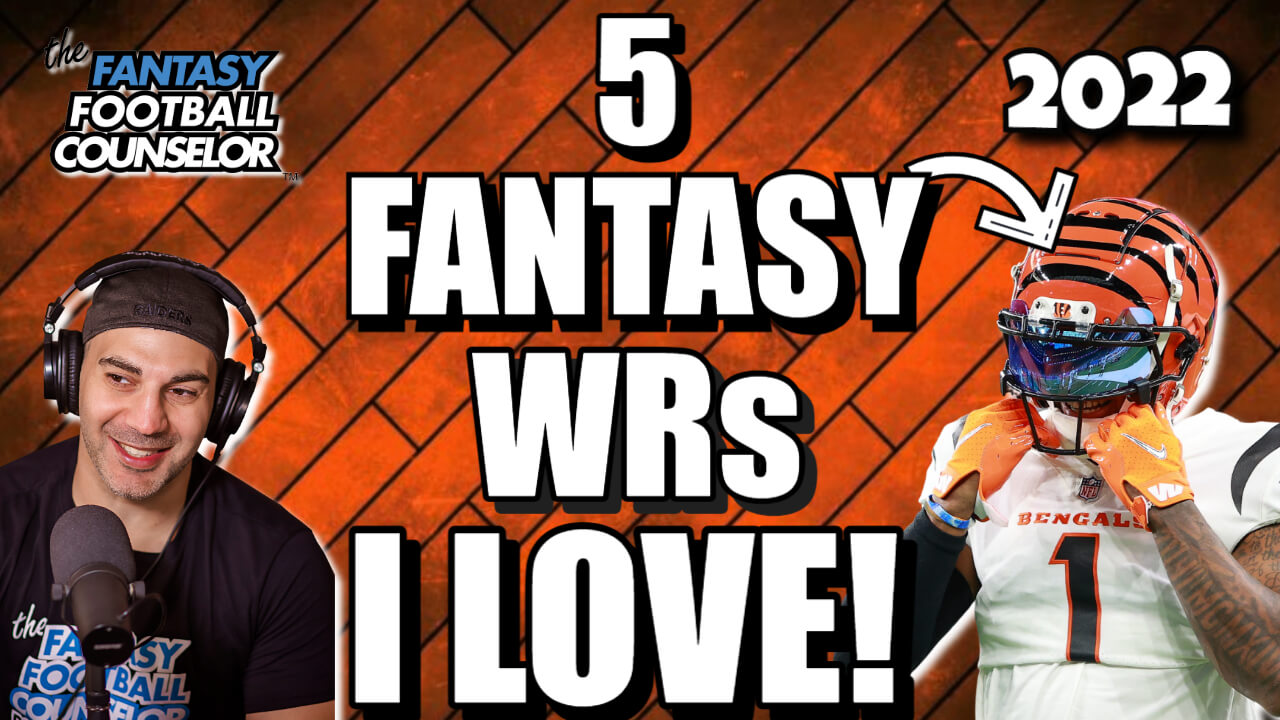 5 Fantasy Football WRs I love in 2022 | WR Rankings
February 28, 2022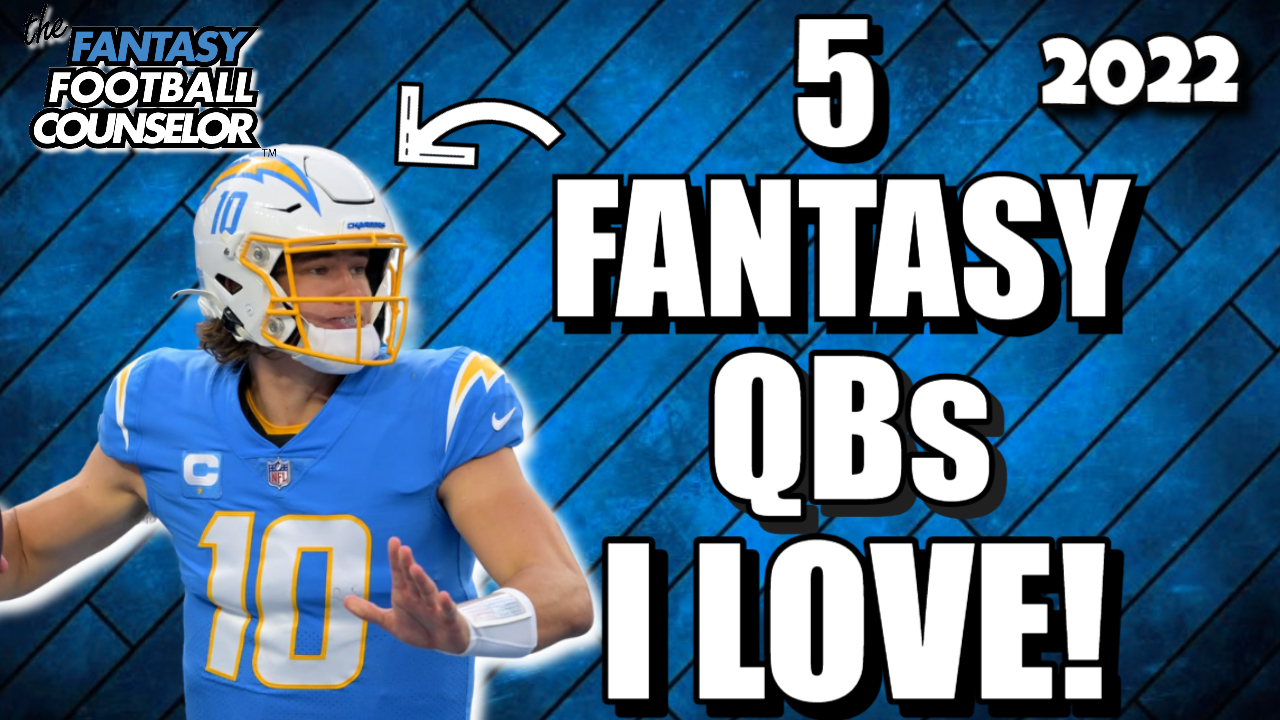 5 Fantasy Football QBs I love | QB Rankings 2022
March 3, 2022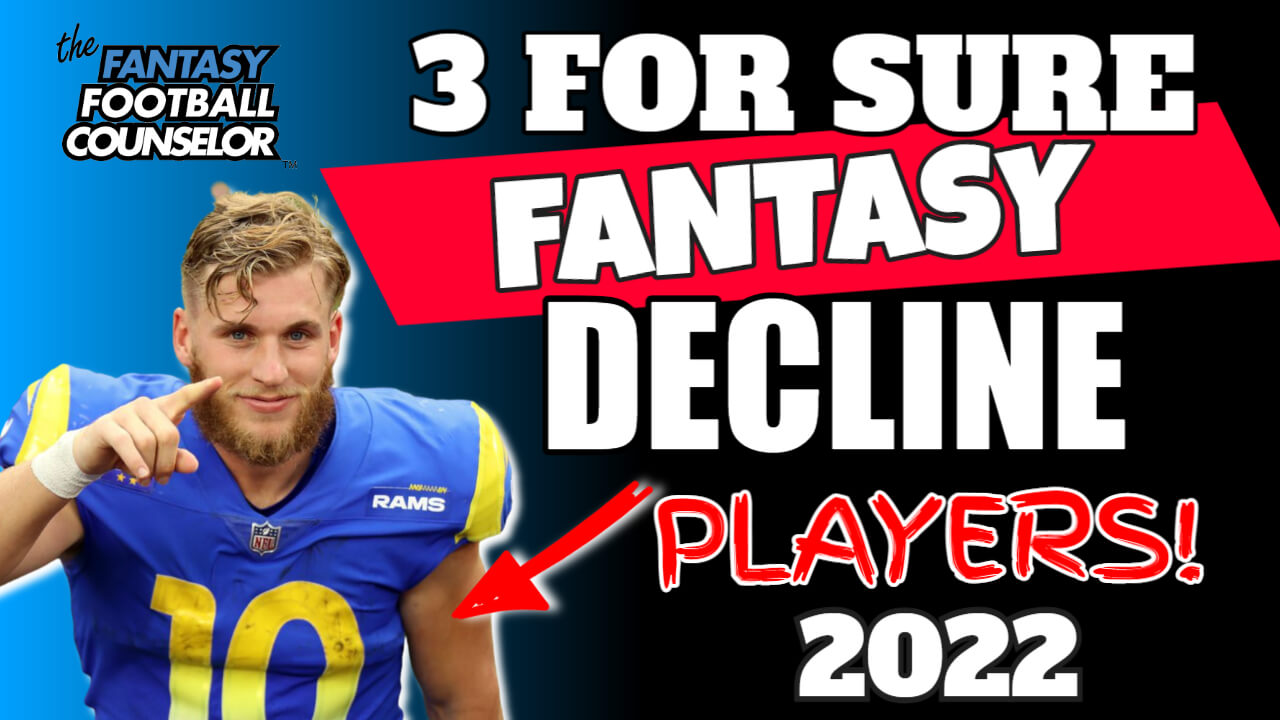 Cooper Kupp
Deebo Samuel
Jonathan Taylor
Let's dive into why these players are due for a decline.
1. Cooper Kupp
So the first player right here, guys, let's talk about him. Now a lot of people are going to draft this guy very early. They're going to have very high draft capital on him. And I'm telling you guys, stay away from this player because, at the end of the day, a decline is definitely coming. The guy I'm talking about guys is Cooper Kupp. Now, Cooper Kupp, everyone's going to be drafting this guy first overall amongst wide receivers anyway. Not only that, they're going to be drafting him in the first route, probably within the top three to five picks. Now Cooper Kupp, if you remember, last year was sitting behind Robert Woods on the consensus rankings. Cooper Kupp, let's talk about his last year. 145 receptions on 191 targets. Nobody gets that type of target count. That's insane. Okay. 1,947 yards, 16 touchdowns. This is a pinnacle year. This year is bigger than Antonio Brown's 2015 year. This Cooper Kupp year, last year was bigger than Michael Thomas' 2019 season.
And what happens to those players, especially Michael Thomas, as an example? They decline the year after. They either get hurt or they decline or something happens because it's such a pinnacle year. And the argument that I had with Michael Thomas when I told you not to draft him in the 2020 draft, was the argument was well, Joe, he had such a pinnacle year. Even if he declines a bit, he's still a top-five wide receiver. And I kind of get that argument, but I just cannot see Cooper Kupp having these types of numbers. And I think maybe injury might play a factor because he has been hurt before. I mean, he is relatively durable, but he has been hurt before. 2018, he had the injury, he played eight games but was relatively consistent throughout the years prior. Now he played since 2017. So he's got five years under his belt and this was his astronomically largest year.
The only year he had close to this, was back in 2019 when you had 1,161 yards, 10 touchdowns. Okay. Now you can say you had the upgrade at the quarterback and that's going to continue on and I get it, but they've added Odell Beckham Jr. There's going to be some changes on that offense. It's going to be a different team next year, slightly, but we're going to have to see after the NFL draft what happens. But again, I think a decline is definitely coming. That's pretty obvious. I know you're thinking that but how much of a decline is the big question. Enough so I think to push him out of first-round contention and understand guys, when you have such a cinderella year, you decline naturally next year. The year after, you get hurt, it happens. Okay. So based on the fact that I know a decline is happening, okay. We don't know the exact extent of that but just based on that alone, I'm not going to invest a first-round pick on him.
I liked him last year in the third or fourth round, I loved him. Everyone was drafting Robert Woods. I was like, "Yeah, give me Cooper Kupp all day." Because I had him ranked ahead of Robert Woods and I was telling you to draft him in my 16 round draft. So I omitted Robert Woods because I didn't think he'd be viable. So Cooper Kupp is a guy that I believe in. Although, talent-wise and everything, although for fantasy, I'm not investing that high of draft capital for a guy coming off a pinnacle year.
2. Deebo Samuel
The second guy here is Deebo Samuel. Okay. Very simple one for me. A decline is definitely coming again. Another guy that I was high on, came on my show. Go back on my YouTube videos back in, I think this show happened like August 2021 was when I did the show.
But Deebo Samuel is a guy that is a hundred percent going to decline. This is a guy that they had last year. The mainstream had Aiyuk ahead of him, which is absolutely crazy. Right? Deebo Samuel was obviously the more talented of the wide receivers and he finished with astronomically good numbers. 338.96 PPR. Fantasy numbers, where you're saying, well, Joe, that's great. Now he's a top wide receiver in the mainstream is going to put him on top. They're going to put him in the top five amongst wide receivers. But you have to look at the whole scenario. Deebo Samuel had himself eight. Let me count this again. Eight touchdowns, rushing. Okay. I want to remind everybody that Deebo Samuel is not a running back. Okay. Eight rushing touchdowns, which completely inflated his numbers. And he had 365 rushing yards to tack on top of those eight rushing touchdowns.
To put that in perspective. Okay. I'm going to put that in perspective. That would make him a top 10 running back in regards to touchdowns. Matching guys like Melvin Gordon, James Robinson, and Nick Chubb, who all had eight touchdowns apiece, and they all tied for ninth in regards to order of touchdowns. Does that make sense? So Josh Jacobs had nine touchdowns. Derrick Henry had 10, and he only played eight games, which is pretty phenomenal. Ezekial Elliott had 10. Austin Ekeler had 12 rushing touchdowns. Joe Mixon had 13 and it goes up from there. Damien Harris had 15, James Connor had 15, and John Taylor had 18 touchdowns. So if you look at Deebo Samuel, who's a wide receiver, he's in the running back talk here. I mean that's absolutely crazy. So the point I'm trying to make is, if you guys don't already know this, he's a strong wide receiver. Okay.
And I get it. And his yard is 1405 is good. His targets are low. You have to understand that guys, that they spread the ball around in San Fran. And 121 targets, 77 receptions, for six receiving touchdowns, that's good. I mean you could say that the touchdowns could go up, there's still some room to grow there. You can make that debate that targets could go up. I just don't see him having this type of year. I really don't. So again, when I look at Deebo Samuel, I'm seeing a guy that was valued last year, everyone was sleeping on him. They had Aiyuk ahead of him and now he is on top because he finished well last year. And for that reason, that reason alone, I'm staying away. Pinnacle year coming down and I'm just not investing an earlier draft cap on him.
Now I also want to make a note here that Elijah Mitchell played 11 games. Let me repeat this. Okay. Elijah Mitchell played 11 games. If he's coming back next season, he's going to come back healthy. He should play the full season. He will get those rushing touchdowns. Now he had five rushing touchdowns, but he missed a lot of games. He missed like five, six games, right? He had 207 attempts, 963 yards on the ground, and five touchdowns. This is Elijah Mitchell. He comes back. He becomes the workhorse. Now you've got yourself a solid running back there who was going to take away that volume from Deebo Samuel. You might not need Deebo to run the ball eight times. I mean that's crazy.
Now Kyle Juszczyk was used there a little bit. Jeff Wilson, a little bit had two rushing touchdowns. Trey Sermon had one rushing touchdown. He comes back healthy. He only played nine games. He was a rookie. So you've got these running backs that are going to be implemented and going to be used near the goal line. And it's going to push Deebo Samuel out. So again, I explain something I say, "Hey, well I'm not going to be drafting this guy." And I give the reasoning for it because again, there's no way, I just don't see eight touchdowns again, which completely inflated his overall fantasy numbers. So that's going to push him outside the top 10 in my well-calculated hypothesis and opinion here.
3. Jonathan Taylor
And the third guy here, you guys may disagree with me and I totally understand why you may disagree with me on the third player. That's guaranteed for the sure decline is Jonathan Taylor. I'm going to tell you why. Okay. So stick with me here. Jonathan Taylor. Okay. Amazing talent. I love him. I mean, this is a guy that came in as a rookie. I was high on him. I love the talent. Last year, I knew he'd have a good year. The only problem I had with him, was I just thought they'd probably use Nyheim Hines a little bit more, which they didn't end up doing. Marlon Mack just was not a factor there at all. And I always told you, Taylor was a superior running back compared to Marlon Mack. And that's exactly what happened. This proved now Marlon Mack only played six games last year. I think he's going to be shipped off, whatever. He's gone. But Jonathan Taylor, Nyheim Hines, those are the guys, right? So Nyheim Hines had 56 attempts, 276 yards, and two touchdowns. That's really good. Considering Nyheim Hines was a guy that was going to be a threat, especially in the receiving game for Jonathan Taylor. And that was the only thorn I thought that was going to be in the side of Jonathan Taylor. He ended up with 332 attempts. I mean, when you're looking attempt standpoint, that's phenomenal. That's what I want. I love the volume. I love the attempts. 1,811 yards, 18 touchdowns. Okay.
So when I look at this, I'm thinking, wow, amazing year. I love it. And I totally get why he would be a first overall pick. I totally get why he'd be a top-three pick. And I'm still considering grabbing him. I mean the only person I'd probably get over him is probably Najee Harris or Derrick Henry because I still think there's more sealing to be had with those guys. But when I look at Jonathan Taylor, I look at 18 touchdowns. I mean, that is going to be very, very hard to top. Okay.
The last time anybody had that type of year was Priest Holmes. Let me let repeat this, Priest Holmes in 2002. Okay. I'm going to tell you this right now. In 2002, Priests Holmes finished on top amongst running backs. 442 fantasy points. This guy, I'm telling you, didn't get, actually he did. He got reception. He had 70 receptions, three touchdowns. He had 21 touchdowns. This is Priest Holmes in 2002. He was pretty much the only running back to repeat back-to-back pinnacle seasons because he did it again in 2003 and he had 1400 rushing yards, 27 touchdowns, and 445 fantasy points. The only guy to repeat back to back. Amazing pinnacle years on that type of magnitude. I mean, this is crazy. Am I reading this right? 27 touchdowns? Priest Holmes. That is absolutely insane. Okay. So when you look at a guy like Priest Holmes, you're not going to see that again with Jonathan Taylor. It is going to be very, very hard for a guy to have back-to-back pinnacle seasons the way Priest Holmes did in 2002, 2003.
He played for, I think he played for KC at the time, by the way, go look him up. Okay, go look up Priest Holmes' stats. Jonathan Taylor's not going to do that. I just don't see it. And another thing is when you look at Carson Wentz, Carson Wentz, he's probably not going to be on the Colts next year. They probably need a quarterback that's going to throw the ball more and they probably need some receiving options. They don't have a lot of good receiving options. Hilton's over the hill and you know, Michael Pittman, I don't know if he's the truth, not wide receiver one. So you look at an offense, good o-line. They need a good quarterback in place there. They need somebody that can air the ball, get the ball down the field. Wentz just didn't do it.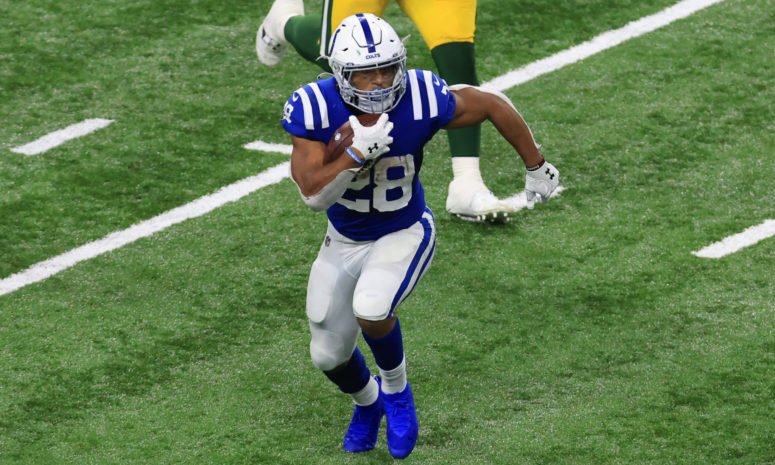 They relied heavily on the run game, which gave Jonathan Taylor a lot more volume. So that, you factor in the fact that it is an actual decline. You factor in the fact that the quarterback, wasn't good, wasn't throwing the ball, relied heavily on him. You take a look at all variables, including possible injury as well. So a decline is definitely happening for Taylor and historically, statistically, you have not seen anyone do it other than Priest Holmes back in 2002, 2003. Go look that up. Back to back amazing pinnacle seasons as a running back. Okay. So Jonathan Taylor, do you draft him? I still say yes. Am I going to draft him? I probably go for Henry whose due for a bounce back. And Najee Harris who I still think hasn't even cracked his sealing at all. I think he hasn't scratched the surface.
Again, with Najee, he's got his own issues with the quarterback. We've got to figure that out with big Ben gone. I don't know if the receptions are going to be there, but I definitely think the volumes going to be there for Najee Harris. But again, just to recap this, I got to say, there's guaranteed to decline here with Jonathan Taylor. I don't see any other way. History shows me, what goes up, must come down. His attempts were crazy. I mean, 300 plus attempts. It happens and I get it, but I just, I don't see it. I don't see it in the future for Jonathan Taylor to have 332 attempts again next year. Okay.
Najee Harris whose a workhorse running back last year, got all the volume. Pretty much was on the field the whole time. Had 307 attempts. Okay. Derrick Henry's that type of attempt guy, but he's a rare breed as well. So there you have it guys. Those are three players that are naturally going to regress for sure and guarantee's going to go down. Therefore, you let me know when the comments below what you guys think and who you think are going to decline this year. And there is more, those are just three I wanted to bring out to you and explain why.
Watch the Full video here: Fantasy Football Busts 2022
Follow the #1 Fantasy Football Instagram Source here: https://www.instagram.com/fantasyfootballcounselor/