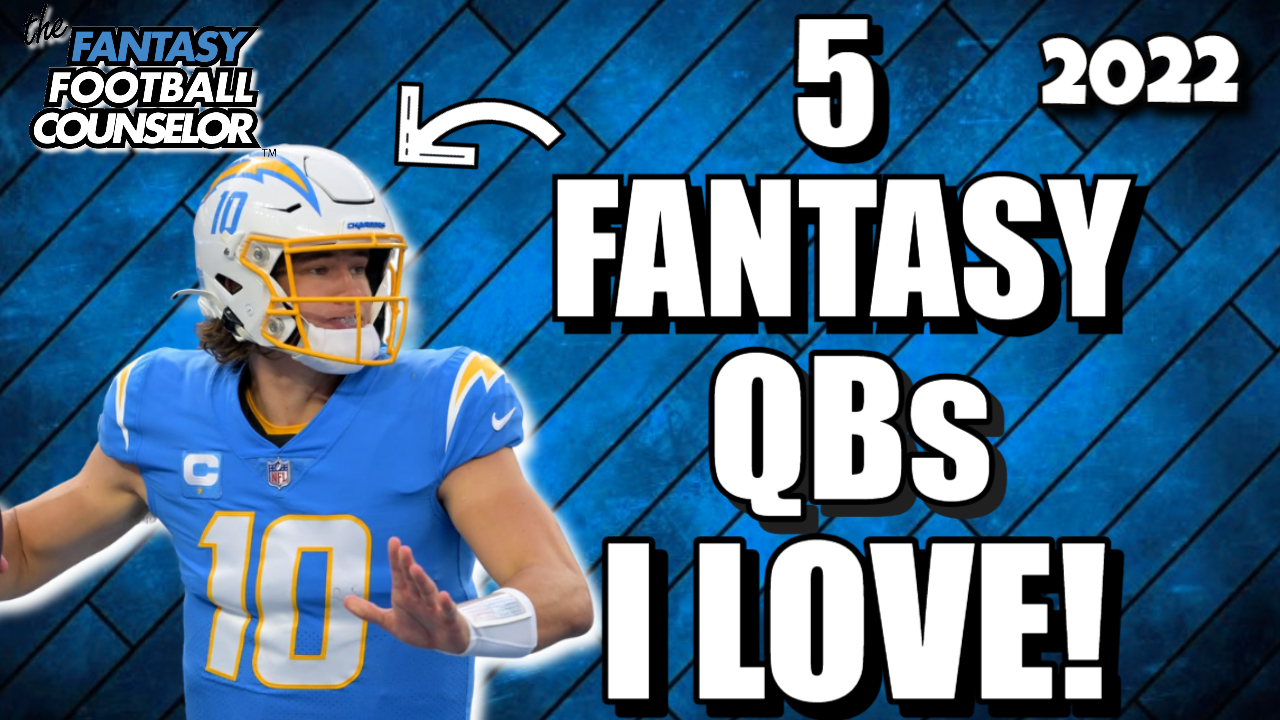 Jalen Hurts
Mac Jones
Lamar Jackson
Joe Burrow
Russell Wilson
We are talking about five quarterbacks I love for Fantasy Football 2022. Now, these are not your obvious names. Obviously, I love Justin Herbert. Obviously, I love Josh Allen for Fantasy Football. We're trying to dive a little bit deeper and pick out some names here that have massive upside going into the season. Some of them are ranked a little bit higher, some a little bit lower, but five quarterbacks I love going into Fantasy Football 2022 that could absolutely boom on your roster and that you could bring on your team and wow your league mates. Because last year we saw it. The value last year was Justin Herbert. I was getting him in and around the fourth round. He does well, he comes back up.
Years ago, I remember everybody had Baker Mayfield. The mainstream consensus that Sheep's had Baker Mayfield headed Josh out. I got Josh Allen round five and six, and he boomed. There was actually a point in time, literally, where people actually thought Baker Mayfield was better than Josh Allen. That was the mainstream I was telling you. Josh Allen was better, people thought I was crazy.
1. Jalen Hurts
All right, the first quarterback, I love for Fantasy Football 2022. Let's go with Jalen Hurts here. I was going to start off with Jalen Hurts. Now, here's the deal. Jalen Hurts last year, finished ninth amongst quarterbacks, currently sitting 10th on the consensus rankings. Now, I don't follow the consensus rankings at all. The only reason I follow the consensus rankings is that I use it as a guideline for where your league mates or where the Sheep are drafting from. They are typically drafting from a consensus point of view, the Consheepsus point of view. So, I see Jalen Hurts sitting at 10th, which tells me that he's going to be pretty good value in drafts going into the season. Again, it's very early. I haven't really dove into some hardcore mock drafting yet, but I could tell you that Jalen Hurts is going to be your value quarterback that could finish top three. Okay?
That's something you have to understand. My value quarterback for last year was Justin Herbert. I had him on all my rosters. He finished second amongst quarterbacks now, because he finished second. The mainstream, we're going to copy and paste that over and have him as a high draft capital kind of guy. So, we saw this again with Lamar Jackson as well last year, even the year before. People drafted him in the second round, said avoid Lamar Jackson, and he finished, what, 10th last year, and this past year he finished … Where did Lamar Jackson finish? He finished below that, 16th. So, Lamar Jackson, very high draft capital in him the past couple years, and then he didn't finish where he was supposed to finish. He finished 10th or just below that. Last year, finished 16th, particularly.
So, Jalen Hurts, again, finished ninth last year. Looking at his numbers just to break it down for you. There's a ton of ceiling to be had here. Now, he only threw 16 touchdowns to 9 interceptions. That's really unacceptable. Where he got his numbers and what helped him finish ninth amongst quarterbacks, is his rushing touchdowns. He had 10 rushing touchdowns, led the league of quarterbacks with rushing touchdowns. So, that's a pinnacle for him that could happen again very well. But where he's lacking is, he's not throwing the ball as much as he should. And when I look at a quarterback, I like them throwing the ball. He actually threw the ball 432 times. That is not enough. That put him at, what, 21st amongst quarterbacks in passing attempts. When I look at a quarterback, I love passing attempts. Now, say, "Joe, why do you love Jalen Hurts? You're saying you like a quarterback who throws the ball."
Because Justin Herbert, I loved last year. I know he throws the ball a lot. He was second last year in passing attempts. He is now inflated. And I don't know if I want to pay a second-round pick in a one quarterback league on Justin Herbert when I got him last year in the fifth round. So, I'm trying to find the value. I think Jalen Hurts is going to be that value. Now, there is a rule with quarterbacks, when I draft them. In a two-quarterback league, I always roster three quarterbacks. In a one-quarterback league, I always roster two quarterbacks. So, I always have a backup plan for a backup plan when it's the quarterback to cover what? Cover injuries, cover lack of performance, cover bye weeks. So, there are reasons I always have two quarterbacks in a one quarterback league.
So, Jalen Hurts. Again, I still think there's a huge ceiling for him. His passing yards were 3,144, 16 touchdowns, 9 interceptions. That's going to go up. He's got, DeVonta Smith. Smith has a ton of upside. A young, dynamic player, one of the best wide receivers out of the class of 2021. We saw the amazing emergence of Ja'Marr Chase. Is DeVonta Smith as good? He is really good. Could be better, we don't know. I mean, Ja'Marr Chase, I think is absolutely special. Absolutely love him this year.
But, when you look at DeVonta Smith, I think there's a ton of upside, and that connection is going to build with him and Jalen Hurts. We're going to have to see what the Eagles do in the off-season to help improve either the O line … I don't know what they're going to improve here, but Jalen Hurts needs more time to throw. But I definitely think that he gets more comfortable this year, gets in the zone, builds that connection, and that rapport a little bit better with, obviously, DeVonta Smith. And, I am excited here about Jalen Hurts going into the season. So, that's my reasoning. I think there's a ton more ceiling for him. Love him, okay? And I think he's going to be good value.
2. Mac Jones
Number two here, I think the mainstream is going to be sleeping on him, and I'm going to include him in a lot of my sleeper quarterback videos. The guy I'm talking about is Mac Jones. They finished 18th amongst quarterbacks rankings last year. Now, this year he's currently sitting 17th, typical copy and paste. But, I still think, similarly to Jalen Hurts, there is a huge ceiling with Mac Jones. Now, Mac Jones likes to throw the ball a little bit more, but you're not going to get the rushing touchdowns. He finished, again, 18th amongst quarterbacks. Where he's going to make his improvements is the touchdowns. He had 22 touchdowns to 13 interceptions, 3,801 when you're looking at the yardage in regards to Mac Jones.
Now, he is on a good offense there with the Patriots. They did relatively well this past season. But, what I'd like to see is him actually start throwing it even more. And, and I think that's very possible with Mac Jones and that offense. We saw Brady thrive as a quarterback in Fantasy Football throughout the years. Mac Jones, that was his first year. So you got to give him some time. Now, his top receiver last year was Jakobi Meyers, followed by Kendrick Bourne. And then there's Nelson Agholor. And then N'Keal Harry is in the mix as well, who only played 12 games. But if you look at the young talent of Kendrick Bourne and Jakoby Meyers, you can see that there's a ton of upside with these guys. Now, Kendrick Bourne is no rookie. He's been in the league since 2017, 6'1′, 203, just finished going into his sixth season. But, you want them to get … I don't think these guys are ace receivers, right? You want them to get more volume, obviously, but I don't know if they're the solution.
So, when I look at Jakobi Meyers and Kendrick Bourne, I'm thinking, "If they get him a good receiver, if they get him some more weapons, if they get him a better opportunity, Mac Jones could absolutely thrive this season." And again, I'm really excited about him. Hunter Henry had 75 targets for 9 touchdowns. So, I'm looking at this offense. I just need Mac Jones to get a few more weapons, and then I think genuinely, we have something special here with Mac Jones, a guy that could literally finish top 10 amongst quarterbacks. We just need to get him some better weapons and have him throwing a little bit more. Maybe even rush in a few touchdowns, you never know. For Mac Jones, who last year, again, didn't get anything in the rushing touchdown category. Although he did have 44 rushing attempts for 129 yards, just zero touchdowns.
And again, that shows the ceiling that it's possible that he gets a few rushing touchdowns, gets some better weapons, and could really thrive. So, Mac Jones has a bit of a ceiling. I love him. I might get him as a backup quarterback with upside, a guy that's consistent week in and week out that could perform.
3. Lamar Jackson
Coming in at number three. Now, I think there's a huge ceiling for him this year for a huge bounce back, but the injury is always a concern. And I've always said that about number three here, Lamar Jackson. Currently sitting sixth as the consensus sheep rankings. But I think this is the guy that could be that value quarterback in a one quarterback league that you can have slipped to the fourth round, maybe the fifth, I don't know. Because he is sitting six, I think people will be tempted to grab him. But I think there are a lot of distractions at quarterback this year that will be drafted ahead of him.
Maybe Matt Stafford, who finished six last year. Aaron Rogers, Pat Mahomes, Justin Herbert, Josh Allen. I see all of these guys going ahead of Lamar Jackson this season in the draft. I don't know about Matt Stafford, but the other guys I mentioned. Pat Mahomes, Justin Herbert, Josh Allen. So, I look at Lamar Jackson, and I'm thinking maybe, just maybe, if I can get him after I've secured my running backs, two running backs, maybe an ace wide receiver. I may look at him if, if, I mean, that's a big if, he falls to the fourth route. I don't think he will. I know you're saying, "Well, Joe, he's sixth on the rankings, on the Sheep's, he's probably not going to fall." But again, I just think there are so many distractions.
I'm going to be pushing the robust RB strategy, so a lot of people be loading up on running backs. So, I think quarterbacks are going to start falling after Herbert and Allen are gone. So again, if Lamar Jackson falls and he's good value, I may consider him. Now again last year, finishing sixth amongst quarterbacks, what I don't like about Lamar Jackson is the fact that he just doesn't throw as much as I want. Last year, 16 touchdowns, 13 interceptions. Again, he only played, what, like 12 games. And, just under 3,000 yards. 2,882 yards, two rushing touchdowns. So, he just didn't get it done last year, which tells me if he can finish 16th only playing 12 games, having a mediocre type season, I can see a huge ceiling for him to bounce back. And I've seen it before years ago with Lamar Jackson. So, if I can get him, that's the key here with Lamar Jackson. I put him here as a guy I love. That's predicated on the value that I can get from him. So, Lamar Jackson.
4. Joe Burrow
Coming in here at number four. Now, I understand this guy is ranked high. He is ranked … I should have mentioned him here in the earlier part, because I think he's going to go ahead at Lamar Jackson, is Joe Burrow. Now, Joe Burrow finished eighth amongst quarterbacks last year in fantasy numbers. 34 touchdowns, 14 interceptions. Love it. I love the way that that's shaping out. If he just improves that touchdown interception ratio a little bit more, dropping down those interceptions, we know he's got the stud in Jamar Chase. He's got some weapons. He's got so much upside in youth that I absolutely love Joe Burrow this year. Tee Higgins is there. Again, we're going to have to see what happens to the off-season, what other weapons are added. But, Joe Burrow looks absolutely amazing. 4,611 yards, 4,611 yards passing. That's something that I look at as well. Did he throw the ball a lot? Yes. 520 passing attempts. Again, very nice. Putting him 15th in attempts. I would like that to go up. So, I'd like the interceptions to go down, I'd like the attempts to go up.
But, I'm seeing a ton of upside with Joe Burrow, and I'm just so fascinated with that Ja'Marr Chase, Joe Burrow connection. It's so appealing to me. It's been built up for years, it's going to continue to go. And again, Joe Burrow is going to be a little more expensive. I'm hoping that I get him for value because he's the guy that I would be definitely trying to target fourth round if I can, but I don't think he's going to fall. Again, I'm hoping that these guys fall a little bit. I might be tempted to grab it for the right value. All right, let's move on here. And that's one quarterback league.
5. Russell Wilson
The fifth guy is Russell Wilson. Now, here's the deal with Russell Wilson. I'm reading reports here. According to Pete Carroll, there is no intention of trading Russell Wilson at the time of this recording. Russell Wilson has stated, quote, "Seattle is the place. He loves it." That's good. He said he loves it. So, that's a good thing. It looks like maybe this is going to be the home for Russell Wilson. There were rumors about him going to Washington, all that stuff. At the time of this recording, if he stays in Seattle, I still think it's a good thing. He had a bit of a down year last year. He played 14 games, finished 15th amongst quarterbacks. And this is the type of stuff I look for. I kind of look for those diamonds in the rough.
And I hate to call Russell Wilson in a rough situation. He's still that diamond. But this is a guy that, when he has a down year, typically has a bounce-back year the year after. So, he's not a guy that's a slouch. He's not a guy that sucks. He's not a guy that hasn't performed and proven it in the past. But what tends to happen here with Russell Wilson is that as soon as he has a down year, the mainstream Sheep sleep on him. He's currently seen 12th amongst quarterbacks right now. In 2020, he finished sixth amongst quarterbacks. I know he had a down year last year, I get it. But, this is not a guy that sucks. Russell Wilson in 2019, he finished third amongst quarterbacks. So, he had a down year.
As soon as he has a bit of a down year, he's always up. This is a guy who is always in the top five, top ten in regards to fantasy points. He's always producing. As I said, in 2019, his numbers were 328, finished third amongst quarterbacks. So, I'm not giving up on Russell Wilson. And I think he could be that steel in for the bounce-back year. He could be that draft steel that I absolutely love. So, if you want to anchor a team with an ace quarterback, and you want to get that value play, and I think people will be sleeping on him, Russell Wilson is the guy. He will fall under the radar this year. But, I'm seeing it year in and year out. He's always performing. So, he finished 15th one year out of how many years.
And, this is what I love when the mainstream consensus rankings come out. They're literally riding last year's top finishers, and then you could probably steal yourself a Russell Wilson. So, I love him this season. Mind you, I will try to get a backup quarterback for him, maybe a young Mac Jones or someone like that to back him up, maybe a Tua, someone like that. Maybe a Trevor Lawrence, someone like that's going to be able to back him up in case he has a mediocre year. But, barring any type of injury, he may have a mediocre year at best, but there's a ton of upside to get him back into the top five this year.
So, there you have it, guys. Five quarterbacks I love for Fantasy Football 2022. These are Fantasy Football quarterback rankings for you guys, but from an I love perspective. Make sure you guys do get the 16 round draft, you should have links here below. Subscribe, thumbs up, and which quarterback you love. If you're watching on YouTube, drop the name of the quarterback you love this year. Subscribe, guys. I appreciate you. Hope you guys enjoyed this list. I'm out.
Make sure you watch the full video here: Fantasy Football QB Rankings