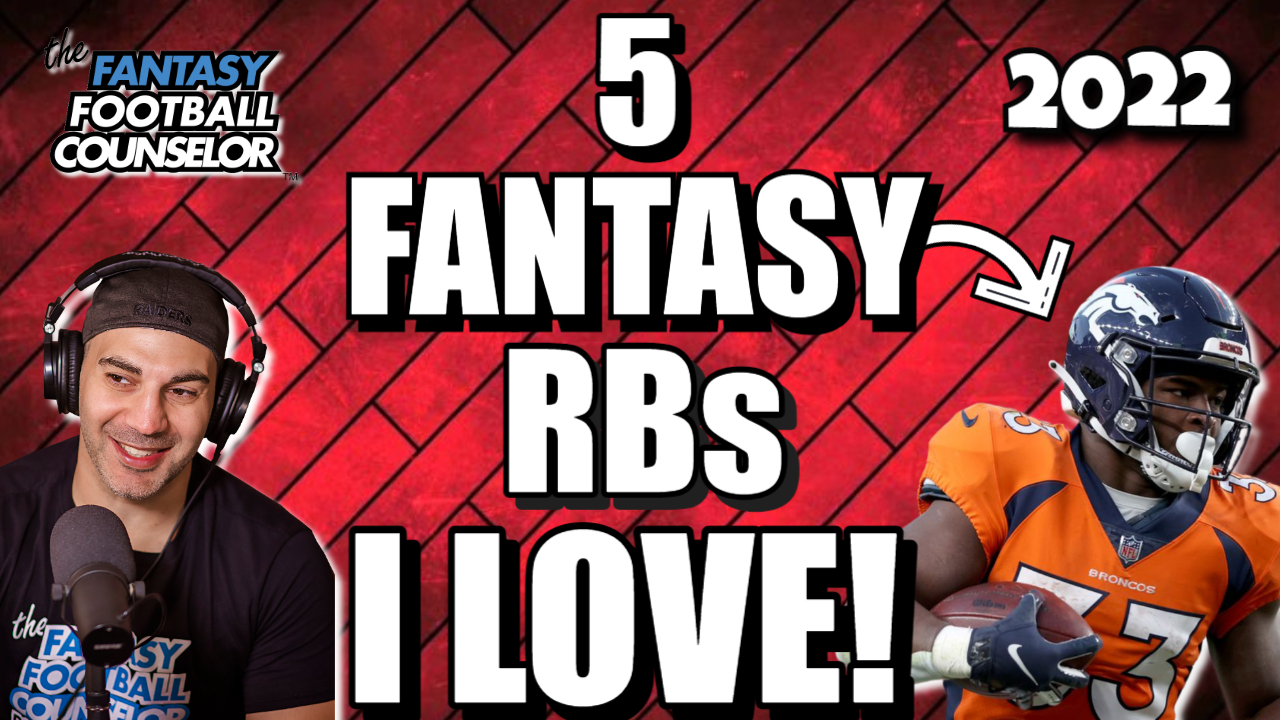 Derrick Henry
Najee Harris
Javonte Williams
Michael Carter
Travis Etienne
We are talking about five running backs I love for fantasy football 2022. I'm excited to dive into this episode. Now, before we get into this guys, make sure you guys do secure the 16 round draft solution, this is the game-changer. Video training with notes, cheat sheets, optimal players, draft in each round, sleepers break out everything you guys need to get ready for your draft. I know it's early, but get in for the lowest price this season. 16 round drafts, which I'd like to blow on YouTube or head on over to Thefantasyfootballcounselor.com to secure the solution. All right, guys. Let's go, let's dive in. The first running back here that I absolutely love for fantasy football 2022. Actually, the first two are a little more obvious. The last three, you might be able to get for value depending on the landscape of the NFL draft and how we go into this season.
1. Derrick Henry
So the first person that I absolutely love is Derrick Henry. Well, Joel, thanks captain obvious. We already know that, but a lot of people may have Jonathan Taylor ahead of Derrick Henry, but I still genuinely feel that Derrick Henry could have himself an amazing year. What I love about Derrick Henry is the volume, there's no shortage of volume at all for Derrick Henry. So when I look at him, I look at a guy that played what, eight games, he played eight games and still, when you look at it from an attempts point of view, and that's one thing I look at is I look at volume. I look at it from an attempts point of view, Derek Henry was actually 10th in attempts, 219 attempts in only eight games, 10th in attempts amongst running backs, and he only played eight games. Like that puts it in perspective how much this guy runs.
Now, when you look at it from a touchdown perspective, Derrick Henry was sixth amongst running backs in touchdowns. Now, these are absolutely phenomenal numbers, considering he played less than half the season. So, Derrick Henry, injuries happened, he was due for a decline. This was the decline year for him. He is the guy and I don't see any shortage of attempts and volume for him going into 2022. So I absolutely love him. I know he is an obvious name, but I had to state it here. I just think the ceiling is still high for Derrick Henry. I still think he has one, maybe two solid good years left out of him, where he is going to be producing on a super high level. So I'm going to continue to look to target him this year and looking for a bounce-back season, based on that entry.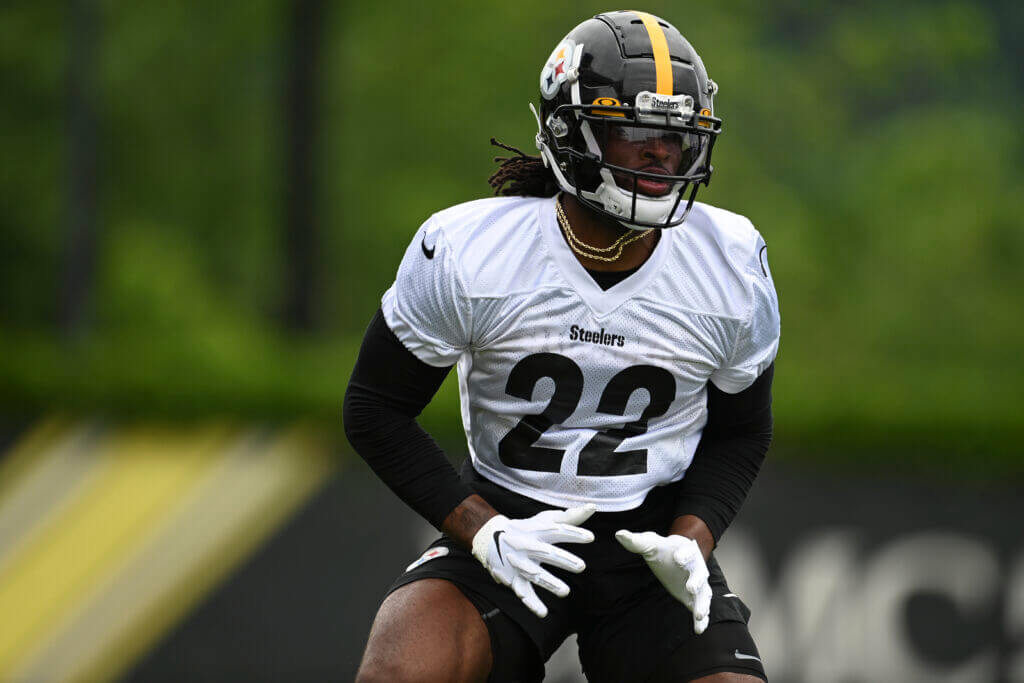 2. Najee Harris
Coming at number two here, love him. Najee Harris, you guys know that. Everybody had this guy outside the top 10 in their rankings last year. I mean like everybody had him outside the top 10, and when I'm looking at magazines when I'm looking at consensus rankings, he was outside and everybody was like, while Najee Harris, I'm not sure the bad O line, this and that. Najee Harris actually finished a third amongst running backs in PPR. Yes. Ahead of Aaron Jones, which people had Aaron Jones ahead of him. Yes. Ahead of Nick Chubb. Yes. Ahead of Dalvin Cook. Yes ahead of like pretty much everybody in the mainstream said that they had ahead of him including Joe Mixon. Right. Joe Mixon had a good year as well. So I even had Alvin Kamara, which I told you to know, Najee's the number one pick, he's the top running back.
So Najee Harris had a great season, I expect that to continue. The only knock I have with him is the quarterback situation. I was reading at the time of this, we're talking like late February, March, the time of this recording. But coaching staff saying that Najee, that what's his name, Mason Rudolph will be starting, right? If the season will start today, I'm glad the season isn't starting today. Because you know, I'm not really a big fan of Rudolph at all. So I'm hoping that Najee gets himself a good quarterback, and I understand Rudolph kind of knows the offense he's been with the team for years. But I'm really suspect in regards to him getting the job done, and is he going to get enough receptions and targets over to Najee Harris to make him really a PPR monster, which he was last year with 94 targets, 74 receptions.
I mean he was a PPR king last year. So, again I talk one point PPR and that's with the most popular platform, and for Najee to be that he needs a good quarterback thrown on the ball. I think that's going to be solved before the season starts. Okay. So whether it's Rudolph or someone else, hopefully, somebody feeds him. Either way, he's going to be on the field a lot. He had 307 rushing attempts. I don't expect his volume or his on-field snaps to go down at all, he's the guy. So I absolutely love Najee Harris going into 2022 as a running back.
3. Javonte Williams
Come at number three. I keep talking about him, but I absolutely love him. At the time. Mr. Gordon, Melvin Gordon is still there, although a free agent. But Javonte Williams is a guy that I absolutely love. He finished 17th amongst running backs last year with 203 attempts, four touchdowns on the ground.
Now, a lot of that hindrance was Melvin Gordon who hoarded away eight touchdowns from the ground and an additional 203 rushing attempts. They ran 413 times, Denver did, and Javonte got about half of that. Javonte is the future, Melvin's got to go, and I keep talking about this. Melvin is a subpar mediocre running back when one, one thousand-yard rushing season, I'm not excited at all about Melvin Gordon, but I am excited about Javonte Williams. I hope that the value is there for us to get him for decent value this year. I would love to target him and I love Javonte Williams going into the season.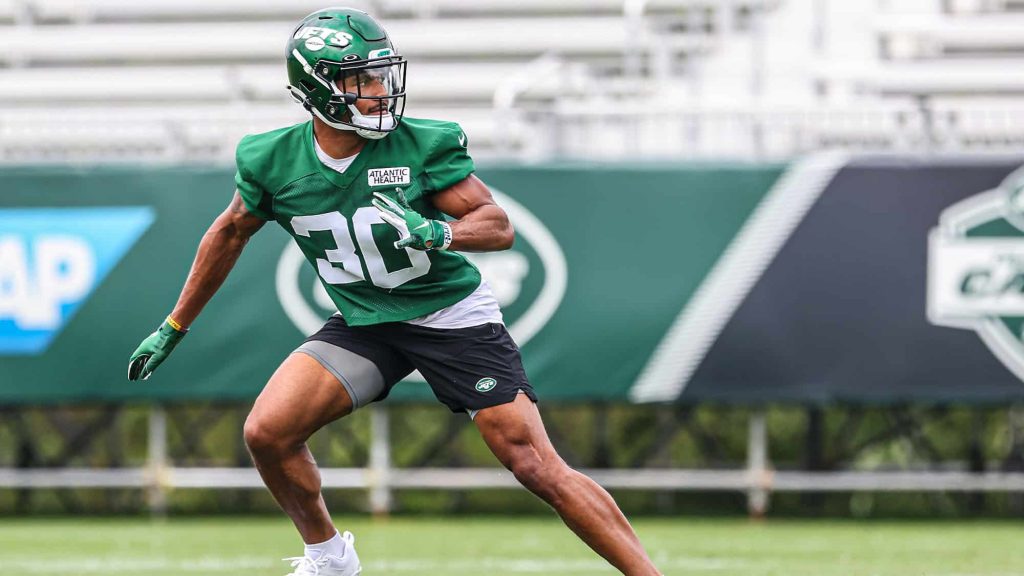 4. Michael Carter
All right. Coming at number four here, Michael Carter, another one I love. Now, Michael Carter does have a suspect offense obviously with the Jets, and that's understandable. I understand why people be deterred from him. But this is a guy that had 147 attempts, led the team in attempts last year. Mind you, he only had four touchdowns as well, but that should increase this year, going into his second year.
Now he was a fourth-round pick out of North Carolina, not a huge draft capital in him, but the guy did well when he was on the field this year. Again, there isn't any competition there. Now I'd like to see the Jets make some improvements on their O-line. Hopefully get some good receivers, maybe a quarterback change. I don't know. But Michael Carter is pride. I don't think they addressed the running back position. I think they're set with Carter. I expect his volume to go up. I'm looking at a 200 attempt floor up from his 147 attempts last year. I mean 639 yards, that to go up, he is going to break a thousand for sure if given the full workhorse running back load. I do like Michael Carter and I think I can get him for good value, currently sitting 23rd amongst running backs on the consensus rankings right now.
5. Travie Etienne
Number five here. I'm rolling the dice here. We're going to have to see what happens with James Robinson, but Travis Etienne, I do like him. I think people are going to sleep on him. He's sitting 34th amongst running backs in the rankings. You can get him for a value, and understand guys the Jacksonville Jaguar invested high draft capital in him, and they believe in Travis Etienne. So I genuinely believe that Travis Etienne is going to get more volume like is going to get a lot more volume this year. He didn't play last year, he had a foot injury last year. He didn't play this season, he got injured before the season started, but I'm saying he's going to get a lot of volume this year. I think, even with James Robinson there because again, early draft capital in him, youth, and I don't know if the Jacksonville Jaguars believe in James Robinson. He was okay at times during the season last year, but was injured for other parts of the season.
So I think Etienne is the future. He's got that report with the quarterback. So again, Etienne, Lawrence could be a good connection. I'm going to bank on him as a sleeper here, fantasy football running back sleeper, that you could probably get for good value. Either way, I love the upside here in the off-season, early in the off-season here, as we are analyzing running backs going into the season. Now there are other running backs I love I won't dive into, in this show. But you guys understand, you have to subscribe, leave a thumbs up and I will be diving more into that and I lay it all out, guys. You want all the answers in the 16 round draftsmanship, make sure you guys grab that. So just to recap here, Derrick Henry, Najee Harris, Javonte, Michael Carter, and Travis Etienne. Five running backs I'm loving, in regards to going into 2022 fantasy football, and the upside that they may possess going in. All right guys, make sure you guys do subscribe, thumbs up, and let me know below.
Follow the #1 Fantasy Football Instagram Page for daily NFL news and notes! Watch the full Fantasy Football Video here: https://youtu.be/V4rwZU3Os5I