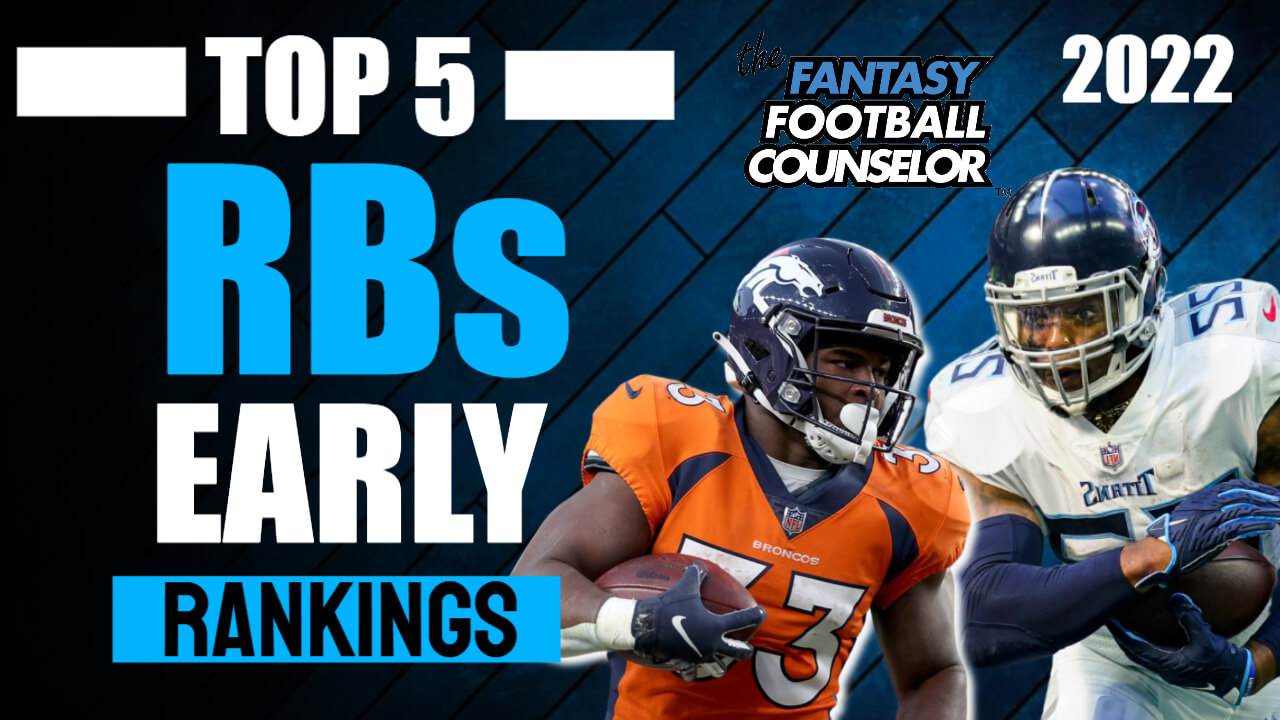 Fantasy Football RB Rankings 2022 | Top 5 RBs Early List
April 14, 2022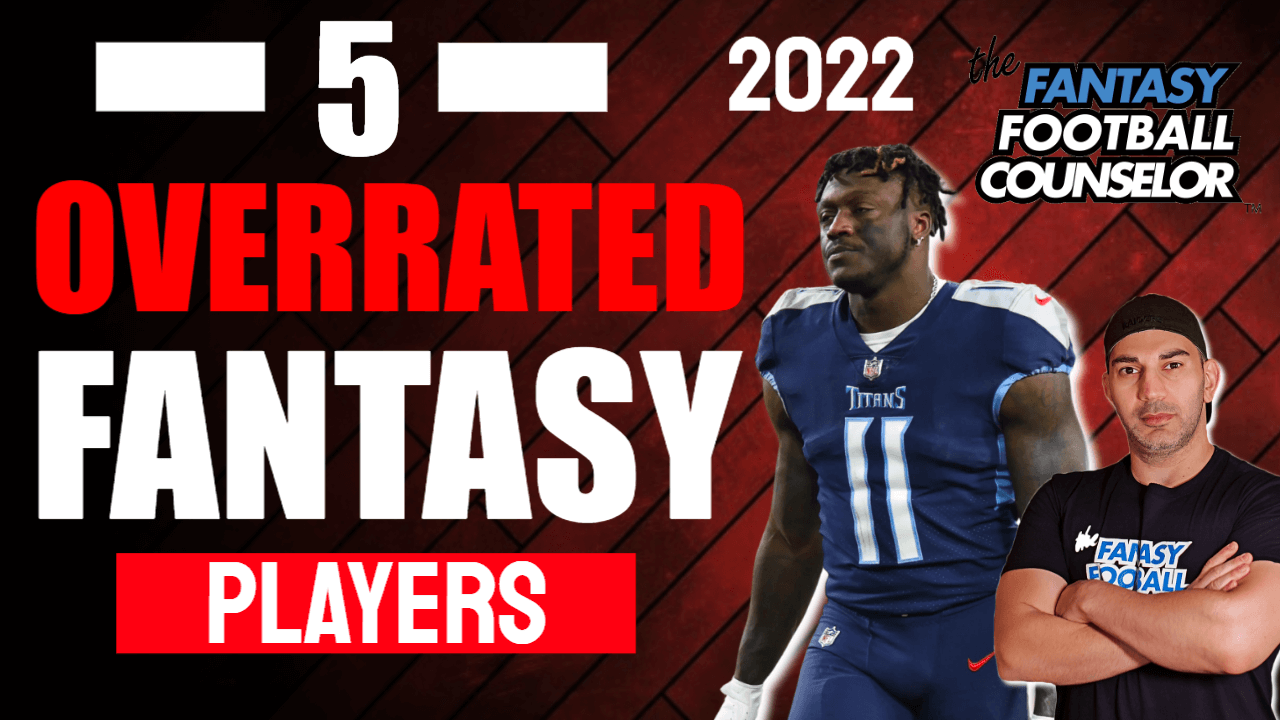 5 Overrated Fantasy Football Players 2022 | Players to Avoid
April 25, 2022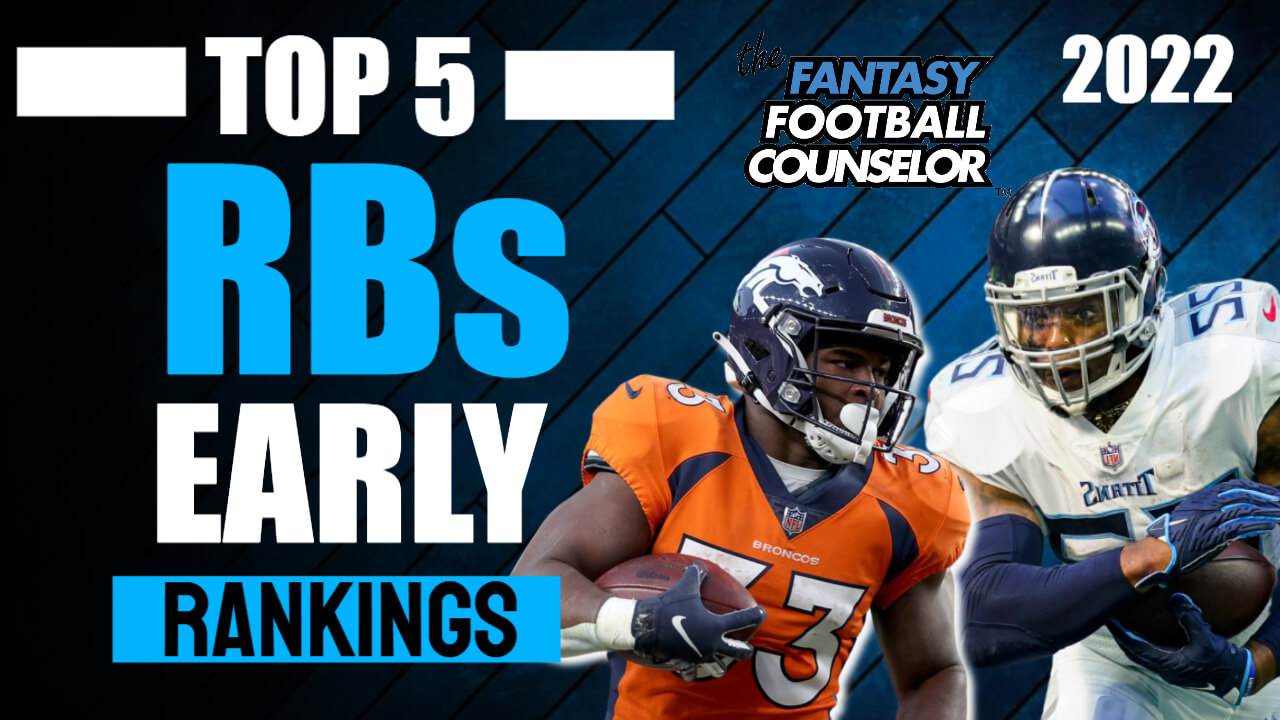 Fantasy Football RB Rankings 2022 | Top 5 RBs Early List
April 14, 2022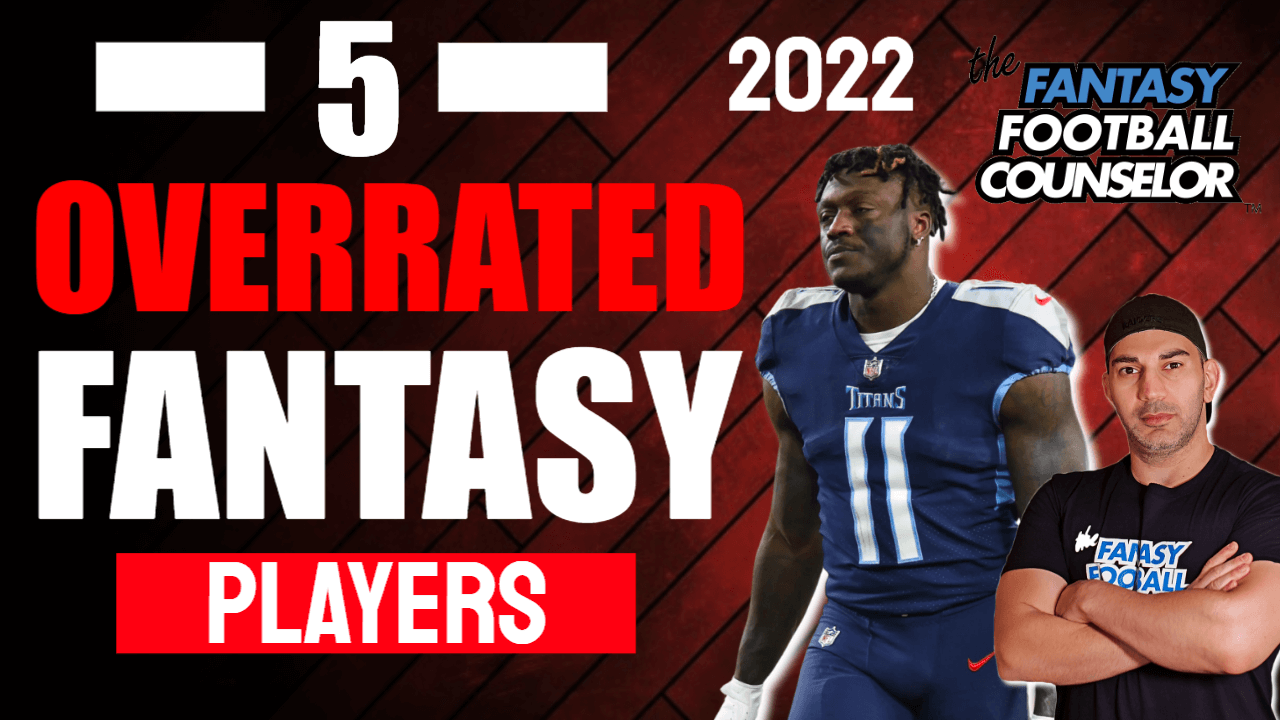 5 Overrated Fantasy Football Players 2022 | Players to Avoid
April 25, 2022
Nick Chubb
D'Andre Swift
Dalvin Cook
Joe Mixon
Christian McCaffrey
So, guys, I cannot emphasize it enough. These consensus rankings get copied and pasted onto your draft, wherever your draft would be. Yahoo, whatever platform you're using, these copy and paste rankings end up there, and people draft based on this ADP. That's where your advantage comes in, is listening to this podcast, thinking outside the box, knowing when to hold them, knowing when to fold them, knowing when not to overpay, and knowing when to basically see when someone's going to bust, pretty much.
So, guys, I got this list of players to avoid at the running back position. I just did a wide receiver episode as well, linked it below. Some big names, are Cooper Kupp, and Tyreek Hill. Avoid big names, while the mainstream is telling you to draft these guys at the first pick, in the first-round first picks. I'm telling you to completely do the opposite, for the reasons in the video. I'm going to explain that. I'm going to back everything that I say.
1. Nick Chubb
All right, let's dive in. The first running back I'm going to be avoiding this year, it's very simple for me. It's not brain surgery, guys. He used to wow me, I'm not wowed. Last year, busted. The guy I'm talking about is Nick Chubb, by the way. Last year, everybody told you, "Round one-Nick Chubb." I told you, "No." We've seen a pattern here, guys. I hate to sound like a broken record. It frustrates me because Kareem Hunt is there. Kareem Hunt, if healthy, is a PPR monster, and he outscores Nick Chubb on a game-to-game basis in PPR.
PPR is the number one format. That's what I talk. I talk one point PPR most of the time. You got to look at a guy like Nick Chubb, who's in 8th on the consensus rankings. The sheep have him ranked 8th because it's their golden boy. They love this guy. This guy is not a factor in PPR, he just isn't. Last year busted, based on his ADP. He was the top-five running back and finished 13th amongst running backs. So he did bust 228 attempts. I believe Kareem Hunt was hurt for most of the season. So Kareem Hunt was banged up, yet this guy still finished 13th, even with Kareem Hunt only playing eight games.
You got to factor in a healthy Kareem Hunt, a new offense. You got to understand Deshaun Watson will be running the ball. He runs the ball. Deshaun Watson is a running quarterback. I don't know how else to tell it to you. I don't see Nick Chubb having a big year. 228 attempts last year, 1,259 yards, 5.5 yards per [inaudible 00:03:58], eight touchdowns. Not bad, but he busted based on ADP. His ADP is too high this year, busted on ADP last year. His average draft position is way too high, 8th amongst running backs. This means he is probably going to be a second-rounder.
Not investing, not drafting, new offense, new quarterback, Kareem Hunt coming back. We've seen Nick Chubb bust pretty much every single year he's played, yet the mainstream continues to have him in the top 10, which is absolutely ludicrous. You see a guy like Saquon Barkley, who is in a contract year, and he's sitting about 7th-8th. On the ranking, he's 15th to 20th, whereas Nick Chubb is sitting 8th. So, look at the value of Saquon, will be a workhorse running back if they make improvements on that O-line, which I believe they will in the NFL draft.
I'm all over Saquon for value, compared to Nick Chubb who is ranked 8, or 9, or 10 spots ahead of him, which is absolutely ludicrous, being in a committee where he is on a new offense. So Nick Chubb, completely avoiding him, will not be drafting him. A second guy here, and I have no idea-you guys got to fill me in, I'd like your feedback on this because I don't see it, D'Andre Swift is currently sitting at number nine. He's sitting in the top tent amongst running backs here, on the consensus. I'm seeing it. I'm seeing the crap that they're feeding people.
2. D'Andre Swift
Now I get Swift has some upside. I get Swift is a young player. I get Swift is okay. But when I pull up his numbers last year, 151 attempts. Especially a top 10 running back, I don't care about PPR. All I care about in regards to PPR, meaning he's going to catch a lot of balls like Austin Ekeler, I still want the full volume. I want that guy that's going to get a lot of volume. I like a lot of snap count. I like a lot of rushing attempts, Adair Kennedy, Najee Harris, and Jonathan Taylor. I'm not all about this 151 attempt crap, I'm just not. Five rushing touchdowns.
Again, receptions, what do you have? 60 to 62 receptions last year. D'Andre Swift had, he only played 13 games and 62 receptions. Which put him 4th amongst running backs in receptions, so that's pretty impressive considering he only played 13 games. But he only had two receiving touchdowns, so that doesn't excite me. They're thinking that he is going to be the next Austin Ekeler. Guys suspect offense. Obviously, Detroit's got to make some improvements. But when was the last time a Detroit running back finished top 10? I can't even remember. It doesn't sink in for me.
I'm looking at a guy like D'Andre Swift. I'm thinking, "Man, he's in the top 10 on the consensus rankings. You're to pay early draft capital for him." I'm not paying it. I'm just not going to pay it. Again, in the 16 Round draft, I'll tell you who to draft, and who to omit. This is for me, personally, I will not be drafting D'Andre Swift who peaked at 151 targets. Guys, unacceptable. I need 260 targets out of my running back. I'd rather have David Montgomery for value this year, who's an absolute steal compared to D'Andre Swift, who I know will get more volume than D'Andre Swift, on a more potent offense. So, guys, D'Andre Swift does not appeal to me at all.
I see the PPR appeal, and I get it, and I play PPR. I'm not going to pay that price. If he was sitting 20th-25th amongst the running backs on the ranking, sure. But top 10 is absolutely ludicrous, way too expensive for a guy who, on a suspect offense, I just don't believe it period. D'Andre Swift? It's a big, hard pass for me.
3. Dalvin Cook
Number three here. This goes without saying, you guys know it, I say it every single year, and every single year I'm ready except for one year I was off. Dalvin Cook, I am avoiding this guy. I don't even know what to tell you. I don't even want to dive into this. Do you guys know my reasoning? If you are new to the channel, you might not know my reasoning. But I'm going to explain it, last time.
Dalvin Cook, first and foremost, is sitting 5th on the consensus rankings. Last year, was a top-three running back, and busted on his ADP significantly, finishing 16th. Guys, finished 16th amongst running backs last year, in PPR, only played 13 games, has not finished a season in his entire career. Not to mention, Dalvin Cook only has six rushing touchdowns-which is a decline, and has been declining every single year. He's missing games. Every year, he's going to the game. It's a matter of which game he's going to miss for you. That's the problem, and I cannot emphasize it enough.
I'm going to be talking about this all off-season. Dalvin Cook will miss games, period. It's a matter of which game he is going to miss. Is it going to be your fantasy football playoffs? Is it going to be the championship week? Is it going to be that mid-season game where you need a win, and you lost by two points, and had Dalvin Cook not been pulled out due to injury, you could have won it. I cannot emphasize it enough. You're guaranteed to have him miss four games. Ironically, he came out and said that he's switching to number four, and you're going to see a better improvement because he switched a number.
I made a joke about it on Instagram. If you're not following my Instagram, make sure you guys are following. I said that "When I wear my Steelers hat, my bank account is lower because it feels like someone's stealing from me. But when I wear my Packers hat, it feels like money's packing into my bank." So I'm richer when I wear my Packers hat, I'm poor when I wear my Steelers hat." Guys, it's all psychology. He psychologically thinks that by wearing a number four, he's going to perform better. I think this guy should be more focused on finishing a season, period, which he hasn't done.
So Dalvin Cook, never mind he busted last year, never mind that he's constantly regressing, never mind that he always gets hurt, just for the fact that he has just not finished a full season and he's going into his 6th season right now, unacceptable. Unacceptable, period. Especially at his high ADP, forget about it. So Dalvin Cook is a hard pass for me, let someone else take him. In fact, I might just get Madison later. Then when Cook goes down those games, and people are scrambling and desperate, I'll sell Madison for super expensive.
We've talked about Nick Chubb, D'Andre Swift, and Dalvin Cook. Another guy in the top 10 that's way too expensive, and I'm going to avoid him, is Joe Mixon. Again, I encourage you guys to go back and listen to my wide receiver episode, because these guys are top running backs. Go back and listen to the 'Top Wide Receivers to Avoid' episode. These guys are top running backs, they're in the top 10. Why am I telling you to avoid them? It's absolutely crazy, right? It's because I have my reasoning, and I'm explaining it all here.
4. Joe Mixon
Joe Mixon's a guy that could go either way. For me, I think he had the biggest year, from what I've seen. Because I look at everything statistically. Now, statistically, this was his pinnacle year. Prior to this, he had four years and his pinnacle year was 2018 when he peaked at eight rushing touchdowns. He was never a big volume guy, never really did well. Now the offense got better with [inaudible 00:11:18]. They got some receivers. They finally improved that offense. Mixon became the workhorse with 292 attempts, 1,205 yards, 4.1 yards per carry, and 42 receptions. Pretty good, and 13 rushing touchdowns. Really good. I like it. He looks solid again. The attempts were there. The volume was there. The fantasy points were there with 287.9 in PPR. I like it.
Everything looks good, but he's played five years. Out of those five years, he had one pinnacle year where he showed himself. Maybe he has now turned into the next Derrick Henry, for all I know. I personally, based on only one big mega year like that, and now he's had three 1000+ rushing guarantees-which is good, but years to wow me-I wasn't wowed until last year. It took five years to get there. I don't know if it's an anomaly. For that reason, and that reason alone, I'm staying away.
Now, do I like Ja'Marr Chase? Yeah, I like Chase. Am I going to pay a first-round pick for Chase? I'm not sure yet. Because again, that's the only wide receiver from the top five receivers I really like, because I think youth is on his side. I still think the ceiling's on his side. You only had around 128+ targets that can go up. I still think the ceiling's there for Chase. I just don't know about Mixon though. I have mixed feelings about Mixon. I'm personally probably going to be avoiding him, especially sitting 7th amongst running backs, he's going to be coming off very early. For me, I don't feel warm and fuzzy about him. I just do not, period. So, Joe Mixon might be a pass for me, but if someone else gets him, maybe he'll do well for them. I'm personally avoiding him.
5. Christian McCaffrey
Next guy here is Christian McCaffrey, currently sitting 4th on the consensus rankings. He's coming off in the first two to four picks, period. This guy's coming off. There's going to be Taylor, Henry, maybe Najee, then in comes CMC. Why don't I believe in CMC? Well, first and foremost, he's an entirely new offense from when he thrived, which I believe was 2019. Christian McCaffrey is a guy, he's talented. But when you put it in perspective here, based on ADP, he's very expensive. When you lay it out in front of me, and I look at 2020 and 2021, I'm seeing 10 games played, period.
I don't know how else to tell you this, he's played 10 games past two seasons. Last year, if you saw that injury, he was just running. It was a little pitch-out to the outside, ran to the outside, nobody touched him and he got hurt, and he was done for the season. I don't know what to tell you. The guy is made of glass. He's showing them, that modeling is more important. I don't know if you guys see my stuff. You guys might think I sound like a broken record, Christian McCaffrey and his modeling. He's out modeling. It's about priorities. This guy's been incentivized, he's been paid.
His pinnacle year was 2019, he had 287 attempts. But prior to that, 287 attempts were his peak year. 219 attempts in 2018. 117 in 2017, in regards to rushing attempts. He had that big year in 2019 with 287 attempts. Also got it done in the receiving game, he had 1,005 receiving guards and four receiving touchdowns, 1,387 rushing guards. He was the man in that offense. Things changed, guys. New offense, new situation. Suspect quarterbacks, who know what's going on there. I got to see them after the NFL draft here but, as it looks right now, I just don't trust him. The fact that the sheep are saving face, having this guy ranked in the top four.
Yet Saquon, who's in the entirely same situation-coming off injury, hasn't played much. I think they're going to improve their O-line. They're going to make Saquon the centerpiece of that Giants offense. Similar situations with these guys, great talent physically, just haven't got it done the past couple of years, injuries played a factor. But I think this is the year where Saquon pops, and CMC could pop as well. But the difference in an average draft position where I get Saquon, a similar player, for immense value, third round, maybe fourth round, maybe even as early as late second. Whereas I had to pay a mid-first-round pick, an early first-round pick for CMC, I'm taking the value in Saquon Barkley all day. Who, in my opinion, is going to end up with more [inaudible 00:15:28] points than Christian McCaffrey by the end of the year.
So Christian McCaffrey's a hard pass for me. It's a big, no. Again, partly because he's only played 10 games in two seasons. Another reason is suspect offense, and he's too expensive. Those are three big reasons why I'm avoiding Christian McCaffrey and the modeling. You want to throw that in there as well, that's four solid reasons. There are more reasons, but I think those cover a big bulk of the reasons why I'm not drafting him. So Nick Chubb, D'Andre Swift, Dalvin Cook, Joe Mixon, Christian McCaffrey, hard passes, running backs to avoid for fantasy football 2022. You might call them fantasy football 2022 busts, that's fine. They're busts in my eyes. I don't trust them.
Other than Mixon possibly having a safe year, that's it. Again, there's some ceiling with D'Andre Swift, but I haven't seen it yet. I'm going to be staying away and drafting other running backs. If you want to know which running backs I'll be drafting, get the 16 Round draft solution, and subscribe to this #1 fantasy football podcast!