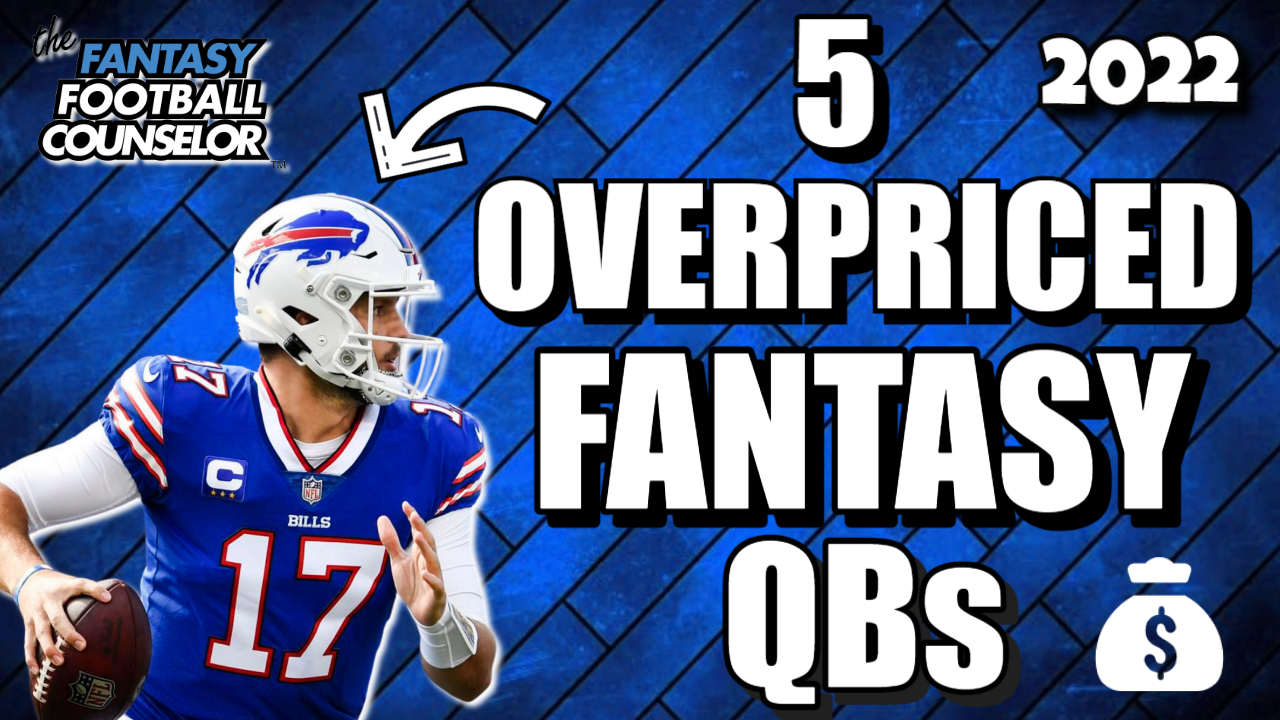 Fantasy Football Quarterbacks 2022 | 5 Overpriced QBs
April 12, 2022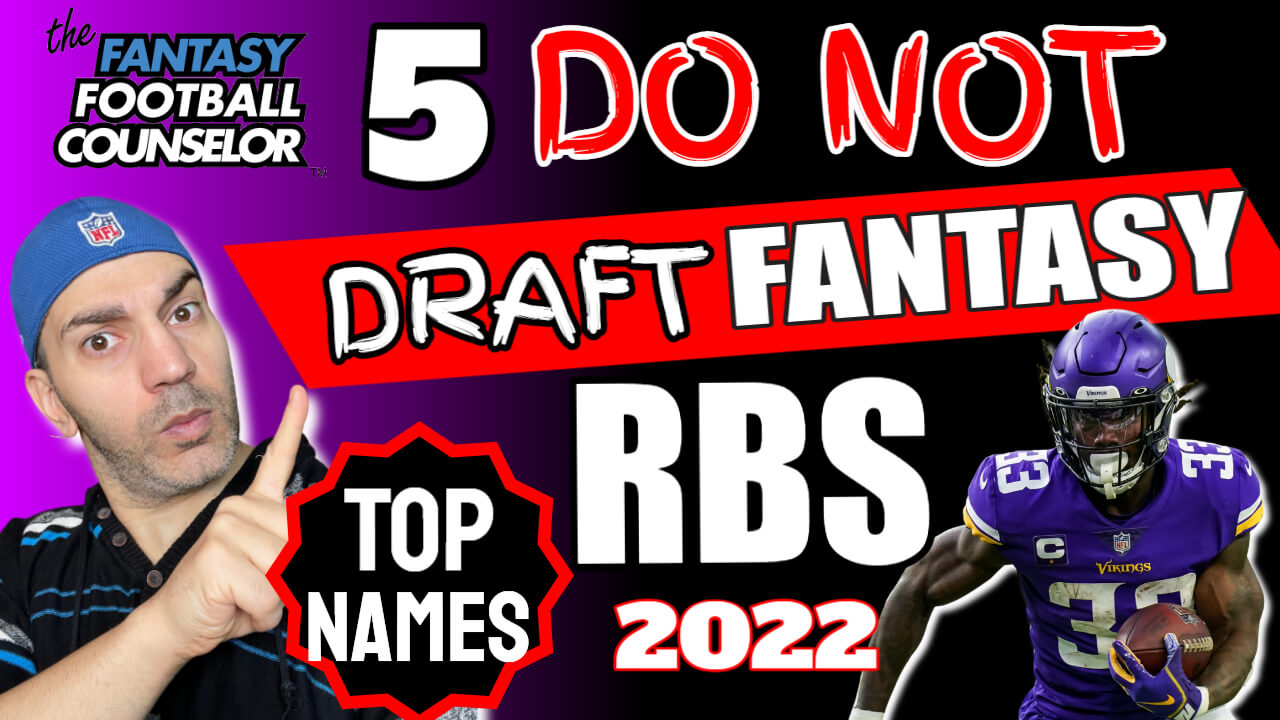 5 Fantasy Football RBs to Avoid in 2022 | Do Not Draft
April 19, 2022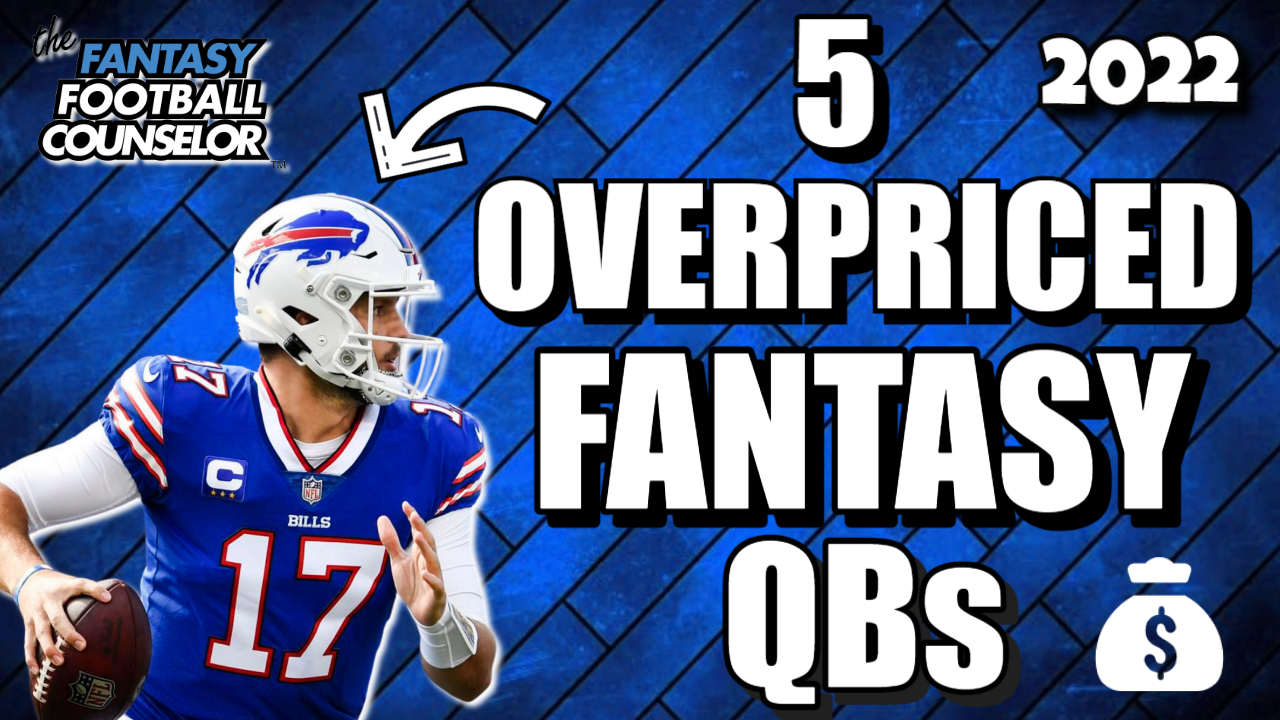 Fantasy Football Quarterbacks 2022 | 5 Overpriced QBs
April 12, 2022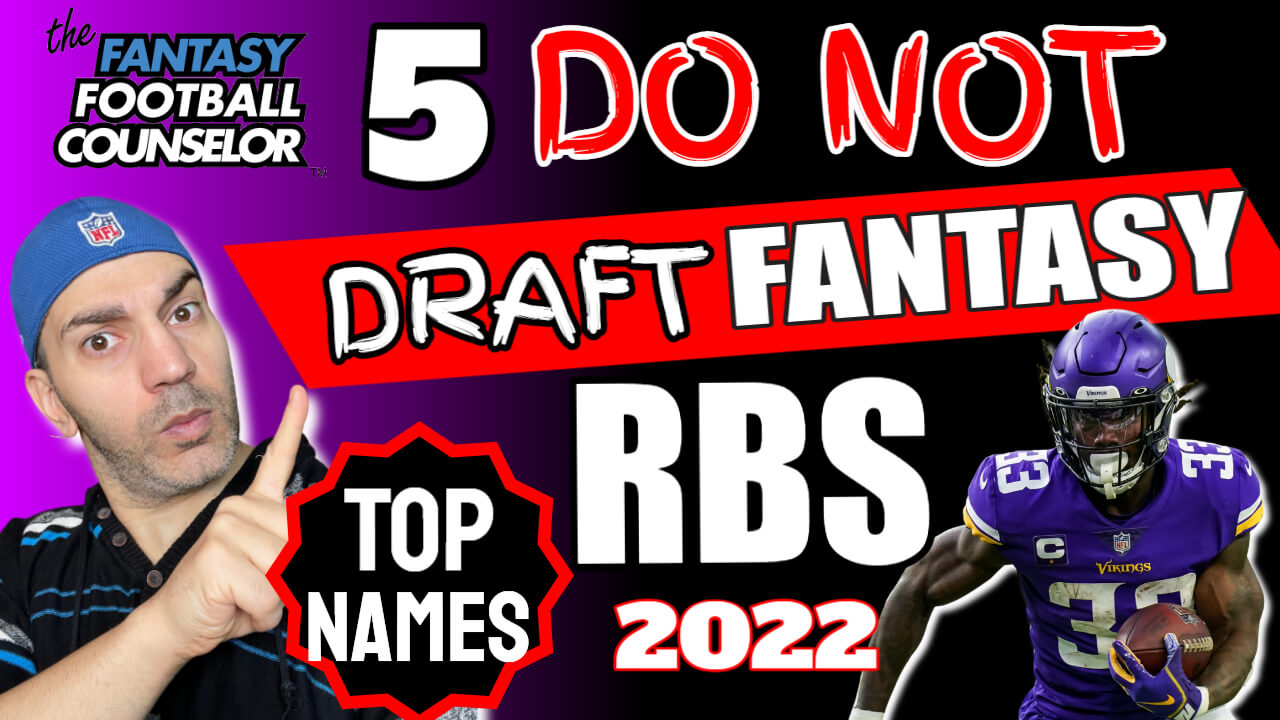 5 Fantasy Football RBs to Avoid in 2022 | Do Not Draft
April 19, 2022
TOP 5 Running Backs 2022
Derrick Henry
Najee Harris
Jonathan Taylor
Javonte Williams
Austin Ekeler
We are talking about the top five early fantasy football running backs for Fantasy Football 2022. These are the early rankings at the running back position. Having some fun here and I've made this one very special and very interactive today. What I've done is I've taken to Instagram @fantasyfootballcounselor. If you guys are not following, make sure you guys go there. The number one verified IG page for fantasy sports @fantasyfootballcounselor. I took the story mode and asked you guys to vote on the fifth running back in these ranks. So I've got my top four and I've asked you guys to basically vote in on the fifth. So who is the fifth running back on the top five? That's voted up to you. I thought I'd have some fun here because this is very early, this is all hypothetical.
Now, where the rankings really start happening, where my 16 rounds draft solution starts falling into play, and where I really start laying it out on where to draft players is after the NFL draft, because there's Bryce Hall out there. There are other running backs coming into the NFL, predicated on where they land might put them in the top five, that's where I had Najee Harris last year. He landed outside the top 10 and I'm like, "Hell yeah, he's top five." And the mainstream all had him outside the top 10. So this episode going to be fun. Again, I made it interactive. So we're going to dive into my IG, into my story mode, and see what you guys voted for the fifth one, for the fifth running back here and I'll go over my top four here.
So again, guys, I'm really hypothetical to some degree here, there is obviously some research here. I've done the research. These are the five that I feel could still be the five. We're going to see who the rookies are and where they land, that it's help based on landing position. So very fun episode here. Top five running backs, early discussion.
1. Derrick Henry
So Derrick Henry's my first one off the board. Now, you guys are saying, "Well, Joe, your nuts here, Jonathan Taylor should be number one." Yes. But understand guys, let's go back to 2002, 2003, Priest Holmes was the only running back to go back-to-back number one, running back based on fantasy points. Jonathan Taylor will decline. I love Jonathan Taylor. I loved him in his rookie year. I was ahead of the mainstream on this. And I get, I knew Taylor was going to be a stud. I loved him last year. The only reason I was skeptical and pessimistic about Taylor was that I thought they might be in a little bit of a committee with Hines. And I think it'd be a little bit annoying, but sure enough, they knew what I was thinking all along he should be the work course running back.
And this is how I feel about every running back that I think is good. They shouldn't be in a committee, they shouldn't be honed in, they should be working as a work course running back because you want the best. A team wants the best possible running back out there. So again, let's put Taylor aside for a second, Derrick Henry is the first one right now. Why do I like him? Listen. I still think Derrick Henry, he's got one to two good years out of him, solid. Last year only played eight games and still finished 22nd amongst running backs. Guys, I can't express to you how huge this is. Listen. Number 10. Okay. In attempts 219, Derrick Henry played eight games and he finished 10th in attempts with 219. Check them out guys, touchdowns, Derrick Henry finished sixth amongst running backs and touchdowns with 10 and he played eight games.
This is I can't express to you how important this is guys. Rushing yards, Derrick Henry finished in rushing yards with 937 and he played 10, sorry, eight games. Okay. So top 10 in all of those categories, finishing 22nd in fantasy points, now that isn't very good, but he played eight games, pretty much half of what other running backs played. He finished top 10 in many categories again, including what I just stated for you, including attempts and touchdowns, and rushing yards, which is phenomenal. So Derrick Henry, I still think has the highest ceiling amongst running backs. Obviously, the receptions aren't going to be there, but even if we're talking PPR, that's what I always talk is one point PPR, I still like Derrick Henry guys, I still love Derrick Henry as a guy that could be the number one running back in fantasy points by the end of the season, because the ceiling and the volume are so high.
Now you're saying, "Well, Joe, I think the Titans may limit his production, we're going to have to see who else they draft. Maybe another running back comes in and they lighten the load because we saw the injury, he was getting work too much." That's very possible that another running back does come in, but I still think they're going to run Henry. I think that these guys are making a run. They've got at Tyreek Hill. Tyreek Hill's got what? One, maybe two good years left. They're going to try to push as hard as they can and they want to increase their chances of making it to the playoffs and going as far as they can. Again, I don't think the team is there with Tyreek Hill, but they're going to make a run and they know they've got a limited shelf life of Derrick Henry, they're going to run him to the ground. Okay. So easy.
Even if they do limit Henry, I'm looking at it, I'm thinking at least a floor of 275 rushing attempts. That's a floor. I still think it's going to be well over 300, predicated he's healthy, so Derrick Henry's number one, running back off the board. Clear cut, bounce-back season, massive upside, Derrick Henry.
2. Najee Harris
Coming in number two guys, number two here and again, this is the early rankings are going to be totally different and I'm going to go over that in a second. But Najee Harris is number two. Now, I have some question marks about Najee Harris, I liked him at the value last year, everyone had him outside the top 10, I was jumping all over him in the second round I was getting him and I knew I was going to have to reach sometimes in the first round because people were catching on.
But now people know Najee Harris is good. People know the counselor was right. People know that the mainstream is full of shit. They know that they had Najee Harris outside the top 10, now he's in the top 10 currently sitting. I think he's six or seventh on the PPR rankings for them right now. Volume, talent, youth, opportunity, it's all there. Okay. The only problem I'm having is a Mitch Trubisky problem, is Trubisky going to check down and pitch it out to Najee Harris, is he going to throw it shortly passes to Najee? Maybe, Najee becomes a huge outlet for Trubisky, right? I don't trust Trubisky. Now, Trubisky is in a different offense, with new coaching with Tomlin, better receivers, and a better offense all around. I like it. Now, Najee Harris has to contend not only with a new quarterback in play, but he's also got to contend with a bad O-line, which I'm hoping and I think, and I believe they will improve in the NFL draft which will help Najee Harris.
I've got him at number two based on youth, talent, and volume. He's not coming off the field. If he does, it's probably for 5% of the overall snaps, he's in there for 90, 95% of the snaps. Najee Harris is going to eat, Najee Harris, easily talent, Najee Harris will get the volume. He's going to be young, I mean, he is young. He's going to be performing on a high level, getting all the goal-line work. Obviously, last year didn't do too well in the touchdowns. Only seven touchdowns, that's really unacceptable for me. I like to see more touchdowns. Okay. He got three receiving touchdowns and seven rushing touchdowns, 3.9 yards per carry, that's going to go up. He's still managed 307 attempts and 1200 rushing yards.
Pretty phenomenal for Najee Harris. A guy predicted to be the top, finished on the top, top three PPR last year in points with just 300.7. 300 plus fantasy points, that's going to go up. Again, Mitch Trubisky is a problem, the O-line's a problem. I'm hoping Mitch does well and they improve that O-line. Najee Harris, I got him at number two. Well, you're saying, "Okay. Who's that number three? Joe, how could you put Najee Harris above Jonathan Taylor?"
3. Jonathan Taylor
Going back to that debate. Want to say, "Get back to Jonathan Taylor," Jonathan Taylor had a phenomenal year and Jonathan Taylor, I love. And Jonathan Taylor could finish number one amongst running backs and smash Najee and smash Derrick Henry. And not really smash if they're both healthy, but he could come up still on top last year, with 373 fantasy points. Here's the thing, 332 attempts, I think that's still viable.
Okay. O line's good. They brought in Matt and Ryan. Okay. Receptions 40 receptions. I think that could stay the same or go up, I still like that. But the yardage, 1,811 yards, and 18 touchdowns are very hard to duplicate but very possible. And again, I have to there's anybody and I repeat anybody. That's going to duplicate the priest, the priest homes, 2002, 2003, repeat of most fantasy points back-to-back years, right? He did it two years in a row. And it's very rare running back two years in a row to have two pinnacle years. If anyone's going to do it, I think Jonathan Taylor's going to do it, he's got youth, he's got the opportunity, he's got O line, he's got at talent, he's got everything going for him, volume. Johnathan Taylor, I still like you, I still could consider you first overall, this is where the mainstream had Cook one year when he did well, they had him number one again, the year after, number two, whatever, right?
Cook was the guy I saw falling off for many reasons, including he hasn't finished a year. Taylor's the guy I still think holds solid borrowing any type of injury. If he doesn't get hurt, Taylor still stays on top. I love Taylor. Taylor could be number one. All I'm saying is that I like Henry and Najee a little bit better. I just think they still think they have more of a ceiling if that makes sense. And I still think Taylor still has a ceiling, but he has had such a pinnacle year. It's hard to duplicate, again, it's very rare and it happens, that he goes back-to-back number one and for those reasons, I have him down one or two spots.
I'm not saying Taylor's a bust, this is not what I'm saying. All I'm saying is that he might not finish first overall again, based on what history has shown us at the running back position, period.
4. Javonte Williams
Come to number four at the time of this recording again, it's very early. Melvin Gordon is still a free agent. He's talk of Ravens. Hopefully he doesn't come back. Predicated, Melvin Gordon does not come back. Assuming he doesn't, I got Javonte Williams at number four. And again, stay tuned for number five because that's voted by you. We're going to go to Instagram. I'm going to dive in. But I got Javonte Williams here, number four for many reasons. Last year you finished 17th amongst running backs, finishing all 17 games, knock on wood, very healthy, love that, love the talent, love the youth, love the opportunity. 203 rushing attempts and Melvin Gordon was a pest and he hoarded away from the other 203 rushing attempts, a very brutal, very pathetic, and 903 yards on the ground. 4.4 yards per carrying, four touchdowns.
Melvin Gordon hoarded away eight touchdowns. So Melvin Gordon being gone you're looking at 12 touchdowns on the ground as a floor for Javonte with Melvin Gordon gone. Javonte is going to get that goal-line work. Then you're looking at attempts, Melvin had 203, Javonte had 203. Is Melvin going to get all the 203 that Melvin didn't get if he's gone? No. But I'm going to say on the conservative side, on the lenient side, I'm going to say Javonte Williams finishes with 260 rushing attempts. That's assuming that Javonte gets 60 out of the 203 rushing attempts from Melvin and again, that's on the low side. So 260 attempts as a floor for Javonte Williams. I think it's going to be well over 300, but I'm being really conservative here. It's 12 touchdowns, 260 attempts, rushing yards, he had 903, Melvin Gordon had what? 918.
So conservatively 1200 rushing yards. Okay. So we're at 1,200, 12 touchdowns, and around 260 to 300 attempts. This puts them easily. And again, that's on the lower end with Melvin Gordon being gone. The ceiling's high, they like to run the ball, we know the Broncos like to run the ball. Now you got to understand Russell Wilson got a factor him in for a few rushing touchdowns and a lot of rushing yards potentially. Right? But Javonte Williams is going to get the ball, he's going to get the reset options, he's going to get the volume, he's going to get the opportunity. Javonte Williams, absolutely love a guy if everything aligns, if the stars align, everything goes exactly as planned with Melvin Gordon being shipped off and him getting all that volume, and him getting all the attempts, and him getting all the work, and he stays fully healthy, I don't see any reason why Javonte Williams does not finish as the number one running back in fantasy football this season. Period.
Number one, Javonte Williams potentially. But I got him here at number four. So Derrick Henry, Najee Harris, Jonathan Taylor, Javonte Williams, you can mix and match either way. They have Jonathan Taylor, Derrick Henry, Austin Ekeler, CMC, and Cook as a top-five, which is absolutely ludicrous. Christian McCaffrey's only played 10 games in the past two seasons, Dalvin Cook has not finished a season, neither one of them has the business being in the top five. Never mind, even in the top 10 I don't trust those guys. So JT, Henry, Ekeler I can see, but CMC and Cook is absolutely ludicrous. And again, copying and pasting, Johnathan Taylor, they haven't met number one. But forget what they're doing, we've got Derrick Henry, we've got Najee Harris, we've got John Taylor, we've got Javonte Williams. Coming in number five, it is fan-voted by you guys.
So I'm going to dive in here and give you guys the verdict on who number five is based on your vote. Again, this is a very early rankings. Bryce Hall could come in, other running backs, come in, things are going to mix and match. For all we know, Najee Harris could get Bryce Hall in that committee and it's a split backfield. We don't know. Right? We don't know. So again, let's go over some of the guys you went to or responded and then I took it to the vote here, and then you guys voted on who, out of the finalists you guys chose. So again, I took to the questions and you guys gave me a list of names, and out of those lists names, I took the majority of the running backs you sent and I put them to a poll and you guys voted on the poll in the final two. Okay. I'll tell you who that is.
All right, here we go. So I'm going to go to my story mode. I got a lot of stories going on here. So I said top early backs reveal who you guys are fan-voted, so here are some of the names that you guys considered as number five, you got Saquon Barkley. I like Saquon, he could finish top five. Kamara's in the mix, Michael Carter. Someone says not Saquon, that's funny. CMC is in the top five on the consensus but that's ridiculous. I'm not saying CMC is a bust, but I just don't trust him. Nick Chubb, Austin Ekeler, Joe Mixon, Dalvin Cook, D'Andre Swift, Michael Carter, AJ Dillon, Fournette, Kamara. A lot of Kamaras here, but not as much as I'm seeing the other guys. So what I saw guys is a lot of Ekeler and I saw a lot of Mixon.
Okay. I went with Mixon, Ekeler as a two, because that was the majority of what you guys voted. And then I took that to a poll. And as of right now, we got thousands of votes. It looks like Ekeler is winning by a landslide, 66 to 34 Ekeler, so that's who it is guys.
5. Austin Ekeler
Number five is Austin Ekeler. Do I debate this? Here's the deal. I like Austin Ekeler. He's unblocked me off of Instagram, he's commented back on a couple of my posts. He's a nice guy. He's personable. He's an entrepreneur like myself and he gets it. He gets the whole fantasy thing. He gets the audience. He relates to the fans. He keeps it real. He relates. He understands that fantasy points, equal reality points because if you have reality points, equal fantasy points, they run in parallel. So if you do well in reality, you're going to do well in fantasy, which means people are cheering you on.
He understands logic and common sense and I like him. Now, he finished last year as second amongst running backs. Predicated he stays healthy, especially in PPR, you're looking at a top-five finisher without a doubt. I love the offense. Okay. I had my doubts in regards to will he get the volume and sure enough, they believe in him, he got the volume. Now one thing I don't like is the rushing attempts. I like a guy that's a true workhorse running back that gets the volume with 206 attempts out last year, 911 yards on the ground, and 12 touchdowns. I'm not excited. I like the 12 touchdowns. I just don't like the attempts, the 206. That's not enough for me, but where he made it up was the 647 receiving yards and eight receiving touchdowns where his numbers are inflated is the 12 rushing touchdowns in the eight receiving touchdowns, which is great. He gets it done on both categories in receiving and rushing.
Is that going to go down? Possibly this year. Pray that he stays healthy. Now he only played 16 games. I think you missed one or two. It is what it is. You miss a game here and there, it's fine he missed a game. So Austin Ekeler, I like to vote guys. It's harder to debate this. Predicated if he stays healthy, I like the offense. He's proven he can get it done. He makes up for anything. He loses in rushing attempts in rushing yards, receiving yards, and receiving touchdowns. I don't see how he's not on top if he's healthy, he's a top-five top 10 guy. Period. If he's healthy and again, I like him. I like his attitude. I like his personality. I like that he is part of the community.
Now the year I called him a bust, he busted and he busted because he got hurt. He came back last year, and redeemed himself, going into this year, he's proven that not only does he love fantasy, but he's also got the heart and talent to be a top-five contender. So I agree with the IG people, Austin Ekeler at number five. Again, honorable mentions here, are Joe Mixon, and Alvin Kamara. I think Saquon Barkley, if healthy they're improving that O line, they're going to build that offense around. He slips in the top five easily with the volume. So there are so many other guys that could have made it. Cook, I don't trust. CMC, I don't trust. D'Andre Swift, I don't know if I trust the offense. So I kind of like the five that we have as of right now. This is very early guys.
So again, let me know in the comments. Do you agree with the Instagram people? Does YouTube have a different take on this? Love to hear your feedback and make sure you guys subscribe, thumbs up, and get the 16 Round draft solution. Use that Code TUBE20 to save so 20% and dive in. All right, guys. There are some Fantasy Football Running Rankings, the RB Rankings free for 2022. Make sure you guys are subscribed, thumbs up and I'll see you guys next video. Thank you guys for voting. It was a lot of fun and those are your top five. I'm out.