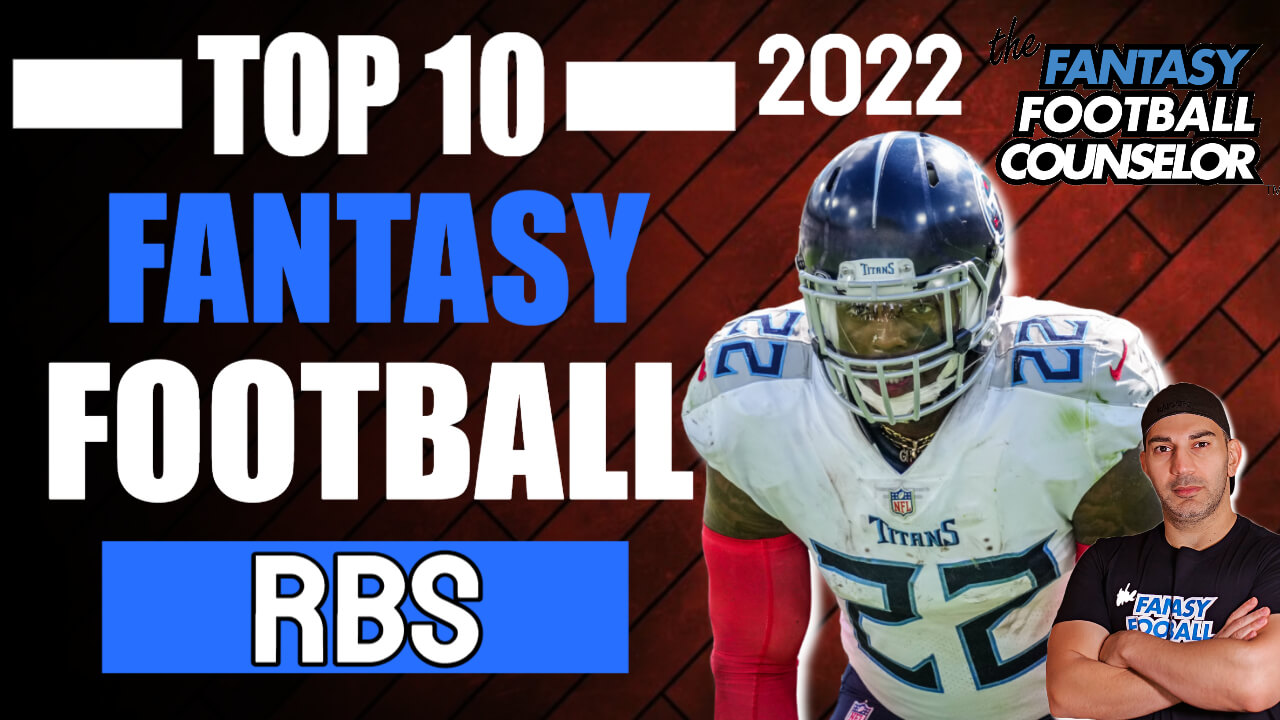 Derrick Henry
Jonathan Taylor
Najee Harris
Christian McCaffrey
Saquon Barkley
Javonte Williams
Joe Mixon
Alvin Kamara
David Montgomery
Ezekiel Elliott
See the full video here: https://youtu.be/H6lYgqeyWKo
The depth charts are aligning, and we are talking top 10 running backs for Fantasy Football 2022. This is a massive show, guys. I'm beyond excited to dive into this and… I think this is still a relatively early top 10 running backlist. This is going to change. This is the May list, but it shouldn't change too much because again, now we know the NFL Draft has happened. Now we know where the depth charts are. So the top 10 running backs here for Fantasy Football 2022 should be pretty much solidified.
Now I do want to say there are some awesome and amazing running backs that came in, but it's not as clear-cut as it was last year. Last year, I was the only one that told you Najee Harris is in the top 10. Nobody else had him there. They were afraid he was a rookie, but the opportunity was big for him. We saw the volume. There was no committee, that type of thing. There are a ton of great running backs this year that could easily slide into this top 10. I left them out for now, simply because there's uncertainty. I'll give you an example. Breece Hall, love him. I think the talent is great, but he's on the Jets. So that's a big problem.
Not only that Michael Carter's fourth-round pick last year led the Jets with 147 rushing attempts last year. He's still there. Is it going to be a committee? Whose backfield is it? How good is the O-line? I didn't see any major O-line improvements in regards to the draft. Now there was some off-season stuff and obviously, they had a great draft. I didn't see an O-line guy in the first couple of picks.
He made some good picks. They got a corner. They got Breece Hall. They got a great wide receiver, but is the O-line going to hold up? How's the quarterback going to do, right? How's the situation going to be with the Jets? So I just can't slide Breece Hall in the top 10, but if you got the volume and they really start clicking, then we got something exciting there, right? Kenneth Walker, another guy with the Seahawks, has great talent. Chris Carson's coming off neck surgery. Are they going to fully rely on Kenneth Walker? I think they should. If they do, if he gets 250 attempts, he's a top 10 running back, right? There's tons of upside there. So there's tons of upside, tons of rookies. I'm going to be doing a video specifically on rookie running backs that I like. So make sure you guys click the subscribe button if you're new to the channel, click subscribe. And of course, if you're listing on audio, hit follow. Make sure you guys are tuned in and follow on Instagram and Fantasy Football Counselor.
10. Ekeziel Elliott
So the first guy here is Ezekiel Elliott. Now Zeke Elliott is 19th on the consensus rankings. I got him here at 10. Will I draft Zeke Elliott as if he were a top 10 guy? Absolutely not. I can get him for more value. If I can get him in the third round, great. I'm not going to invest in a second-round pick but in regards to where they finish. And that's what the problem is, right? A lot of the consensus takes last year's top finishers and paste them over in regards to their rankings, which is wrong because they never finished like that. Najee Harris was 14th or something, 15th or something like that on the running back rankings last year. He finished what was like third, last year amongst running backs on the rankings in PPR 300 points, PPR fantasy points.
So an example like Najee Harris, right? He's outside the top 10, finished third. Now they've got him what, sixth? So a lot of this is predicated on last year's rankings. I don't do that. Now the reason I have Zeke Elliott in the top 10 is that he has been on a decline, hear me out here, every single year. His attempts have been dropping every single year. And that's a cause for concern. But the man always ends up being in the top 10. He finished seventh last year in the top 10 with 237 attempts, 1,002 yards, and 10 touchdowns. So I think he's been on a downwards trend. I think they only do better this year. I think they start using him a bit more this year. Hear me out. I'm not saying Zeke Elliott is going to be an absolute stud, he's going to break out and boom.
But what I'm saying is slow and steady wins the race. He's safe and solid every single year. And he pretty much always finishes in the top 10. And because he is been declining, I think this is his last hoorah. This is his last boom. This year he does something that's a little bit better than what's been happening over the past two years. But still, last year, 10 touchdowns, 1000 yards. I'm expecting 1200 yards, and at least 12 touchdowns this year. And he's still going to finish in the top 10. And another thing with him is he's always healthy. He's always going to stay healthy. So that's another thing I like about him, but here's the cool thing with Zeke Elliot. This year, you can get him for value and I'll tell you exactly where to get him in the 16-round draft, after I laid it all out for you guys, get it below.
9. David Montgomery
A second guy here currently sitting like 16th on the consensus rankings is David Montgomery. David Montgomery had a bad year. Last year, finished 21st amongst running backs. But that offense was just figuring itself out. They've got a new coach they've gotten rid of Nagy. David Montgomery will be unleashed. Now David Montgomery play 13 games last year. So when I pulled this up here, he missed like week 5, 6, 7, all that early stuff in the early season. And what happened when he came back, his volume got back up. If you look at weeks 16, 17, and 18, over 20 attempts, and all those weeks he had over 20 attempts in week 13. So the Bears understand and the Bears know that David Montgomery is that workhorse running back on their offense. He's the guy.
There's nobody else that's going to come in and take that volume. And that's another thing that I'm noticing guys. And I want to emphasize this when we're talking running backs here. You got to go robust RB. There's only a handful of running backs that have a minimal committee and I've got them here in the top 10. There are so many committees, so, so many committees. So stick with… We're going to get back to David Montgomery in a second. But the point I'm trying to make is David Montgomery is not on the committee. He's not. He is going to be the workhorse running back on that team. The new coach, Fields is going to be finally in the groove at quarterback. So he's going to be used. Now, obviously wide receivers with the Bears need some work there, but either way, Montgomery's going to get fed. And again, going into what I said, go robust RB.
There is only a handful of running backs no committee, even a guy like Austin Ekeler, which I omitted at a top 10 because they've got Isaiah Spiller now. Isaiah Spiller, I'm not saying he's the best running back on the planet, right? He wasn't a second or third-round pick, but Isaiah's Spiller is a beast. He's a violent runner. And that may end up being a committee. I think the Chargers actually don't believe in Ekeler to be that full workhorse running back. And he has been injured in the past. He was a bit of scrap back behind a like Melvin Gordon. So when I look at David Montgomery, I'm looking at it like there's no Spiller there. Nobody's going to be a factor there for him. Now Khalil Herbert came in last year and ended up getting 103 attempts, two touchdowns, and 433 yards.
That was because, as I said, David Montgomery missed those games. So Khalil Herbert, that is the running back, will not be a factor. I'm not concerned. So Montgomery's going to eat. Montgomery's going to get at least 260 attempts. I easily see him being in the top 10 again. He wasn't last year because he missed a few games. I think that's going to change. I think people are going to sleep on him. Do you have to invest a second-round pick on him? No, you don't! I think he's coming off. I did some mock drafts. He's coming off in the second round. You may have to combo him if you get like a Jonathan Taylor, Derrick Henry, or Najee. He may be your RB two, but I still think he's going to be solid. So coming to number nine for me is David Montgomery.
8. Alvin Kamara
Coming in number eight, I've got Alvin Kamara. Alvin Kamara finished eighth last year and I know Joe copied to paste. I get it. I just had to make sure that he was getting into the top 10. Now am I excited about Kamara? Am I giddy like I was a couple of years ago? No, not really. His attempts are there like I want him to be there, 240, but based on last year compared to other running backs, he was sixth in attempts. I still want more. I'm a greedy guy when it comes to my running backs and when it comes to attempts, I like those workhorses. That's why I'm so much in love with a guy like Derrick Henry. So I look at a guy like Alvin Kamara and I just see a guy that's going to stay in the top 10 barring any type of injury. He's going to produce. And when you look at receptions, this guy had 47 receptions last year.
He's more of an 80 reception guy. So maybe now Winston's in the groove with him. They finally got wide receivers. Michael Thomas is there. They drafted a… Who is it? There are so many names, guys. I'm trying to get caught up here. They drafted Chris, I hope I pronounce it, Olave? Olave? Chris Olave. I think I got that right. There are so many names. And if you guys are ripping me in the comment saying, "Joe doesn't know how to pronounce names." I spent the entire weekend going over all of these players from Kenneth Walker to Isaiah Spiller, to Breece Hall, to James Cook, Christian Watson to Alec Pierce on the Colts. There are so many rookies that came in, right? So I don't really go into college ball. I don't really watch college ball. It doesn't matter. What matters is where they end up and then what volume they have and what quarterbacks throwing to them and how much volume they're going to get, what committee they end up in, what team they're on.
All of that matters. Because you can have a guy that does really well in college but ends up behind Derrick Henry. He's not going to get the workhorse volume. So to me, it's all about where they land. So back to the point on Alvin Kamara. They've got Chris Olave. They've got Michael Thomas. They finally got wide receivers. So there's going to be air in the ball which means fewer distractions on Alvin Kamara last year. Stack boxes. No, Michael Thomas, wide receivers were in question. Winston was getting in the groove. Alvin Kamara is in the groove this year, right? He's going to be playing angry. And I got him at number eight. I think he's going to still be solid. And you got to get him at the right value. Now on the consensus rankings, he's sitting in and around 12. So they are sleeping on him.
7. Joe Mixon
They've got Nick Chubb ahead of him, which is ludicrous. I just don't see it with Kareem Hunt there. We already talked about this. Nick Chubb is not in the top 10 for me. All right. New offense too. Watson likes to throw, likes to run the ball. I don't see why Nick Chubb should be 11th on the consensus rankings. All right. So number eight, as I said, Alvin Kamara.
Coming in at number seven. Now am I excited about this guy? No, but I got to put him in there, it's Joe Mixon. Now Joe Mixon here's a deal with Joe Mixon. He is in a situation where there's no committee. They didn't draft another running back that's going to hoard away that volume. There's nobody else there. It's all Joe Mixon on a very potent offense with Joe Burrow, right? So I like Ja'Marr Chase.
I like Burrow. I like Mixon. Now Mixon had years to wow me. When I look back at his numbers, 2021 was his pinnacle year, with 292 attempts. He's never achieved that before. 1,205 yards, never achieved that before. 13 touchdowns, never achieved that before. My only knock to Mixon, and again, he had injuries back in 2020. Only played six games played 2019 16 games, 14 and 14 games in 2018, 2017. So he has problems finishing seasons, and always misses games. Another thing is that he hadn't hit his stride, right? So my question is this going into 2022. I just gave you the 2021 stats having these pinnacle years, all these attempts 292 attempts, 1,205 yards. Was that his anomaly year? That's my question mark. Either way, I got to give Joe Mixon a lot of credit for having a great year and I got to give Mixon the props because he is the main running back there.
There is no other running back and in an age now where there are so many committees, Ekeler, Spiller, Chubb, Hunt. These guys dip into the volume, whether you like it or not. So there's no way in hell am I putting a guy, except for this one guy which we're going to get to next here, he's kind of the only exception to this list where I'm going with a committee. But there's no way I'm putting or drafting a running back early if he's got a bit of a committee. All right. So Joe Mixon, again, is out for me. Sorry, is in the top 10 for me. But running backs that have committees are out for me. So I stand corrected. So Joe Mixon is in for me. Running back with committees in the top 10 is out for me. Hopefully, that makes sense for you guys.
So Joe Mixon free and clear should be slated for a lot and a ton of volume. That's why he is on my top 10 list. All right. But again, the only knock to him is was it an anomaly year? That's something you got to make the decision on. Pinnacle year, is that going to happen again? Based on the offense I like what I'm seeing with the Bengals. I like the wide receiver and Chase, one of the best wide receivers in the game. It's going to open things up for Mixon, fewer stack boxes. Tons of opportunity, tons of volume, no committee. Joe Mixon, number seven.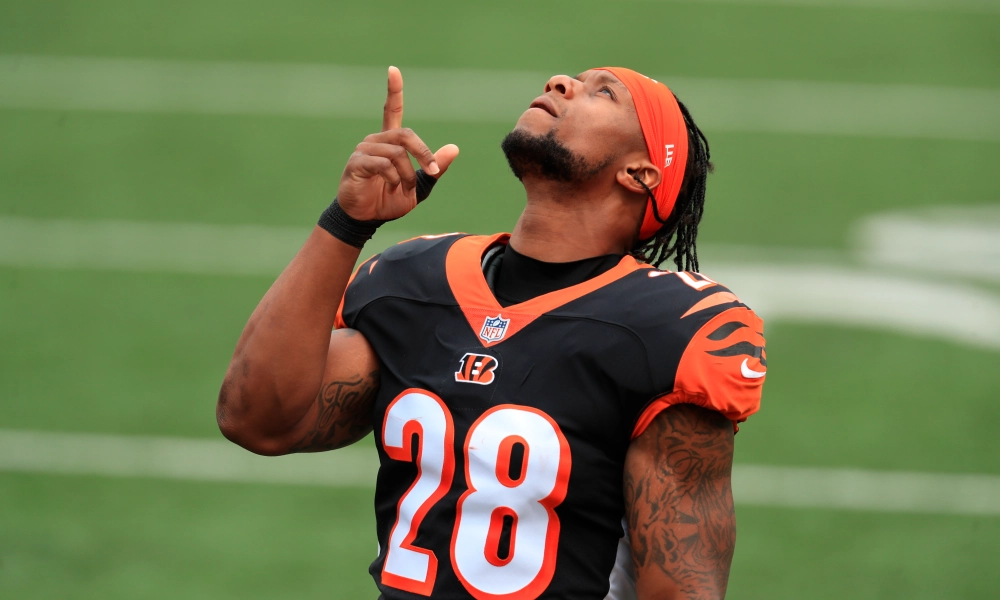 6. Javonte Williams
Coming in number six, again, this is that exception here. Now I'm a little pissed off about this. Let's talk about Javonte Williams, Melvin Gordon's back. Big piss-off committee. I'm not as excited about Javonte Williams as I was. Let me get this straight, prior to the resignation of Melvin Gordon, Melvin Gordon's resignation really helped me lose some sleep.
Now, Javonte Williams, last year had 203 attempts, 903 yards, four touchdowns, and 4.4 yards per carry. The pest that is Melvin Gordon who sucks, has only got what? One 1000-yard rush in his entire career? We're going into what is a fifth, sixth season, or something like that? Melvin Gordon, let me just pull it up here. He is going into… Yeah, his… Oh, I'm sorry. What did I say? He's going into his eighth season and he is only had one 1000-yard rushing season, which was in 2017. He's washed, he's old, he's an accessory. And he is only depth to Javonte Williams, but he will be a pest near the goal line. It just really sucks that he's there. He's not good, but he is good enough to take that volume away from Javonte Williams. So it depends. Do the Broncos want to win a Super Bowl?
I'm going to answer that with a yes. They brought in Russell Wilson. They've got the tools now. That's another nod to Javonte Williams because Russell Wilson likes to run the ball. He's got quick feet and likes to rush quite a bit. But Javonte Williams is a guy still, if they want to win the Super Bowl, they got to work their best running back, which is Javonte Williams. The young, talented and hungry Javonte Williams. I'm going to try to aim to get at him in the second round as my RB two, but I still think his ADP is going to be high. He's currently sitting 10th on the consensus, right? His ADP is going to be relatively high. And again, I still don't feel as warm and fuzzy. Now in 16-round drafts, which I'm going to explain, if you want Javonte Williams, make sure you add depth. Make sure you get a Kenneth Walker later.
Make sure you get an Isaiah Spiller, Cook. I make sure you have enough depth. Because Javonte Williams can boom if given the volume, but Melvin Gordon will be that thorn. I can already see it. Week five comes in. Javonte Williams is rushed. He's had 18 rushing attempts. He's had a touchdown. You're down six points. You're down seven points. You're down four points. You're down two points. You just need Javonte Williams to score another touchdown. In comes Melvin Gordon. Melvin Gordon comes in at the two-yard line. He pounds in a touchdown, Melvin Gordon. Javonte Williams gets to rest on that. You're screaming and spitting on your TV screen. You're pissed off. You drafted Javonte Williams really early. "Joe told me top 10," I told you top 10 based on Melvin Gordon going away and them believing in the value of Javonte Williams.
Yes. So this is really early. This is literally a couple of days after the NFL Draft time it's recording. So I like Javonte Williams, but Melvin Gordon is annoying. And this is why I say go robust Darby at the depth because it's only a handful of running backs, literally like eight to nine, that have no committees. All right next guy here. So that was Javonte Williams.
5. Saquon Barkley
Coming in number five. This guy's being slept on. I'm going to tell you guys why I like him. Coming in number five is Saquon Barkley. You're like, "Wow, Joe. Saquon Barkley." He's sitting currently sitting… Where's Saquon sitting right now? He is sitting 14th on the consensus rankings. Why do I like Saquon Barkley? Saquon Barkley is now two years removed from his injury last year. Two years. So he is fully… There's no excuse that Saquon Barkley's hurt.
Now last year he came in, came in early, they were gingerly using him. They were like, "Yeah we might work him in slowly, this and that." Then they realized that like, "Hey, we're not going to win. We're not going to make the playoffs. We're not going to do anything." So they brought Devontae Booker and he was handling that load. This year looks like they've added a wide receiver. Wan'Dale Robinson at round two, they got a top O-line guy in round two and they also got another O-line within their first four picks. So they got an O-line guy, their second pick. So they went defensive end. They went offensive tackle wide receiver. Then they went offensive guard, again. So they did beef up that O-line. There is no other running back there other than Saquon Barkley. They are building around Saquon Barkley.
He's going to get the volume. He's going to be the workhorse. He's very athletic. He's very talented. He just hasn't got it going. Now last year I said it was a do or die year for him. Yeah, it was. But what ended up happening was unfortunate and it was unfortunate that the Giants couldn't get it together. This year is really the do-or-die. It's kind of like we're in… This is the last stand. This is literally it. If he wants to get paid, if he wants to get incentivized, if he wants to get a contract extension, he wants to get paid big, he has to perform. Literally, his entire life in the NFL career is predicated on his performance this year. And all signs are point to him succeeding, barring any type of injury. "Well, that's the biggest question mark, Joe. He gets injured a lot."
Yes, he does. But what goes down must come up. This is the time and Saquon Barkley, am I going to be drafting him in the first round? No, you don't have to this year, but I've got him ranked top five because I literally think he's going to finish top five. Everyone's got him outside of the top five, outside the top 10 for that matter, outside the top 15 to most cases. I'm going to go ahead and say, I think he's going to easily finish top five based on the situation. A little crazy, a little wild, a little bold, but that's how it's going to be. Now again, am I investing in a first-round pick on him? No, I'm not. I might get him for value. I might get him in the second. I might get him in the third round. He will finish top five. He will finish top 10 based on volume, opportunity, talent, improved O-line, and a do-or-die situation based on his entire career. Saquon Barkley, number five.
4. Christian McCaffrey
Coming in number four. I hate to do this, guys. I really hate to do this because you guys know how much I hate on Christian McCaffrey, but I had to put him here in the top four. I got Christian McCaffrey number four. Why? Oh man, this is tough because there are literally no other running backs that have no committees. There are literally not any other running backs that get the volume that guys like Christian McCaffrey and guys like Saquon are going to get. And as I said prior, a disclaimer to the video, I said guys like Breece Hall, Kenneth Walker, Isaiah Spiller, and James Cook could finish the top 10 to give you a couple of names, right? Cordarelle Patterson could finish in the top 10. Guys I left out, D'Andre Swift, Leonard Fournette. They spread the ball around in Tampa Bay too much. Ekeler, Chubb, right? Dalvin Cook, I left out.
Dalvin Cook, usually you can sub him out for Javonte Williams. But the reason I left Dalvin Cook out is that he doesn't finish seasons. He's going to miss games. And I guarantee you he's going to miss games. I'm just not going to draft a guy that I'm guaranteed is going to miss games. So for that reason, Dalvin Cook is out. But Christian McCaffrey, you could say… I can preach in the entire off-season. He's played 10 games the past two seasons. What goes down must come up and I got to rank them here in the top four. And this is why I hate rankings. Now, will I draft Christian McCaffrey? Probably not, but I have to rank him in the top four. This is why I hate rankings. That's why 16 rounds are the better because I could say in 16 rounds Christian McCaffery is coming off in the first round based on the consensus rankings.
But I'm personally going to avoid him. Rankings, I got to put them there because he could easily finish the top four based on talent, opportunity, volume, no other running back taking away that volume. Now that being said, Hubbard can come in. They could work with other running backs in regards to the sheer preservation of Christian McCaffrey. But if they want to win, the Panthers want to get far in the playoffs, they want to make the playoffs, which I think is a long shot, if they want to do well, they got to work their best running back. They got to run the ground and Christian McCaffrey has to do well this year. The modeling has to stop. Got him at number four. Now the top three here are a little bit tough because you can rearrange the top three here any which way you can. I got some information here Najee I want to talk about here.
3. Najee Harris
But I got Najee as number three, volume, opportunity, talent, all there. My concern with Najee Harris is I was watching his story mode. I was saying, "Joe, you're crazy. What are you doing?" Watching his story mode he was in Mexico, partying drunk, zooming in on girls on the dance floor, or sitting down eating, whatever it was. Now you're saying, "Well, Joe, what's the big deal?" The big deal is the guy's been partying pretty hard. According to what we're seeing on story mode, he's at some wrestling event and I get it. You're supposed to have fun. It's off-season and I'm sure it's probably not going to affect him, but maybe it is. Maybe he's in a party mode. He's getting this money from the NFL. He's excited. He's got some fame and notoriety. He's good.
Now he's big. So maybe people are like, "Ah, this guy's known. I'm going to start partying, getting some girls, and all that stuff. I'm Najee Harris of the Pittsburgh Steelers." So again, when I look at a guy like Najee Harris, take away the parting from what I'm seeing. And again, maybe he wasn't drunk. I don't know. He sounded drunk on the photo, right or in the video, in the life he went on Instagram. So I've obviously been removed. I went on live. He never saved it, but I saw him on live a couple of days ago at a Mexican club, I think it was. He was saying it was Mexico. But you know, opportunity, talent, last year, 307 attempts, 1200 yards, 3.9 yards per carry, seven touchdowns. They made some O-line improvements in the off-season.
Drafted a wide receiver this year. The only problem is the quarterback situation. Who is starting? Is it going to be the biscuit Trubisky? If it is, that's a problem. Now they drafted Pickett here. Is Kenny Pickett in the first round going to be a factor? They drafted him. They drafted George Pickens. That's funny. They got Kenny Pickett and George Pickens, I don't know. And they drafted Calvin Austin third in the fourth round. So a couple of wide receivers compliment Diontae Johnson and Chase Claypool. They didn't go running back. So they went QB, wide receiver, defensive and wide receiver, beefing up that offense. But either way, Najee Harris is primed for a big year barring any type of injury. I got him at third. He's going to get the volume. He's young. He's talented. I was the only one that told you last year, Najee Harris, you got to get him.
I mean, I don't know what to tell you. He was outside the top 10. I drafted him. I got him in the second round, but later his ADP started going up, and ended up still getting him. So for a good value last year now everybody's riding the Najee train. Very, very frustrating being a council nation, but we'll get those gems guys. I'll tell you who the gems are in 16 rounds. Your Breece Halls, guys that I think you can get for the value that could go off, but Najee Harris top three easily, could be the first overall pick this year. But again, some off-field stuff. The quarterback situation bothering me a little bit, uncertain how many check downs is he going to get? How many receptions is he going to get? But volume, staying on the field, talent, and youth, are all going in Najee's favor. I could easily say that this guy could be a first overall pick.
2. Jonathan Taylor
All right, coming in number two. Again, between these two, between Derrick Henry and Taylor, I'm going Jonathan Taylor at number two. Now I want to emphasize this guy. I want you guys to get this point down. This is very important. Other than Priest Holmes in 2002, and 2003, no other running back has finished two years in a row on top. It just doesn't happen. So based on that, he slipped down to two. Barring any type of injury, this guy's easily a top-three running back. Now, am I a little more attentive to go Najee and Henry? Probably, for a couple of reasons. Henry, I still think has more of a ceiling. He's going to bounce back, had his down year last year. Right now it can benefit from a bounce-back year and Najee Harris, I don't think he's hit his ceiling.
Rookie year, bad O-line, getting into the groove. So Najee and Henry could easily finish ahead of Taylor. I want to emphasize that guys, there are some golden nuggets and some gems I'm telling you here. Taylor, as I said, Priest Holmes. Look it up. 2002, 2003. The only running back to go back to back. Jonathan Taylor, I'm looking at him here. 1,811 yards, 5.5 yards per carry, 18 touchdowns, and 332 attempts. I love Jonathan Taylor. I don't think he… Knock on wood. I don't think he's going to get hurt. They brought in Matt Ryan. I think that's going to help him. They got a great O-line. Is he going to run this wild? I'm going to say probably not. So, Jonathan Taylor, I'm looking for a decline. You know, this was such a pinnacle, anomaly-type year, but I still got… I can't take him out of the top three.
He's just too good. And the only reason I'd be taking him out of the top three, is there be a… Even out of the top five, the top 10, is an injury, which we can't really predict. Another reason is a slight decline, which I know is going to happen. I could be wrong. Maybe he comes out and booms and gets even more points, which would be phenomenal, but it's very likely he's going to decline. How much? That's the question. Is he going to stay healthy is the only other question. A slight volume decline and an injury are the only things holding me back. For that reason, I got to keep him in the top three. Jonathan Taylor is number two.
1. Derrick Henry
And number one, Derrick Henry. Because he is bouncing back. He had a bad year last year. Now let me just go over some stats, which are pretty phenomenal here for Derrick Henry.
This is pretty remarkable. Last year only played eight games. That's not the remarkable part, the fact that he played eight games. That's not good. When you put it into fantasy points, the man finished with 193.3 fantasy points. Hear me out, finishing 22nd beating guys like Christian McCaffrey, Saquon Barkley, JD McKissic, James Robinson, Elijah Mitchell, Darrell Henderson, Tony Pollard, Michael Carter, beating all those guys in fantasy points, playing eight games. Eight games. I just want you to, as I'm going through this and I'm justifying my reason why I got Derrick Henry at number one, understanding he played eight games last year. When you look at it from an attempts perspective, played eight games and still finished top 10 amongst running backs in rushing attempts with 219. 219 attempts, the man played eight games and finished 10th amongst running backs. In regards to touchdowns, he had 10 rushing touchdowns, finishing sixth amongst running backs.
Ahead of Josh Jacob, Nick Chubb, Leonard Fournette, Melvin Gordon, Najee Harris. He had more touchdowns on Najee Harris on the ground. More than David Montgomery, Cordarelle Patterson, more than Dalvin Cook, who only had six touchdowns. Dalvin Cook played 13 games, and had six rushing touchdowns. Derrick Henry played eight games, and had 10 rushing touchdowns. Okay? Just to put that in perspective. Yards per carry, Derrick Henry, when it comes to yards per carry, I'm not even going to focus on that. That's not even a focal point here. My main focus with him was the rushing attempts and touchdowns, right? These yards per carry of 4.3, are nothing to be shy about. So the point I'm trying to make… And oh, by the way, let's go into rushing yards here. 937 rushing yards will put him ninth amongst running backs. So attempts, rushing yards, rushing touchdowns, like that is absolutely insane.
Absolutely insane. But he only played eight games. I keep emphasizing that. So Joe, what's the point of this? You're saying he only played eight games. So what? He was hurt. Why do I trust him? Derrick Henry's the king. Very simple. I mean, he is the guy. He is the guy that's going to get the rushing touchdowns. He's the guy that's going to get the work. He's going to get the workload. Now, from what I heard, I could be wrong here, I'm just getting everything together. They just added Julius Chestnut to the roster. Running back, Julius Chestnut. He did really well in college. Could they have brought in Chestnut to be a guy that'll kind of relieve Derrick Henry with some workload? Maybe. Either way, Derrick Henry gets 280 attempts as a floor. He's just going to be over 300, but I like to go really low.
He's going to get 10 touchdowns. He's going to get 1200 yards guaranteed. Well you say, "Joe, he's not good at PPR. He's not going to catch a lot of balls. We're talking one point PPR here." Yeah, but you know what? At the end of the day, when you have 300 attempts, 18 touchdowns, 1500 yards, and almost 2000 rushing yards, you're going to make up for that. It doesn't matter. You're still going to get a solid running back. And that's why I got Derrick Henry at number one. And that's it, guys. That's your top 10. I'm going to go over it again here, but understand this is going to change a little bit, obviously. These are the guys that have minimal committees aside from Javonte Williams. And I omitted certain guys, like I said, Dalvin Cook hasn't finished the season. Austin Ekeler and Isaiah Spiller are there making a committee. Leonard Fournette had a pinnacle season last year, decline coming.
D'Andre Swift is out of my top 10 simply because I don't trust the Lions although I do see some upside. Chubb's not in my top 10 because Kareem Hunt's there. And I want to do a disclaimer again, guys like Breece Hall, guys like Kenneth Walker, Spiller, James Cook, using those four as examples as rookies could come in and slide in that top 10. AJ Dillon could slide in the top 10, right? Aaron Jones gets hurt, and Dillon gets the workload. And again, Dillon has been starting to surpass Aaron Jones in volume. So go back and look at the stats, you'll know what I'm talking about with Dillon and Aaron Jones.
So top 10 guys, Zeke Elliot, David Montgomery, Alvin Kamara, Joe Mixon, Javonte Williams, Saquon Barkley, Christian McCaffrey, Najee Harris, Jonathan Taylor, and Derrick Henry, top 10 running backs for fantasy football 2022. Relatively early list, right? If we're talking in May.
This is going to probably change slightly. I'll do another one or two of these as the season gets closer, but everything will be updated and in the 16-round draft, make sure you guys get it below. I'll see you guys in the course, and I appreciate you being here. Hope you guys enjoyed the show and fantasy football's finally here. I'll be rolling out a ton of content, rookie sleepers, rookie breakouts, our rookies to target, rookies to draft tons of stuff as the NFL Draft is now done and we're moving full force into the fantasy football season. I'm hyped. I'm excited. I'm overly hyped and overly excited, I should say. Subscribe, thumbs up. In the comments below, let me know your thoughts on the running backs that you love this year. I'm out.