[iframe style="border:none" src="//html5-player.libsyn.com/embed/episode/id/14538830/height/100/width//thumbnail/no/render-playlist/no/theme/custom/tdest_id/1750511/custom-color/3db4fa" height="100″ width="100%" scrolling="no" allowfullscreen webkitallowfullscreen mozallowfullscreen oallowfullscreen msallowfullscreen]
Nick Chubb Fantasy Football Impact for 2020. The Counselor dives into all the details to lets you know if you should consider drafting Chubb. (Podcast Audio Transcription)
Hello everyone it's Joseph Robert, The Fantasy Football Counselor. We're talking about Nick Chubb's fantasy football value for 2020. Going to give you guys all the details about him. If you should draft him, my thoughts on him, is there going to be a decline? Everything you need to know about Nick Chubb for fantasy football 2020. Before I get into that, guys, make sure you guys smash that thumbs up. Taking a lot of time here to make sure you guys get all the details on every fantasy-relevant player so that you guys can make a proper decision on if you want him on your roster or not for fantasy football 2020. So please smash that thumbs-up, and of course get the 16 Round Draft Solution at thefantasyfootballcounselor.com. This is the game changer guys. It's going to give you a competitive advantage over the competition. You're going to absolutely dominate the competition. 16 Rounds at thefantasyfootballcounselor.com, or there's a link here below.
Nick Chubb Fantasy Numbers
So let's talk about Nick Chubb. I mean, he had an outstanding 2019 season. Finished eighth in PPR. Pretty good. 255 fantasy points PPR. Now, rushing he was phenomenal. 1,494 rushing. That's eight touchdowns. He looked good. I mean, I'm not going to lie to you. He looked good. He's a pure runner. He's got a coach that believes in him this year and he's probably going to run him to the ground. So the opportunity seems good, but there is a "but." And there's a big but, okay? So I want to talk about this. So if you look at his stats last year before Kareem Hunt came back… And you've got to talk about this. You cannot deny Kareem Hunt's talent and you cannot deny Kareem Hunt is there. When I look at any running back, any running back, I look for a running back that's in a minimal committee.
So this is very, very important, guys, what I'm about to tell you here. Always when you are looking at any wide receiver or any type of running back, you've got to look at a running back that's in a minimal committee and doesn't have a guy that's equally as good as them in talent and can take away at least half of the volume. And that is exactly what happened with Nick Chubb last year. Half of his volume was gone. That's just the bottom line when it comes to fantasy points and PPR. So this is a very important fact here. Six out of the eight games they played together last year, in 2019, Nick Chubb and Kareem Hunt, they played together, Hunt outscored Nick Chubb in six of those eight games. This is very important. You got to consider that. Especially in PPR platforms, one point PPR, which is what I play, which is the most popular platform, in my opinion.
2020 Projection for Chubb
So if you're looking at Nick Chubb, and this is where his average ADP is, it's at the end of the first round, early second. So you're basically going to invest a first-round pick on a guy that is going be splitting fantasy points with another back. Now, there is a chance that Nick Chubb becomes the guy three downs and then Kareem Hunt gets phased out. Or there's a chance that Kareem Hunt could come in and steal the job. We don't know. There's just so much uncertainty, but I just think Kareem Hunt is too good to be ignored. Now, Nick Chubb only had two good games. I'm going to tell you guys this. I'm going to read out these numbers for you guys. He had two good games, week 12 and week 15 with Kareem Hunt there. If you look at weeks 16 and 17, I think they both had bad games, but 4.5 points out of Nick Chubb week 16. 5.2 points PPR week 17. And then if you look at a week 13 with Kareem Hunt there, 8.9 points. Week 11 with Kareem Hunt there, 9.2 points. And again, this guy was a lot of people's RB1, RB2. So he screwed a lot of people in the playoffs last year, so I need you guys to wrap your head around that.
And also, just by looking at his numbers, there was a slight decline in his attempts as well, whereas weeks six, eight, and nine, he was getting 20 attempts per game. And then with Kareem Hunt there, you can see that drop. Week 14, 15, 16, 17, it was as follows. Week 14 was 15 attempts. Week 15 was 17 attempts. Week 16 is 15. Week 17 is 13 attempts. So where he was kind of averaging around 20, 22 attempts per game, it started declining. So it started coming down. And that's another problem because Kareem Hunt was dipping into that. So a lot of people are saying, "Well, okay. Well, some of those games, Joe, when Kareem Hunt was there, Nick Chubb had 15 points and Kareem Hunt had 16 points. It was a difference between one point between the two. It was almost a 50/50 split, so I'm not really concerned about Kareem Hunt," you're saying. "And I'm still going to draft Nick Chubb," is what you're thinking, "at the end of the first round, the early second for 2020."
I'm going to tell you though if you're in a championship game, sometimes in fantasy football these games can be decided by half a point or 0.3 of a point, or one point difference. And if you've got a running back on the same team with your RB1 there and he's taking half of those points… So if my Nick Chubb in the first round, let's say, is putting up 15 points and he's my RB1, and the other 15 is going to Kareem Hunt, that could be a huge loss. You're losing half of the potential volume in the points because there's another guy in the committee.
Should you Draft Nick Chubb for 2020 fantasy Football?
So I implore you to stay away from Chubb. And I'm pretty good at this and I have a good history of this. Now, let me give you an example. Last year, Odell Beckham, actually, three years in a row, I said stay away from Odell and everybody said draft him round one. Le'Veon Bell. Everybody was crazy about Le'Veon Bell last year. They said, "Hey, Le'Veon Bell is the guy." That's what they said. Apparently they thought he was going to perform the same way he did on the Steelers. I said stay away from Le'Veon Bell end of round one. Proved that to be correct. Damien Williams, everybody was crazy on the Damien Williams show, and I said, "Listen, Damien Williams sucks. He's been a backup for years. And if Damien Williams was so good now, they would have never acquired and drafted Clyde Edwards-Helaire." So I've been telling you guys, I can see players that suck. Now, this is a little bit of a different situation. In no way am I saying that Nick Chubb sucks. He does not. Okay? He's a great player. In fact, he's durable, fits my system. I'd like him to be a more of a pass-catching back. He doesn't catch the ball as much as I'd like him to do that. But he doesn't need to because they've got Kareem Hunt there if you're the Browns. So I'm going to layout the verdict here for you guys, and it's up to you guys to make an educated decision on what you guys want to do with Nick Chubb.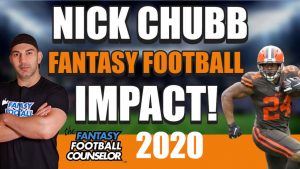 And before I get into that event, I want to tell you guys, this is crazy, but the mainstream… And it's like everybody, the magazines, the consensus rankings, the media, the top 10 rankings, everywhere you look they're going to have Nick Chubb in the top 10. And I cannot express to you how wrong this is. And it's the misinformation and the lack of awareness. And that's why I created the 16 Round Draft Solution, because I omit players that I feel are in a risk like this, where I see all these red flags. I just completely stay away from that situation and so should you. So when you're looking at Nick Chubb's fantasy football 2020 value, you got to take a look at him and say, "Hey, okay, let's be objective here. Let's take a look at the situation. Let's use our brains here."
Kareem Hunt is there. We saw Kareem Hunt outscore him six out of the eight games when they played together in PPR. It's a PPR format. Even in standard, I'm definitely going to stay away from him. Okay? So I'm going to stay away from him just because Kareem Hunt is going to be a thorn in my side all season. And where his ADP is, where Nick Chubb's ADP is right now, you're considering him as an RB1. There are a ton more guys. Josh Jacobs, who's set for a big workload. There are other guys you can get and you can go robust RB. You can get David Johnson in the fourth round, who I love more than Nick Chubb. Okay? David Montgomery I love more than Nick Chubb, just because they're going to get more volume. Because the guys behind them aren't as good as Kareem Hunt. Does that make sense?
And that's what I look at. I look at it as a scale. It's like a virtual scale I put my mind. How much better is Nick Chubb than Kareem Hunt? If the gap isn't like this if it's not off the screen big in regards to difference… When you look at Saquon Barkley and let's say, Dion Lewis, whoever his backup is, this is the gap. When I look at Nick Chubb and Kareem Hunt, the gap is a lot smaller. It's not 10 feet wide. And that's a big consideration when you're looking at any depth chart. Especially at wide receiver as well, you got to look at wide receivers that completely surpass the other wide receiver.
I'll give you another example here. When you're looking at the Tampa Bay Buccaneers, Godwin, and Evans, both similar. In fact, Godwin finished ahead of him last year in PPR. Now, when you look at that situation, Evans is obviously slated as the wide receiver one, but Godwin is just as good, and you don't know who's going to get the ball anymore more. So they're going to be in a situation where they're both being in the top 10, but one of them is only going to finish top 10. And it depends on who Brady is going to gravitate there in Tampa Bay. The same type of situation.
Final Verdict on Outlook
So the final verdict on Nick Chubb is I'm not going to draft him. I'm not. There's no way. And you shouldn't either. Now, I could be completely wrong. He could come out here and tear it up. Maybe Kareem Hunt comes out, gets hurt on the first play and Nick Chubb is the workhorse running back. Or they decide, "Okay. Well hey, Chubb is our guy. He's going to work the three downs and we're going to work Kareem Hunt on passing plays out of the backfield," that type of thing. We don't know completely. But all I can tell you is that I don't believe in my heart of hearts that Kareem Hunt is going to be sidelined. I just don't see it. I see him too good of a running back to do that. Remember, this guy was a rushing leader back in 2017, I believe it was. Kareem Hunt led the league in rushing yards. So he's not a guy that you want to ignore. He's not a guy that you want to completely omit. But again, you got to look at the facts.
Nick Chubb, had 8 touchdowns on the ground in 2019. I think Kareem Hunt had like, what, two touchdowns or so on the ground, don't quote me, but I believe that's it. I don't have his stats up right here, for Kareem Hunt anyway. Those extra two touchdowns could have gone to Nick Chubb. And I think there was a receiving touchdown in there as well that Kareem Hunt took away from Nick Chubb. He's going to be a thorn in your side, I assure you. They've also added Austin Hooper who catches the ball. I mean, you could say that's going to take away some volume from both running backs if they start utilizing Hooper, the same way Matt Ryan did over there in Atlanta. But again, when you look at the situation there are so many red flags to stay away from Nick Chubb. And it's just one of those things where I'm going to be putting these lists out and I'll be like, "Hey man, these are my top 10." And then everyone's just saying, "Well, where's Nick Chubb? Where's Dalvin Cook?"
I'll be like, "You know what? I don't really put out lists based on average draft position. I don't look at fantasy football running back rankings and I base it on that. I base it on players that I feel I would draft. Players that are in minimal committees, for example, with running backs. Players are going to get the volume. Players that don't have a guy that's equally as good breathing down their neck in the backfield." That is very important. So Nick Chubb, stay away for fantasy football 2020. It's very, very simple. I'm probably the only person that's going to tell you that. Even if he breaks out, you're going to say, "Well, Joe, you told me to stay away from Nick Chubb." I did, but I also gave you another option to grab instead of Nick Chubb, okay?
So that's it, guys. I hope you enjoyed the fantasy football impact series, Nick Chubb's fantasy football value 2020. Let me know if you're drafting Nick Chubb. Hopefully after this type of conversation, information, you're not going to touch Nick Chubb for fantasy football 2020. I appreciate you guys being here, and I will see you guys in the next video.
Make sure you are subscribed to this #1 fantasy football podcast to dominate your leagues.