Cooper Kupp Fantasy Football Impact | WR Rankings 2022
February 15, 2022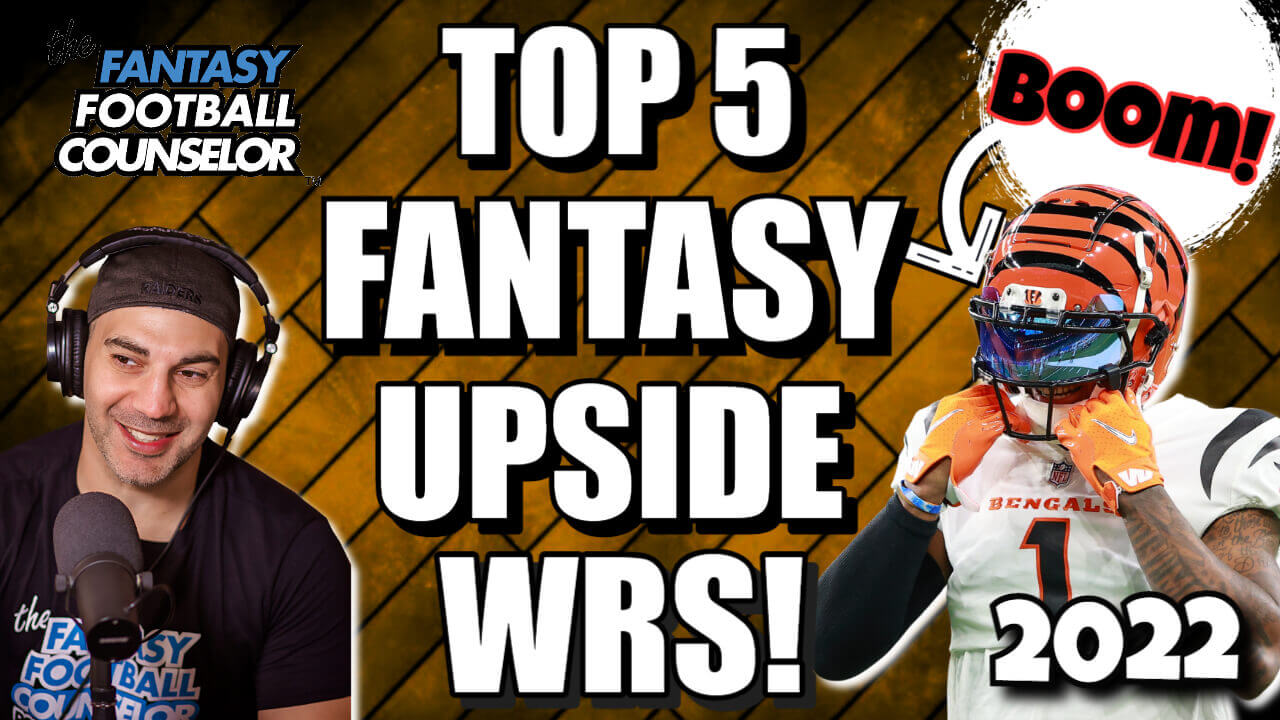 5 Fantasy Football Boom WRs 2022 | WR Rankings
February 17, 2022
Cooper Kupp Fantasy Football Impact | WR Rankings 2022
February 15, 2022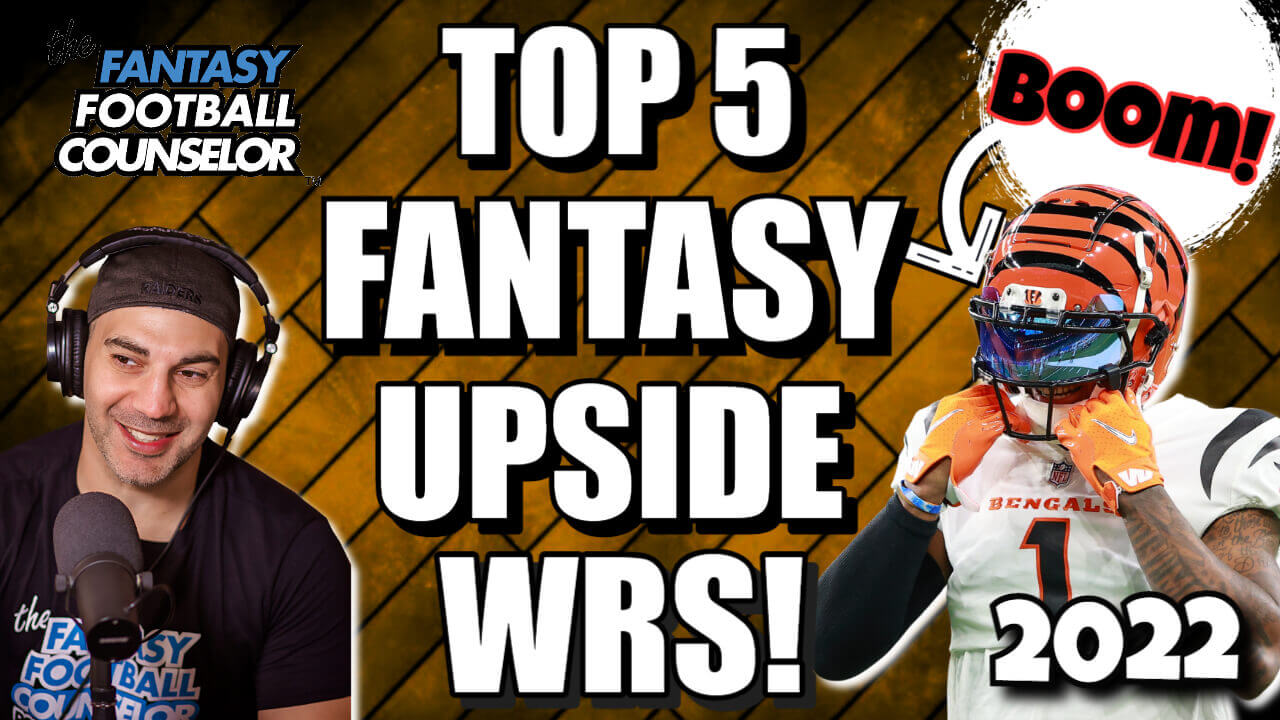 5 Fantasy Football Boom WRs 2022 | WR Rankings
February 17, 2022
Fantasy Football Impact of Ja'Marr Chase going into the 2022 NFL season. Should you Draft him or Not? The Counselor breaks it down for you.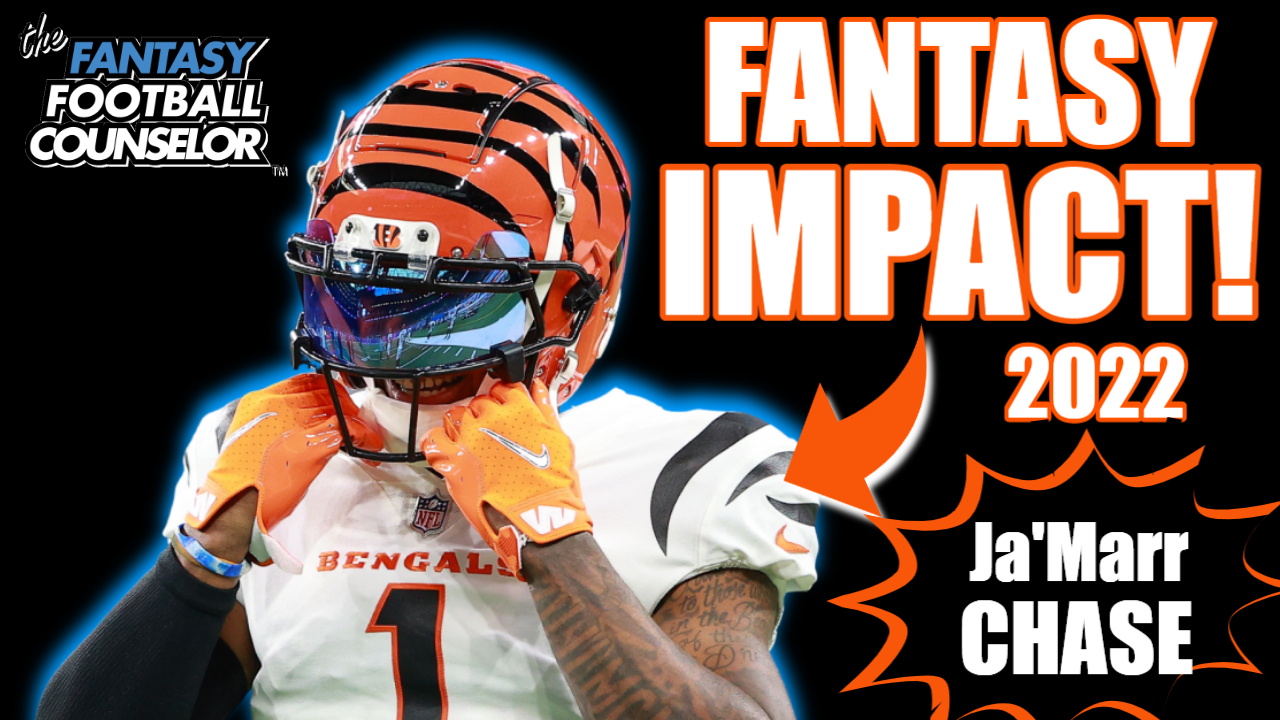 We're talking about the Fantasy Football Impact and Outlook for Ja'Marr Chase, the top wide receiver for Fantasy Football 2022. We're going to talk about his impact, whether you should draft him this year, what to expect out of him, how he did last year, his projections for this year? I'm super excited to dive into one of, if not the best, wide receivers in the game and his fantasy football outlook for this year.
Again, at the end of these videos, I will be telling you the verdict on whether I will be drafting him for Fantasy Football 2022 or not. I've created a whole series of these videos documenting every single top player for Fantasy Football 2022, so check out the link below here if you're watching on YouTube for the Fantasy Football Impacts, or simply just YouTube it if you're in the car. If you are listening to this on audio, make sure you do subscribe to the Spotify Channel, iTunes, or wherever you are listening guys for amazing content to help you guys win. This content is winning content. People that listen to this channel do actually win their leagues, so it's very important.
All right, let's dive into Ja'Marr Chase. Let's fully break him down here. Let's talk about him. Everything you need to know about Ja'Marr Chase for Fantasy Football 2022. First and foremost, you got to avoid consensus rankings because consensus rankings will tell you that other guys will finish ahead of him, guys like Cooper Kupp. But I personally feel, it's a bold statement here, that Ja'Marr Chase will be the number one wide receiver for Fantasy Football 2022. I'll go over things that may be an issue, may hinder him from the first overall, the first finisher, right, in fantasy points and PPR, and I always talk one point PPR.
I'll talk about some possible hindrances, but overall looking at the analytics, looking at what happened last year, looking at the scenario, we're in for an amazing season out of Ja'Marr Chase. The big question comes, are you willing to draft him in the first round? I typically go robust RB, but I'm going to talk about the verdict near the end of this video.
Let's break down Ja'Marr Chase real quickly here for you guys. Okay. Last year, was a phenomenal year. This was his rookie year. This guy, was a round one pick, fifth overall. When you look at the value, the amount they spent on him, right? The Bengals, he was drafted very early.
Ja'marr Chase Rookie Numbers
Obviously, the talent was there right out of college. Okay. He's out of LSU, round one, picked five by the Bengals. Their first pick in a 2021 draft, 6'1, 200 pounds, prototypical wide receiver. Now, this is stuff you already probably know. What you may not know or haven't looked up yet, 81 receptions, 121 targets, 1,455 yards, 13 touchdowns. Let me put this in perspective, okay. In targets, he was 17th, and this is maybe his hindrance here, okay. 128 targets is not a lot, but he still finished fifth in fantasy points. This is something you have to take a look at and consider. Where he made up in receptions or lost in receptions, he made up in receiving yards with 1455 and 13 touchdowns. He made up for it, and again, 128 targets that are going to have to go up next year and I definitely think it will.
Now you can say, "Well, Joe, 13 touchdowns, maybe that's a plateau." Maybe it is, but I still think there's a high ceiling, and that's why I love Ja'Marr Chase so much. I still think there's a huge ceiling for him. I still think he's a great talent. I still think there's way more upside. This is why I think he could finish first, overall, in fantasy points.
The Ceiling is High
Now, if you compare him to the guys that did finish first overall, the main difference between a Cooper Kupp and a Ja'Marr Chase was the targets and receptions. Now, Cooper Kupp had 145 receptions compared to Ja'Marr Chase's 81. That's a huge gap when you look at receptions, okay. Ja'Marr Chase was 18th in receptions, but yet still finished fifth. I want you to understand this. This is something I want to emphasize to you guys, very important here. When you look at targets, Cooper Kupp was number one. When you look at receptions, Cooper Kupp was number one in fantasy points. He was number one, okay. 191 targets, 145 receptions and 439.5 PPR fantasy points, 16 touchdowns.
Imagine Ja'Marr Chase getting more volume, which I think he will, more targets, more receptions. Only 81 receptions, still finished fifth. I want to emphasize that, okay, 81 receptions compared to 145 that Cooper Kupp had. That is massive. Again, the difference between these guys, obviously there's a big jump in fantasy points, but Ja'Marr Chase finished with 304.5 fantasy points, okay. That's huge, 304 points, what is that, six fantasy points in PPR. What I'm saying to you is this. Ja'Marr Chase has a huge ceiling still and he is young. Cooper Kupp had a pinnacle year. He's due for a decline, and he's older. He's turning what, 29 this year? I want to also break down something else for you here. Ja'Marr Chase was third in receiving touchdowns, okay.
He is the #1 WR on his team
Now Higgins came in and had 110 receptions, sorry, 110 targets for 74 receptions, okay, six touchdowns. Tyler Boyd had 94 targets for 67 receptions and five touchdowns. So Tyler Boyd and Higgins came in and stole some of that volume. Understand Joe Burrow throws a lot and he's pretty efficient, but he's 15th in attempts. I want to see Joe Burrow's attempts go up, and I definitely think that that could happen. So, imagine this scenario. Ja'Marr Chase in his first year, just building that rapport with Burrow, already finished fifth amongst wide receivers with only 81 receptions, okay, finished fifth in fantasy points. Can you imagine if Burrow starts throwing more, which I believe he will, all right? I believe that rapport can only get better with Ja'Marr Chase and the targets and receptions go up for Ja'Marr Chase. Now we've got a guy that's solidified, not only a top-five spot but maybe even the first spot in fantasy points.
What I'm trying to tell you is this. Now let's just jump into the verdict here, okay. Will I draft Ja'Marr Chase? Now that all depends on ADP, and I think based on where he finished last year, the consensus is we're going to put him top five anyway, so that's going to be the issue that I have. I always look for value when you look at the wide receiver position.
The problem here with Ja'Marr Chase isn't the fact that he's going to, I think he's going to produce, there's no doubt about it. I think he's going to be durable. There's no doubt about it. I think he's going to give you a good return on investment. There's no doubt about that either.
Is Ja'Marr Chase Worth a 1st Round Pick?
The problem lies in am I going to invest a first-round pick on Ja'Marr Chase? If I am going to be getting a wide receiver, now there are other wide receivers in the discussion here. Devante Adams, Cooper Kupp, obviously coming off pinnacle years, the decline is imminent. Go check out the impact video I just did on him. Justin Jefferson, Deebo Samuel, all these guys are going to have good seasons, but I think Deebo Samuel, I mean he had, I think, his pinnacle season last year.
Remember, going into the season both Cooper Kupp and Deebo Samuel, the mainstream consensus, the magazines, the outdated rankings, told you that Brandon Aiyuk was ahead of Deebo Samuel and Robert Woods was ahead of Cooper Kupp. When I told you that these guys, Cooper Kupp and Deebo, were better, right? That's why you got to get that 16 Rounds Draft Solution, linked it below, or head on over to the site right now, thefantasyfootballcounselor.com. Get the 16 round draft solution because you're going to be able to know and spot these things and avoid what the consensus is telling you. The magazines, the cookie-cutter rankings, they won't help you, okay.
What I'm saying is that I don't believe that Adams, Kupp, and Samuel will perform on the same level they did this year. Maybe Adams, yes, but again, we have some suspect situation at the time of this recording with Aaron Rodgers. Is he going to be on the team still? Who's going to be the quarterback throwing to Adams? What's going to happen because he is a free agent at the time of this recording. There are a lot of moving parts here and I don't lay out my 16 Round Draft Solution until after the NFL drafts. We'll have a better idea in regards to what happens after the draft and how the depth charts are laid out.
But another good thing about Ja'Marr Chase, I want to make a point here is I believe the guys that they have here are going to stick. I believe he's going to be the top guy here on the roster. I don't see anybody else moving in. I think Boyd is going to be there. I see Higgins still staying there, and if that's the case, the wide receiver court is set at where it's at and Ja'Marr Chase is going to be the top dog. Again targets, I do believe are going to go up, receptions are going to go up, 1,455 yards, I think that can potentially go up. Ja'Marr Chase is absolutely outstanding. The verdict is, is he outstanding? Then to answer the question, will I draft him in the first round? I'm probably going robust RB. I'm probably getting a running back here, so I may miss out on him, okay. But if there is a wide receiver, I might be tempted. I might just go Ja'Marr Chase round one. I don't know. It depends on how the landscape is.
If I can get Javonte Williams round two, I think, or around three, depending on where his ADP falls, I think he could be the RB 1, depending on if Melvin Gordon, who is a free agent, gets shipped off. Javonte Williams could be a top dog and I can get him for value round three. Then I got a top running back and I got a top wide receiver. I got to see how the chips fall going into as we get closer to the season, right? Or even in May, I'll have a better idea.
Ja'Marr Chase, the way it sits right now, I think he's going to be the top wide receiver. Again, you could make a debate for other guys. I think Stefon Diggs comes back, steps up again this year. You got so much talent here at wide receiver, but there's also so much value in the draft. When you are looking at fantasy football draft strategy, make sure you guys take a look at the value at wide receivers. That's very important. You load up on running backs because that's the most scarce position and you want to be able to get the value at wide receiver.
To put it in perspective, again I keep saying this, last year, Hunter Renfrow was pretty much undrafted, finished top 10 amongst wide receivers. Ja'Marr Chase was 60th on the consensus rankings and magazines and the outdated magazines, Ja'Marr Chase was like 60th, he finished top five.
To put it in perspective, Deebo Samuel was being drafted after the seventh round in fantasy football drafts across the board, and now he finished in the top three in PPR fantasy points amongst wide receivers. Again, guys, you got to start thinking outside the box. You got to start looking for that value.
Final Thoughts
In summary here, Ja'Marr Chase, is definitely draftable if you do want a wide receiver in the first round. Barring any type of injury, Ja'Marr Chase is a stud. As I said, there's a ton of ceiling and a ton of upside and a ton of youth here, and I love that rapport that he's got with Joe Burrow currently, and I think that's only going to grow.
There you have it, guys, Fantasy Football Outlook 2022 for Ja'Marr Chase. Make sure you guys do subscribe, check out the Impact series of building that up here below in the link below. I'm telling you guys, if you're on YouTube Channel, make sure you guys subscribe and get the 16 Round Draft Solution. It will help you guys crush your leagues.
Thank you for being here, guys. I'm out.
Make sure you are subscribed to dominate your leagues. Make Sure you Catch the full WR Rankings Ja'Marr Chase Impact video! Follow the #1 Fantasy Football Instagram page as well!
[iframe style="border:none" src="//html5-player.libsyn.com/embed/episode/id/22155017/height/100/width//thumbnail/no/render-playlist/no/theme/custom/tdest_id/1750511/custom-color/3db4fa" height="100″ width="100%" scrolling="no" allowfullscreen webkitallowfullscreen mozallowfullscreen oallowfullscreen msallowfullscreen]