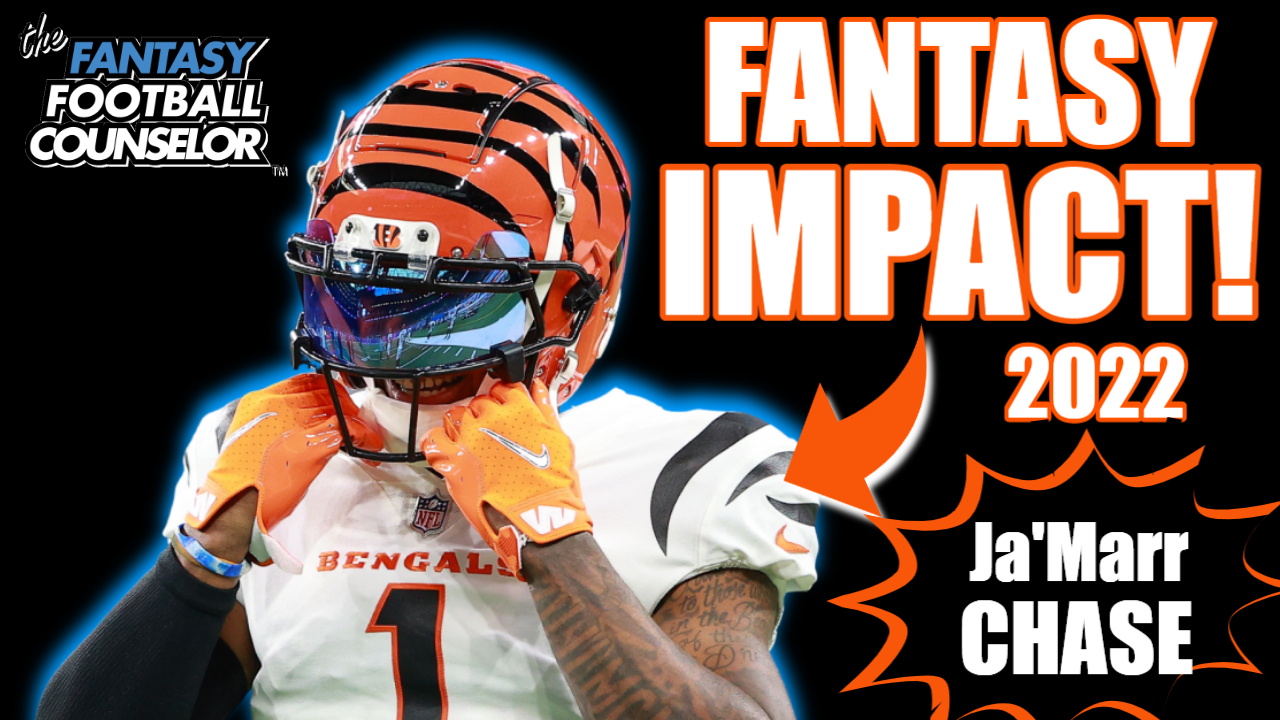 Ja'Marr Chase Fantasy Football Impact | WR Rankings 2022
February 16, 2022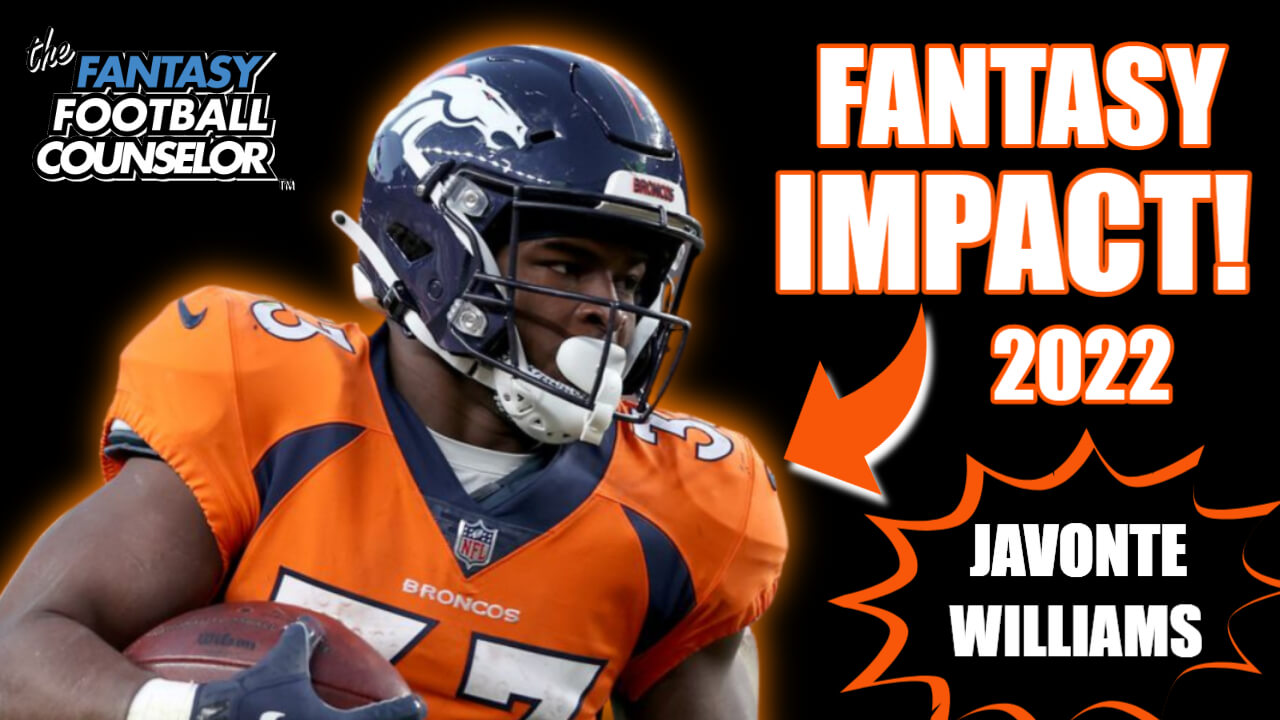 Javonte Williams Fantasy Football Impact | RB Rankings 2022
February 18, 2022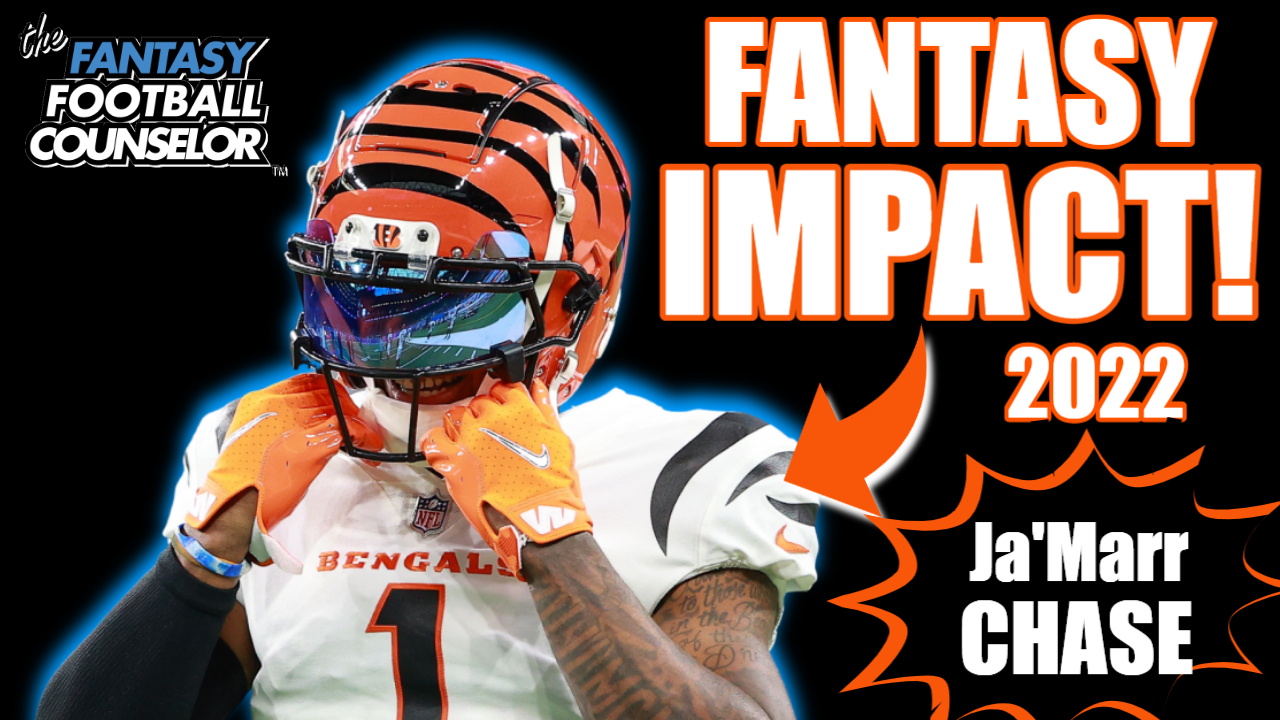 Ja'Marr Chase Fantasy Football Impact | WR Rankings 2022
February 16, 2022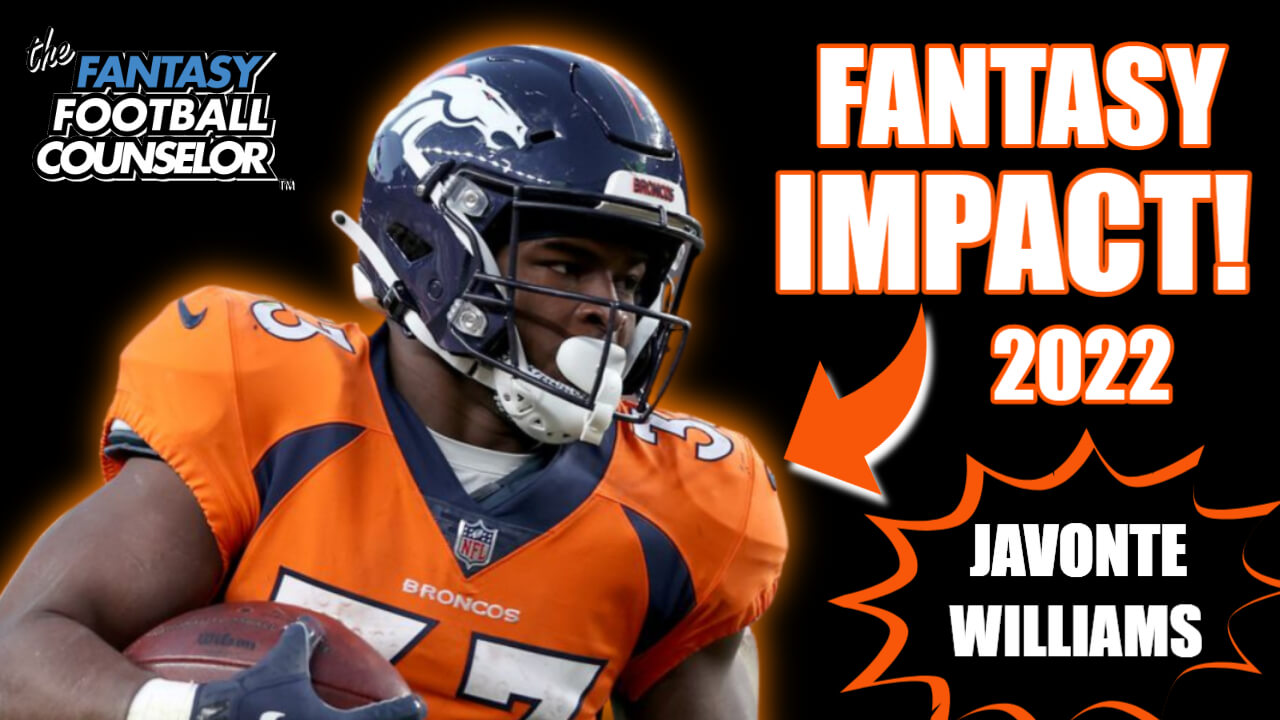 Javonte Williams Fantasy Football Impact | RB Rankings 2022
February 18, 2022
5 Boom Fantasy Football WRs 2022. These Wide Receivers have a ton of upside for NFL fantasy 2022.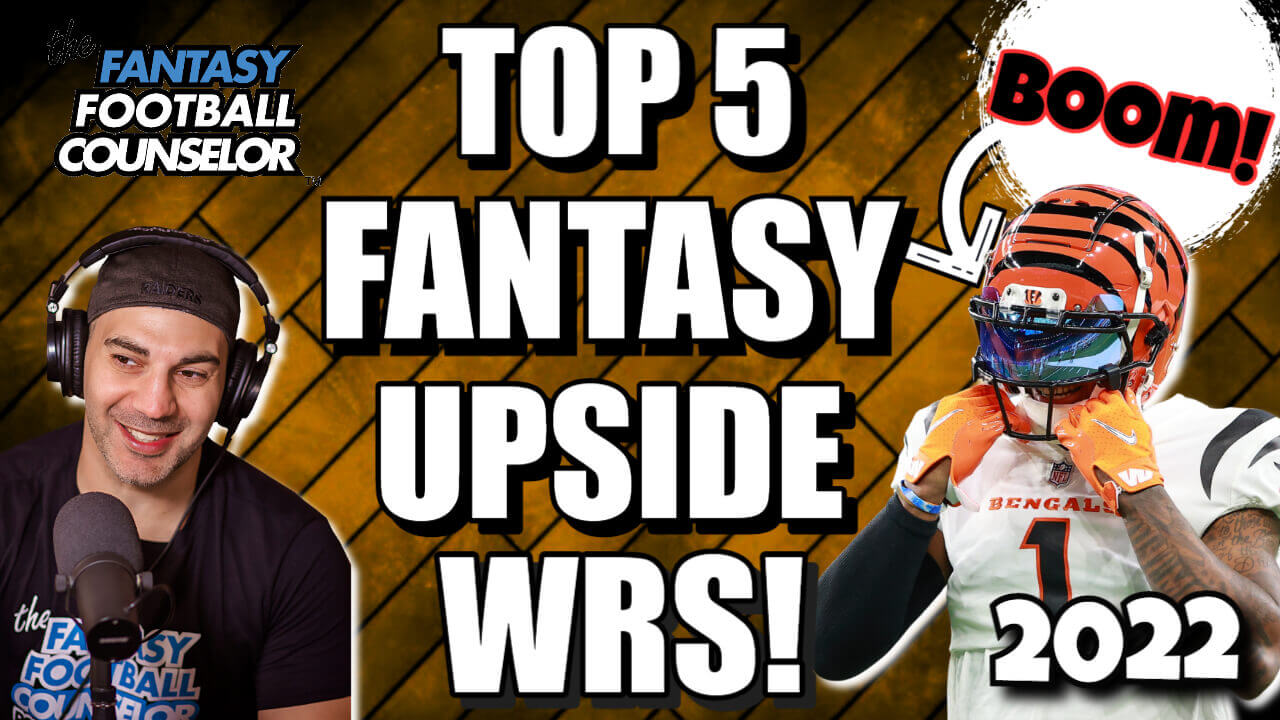 We're talking about five upside fantasy football wide receivers for 2022. Big boom-type fantasy football wide receivers that have massive upside, and some of them are great value, you call them fantasy football wide receivers sleepers, if you want, for the most case, but these guys have that upside, have that potential, and you can steal them in most drafts for decent value to help you guys crush your leagues, okay? The big episode, you don't want to miss it, I know it's off-season, but you got to lay the foundation for the season as we ramp up, because fantasy football doesn't end here with this channel. So, if you want to support the channel, I really appreciate it. Make sure you guys do hit that thumbs up below, turn on that subscribe bell, and comment below. Interact, I want to make this super interactive. Do you agree with this list as I go through it, and who is a boom wide receiver for you guys? Love to hear it. Who is your upside wide receiver, okay? Go do that.
1. Ja'Marr Chase
All right, let's go into five upside fantasy football wide receivers without further ado. Again, smash that thumbs up. The guy here, and I know this guy's obvious, and I get it. But the guy I'm talking about is Ja'Marr Chase. Let me tell you why he's so upside, why he's so boom-type potential. Ja'Marr Chase is an amazing player, we don't doubt that at all. But again, the mainstream lied to you, they had him 60th on the rankings last year. He was sitting on another planet. I'm looking at the outdated magazines right now. I got a couple in front of me here, which I went through before the show. And I'm telling you, this is a guy, and other guys on the list here that the mainstream was sleeping on, and they did really well, and now they're writing them.
So Ja'Marr Chase is currently sitting guys, fifth right now, fifth on the consensus rankings, finished fifth last year. And here's the thing, here's why I love the upside for him, okay? 128 targets, 81 receptions, 1,455 receiving yards, and 13 touchdowns. Now, I don't think he's scratched the surface. 120 targets is nothing compared to what Cooper Kupp had. Cooper Kupp had 191 targets. So, guys, I'm seeing the upside, I'm seeing the potential, 191 targets compared to 128. Ja'Marr Chase's the better receiver. Cooper Kupp's going to be almost 30 years old, he's going to be 29 this year. So, Ja'Marr Chase is solid and he's got that rapport with Joe Burrow. So, I absolutely love Ja'Marr Chase this year. The talent is there. He makes some incredible catches, and again, people are like, "Well, Joe, that's obvious, he's a boom-type of wide receiver," but do you have him finishing first overall amongst wide receivers? I think that upside is there, I do.
So again, Ja'Marr Chase is a boom-type of wide receiver. Now the next one, and the next couple of guys here, as we move on this list, aren't going to be as obvious.
2. Gabriel Davis
So the second guy here is Gabriel Davis. Now, Gabriel Davis's year-long numbers did not impress me. 63 targets, 35 receptions, 549 yards, and six touchdowns, nothing to get excited about, but here's the thing with Gabriel Davis. He boomed in the postseason. He had, what? A couple of games in the postseason, and he had four touchdowns in one game. Currently, he's sitting 47th right now, amongst wide receivers on the consensus rankings, which is absolutely disgusting. This guy finished 58th last year amongst wide receivers, but the upside is there.
Now, listen again, postseason numbers, 13 targets, 10 receptions, 242 yards, and five touchdowns. This is huge, he was the number one wide receiving target, and wide receiver for Josh Allen. Now the only hindrance for him is obviously Stephan Diggs being the one there, but an injury to Diggs could catapult Gabriel Davis to absolute stardom. Now, already again, I still think Diggs is there, he still should be able to eat a lot, because we know Josh Allen threw the ball. I think Gabriel Davis thrives, and a guy you can get from mid to late rounds as steel with massive upside, okay? Again, we saw flashes of it, and that's all we need to see, to see that breakout, to show that potential.
Now, I'm not saying he's going to be your wide receiver one on your team, but I'm saying if you can get him as your wide receiver, three, four, there's a ton of upside. But again, you want to load up on those wide receivers, mid to late rounds, and get that depth. That's what I had last year, I had Amon-Ra St. Brown on my team, I had Ja'Marr Chase on my team, I had Cooper Kupp on my team. I had the guys that the mainstream was sleeping on because I was loading up on running backs early. Cooper Kupp was average, the draft position was around fourth to the fifth round. He was sitting behind Robert Woods last year. So it's about getting the value, getting that wide receiver that could break up mid to late rounds is going to boom for you. I think Gabriel Davis could be that guy, but again, I don't trust him to be my wide receiver one or two even, because he is not high on his depth chart, but again, a guy that could boom.
3. Amon-Ra St. Brown
Okay, coming in number three here, again, no particular order, but another boom wide receiver is Amon-Ra St. Brown. Looking at his numbers last year, the numbers looked healthy, they looked good. 119 targets, 90 receptions, 912 yards, and five touchdowns. Amon-Ra St. Brown currently sitting 28th on the consensus route now in the rankings and finished 21st amongst wide receivers in PPR. I absolutely love him guys, Amon-Ra St. Brown is the primary target there guys with the Detroit Lions, played 17 games.
Now, if you look at his competition, the only competition there is, for targets would be the tight end, Hockenson. Now, Hockenson didn't have the greatest season at all. Hockenson… Injuries have always played a factor. In 12 games, 61 receptions, for four touchdowns, nothing to get excited about with TJ Hockenson. He plays a full season that could dip into Amon-Ra St. Brown's, volume share. But again, there's nobody else there. Again, this is a pre-NFL draft here. There's nobody else there that could take that volume away from him. Kalif Raymond was there, 16 games, what do you have? 71 targets. Josh Reynolds had 49 targets. Cephus got hurt, he played five games, he had 23 targets. I mean, Amon-Ra is the guy. And again, what you got to understand here with wide receivers, is that wide receivers take a while to groom, and I understand last year's wide receiver class is a special case, because it had so much talent, but wide receivers take a while to groom, they take a while to build.
And I genuinely believe Amon-Ra St. Brown is really coming into his own, and a guy that could really, really thrive, top five, top 10 potential, if he gets that volume. And understand Jared Goff, we got to see the quarterback situation. He's a guy that has made wide receivers really good. We saw it with Robert Woods in the past, Cooper Kupp. So, I'm looking at Amon-Ra St. Brown as a guy that's coming into his own, built that rapport, became the number one target. And this was a guy that was 70th on the consensus ranking last year, now they've got him 28th. He's moved his way up the ranking. Consensus is kind of waking up on him, but I was aware of him last year because, in my 16 round draft solution, I told you to draft him, make sure he is on your roster, because there was nobody else there. Sure enough, he thrived and had himself a decent season, but Amon-Ra St. Brown this year, is a guy that could really, really boom, okay?
4. Devonta Smith
Coming number four, and again, I love him and a lot of people may not be high on him. Currently seeing 27th on the consensus rankings right now, which is absolutely ludicrous because he is the number one wide receiver on his team, DeVonta Smith, okay? DeVonta Smith last year, 104 targets, 64 receptions, hasn't scratched the surface yet. Jalen Hurts is coming to his own, he is building himself up. Jalen Hurts again, needs to figure out his role, needs to figure out… He needs to develop. He just wasn't there. I mean, I saw him pressured last year, he didn't make any… he wasn't making really good decisions downfield. I think his accuracy needs to get better, but DeVonta Smith is only 104 targets, that needs to go out five touchdowns. That's definitely going up. 916 yards, that's definitely going up.
DeVonta Smith again, finishing 30th amongst wide receivers in PPR last year, sitting 27th this year on the consensus. A guy that is the wide receiver one in his team, where he's got that rapport with Jalen Hurts, and it's only going to get better. Now, there are rumors, there's talk, maybe Russell Wilson ends up on the Eagles, we don't know. The time of this recording is, Jalen Hurts and DeVonta Smith. And I love the upside of DeVonta Smith if Jalen Hurts is there. Again, they can only get better from last year. Another wide receiver, there was a young rookie needs to develop, and I understand wide receivers take years to develop. I think DeVonta Smith comes into his own, becomes a top 10 wide receiver if the target count gets up there, and I think it definitely should, okay?
5. Jaylen Waddle
Number five here. Not so obvious here. Even his coach McDaniels has said, Jaylen Waddle is the man. He basically said that he would draft him in fantasy or something like that, he was like, fantasy points are going to be there. Currently sitting 10th right now, amongst wide receivers on the consensus rankings. And the reason I mention the consensus rankings so much is that that's how I gauge. That's how the advantage is because that's what the sheep are doing, they're going to be drafting on consensus. That's where you get the advantage with 16 rounds and listening to this channel, make sure you guys subscribe, over the competition. Now let's talk about Jaylen Waddle here, who finished 13th last year in PPR amongst wide receivers, 141 targets. So this guy's target share is there compared to Amon-Ra St. Brown and DeVonta Smith, who didn't get as many targets as this guy.
And as you can see guys, with the targets come receptions, 104 receptions, 1015 yards, and six touchdowns, more targets, more receptions, more volume, more touchdowns, more yardage, Jaylen Waddle had it. Now we got to see who's going to be throwing the ball next to you too, maybe it's Tua. If that's the case, that rapport might be there. Again, Tua has got to stay healthy, but Jaylen Waddle is that guy that could absolutely boom this season. Love the upside, love the talent, love the youth, okay? So looking at these wide receivers, some of them you can get for major value, and you can stack DeVonta Smith and Amon-Ra St. Brown, or you might have to pay a bigger price for Jaylen Waddle, who's kind of a little more proven because the volume was there.
So, it's up to you, I may stack Amon-Ra St. Brown, DeVonta Smith, mid to late rounds, and get my running backs early, or you may want to get a Ja'Marr Chase early, and maybe sacrifice losing a running back, which I don't like to do. Because again, you're going to get value. At wide receivers, things are going to shift, depth charts are going to move, rookies are going to in, things are going to change, but again, you get that wide receiver value mid to late rounds, that's how you win your leagues. You load up on running backs early and get the wide receiver value later, and that's what I explained in 16 rounds. I give you exactly who I would draft in those rounds, okay? In every round for that matter.
So, there's five boom wide receivers here for you guys. If you are new to the channel, make sure you guys do subscribe, get 16 rounds draft solution. Leave a comment below, love to hear who you think is going to boom. Love to get that feedback, and I want to make this interactive. So, make sure you guys are commenting and subscribing, and turning on that bell. I appreciate you guys. Thanks for being here. This is going to help you guys crush league. This is the channel that's going to help you guys crush your league so make sure you guys are subscribed. I appreciate you guys. I am out
Make sure you are subscribed to dominate your leagues. Follow to this #1 Fantasy Football podcast
Watch the full Youtube video here: Fantasy Football Boom Players 2022
[iframe style="border:none" src="//html5-player.libsyn.com/embed/episode/id/22168451/height/100/width//thumbnail/no/render-playlist/no/theme/custom/tdest_id/1750511/custom-color/3db4fa" height="100″ width="100%" scrolling="no" allowfullscreen webkitallowfullscreen mozallowfullscreen oallowfullscreen msallowfullscreen]