[iframe style="border:none" src="//html5-player.libsyn.com/embed/episode/id/22140236/height/100/width//thumbnail/no/render-playlist/no/theme/custom/tdest_id/1750511/custom-color/3db4fa" height="100″ width="100%" scrolling="no" allowfullscreen webkitallowfullscreen mozallowfullscreen oallowfullscreen msallowfullscreen]
Fantasy Football Impact of Cooper Kupp going into the 2022 Season. Should you draft him? We dive in and give you the verdict.
Welcome to the Impact series guys, where I break down a specific fantasy football player for fantasy football 2022, and I let you know whether you should draft him or not. Listen, rankings will not help you. Looking at these players individually under consensus rankings, will not help you win your fantasy leagues. So I break it down, I give you guys my verdict on whether I would draft that player or not, okay guys? We break it right down. At the end of the video, I'll give you my verdict on whether I'd actually draft them or not. But again, I will be breaking down the stats, the facts, and everything you need to know about each individual player here. This is very intensive, we're diving into that particular player because every player you draft on your team has to be optimal. You have to make sure you have the optimal team, all right?
All right, let's dive into this guys. Cooper Kupp is the guy we're talking about in this episode. I'm going to break down whether you should draft him or not. That's the big question a lot of people are going to be asking. Well, actually the mainstream is not going to be asking that, because they're all going to draft him in the first round based on last year's top finish. So first and foremost, let's recap last year's numbers, okay? Phenomenal numbers from Cooper Kupp. I mean, nobody's going to deny he was the best receiver in the game… last year, but now we're in 2022. Last year is done, but looking at his PPR numbers, 439.5 PPR fantasy points. This is bigger than Antonio Brown's 2015 season and bigger than the Michael Thomas season back in what, 2019?
So, you're looking at those pinnacle years from studs like Michael Thomas and Antonio Brown. And Cooper Kupp eclipsed them, eclipsed those numbers. Now, 191 targets, 145 receptions are insane, it's absolutely insane. And he's never hit those types of numbers, ever in his entire career. He had a good 2019… which we're going to dive into his previous years in a second. He's had a couple of good years, but this was a pinnacle year and you could say it was all due to the quarterback. Jared Goff was not a guy that got it done, Matt Stafford was. That could be a good argument, could be an argument that the fix was in and the Rams were primed to win. So, all the stars aligned from them, defensively and offensively, and all the tools were set for him to succeed. So he was a product of what was, a new Super Bowl winning team, right? So that's all part of it as well. So you got this perfect recipe for an optimal team.
You've got Matt Stafford coming in, fresh eyes, lot of targets. And then you had the injury to Robert Woods, which really increased the volume to Cooper Kupp. With no Woods there, that's a huge increase in volume in targets. Now, near the end of the season, we saw Odell Beckham come in… obviously tore his knee again in the Super Bowl. But you're looking at a guy that will have some competition at wide receiver next year, whether it be Robert Woods come back or whatever it may be. I can't imagine Cooper Kupp being the primary target. So you're going to lose a little bit of those 191 targets. That's almost guaranteed because that's a pinnacle number on its own, okay? So again, looking at the 2021 numbers, 191 targets, 145 receptions, 1,947 yards, 16 touchdowns. Again, very pinnacle. And what happens to players that have pinnacle seasons? Those numbers go down. It's too high.
And I had the same argument back in 2019 with Michael Thomas, right? Everybody drafted him in 2020 in the first round. Everybody was going crazy for him. Why? Because he had a big 2019 year. And I said to them, I'm like, "Well, I'm staying away from wide receivers in the first round, completely altogether. And I'm definitely staying away from Michael Thomas simply for the fact that he had a pinnacle year." And the big argument was, "Well, he had a pinnacle year Joe. Even if he drops down a bit, he'll still be a top-three wide receiver." I don't want to hear that, okay? When they have a pinnacle year, yes they can maintain that. We saw Antonio Brown do it for years… maintaining steady wide receiver numbers and Cooper Kupp could easily do that. Kupp is turning 29 this year and youth is not completely on his side anymore.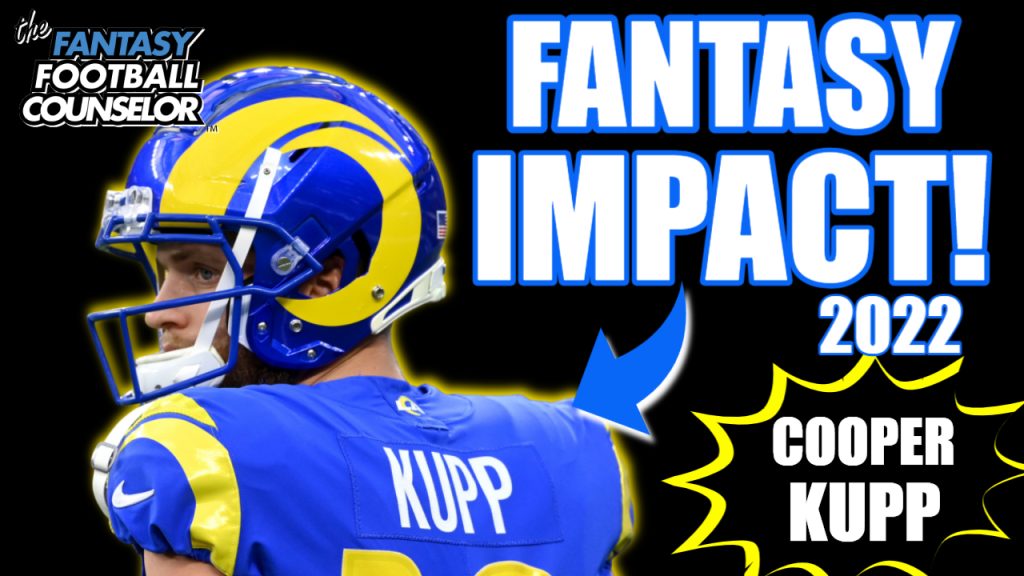 Now, I mean 29 is still fine. You're still in peak physical condition, but you're now into your, what… it's going to be like his sixth NFL season. So you've got the sixth season, you've got maybe the… a decline with the Rams overall as an offense… we don't know they could actually get better, but who knows. But they've won their Super Bowl… the SoFi Stadium got some of their money back for paying billions of dollars to pay for that stadium. So what happens? What's the projection for Cooper Kupp going into 2021? Now understand, he was injured back in 2018. So this guy has been injured before, but relatively good throughout the seasons. We're talking fantasy football injury for Cooper Kupp… 15 games in 2017, 8 games in 2018, 16, 15, and 17 games. So, this guy is good. He had one bad season back in 2018.
Overall, I don't think durability should be an issue, but we said the same thing with Derrick Henry. Durability wasn't an issue, he's as safe as they come, he's the guy. But, typically for a person who gets this many targets, this much volume share, this much route running, this much load on his back, it's either he's going to decline or he is going to get hurt. It's just inevitable. So, at the end of the day… we'll get to the verdict in a second… the big question's going to be am I going to invest in a guy coming off a pinnacle year? And the answer for me is going to be happening in a second. I'm going to tell you in a second. But… I want to tell you… let's go back here five years… he finished first here, Cooper Kupp, in 2021 in fantasy points.
He was 26th in fantasy points in 2020, number four in fantasy points in 2019. So he had good years in 2021 and 2019. He was 51st amongst wide receivers in 2018. That goes to that injury. And in 2017 he finished what, 25th amongst wide receivers, okay? So when you look at that average, two years out of those five, where he's in the top 10. So that's something considered here. But again, the biggest pinnacle year of his life was in 2021. But again, the mainstream is going to ride him. They're going to say, "Okay, he was the top finisher," and they're going to put him on top. And what pisses me off the most here is that I was suggesting him in the 16 round draft solution in around the fourth, fifth round, while the mainstream last year were telling you to draft Robert Woods. They said Robert Woods was ahead of Cooper Kupp in fantasy value.
That's who they were telling you to draft ahead of Cooper Kupp. And I said, "Now, you know, Cooper Kupp's better. You know, I would say Cooper Kupp's the safer option here. And we're getting him at value." So the big question is, will you pay first-round pick? A lot of the mainstream will suggest him as a first-round draft pick. I'm going to avoid him simply for the reason that… again, Michael Thomas example, right? Pinnacle year, declines imminent, I think it's going to be significant enough to drop him right out the top… six, seven, eight, maybe, okay? The drop is going to be there, not to mention a potential injury, because what goes up must come down. Another wide receiver is going to come in for targets. I don't know if Robert Woods has come back. I don't know what the whole situation is… again, I'm recording this pre-NFL Draft, okay? So even… whatever… even if the stars align and Cooper comes back and Robert Woods doesn't come back… or whatever it is, right?
It's just Cooper Kupp… again, the same scenario… it seems ideal, like the perfect storm, for yet another season. But just for the fact that I invest in running backs early, okay? I don't get wide receivers in round one. So that… I'm dodging it completely right there. Hopkins was a bust last year. Everyone said Hopkins round one. I said, "Nah, I'm going Najee Harris," right? So just for the fact that I draft running backs alone is why I'm staying away from him. Number two, I'm staying away because of the fact guys… pinnacle year, decline imminent. Number three… again, targets, 191 targets. This has to do with the decline as well. Very, very hard to hit yet again. And again, what goes up must come down. A potential injury could happen yet again for a Cooper Kupp. So, so many reasons, so many facts, so many things to indicate and give me red flags to say, I'm staying away from Cooper Kupp, while the masses are going to be drafting Cooper Kupp because he had this pinnacle season.
And again, I don't want to take anything away from him. He's a great receiver. He did really well. Astronomical numbers… surpassing numbers from pinnacle years… as of recent, in the last five years of it… six years… Antonio Brown's numbers… surpassing numbers from Michael Thomas. All these pinnacle years… Hopkins had a good year in there… surpassing all those guys. But, that tells me, if he could surpass those guys in their pinnacle years, a decline is definitely coming. So again, the verdict for fantasy football 2022, when you're looking at wide receiver rankings… fantasy football 2022… you're going to see Cooper Kupp on the top of the chart. Don't let that fool you to say, I got to draft him and feel anticipated to draft him. Let somebody else take him. And another reason… I want to add this, this is very important… there is a ton of value at wide receiver and I mean a ton of value.
This is why I win my leagues because I load up on the most scarce position early on… right? And get the 16 round draft solution because I'm going to lay this out for you guys right in there. I load up on the most scarce position early on and there's a ton of depth at wide receiver. And I'll give you a quick example here… so you guys can chew on this for a while, okay? Deebo Samuel finished third amongst wide receivers. This guy was sitting behind Aiyuk. And this is a guy I had on the show that I knew was light years ahead better than Aiyuk. Now everyone's riding Deebo Samuel, right? You got him after the eighth round… Ja'Marr chase was like 60th on the consensus rankings, okay? He finished fifth, right? Hunter Renfrow… literally undrafted or super late-round… Hunter Renfrow finished 10th, top 10 in PPR, amongst wide receivers.
So, just to give you an idea guys, Jaylen Waddle finished 13th amongst wide receivers. So all these guys that you thought… A.J. Brown was a top 10 wide receiver last year and he busted significantly finishing 32nd amongst wide receivers. I told you to avoid A.J. Brown for many reasons, including the fact that if you look at Ryan Tannehill, he was the what, 17th in passing amongst quarterbacks the year before. Not a lot of volume out of him on a run-first team. Even with Henry out, A.J. Brown, couldn't get it done. So… I know he got… I think he got hurt. How many games did he miss? He missed like two or three games. But the point of the matter is you can wait on wide receiver, and believe me, I'm not investing in Cooper Kupp in round one. Even if he has this type of year again, I will have no regrets because I've been loading up on the running back early on, getting value at wide receivers later on.
All right guys, that's the verdict… Cooper Kupp fantasy football outlook, fantasy football impact for him. If you're on Youtube the channel, make sure you guys subscribe and make sure you get that 16 rounds draft solution. I hope this clears this up. There are a lot of facts, a lot of data here to prove. And of course, gut feeling intuition and knowing when to hold them and knowing when to fold them when you're making a decision here. But Cooper Kupp, I'm dodging him, hopefully, you guys do too as well… decline is imminent. Subscribe, thumbs up, let me know in the comments… Are you keeping him? Are you keeping him? Are you drafting him? What are you doing? Let me know. I'm out.
Make sure you are subscribed for interviews and Winning Fantasy Football Content. Follow me on Instagram on the #1 Fantasy Football Account.