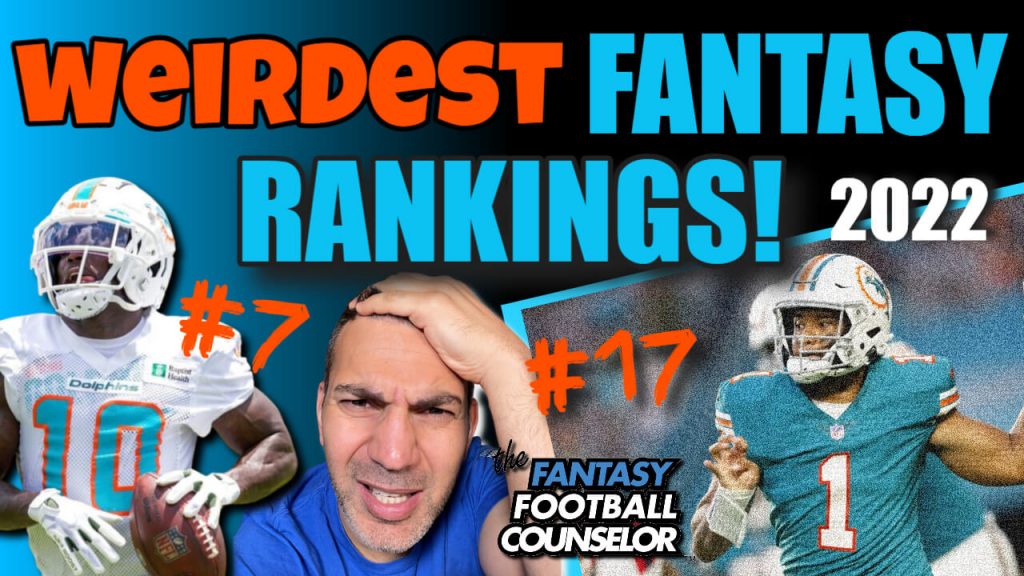 Weirdest Fantasy Football Rankings 2022
In this fantasy football podcast, the Counselor goes over the consensus rankings and weird and off they really are. Explaining how most of them don't make sense and how they lead people astray.
Year after year we are fed terrible cookie-cutter rankings that never help anyone win their leagues. This year, the Fantasy Football Counselor lay out the consensus and tells you how off the rankings really are. For example, they are sleeping on Tua but love Tyreek Hill. Another example is that they have Russell Wilson in the top 10 but hate Sutton and Jeudy.
None of the rankings make sense and they are copied and pasted from last year for the most part. Last year, for example, they all had Robert Woods ranked ahead of Cooper Kupp. Now they are all loving Kupp as the number one WR off the board? They are train riders and this isn't going to help you win your leagues this season or any season for that matter. The rankings should only be used as guidelines and nothing more. The problem is that all these sites that offer up leagues rank all the players based on the consensus and people draft on that. This is a big mistake in the industry. Don't follow the sheep.
This is why I came up with the 16 Round Draft solution because I was sick and tired of being sick and tired of these consheepsus rankings. There needed to be a change and I created here with the solution. Get the draft solution and dominate your leagues. https://thefantasyfootballcounselor.com/16-rounds-draft-kit/
Watch this full fantasy football podcast in the video below. This is going to be really eye-opening at how off the mainstream is with their rankings and hope you can be awake to all the nonsense.