[iframe style="border:none" src="//html5-player.libsyn.com/embed/episode/id/17392511/height/100/width//thumbnail/no/render-playlist/no/theme/custom/tdest_id/1750511/custom-color/3db4fa" height="100″ width="100%" scrolling="no" allowfullscreen webkitallowfullscreen mozallowfullscreen oallowfullscreen msallowfullscreen]
Top 10 Fantasy Football Running Backs 2021. The Counselor lays out the Super Early Fantasy Football RB's for this upcoming NFL 2021 Season. Never too early to dive in and do the homework!
Top 10 Running Backs 2021 Super-Early List:
Dalvin Cook
Derrick Henry
Christian McCaffrey
Saquon Barkley
Alvin Kamara
Jonathan Taylor
Josh Jacobs
Ezekiel Elliott
James Robinson
David Montgomery
Let's Dive into each Player individually in more detail. Let's start off with 10 and work our way up to 1.
All right. Top 10 running backs. I'm going to go through this. I'm going to explain my decisions on why I'm going through this. Again, it's super early, so guys bear with me. This is not how it's going to end up, most likely. As we get closer to the season, because again, we have to wait for the draft. After the draft, that's when the real rankings come out, but we're having fun here. I'm trying to just lay it out, get the foundation. Think ahead of the curve here to get you guys to get that edge already.
10. David Montgomery
All right, so 10. I'm going to go here with 10, and we're talking PPR guys. I'm going to go, David Montgomery. Now, David Montgomery finished sixth amongst running backs. This was a guy that I was really high on coming out of the draft and ending up on the Bears. I was all over David Montgomery. Now, the consensus are riding him. He had a great last four games of the season, down the stretch, and the cool thing about him is he finished seventh in attempts, so I liked that he was getting the volume. Now, what was hindering him this last, the season before and even the beginning of this season was Nagy with the play calling, terrible play calling. As soon as kind of the other coaches came in and said, "Hey, we're going to take over the play-calling," other people got involved and they weren't Nagy. He started getting more volume, not to mention Tarik Cohen down was the best thing that happened to David Montgomery, because what was happening, I was watching Dave Montgomery, being a David Montgomery owner back in 2019, and also in 2020, is that Tarik Cohen was coming in and basically shutting down his momentum. He would get into a groove. He would do really well. Nagy would do the terrible play calling and it would take his momentum off. Once that stopped. Once that pest that is Tarik Cohen, he's not a good running back. He's a pass-catching back, but can't even catch the ball. Once he went down, it was the best news ever for David Montgomery.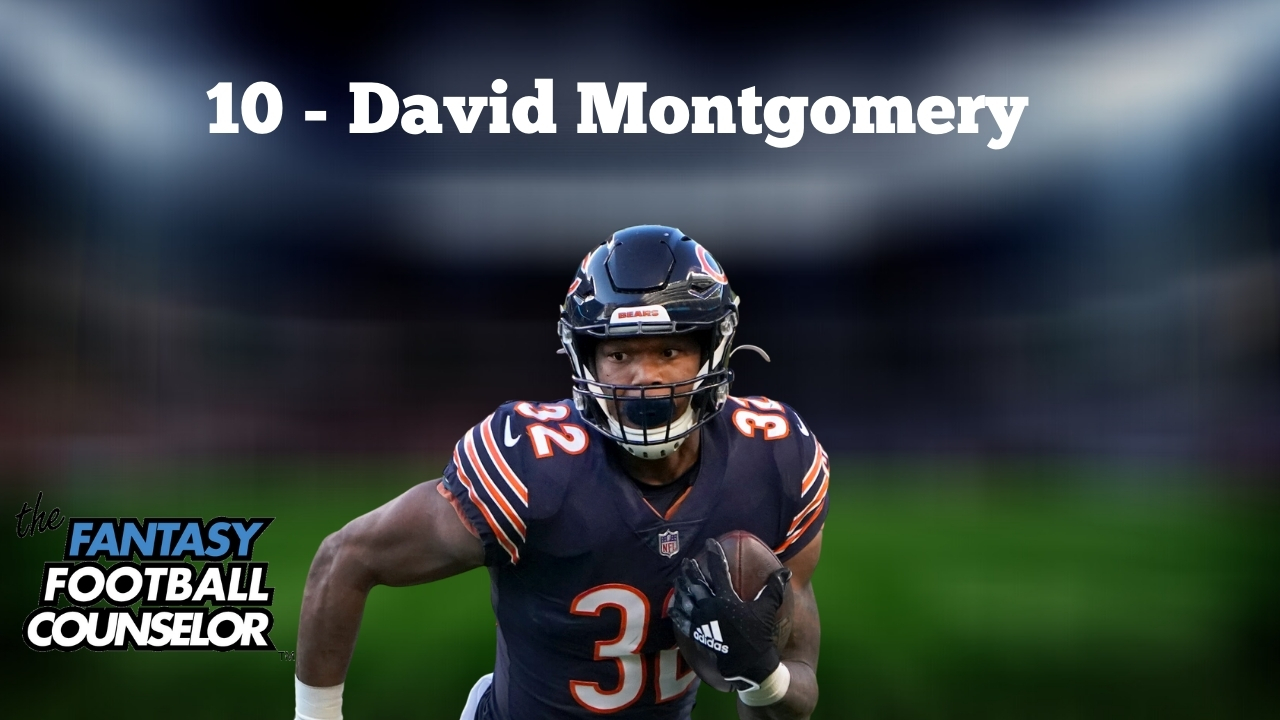 I don't care, well, you're, "Joe, you're praising injury." It's a good thing if you're a David Montgomery owner, okay? It's not that I'm happy they're injured. I'm just happy they're out of the way for David Montgomery. That's the bottom line, so when David Montgomery had the pest out of the way, we knew that he was going to thrive, and that's exactly what happened here with Montgomery. Finished sixth in PPR amongst running backs. They had 225 attempts over a thousand yards, 4.4 yards per carry, and seven rushing touchdowns. Not a bad season considering he really got going the last four weeks of the season, pretty much. He got going week 13, 14, 15, 16. He had good weeks. Started questioning. Hopefully, that momentum carries over into the next season. I've got him sitting here at 10. That's definitely probably going to change. It could go up or down based on the NFL draft in April, but again, this is super early. We're having some fun here and this is going to change. Okay?
9. James Robinson
Coming in at number nine, I got James Robinson. The reason I have James Robinson, he did finish fourth amongst running backs. This guy could be a top 2 running back next year. He really can. I mean, what's really appealing to him is that the Jags can improve next year. Especially if they get Trevor Lawrence, that offensive proves this guy could. Again, my rankings are going to change. This is very early, super early actually, but what I like about him is that he can only get better as that offense gets better. It could with Trevor Lawrence. Not to mention he was fourth in rushing attempts, which is very appealing to me. I absolutely love that. Another good thing, he had 250 fantasy points, which put him fourth in PPR. Pretty remarkable. He did finish fourth. I'm not going to paste him over as fourth right now. I'm going to chill out for a little bit and just take a look at the situation, see how the draft ends out, see where he ends up. Right now, I've got him at ninth, easily top 10, based on what I've seen last year. Again, when you're looking at rushing yards as well, really nice, 1070, putting him third in rushing yards, and surprisingly, a lot of these running backs didn't rush for a lot of yards. Back in 2020, there were only five running backs that ran over a thousand yards. David Montgomery, Aaron Jones, James Robinson, Dalvin Cook, and Derrick Henry.
When you're looking at these guys, there is not a lot of guys that rush over a thousand yards, because the workhorse running back, it's starting to fade out a little bit. There are more of these committees coming up. Everyone's trying to be all cute with their play calling, but again, what I like about James Robinson is that he got the volume. Okay? 240 attempts. That's very appealing, especially an undrafted rookie. Loved the opportunity. Okay? I got him at ninth, so I'm being a little bit cautious. Stick with me here, okay?
8. Ezekiel Elliott
Coming in at number eight, I got to go with Ezekiel Elliott. Now, Zeke Elliott has been a top running back every year he's pretty much played, and what made him a top running back is the attempts. 301 attempts for Zeke Elliott is kind of where he hovered around. This year with McCarthy coming in, we kind of saw it. He does throw the ball a lot of requests that the team throws the ball a lot. With the injury to Dak, they kind of became more of a throw first team. Dak getting hurt, that really hindered Zeke Elliott. Then he had some injuries to deal with, so it really brought his value, but here's the surprising thing about Zeke Elliott.
Coming off one of the worst years of his career, he only had 230 attempts, still managed to average 4.1 yards per carry. Got five rushing touchdowns, and still finished in the top 10. Now again, this is after 16 weeks, I'm doing this super early, so we still got one more week to factor in. A lot of people don't play week 17, but I want to make you aware that he finished 10th, top 10 still. Give or take one or two positions. Okay? What I'm trying to tell you is that Zeke Elliott finished top 10 amongst running backs, even after he had a bad year, so I got him plugged in here at eight. That could change. It could go up. I got to see what happens with that offense moving forward, but again, Zeke Elliott, top 10, got him sitting here at eighth. Pretty easy for me. He's going to still be a workhorse. Now, I don't know what they're going to do. Pollard came in, did well with Zeke being hurt. Is Pollard going to be more of a factor? Are they going to trade Zeke eventually? What's going to happen? I don't know yet. Right? We don't know. As of right now, January 1st, 2021, getting that content out to you really quick. I got Zeke Elliott at number eight. Okay?
7. Josh Jacobs
Coming in at number seven, a guy that finished… Where did he finish here? Josh Jacobs finished ninth last year. I'm not a fan of Josh Jacobs. If you follow my social media, Josh Jacobs wanted to fight me in a boxing match. We agreed to it. I know it sounds crazy, but listen, Josh Jacobs hates your fantasy team. He really does, and he really crapped the bed near the end of the season. He only got 6.9 points in week 16 where it was fantasy championships. Didn't do well, 17 the week before, 7.4, 2.4 the week before, so he really, down the stretch, did not do well. I've got him seventh for a couple of reasons. Number one, he's still the workhorse on that offense. Number two, he did finish top 10. There are a couple of other reasons, but listen, at the end of the day, the main reason is he still is the workhorse. That's the bottom line. He finished top 10, and again, he didn't do well near the stretch of that season. A couple of things to factor in, I will personally not be drafting Josh Jacobs, this upcoming season for many reasons, including the fact that again, he wanted to box, he did chirp at me, and the fact that he doesn't like your fantasy teams, he doesn't care.
But what's weird about these players that don't like your fantasy teams is the fact that they have to like your fantasy team, because it's directly proportional. It's in parallel, it's in line with them producing. If they produce fantasy points, they're producing reality points, which pads their statistics and in turn helps their team. Right? Josh Jacobs, I got him at seven. I don't feel warm and fuzzy about him at all, but I got to put him in there based on the numbers, statistics, where he finished, and the potential upside of him getting better. Based on this past year, I got to put them in there. Okay?
6. Jonathan Taylor
Coming in at number six. Now, some people may disagree with this. He finished seventh last year, but I love the upside, love the opportunity, and love the fact that he should and could be the workhorse there in Indy. The guy I'm talking about is Jonathan Taylor. Finished seventh last year in points, 916 yards, 4.4 yards per carry, nine rushing touchdowns, but he started coming alive again near the end of the season. That's something you've got to take a look at. Now, I'm very good at spotting trends. We saw this with David Johnson back, I believe it was 20… End of 2015, it was or 2016. The year before he had his real breakout year, his record year. I think it was 2016. We saw near the end of the season before he started turning it up. Okay? We saw the same thing with Derrick Henry before he really broke out a couple of years ago. He started turning up near the end of the season. It's something to watch, and we're seeing that with guys like David Montgomery. We're seeing it with Jonathan Taylor. They are turning it up near the end of the season. He started to get a little more volume, started to get some touchdowns. Now he had five touchdowns and in combined week 14, 15, and 16, so we see that he is getting the goal-line work. Well-deserved. I think he had a couple of nagging injuries. He had a couple of things that didn't happen well for him. They started integrating committee there. Philip Rivers was there. Hopefully, they bring in another quarterback. There is buzz about Carson Wentz. I'm not really a Carson Wentz fan, but anything's better than Philip Rivers. I think, honestly, once you get another quarterback that's more integrated into the system, a more reliable quarterback other than Philip Rivers, I think that's going to inflate Jonathan Taylor as long as they keep using him as a workhorse running back.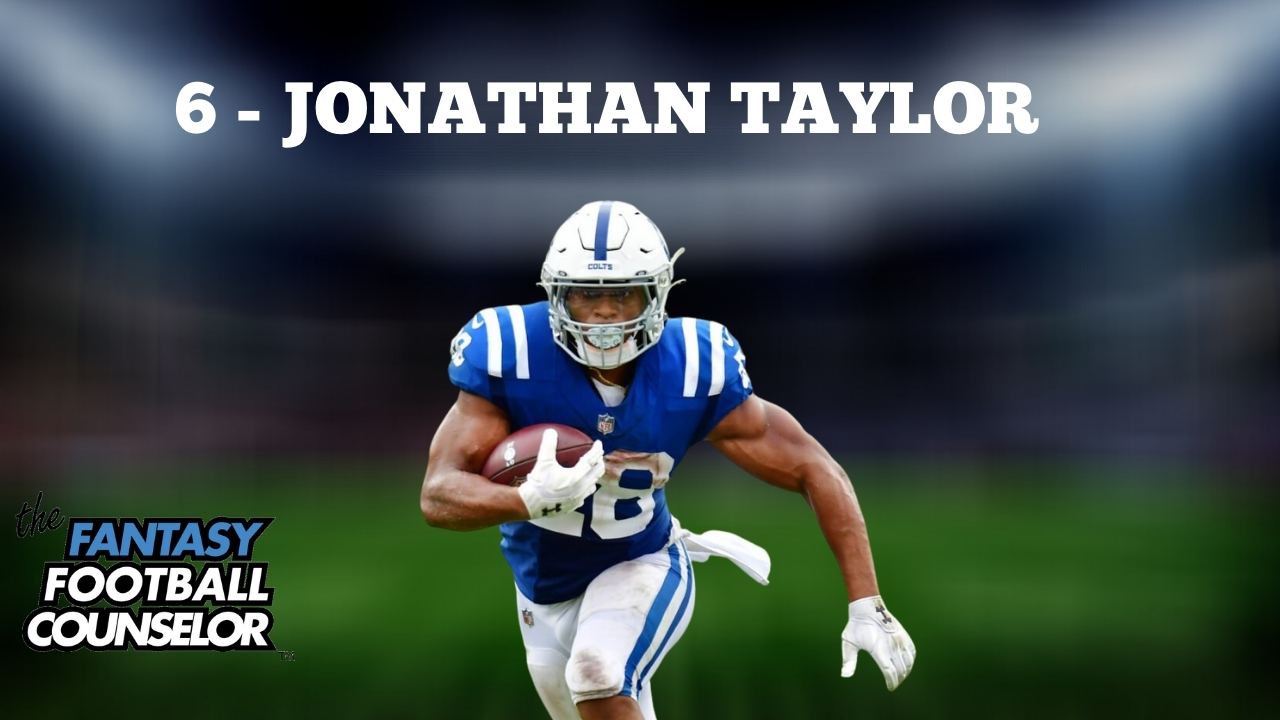 Now, something to note, he was eighth in rushing attempts, which is very interesting here. That's good. That's getting the volume, but again, he didn't really get going until mid to late season, so I want to see more. I see some upside. I'd like to see 250 attempts minimum out of him. He is a workhorse guy. Do you remember in college, he was a workhorse guy? I want to see more out of him. I love the upside, love the opportunity, love the talent. I think Jonathan Taylor if used properly can be a workhorse going into next year, so I got him currently sitting at number six. Okay?
5. Alvin Kamara
Coming in at number five. This guy finished first amongst running backs in PPR. The guy I'm talking about is Alvin Kamara. Now, Alvin Kamara, most people are going to have him at number one, understandably so, because he finished number one in standard with 294.8 points. Even in standard, he finished number one, and he also finished number one with 377 points in PPR. Now you're saying, "Joe, why is he number one?" Well, other than the obvious reason that when you finish number one, you're not going to finish again, two years in a row.
Again, the mainstream is going to probably put him in number one, or probably put him in number two, or probably put him in number three. Understandably so, okay? This is going to be very interesting because there is guys like CMC Saquon, Dalvin Cook, Henry that the consensus love. Again, because they're riding that train as well. Understandably so as well. When you're looking at Alvin Kamara though, you got to look at that one last game he had, where he had six touchdowns. That definitely inflated his numbers at the end of the season. That gave him an extra 50 points right near the end of the season, which put him ahead of guys like Dalvin Cook, which gave him that last push. Right? When you're looking at Alvin Kamara, I got him at five, because again, he is always kind of that guy that's part of a committee, coming off of a pinnacle year. He's really dependent on the receptions, because when you look at his attempts when I look at a running back, I really look at those attempts when you look at his attempts, they're just not there. He's 12th in attempts with 187 attempts, 932 guys rushing, five… Oh sorry, 16 rushing touchdowns. I don't know what's going to happen next year. Is he going to get more volume, are they going to treat him more like a goal linebacker, because he crushed it near the goal line, right? Then you got to factor in Taysom Hill coming in more, stealing those rushing touchdowns. We saw Drew Brees come in, when Drew Brees… Sorry. Drew Brees get hurt, when Drew Brees get hurt, Taysom came in and that really hindered Alvin Kamara, so what type of offense are we going to see? It's a weird offense, right? Again, a lot of his numbers, his inflation happened in that last championship week. Again, not to take any credit away from him, but it's something to think about when you are looking at him this year for 2021. I love him, still love him. Don't get me wrong, but what is the upside and the ceiling, right? What's going to happen this year? I got him safely at number five, because I think the guys ahead of him, that I've got listed ahead of him, the next four, are just going to see more volume. That's the bottom line. Okay?
4. Saquon Barkley
Coming in at number four here, I got Saquon Barkley. Now, there's not much to say here other than the fact that he's a beast. He's a workhorse guy that at the end of the day, he got hurt. There's no denying that he got hurt. When you look at him this year, you got to assume that, let's hope he doesn't get hurt. That's one thing you got factor is, let's hope he doesn't get hurt. If he doesn't get hurt, then we've got ourselves a situation where we've got a high ceiling running back that's going to get a ton of volume that I really like. Okay? Now I'm looking at the running backs who stepped in this year. Wayne Gallman had 130 points fantasy, which is nothing, 136 attempts. They just didn't go to the running game, because they didn't really have a good running back. Dion Lewis, 28 times, nothing. Wayne Gallman was the guy and he pretty much did a whole lot of squat. When you're looking at Saquon, you got to assume he's going to get the volume, he's going to get the work, he's going to want to come back angry. I got to put him in the top four, top five at least, because of the talent and the opportunity. There's no denying it. Again, you cannot base your rankings really based on last year. Now, logically and naturally you feel like putting a James Robinson ahead of him, because he finished fourth, so why isn't he fourth here? I can't. I love Robinson, love the upside and I think Robinson has a better year because he finished on number one running back. Right? But I just can't put Saquon behind James Robinson. I just can't right now. I like the talent opportunity. I got him at four.
3. Christian McCaffrey
Number three, Christian McCaffrey, as you know, I'm not a fan of him either. Don't like the modeling. Don't like extracurricular activities. Don't like the fact that he's coming off an injury, but again, he is the guy. He is the focal point of that offense. I knew that he would decline going into 2020, off 2019, but I had to put him back in here, in the top 3 for now. I'm going to see how the offense gels, how the draft looks, who the quarterback is. Is Bridgewater going to stay? What's going to happen, right? I need to know more, but based on volume, based on top, based on opportunity, based on previous stats, got to put him at three. Okay? Coming in at number two. Now, who's number one is the big question, and you guys will be shocked at my number one.
2. Derrick Henry
Listen, number two is, I got to go with Derrick Henry, coming off two good years. This guy's amazing. Knock on wood. Knock on wood. I got to do it. This guy is arguably the best running back in the game. Now, what I love about him, obviously, the rushing, guys, 1,777 after 16 weeks of 2020. 5.2 yards per carry, 15 touchdowns, get to workhorse load all the time. Again, man, if you look at the attempts, 344 attempts. Unbelievable, honestly unbelievable. That's what I love to see. Love to see the points, love to see the rush, you guys. Love to see the physical tough play that you expect out of your running backs, the volume, everything is there. I mean, is he going to do it for three years in a row? That's the big question mark. I'm going to say yes, barring any type of injury, got to put him at number two. There's no denying it.
1. Dalvin Cook
Number one, people are going to be shocked by this. I'm going to explain my reasoning why he's number one right now. The guy I'm going with is Dalvin Cook. Now, people are shocked, because I wasn't a Dalvin Cook fan, and you're saying, "Well, Joe, you're jumping on the train now." When Dalvin Cook came into the season, I remember drafting him, and then he got hurt. Then I watched him and I'm like, "Okay, he got hurt," then he got hurt again, and he got hurt again, and he hadn't finished a season, so I just wasn't going to draft him last year, based on the fact that he hadn't finished a season, and I had Derrick Henry, I had Josh Jacobs. I had Montgomery's on my team. I had Taylor's on my team. I was okay at the running back position, but the point I'm trying to make here is this. He hadn't finished a season for three years, so I was like, why was I going to draft him? Now that he's actually proven he's finished a season.
Another main reason is I can relate to him. He lost his dad. 46 years old. He lost his dad at 46 years old. I don't know the cause, I don't know the reason, but I know for a guy who's lost his dad, what kind of chip on his shoulder that's going to carry, and what that's going to light up under you. Now, it may or may not be the same impact for him that it was for me, but for me, it really lit a fire under my arse after losing my dad. It was a big motivator for me. Hopefully, that can be the same thing for him. I'm going to assume and bank on the fact that it will be. I hate to use a tragedy to reflect fantasy production. I hate to say that, I'm really sad for him. I did a post wishing him all the best. I'm sorry for his loss, and I understand a loss can be very devastating, but the point I'm trying to make is, this is going to be a chip on his shoulder. Again, based on my experience, that's number one. Number two, let's not deny the facts that he has 312 attempts, which made him second at attempts. He crushed it in fantasy production. He's dynamic. He's explosive. He has 16 rushing touchdowns, he had 1,557 yards. Again, the attempts were there, right? 312 attempts. That's what I like to see. He is the guy. He is the guy there, barring any type of injury. That's always going to be in the back of my mind. I'm going to go ahead this year and actually go against everything I've kind of went against and said when it came to Dalvin Cook because he's finally proven it to me, that's all it takes. Right? You got to prove it to me.
If we're in a relationship and you do something sketchy, and you basically prove yourself, "Hey, that wasn't sketchy. I'm okay." For example, being hurt for three years in a row, which really doubted me drafting him. We saw it and I was right in other ways with Odell Beckham Jr. I said, "I'm staying away," right? You used to wow us, we're not wowed. Same thing with Cook. He's finally wowed me. He's proven, he's finished a… Mind you, he was hurt one game out of the season. Hopefully, it doesn't continue. I'm like, go ahead and point him at number one now, based on the upside, the ceiling, the proven town, the fact that he did well last year, finally, the loss of his dad. All the variables, the talent, the attempts, the volume, everything. Everything points to me having him at number one, going into 2020 fantasy football.
Those are my reasonings guys. I got to go with it. I got to stick with it. I got to back it up. I got to stick to my words. I'm going to go with Dalvin Cook, guys, at number one for fantasy football 2020. The way it sits right now. The super early ridiculous fantasy football, 2021, RB rankings. Those are your running back rankings for 2021.
Let me recap here. Dalvin Cook is number one. Derrick Henry; Christian McCaffrey; Saquon Barkley; Alvin Kamara; Jonathan Taylor; Josh Jacobs; Ezekiel Elliott; James Robinson, and David Montgomery to round out the top 10. Now I'm going to get some hate, "Well, Joe, where's other guys? Where's…" Who did I leave out? "Aaron Jones. Antonio Gibson cracked the top 10. Where are these guys, Joe?" These are the guys I went with. Okay? Things might change. There might be a rookie that comes in, gets to start a depth chart, makes my top 10. I don't know yet. It's way too early to tell. Okay? I'm just processing everything right now. Super early. We're trying to finish the 2020 season. Right? We're trying to get through the Super Bowl. I'm out here already analyzing here for you. Give me some props here, for getting out there and doing this for you.
That's it, guys. Those are your top 10 running backs for 2021. Super ridiculously early. Don't hold me to this guys. Things are going to change. I appreciate you guys being here. Get the 16 round drafts, which is never too early to get in, dive in, and join the Fantasy 365 community. You're going to absolutely love it guys. Thank you. I appreciate you being here. Man, oh, man. Happy New Year. Whenever you're listening to this, it doesn't matter. 2021, let's hope it's a better year for everybody. Okay? Thanks for being here guys, and I am out. We'll talk soon.
Looking at these guys you can see that they have proven to perform on a high level and can get the volume and the opportunity to really succeed. Volume, talent, and opportunity are crucial when you are selecting a running back on your roster for 2021 fantasy football. This list will change but you need to be are of them early on in the year, so you can prepare correctly.
Make sure you are subscribed to this #1 fantasy football podcast to dominate your leagues. Make sure you Follow the FTFN network and bookmark the page for all the latest NFL news and notes from the TOP influencers on the planet.