Fantasy Football Rb's that could potentially Bust! Guys like Dalvin Cook and Nick Chubb are a few guys that fall under this bust potential. The Counselor shares 5 running backs that could seriously perform well below their ADP. Just avoid them and draft someone else, as there are safer options.

Fantasy Football Busts 2020
Nick Chubb
Dalvin Cook
Aaron Jones
Kenyan Drake
Austin Ekeler
Nick Chubb
When I look at players that could bust at the running back position, the first person that comes to mind is Nick Chubb. The reasoning here is very simple. As long as Kareem Hunt is there, Nick Chubb's fantasy football value will suffer. The facts are there, Kareem Hunt outscored Chubb in 6 out of the 8 games they played together in 2019 in PPR scoring. To be quite honest, talent wise Kareem Hunt is the better back and people forget that a few years ago he was the leagues rushing leader.
The problem with the mainstream consensus aside from a lot of things, is that they have a lot of recency bias. Nick Chubb is currently ranked in the top 10 RB rankings because of his solid performance in 2019. No one is looking at the Kareem Hunt factor seriously. Once you factor in Kareem for an entire season, then Chubb falls down to a low end RB 2 Status.
I would genuinely hate for you guys to draft Chubb at the end of the 1st round only to be disappointed with Hunt stealing away more than 50% of the fantasy points. Stay away from Nick Chubb in 2020 fantasy football! Be sure to get my 16 Rounds Draft Solution to know who to draft and when.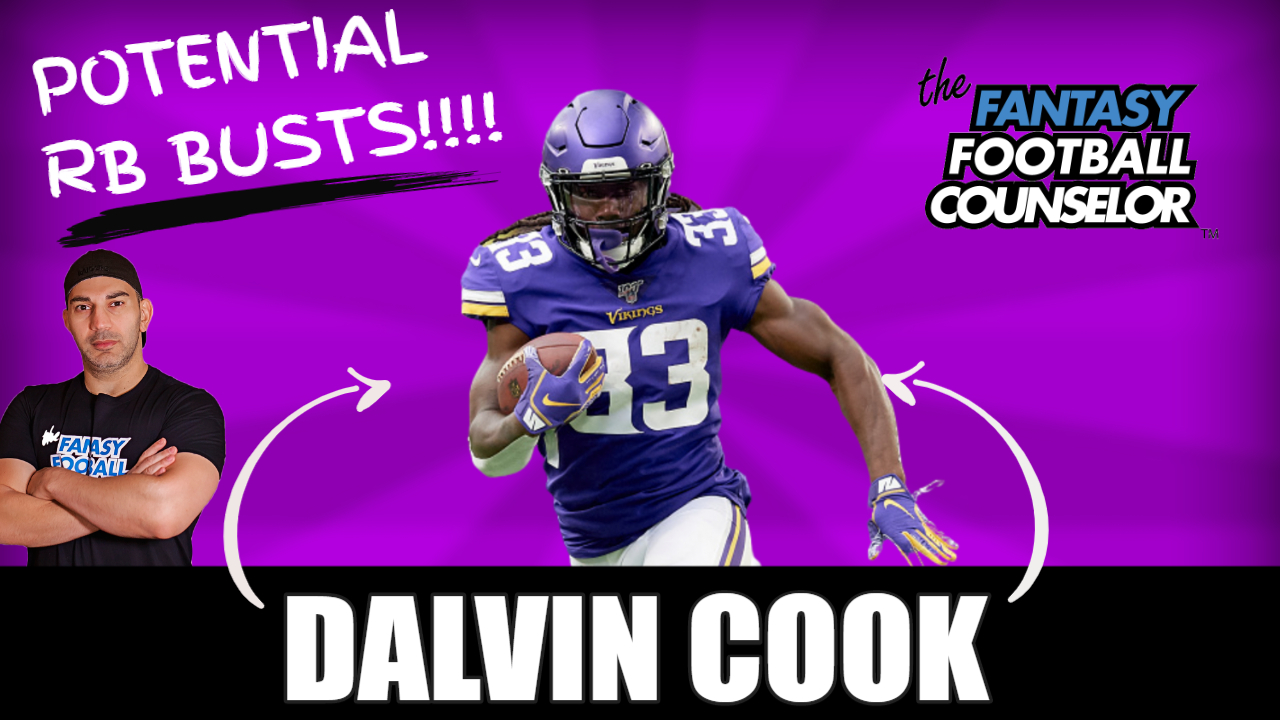 Dalvin Cook
If there was one running back I that I trust the least, it's Dalvin Cook. This guy cannot be trusted due to the fact that he is the most injury prone top running back in the NFL. The fact of the matter is that he has not finished a season in the past three years and I like to study history when it comes to players and fantasy football. In his first 2 years he played 15 games in 2 seasons. In 2019 he missed two full games, and half of two other games.
On top of all this he has not played in a fantasy football championship ever. Yet the mainstream currently have Cook ranked top 4 amongst RB's going into 2020. My mind is blown with the recency bias. There is also talk about Cook potentially holding out for the 2020 season, unless he gets paid a big mega contract.
Do yourself a big favor and don't take the risk of draft Cook in the first round, he will get hurt again.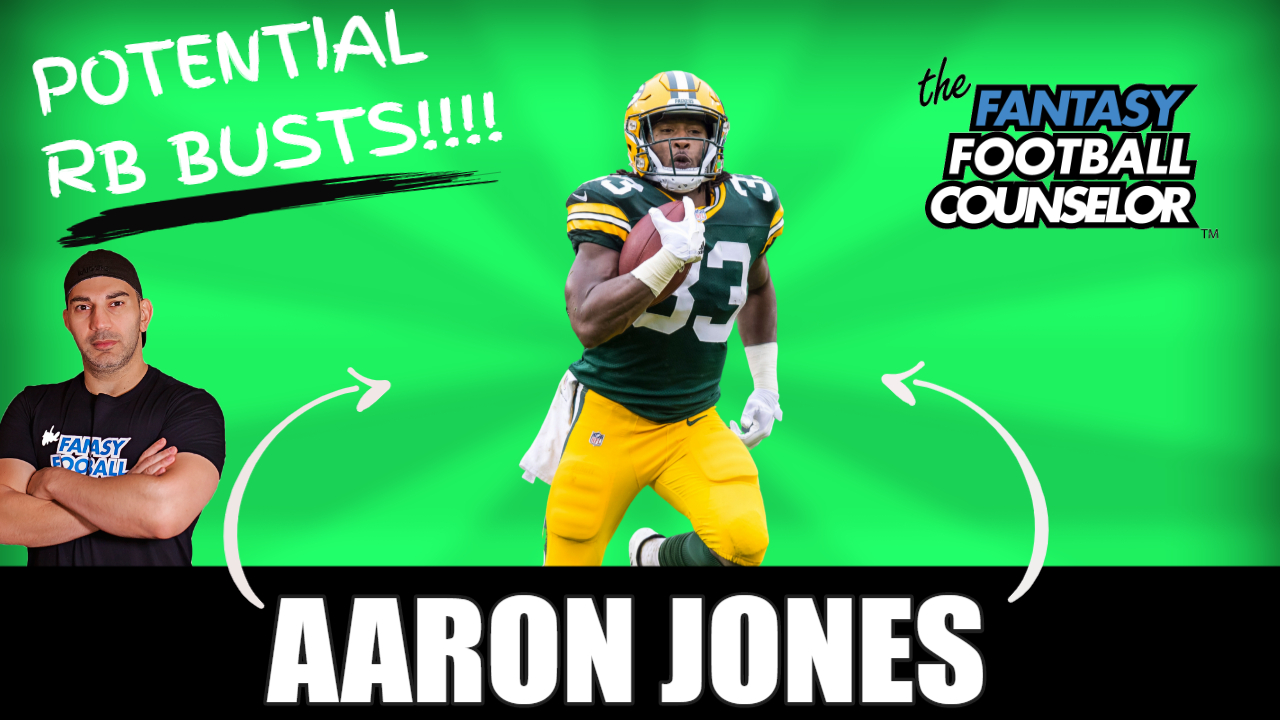 Aaron Jones
Well if it isn't Mr.Pinnacle year! Aaron Jones had the year of his life! Jones finished #2 in PPR with 16 rushing Td's, 1084 rushing yards and averaged 4.6 yards per carry. This is very impressive, and I really hope he enjoyed it because it will never happen again. I like Aaron Jones, but there is no way he can duplicate these numbers ever again.
First of all the Packers are a throw first team and they will go back to that next year. Also, the #1 Wide Receiver target Davante Adams was hurt and missed some time which had Rodgers run the ball more. If the Packers want to win games, the have to throw the ball and that is the bottom line. Jones has also shown injures in the past and may get hurt again. I am not sold on him being the workhorse. Note this numbers got inflated on some really high scoring games, and he lacked consistency.
Kenyan Drake
This is a guy that has had years to wow me and I'm not wowed. Kenyan Drake came in and robbed David Johnson from his job. I wouldn't say that he stole the job, because he is not that good. The Cardinals wanted to part ways with David Johnson for whatever reason they did and Drake go the starting job. The Cardinals can't be trusted for Fantasy football 2020. Kyler Murray has stated on his social media that he doesn't care about fantasy football. The coach Kingsbury has no integrity, as he ditched his starting workhorse RB with no warning and they have too many mouths to feed at WR.
With such a very small window of succeed for Drake, I can't trust him enough to draft him and pay a 2nd round price for him. He could boom, but I am thinking more bust. I don't trust Drake, Kingsbury or the Cardinals.
Austin Ekeler
This is another guy that aside from last year had years to wow me and I wasn't wowed. Listen, Ekeler will be complimented with another back and will be in a committee. Justin Jackson was banged up last year but should come back healthy and get a lot of the work at the goaline and some attempts. I also see the Chargers drafting a running back in the NFL draft.
The problem with the mainstream is that they will tell you to draft Austin Ekeler as your RB 1. Don't do this as he only had 132 rushing attempts and will never be a full workhorse running back. They also have Tyrod Taylor as their starting QB. This isn't going to do you any favors, so just stay away.
When you are looking at fantasy football running backs or any position make sure they fit my CUDDY system. You need to be very picky with your selections to avoid fantasy football busts. Look for those red flags and do whatever it takes to avoid the.
Make sure you are subscribed to this #1 fantasy football podcast to dominate your leagues
[iframe style="border:none" src="//html5-player.libsyn.com/embed/episode/id/13974128/height/100/width//thumbnail/no/render-playlist/no/theme/custom/tdest_id/1750511/custom-color/3db4fa" height="100″ width="100%" scrolling="no" allowfullscreen webkitallowfullscreen mozallowfullscreen oallowfullscreen msallowfullscreen]