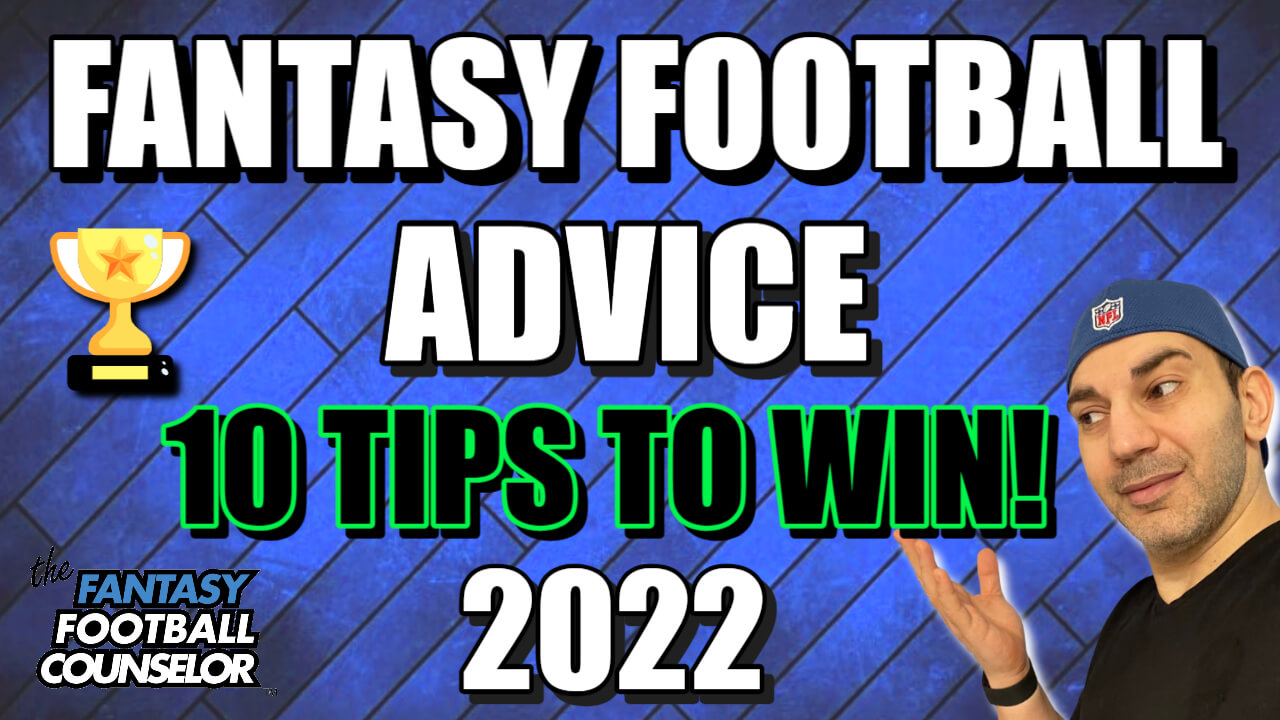 Here is a list of the most practical fantasy football advice to help you win fantasy football. This advice has helped me dominate expert leagues and I am positive and confident that the advice I'm sharing will also help you dominate. I am confident this advice will help you win so be sure to share it with your friends, but not your league mates! To completely dominate your league make sure you get the 16 Rounds Draft Solution the leave your league mates in the dust!
Here are the advice tips but read into each one in detail to learn how to apply each of them to win:
Fantasy Football Advice 2022
Study Team Depth Charts
Go RB Heavy
Wait on Drafting a TE
Don't Overpay for WR
Balance Your Roster
Add a lot of depth
Study ADPs
Think 5 steps ahead of the Competition
Be Confident
Stay Sharp on the wire and league activity
Reading the following Fantasy Football Advice will give you a massive advantage but it is up to you to take action and implement the advice given to fully take advantage of its true potential and capability! Knowledge without action is useless, so go out there and apply these tips as soon as possible.
1. Study Depth Charts
This is probably the most simple and effective technique to draft your fantasy football players and monitor their potential during the season. This will also help you with the Waiver wire as well throughout the season. I have used this technique to crush my expert leagues and the mainstream does not put a lot of emphasis on it at all. I want to drive this point home with you and explain the importance of knowing the depth charts like the back of your hand.
Understanding the snap counts, the volume of rushing attempts, and targets can make or break your season. The key here is "Aim high" on the depth charts. While this may seem like common sense the mainstream and casual fans don't really think about it or discuss it much. In other words, they may think about it on a subconscious level but not consciously. I see it so often where a league player will draft an NFL Fantasy player who has a popular name who happens to be an RB 2 on his roster, over a less-known guy with upside that could be an RB 1 on his team.
Knowing who will get the lion's share of the targets on the team will help you crush your drafts and win your leagues. I will give you a quick example of this. In Justin Jeffersons rookie season he was primed to succeed and I saw it and told everyone to draft him in the 7-8th round that year. The mainstream had him ranked 59th overall among WRs and he was literally undrafted on many rosters. How did I know that Justin was going to break out? Simple. I saw how talented he was in college and knew that he was going into a situation where Stefon Diggs was released and there were 150-plus targets that were free to take with Diggs being gone. I looked at the situation and saw the value and I had a league winner! Analyze the whole situation, from depth charts to volume and the surrounding team talent.
There are other variables of course. Talent, team situation, O-Line, etc. The key here though is volume. Make sure you get those RB 1's early on. Get those WR's that are primed for a big season. Look for players being shipped off and opening for players to get that volume. You really have to think 5 steps ahead at a minimum. (More on thinking ahead later.)
So the key takeaway here is always "Aim High" on the depth chart and always get those volume getters. Study NFL team depth charts and you will succeed. Be aware of them and know them inside and out. Remember to always accommodate and stay on top of the constantly changing depth charts. The change often as free agents enter new teams or injuries occur, so stay on top of the NFL news.
2. Go RB Heavy
Robust RB and going Running Back heavy in your drafts is my personal favorite piece of Fantasy Football Advice! This is the most scarce position and has the least amount of depth. The reason being is that I am obsessed with having an RB with Minimal Committee. As more and more teams implement the RBBC ( Running Back by Committee) this position becomes more desirable. At the time of writing this article, there are literally only 8 RB's in the NFL that will not have to contend with their backup RB for target share. You need running backs that will not compete for volume and are guaranteed to get the rushing and passing attempts.
Part of the Robust/Go Heavy RB strategy is that you have to draft them early in your drafts. The 8 or so workhorses will be gone quickly. You can never have too many RBs. I personally like to have at least 5-6 running back on my roster at any given time. Not all of them are going to be workhorses but the first two I draft early on will be and should produce on a high level barring any time of injury.
The depth of having a lot of RBs also covers injuries and this position is most prone to get hurt. I see the mainstream sheep analysts always push the "Zero RB Strategy" which is the worst thing you can do when you draft. Using last season for example we say De'Andre Hopkins busted after being drafted in Round one, while we say rookies like Ja'Marr Chase, Amon-Ra St Brown, and Jaylen Waddle Emerge. Analysts telling you to load up on WRs early is the worst fantasy football advice you can get and you need to ignore this immediately!
Make sure one of your main goals when drafting is to secure a lot of RBs and make sure those RBs have minimal committees. Doing this one thing alone will give you a massive advantage over everyone else as they will be scrambling all year to make sure they have a useable RB to start on their rosters. There is a ton of depth at all other skill positions so load up on those RBs early in your drafts and add depth at this position above all others.
3. Wait on Drafting a TE
This piece of advice is not the most exciting but it is super effective. I don't put any pressure on myself to secure a TE until mid-late rounds in my drafts. Based on the past 5 years we see 1-3 Tight Ends that do really well and there is usually a significant drop-off after that. Even a top-end tight end will product on a low-end WR 1 level. You may get a player like Mark Andrews in 2021 who has a monster year and amassed 301 PPR fantasy points. This is a real anomaly and rarely happens. Even with these numbers, 5 WRs finished ahead of him including Ja'Marr Chase who was practically going undrafted or in later rounds that year.
The real secret here is to look at step one of the article and study depth charts. You can get a ton of decent value at tight end mid to late rounds that could give you solid output. I will never waste an early draft pick on a tight end when I know I need to secure RBs early on. Like I said there is usually three tight ends that perform well each year and then a big drop-off. Sometimes a rookie or a value tight end can possibly break out and if you studied the depth charts well enough you could land that player for major value in your drafts and have a league winner.
The bottom line is when it comes to tight ends is to wait to draft one and always get a backup. I like to roster two TEs to have insurance and I am very happy if my TE produces 10 points a game. Don't overanalyze this position. Look for a young stud with a good quarterback and roster him. If he is primed and the top TE on his respective team he should see his fair share of targets and even a few touchdowns. Let your league mates reach on a TE early while you are loading up on the mouse scarce and important position in fantasy football. The Running Back!
4. Don't Overpay For WR
This is where all the advice I am offering you comes together. I have been able to nail league-winning WRs for steals in drafts after my team has secured all the top high-volume RBs. I can't express the depth at this position and the value you can get. typically a league starts 3 WRs and if you load up on 8 potential studs you can easily fill those three spots and maximize the value of your points.
Don't just take my word for it. Just take a look at some of last year's (2021) value draft picks at the Wide Receiver Position:
These are a few practical examples but there are many more and this happened every single year! This is why Fantasy Football Rankings cannot be trusted and don't work, and why I created the 16 Rounds Draft Solution. I wanted people to win and avoid the potential pitfalls of the mainstream consensus rankings that don't work.
So the takeaway here is to study the depth charts and look for young talented WRs that have ace QBs throwing them the ball. You can get value in drafts every single year and as there is a ton of depth at this position and a lot of young players tend to emerge each and every year. Do not waste an early draft pick on a WR.
Final thought and words on this point. While everyone is loaded up on WRs coming off pinnacle years prior and wasting early draft capital. You will already be loaded up on the next big player before he breaks out. We will talk a little more about balancing your roster. I am not saying that you draft all rookie WRs. What I am saying is that there is a ton of value in this position and if you select the right ones you don't have to overpay. Do not overpay for Wide Receivers in fantasy football!
5. Balance Your Roster
This is where the magic happens. You have to have a balanced roster full of depth and a variety of player abilities. What I mean by this is that you have to have players with upside that you get for value and players that are more secure and can produce consistently. While there are no guarantees in fantasy football you can position yourself to dominate by using the 4 tips I provided earlier in this article. By drafting players that are going to get the volume, targets, and playtime, you are increasing your chances at more fantasy points.
I like to implement my "Sneaky 7 Formula" I fully explain this in my 16 Rounds Draft Solution you can get it here: https://thefantasyfootballcounselor.com/16-rounds-draft-kit/ . The "Sneaky 7" will give you a foundation of solid volume getting players to base your team around. You can later roll the dice on some major upside players that could really boom. Balancing your roster with safer players and getting the right upside players will ensure that your team can really boom. Many casual players and so-called experts don't do this. They draft boring players, or players with popular names because it is the cool thing to do. Change things up and take some risks and you will ensure a solid and upside team to dominate your leagues.
So you drafted your safe players and balanced it out with upside. The only real wrench in a player's possibility to fail in fantasy is potential injury. You have done all the homework and drafted your aces but some get hurt. It happens but that is where the depth comes in and we will dive right into point number 6. Add a lot of depth!
6. Add a Lot of Depth
Always have a backup plan for a backup plan. When you do that have a backup plan for that as well. It's like the old belt and suspenders analogy. I make sure my roster has so much depth that I won't even have to or want to rely on the waiver wire. I draft my team so that I don't even need or want to trade anyone any of my picks. That being said, if there is a solid waiver wire pick up I will be sharp and on top of it. ( More on that in step 10).
Let's dive into a practical example of depth. If your team starts 2 RBs, I always make sure I roster 5-6. If your team requires you to start 3 WR's I like to roster 7-8. The point I am trying to make is that depth is key. It is there to cover your players if they have a potential injury or just suffer due to lack of performance. If you follow my fantasy football draft advice you don't have to worry as much about the lack of performance part.
Most people like to draft one QB for example. I always make sure you have two QBs on my roster. This is to cover Bye weeks, possible injury, or lack of performance. Having a second ace QB also gives me options for playing the better matchup if I wanted to. Typically I will stick with my more consistent ace QB though. Note if you are in a 2 QB league you just roster 3 QBs. You have no idea how thin it can get at this position when everyone is rostering 3 QBs. Make sure you hoard the depth. I can make or break your teams.
7. Study ADP's
Knowing where players are coming off the board is very important and far more important than just looking at consensus rankings. Studying and knowing the average fantasy football draft position of the players is going to give you a massive advantage over the competition. The easiest way to learn this is to do a lot of fantasy football mock drafts. After you have done your research and know who the guys that are on top of the depth charts are you are able to snipe them for the right value in an actual draft. Drafting based on consensus rankings will keep you with the herd. To dominate fantasy football you have to stray away from the consensus rankings.
Your prior research in the potential upside players and the safe volume getters can give you a 6th sense as to who to draft and in which round. When you are drafting you are able to anticipate when your research studs will come off the board and grab them before anyone else. If you miss out on a player you like, you a backup plan for a backup plan and you will be more than ready to go!
So similar to knowing the depth charts get out there and do a lot of mock drafts and get a solid sense of the ADPs of all the players. Check out my rankings, but these are just used as a guideline. My advice is laid out in the 16 Rounds Draft Solution.
8. Think 5 Steps Ahead of the Competition
This goes for all aspects of the fantasy football game. When it comes to drafting, trading, or even picking up a player off the waiver wire. You have to skate to where the puck is going and not where the puck is figuratively speaking.
I see it all the time, where casual players run to the waiver wire and jump and grab the best player of the week because he had one good game. They waste their waiver wire priority to (FAAB) Free Agent Acquisition Budget on a one-week wonder. Don't be that person. You are a LION and have done your research and know to avoid guys that are lower on the depth chart and lack the upside.
The main pitfall with casual fans and like I said before even experts are that they go for the popular thing. They buy the recency bias and the hype. The moves that players in your league are made up of recent emotion.
9. Be Confident
You have done the homework and all your research and are ready to draft and manage your team. You have to do everything with confidence and certainty. You have to believe in yourself and the picks that you made. You have no reason to doubt yourself. You have a balanced roster, drafted the right players, and have a ton of depth! There is nothing else you can really do other than step on the field yourself and create the fantasy football points.
You must have faith in yourself and the picks that you made. Once you have selected your team you still have some flexibility and can work the waiver wire, but overall your team is pretty much set. Make moves with confidence.
When you are editing your lineups and looking at starts and sits, you need to be sure you are starting the most consistent player with the best matchup. Sometimes having too much depth and good players is kind of a good problem to have. You still have to maintain that confidence when you start and sit your players and have that faith that things will work out in your favor. Remember that 90% plus of the people in your league are just following the mainstream advice and have no idea about this fantasy football draft advice you are getting. Just reading this article puts you light years ahead of the competition. Getting the 16 Rounds Draft Solution helps even more! So make sure you dive into 16 Rounds Here: Fantasy Football Advice.
10. Stay Sharp on the Waiver Wire and News
You need to be a shark on the stats and what is going on with your players and all the NFL players in the league. You need to be tapped into the news and be aware of breakout performances and injuries. This is so important and you are constantly scouting the next best player in line that could breakout. If you listen to my advice and get my 16 Rounds Draft solution, the player should most likely already be stashed on your bench.
Final Thoughts
My final Fantasy Football Advice is just go get it. You are prepared and ready and have the optimal roster with major confidence! The Fantasy Football Championship is yours for the taking. If you have any doubts, or want The Best Fantasy Football Advice to be sure to follow and subscribe to the podcast here on your favorite platform including Spotify and Youtube. We go year-round and fantasy football does not end here on the Fantasy Football Counselor Podcast.
Also, Check out the Fantasy Football Draft Strategy Video for more amazing and practical advice!