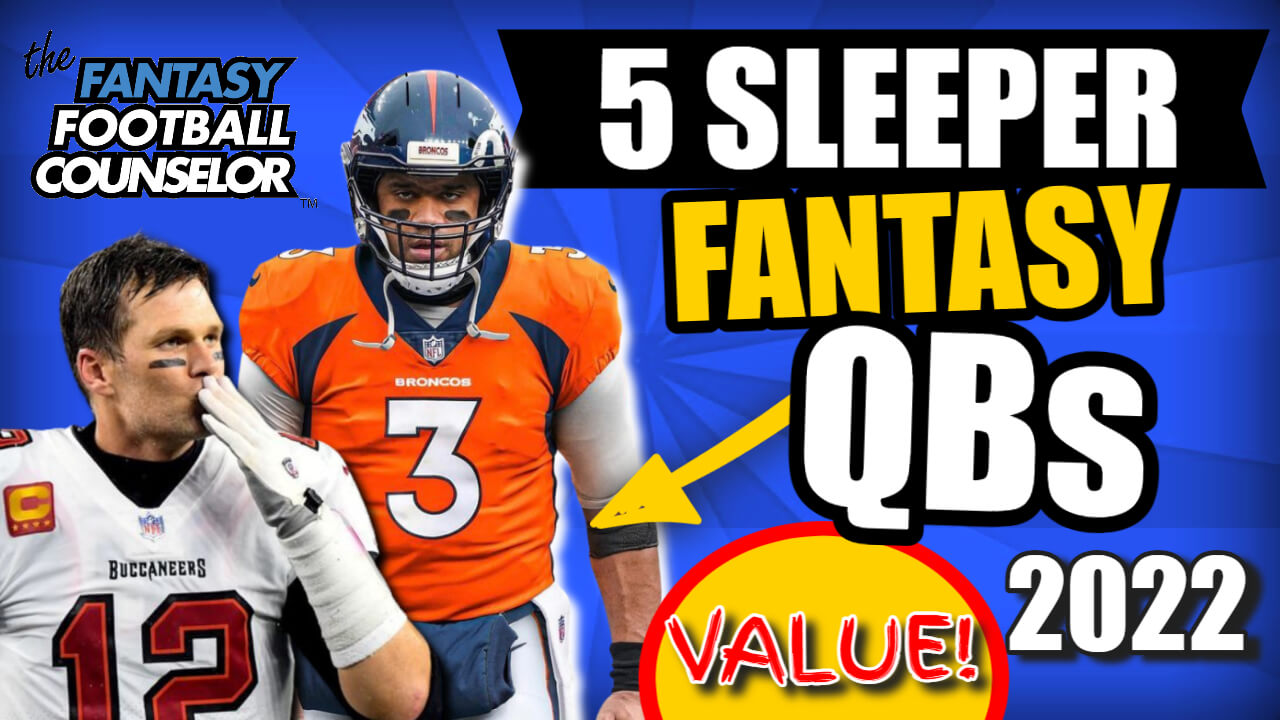 Russell Wison
Tom Brady
Mac Jones
Deshaun Watson
Ryan Tannehill
We are talking about five quarterbacks that are going to be great value for Fantasy Football 2022. You can call them five quarterback sleepers. I want to deep dive into these guys and why I think they could be great value in your drafts this year. Instead of overpaying for, let's say a Pat Mahomes or a Josh Allen, you might be able to get these guys for value and have them perform on a top 10 type level. Okay, guys. Value quarterbacks here today. I'm super excited to dive into this show fantasy football 2022. We'll be here before we know it. I know there's a lot trending in the news. I'm going to dive into that a little bit here as well. Tom Brady is back. That's really exciting. We're going to talk a little bit about that as well.
1. Russell Wilson
Let's talk about Russell Wilson first here. He's my first guy here. Now you always say, "Well, Joe, he's not really a sleeper." Well, he is. He's sitting 11th amongst quarterbacks. Now, when I look at Russell Wilson's numbers, they don't relatively look that exciting. I mean, if you look at his last year's numbers, 242 fantasy points. You're like, "Well, Joe, that's not that exciting. Why do you like Russell Wilson? He only threw 25 touchdowns and six interceptions." Well, Russell Wilson gets a lot done on the ground on his feet. I think he's got two good wide receivers in Jeudy and Sutton there with the new transition there over to the Denver Broncos. And I look at his 2019 and 2020 stats and he had, what, 328.6 fantasy points in 2019 and 359.78 fantasy points in 2020. This is a guy, when healthy and he's been, knock on wood, healthy pretty much his entire career. He's missed a few games here and there. What, a couple of games in 2015, and a couple of games in 2014. He's like an Iron Man. He gets it done. And he always finishes near the top. He's always pretty much in the top 10.
Had a couple of years when he fell out of the top 10, but overall, this guy's been playing since 2012. And always pretty much produces 300 points plus. And I understand, his passing yards are never that exciting. They're just around 4,000, 35 to 4,000. He's not a big, huge passing yard guy. He always gets into the mix. His peak touchdowns were in 2020 with 40 touchdowns, 13 interceptions. But the thing is, I think a lot of people will sleep on Russell Wilson because I look at the consensus rankings and I pull them up now. And when you look at the consensus rankings, you look at basically guys like Josh Allen, Pat Mahomes, even Lamar Jackson, these guys that people are going to overpay for. And that's one thing I hate doing is overpaying for a quarterback. And last year, I spotted Justin Herbert. I'm everyone's paying high for Pat Mahomes. I get Justin Herbert round five. He was my value guy.
This year, I'm trying to find the diamond in the rough. And I think Russell Wilson predicated where he's sitting and I think people are going to sleep on him. He's, what, sitting again, 11th on the consensus rankings. People are going to be paying higher for Kyler Murray, Justin, Herbert, Pat Mahomes. While Russell Wilson will be that value pick that can really anchor your team, get you those points. Okay. Russell Wilson's the guy I think people will be sleeping on that could again, finish top five, top 10. He's got that potential.
2. Tom Brady
The second guy here. I think people will be sleeping on him a little bit because again, there are those big names that are attracting people, but this guy could anchor your team. Tom Brady coming back, he's going to win a Super Bowl ring. And I don't know if you guys believe about the fixes in. I did a show. I brought Brian Tuohy on the show, the guy that wrote the book, The Fix Is In. And I think some of these games are fixed, man. I think they're designed a way for these players to go with an exclamation point. Similar to Payton banning, similar to Ray Lewis and other players that retire on a high note. I think Tom Brady's one of those guys that's going to retire on a high note. How does that translate to fantasy and calling him a sleeper? As of right now, I see him being in the top 10 on the consensus rankings. Maybe just in the top 10 or just outside the top 10. But with Tom Brady, you're going to get those points. You're going to get that consistency. You're going to get a guy that's going to perform on a high level, that wants to win another Super Bowl ring, and end off on a high note. And I really genuinely feel that that's what's going to happen.
Now, if I look at his numbers in 2021, great year. 43 touchdowns, 12 interceptions, 374 points, finished third amongst quarterbacks. Now, the consensus could slide him in near the top, but Tom Brady's not a guy that goes typically in the second round amongst quarterbacks. They like those young, youthful Herberts, Allens and Pat Mahomes now this year. I'm thinking Brady might slide. And if he does slide, I'd love to get him in the fifth round and then also get him a backup as well.
But he's going to perform on a high level consistent with the yardage. I mean, if you look at 2021, he was, what, number one in yardage. Yardage was 53, 16, passing yards, 43 touchdowns, 12 interceptions. He gets it done. And another thing I really liked about Tom Brady is his attempts. He was number one in attempts was 719. Obviously, we know he doesn't get it done on the ground. We get that, but what he doesn't get on the ground, he makes up inaccurate passing touchdowns and no interceptions. Okay. Or minimal interceptions. All right. Tom Brady, high note. Could be valuable this year.
3. Mac Jones
Next guy here, currently sitting 19th on the consensus rankings that consensus is Mac Jones. Now, Mac Jones, the guy finished 18th last year amongst quarterbacks and fantasy points. But understand, guys, this was his, let me repeat this, this was his rookie first year. And a lot of quarterbacks tend not to perform well in their first year. Still managed a 23 touchdown, 13 interception type ratio. Not the greatest. 3,800 passing yards, 3,801 to be exact. I mean nothing sexy, but the guy didn't have a lot of good wide receivers.
Hopefully, they improve his wide receiver core. Hopefully, he gets better options. Hopefully, he does better. And I saw no way but up for Mac Jones. A guy that could be a steal on your fantasy teams. Now, if you are drafting him, make sure you consider him as a backup with some massive upside and understand that Brady performed very well on the Patriots for years. And Mac Jones could be that sleeper pick that could emerge and be a top 10. He is good. He's relatively consistent. And he's young. He's dynamic.
Now, when you look at his rushing, he actually went for 44 attempts, 129 yards, zero rushing touchdowns. You're saying, "Well, Joe, he's not going to give me a lot of rushing touchdowns." Well, this is showing that there's a possible ceiling for some rushing. There's something to be had maybe. He has zero rushing touchdowns and he finished 18th. Pepper in a few rushing touchdowns, pepper in a better touchdown interception ratio, and you've got him slid into the top 10. I'm saying there's a ceiling there that he hasn't even scratched. There's something there for Mac Jones. It just, again, the wide receivers wasn't the sexiest for him. Okay. Now, guys, if you have not gotten my 16 round draft solution and pre-ordered it, make sure you guys get it. This has all the answers. Sleepers, breakouts, all the optimal players drafted in each round, omitting all the guys to avoid. Everything in the 16 round draft solution. Make sure you guys link here below, head on over to dfantasyfootballcouncil.com, secure the solution. All right, guys. Draft kits are dead. If you guys want to win, this is it.
4. Deshaun Watson
All right. Coming number four here. Now again, I can see this guy sliding up once he finds a landing spot. At the time of this recording, still, a lot of uncertainty and has been the biggest topic of news is Deshaun Watson. I don't care where he lands. If he's got good receivers, take this knowledge and understand that if Deshaun Watson has good receivers, a good old line, he will perform well. Top 10 type potential. Now, Deshaun Watson again, I'm not going to speculate on where he's going to land. We don't know. That's a big part of it. But Deshaun Watson, if healthy and again, he'll get his 2020 numbers in Houston with a mediocre offense that had 369 fantasy points. He's versatile. He gets it done on the ground. Three rushing touchdowns that season and he had 93 rush attempts. He's versatile. He also gets it done in the air, throwing 4,823 yards. He's that perfect mix and combination of passing and running. Love Deshaun Watson, no matter where he lands. And I would assume he's going to land in the spot. That he's going to perform.
When he does land there, make sure you look at his wide receivers, look at his old line, look at the situation. And understand he could be valuable because the mainstream may sleep on him slightly, simply predicated on the fact that he didn't perform last year. Didn't play. The fact, the recency bias might bring him down in value for you guys. And he could be that ace quarterback that you could get rounds four and five if he falls. But Deshaun Watson is the guy that could really be a league winner at quarterback like the upside.
5. Ryan Tannehill
And number five, not the sexiest. Kind of boring, but understand, I'm going to explain why I like this guy. Listen up here, guys. And again, in the comments below, comment below. If you are on YouTube, let me know which sleeper quarterbacks you like. And if these guys could be valuable for you guys, if you guys think they could be good sleepers. But number five here is Ryan Tannehill. Let me explain why. Ryan Tannehill finished 12th amongst quarterbacks in 2021. 21 touchdowns, 14 interceptions, 37, 34 when you are looking at passing yards. And 268.36 fantasy points.
Well, you're saying, "Well, Joe, 12th, not the sexiest." But here's the deal. Ryan Tannehill is being slept on currently sitting 16th on the consensus rankings. And he is a guy that gets it done. Let me explain also. One more thing I got to explain here, sorry, is Derrick Henry. He was gone half the season and he's a big part of Ryan Tannehill's success. He's an outlet for him and he wasn't there. And Tannehill still finished 12th.
Looking at his 2020 numbers, he was seventh amongst quarterbacks. Okay. Ryan Tannehill, seventh amongst quarterbacks, where was it, in 2020 with 344 points. Nice touchdown and interception ratio of 33 touchdowns to seven interceptions. Again, in and around that 3,800 mark for passing yards. Ryan Tannehill finished seventh. Again, that's with Derrick Henry there, Derrick Henry out last, you still managed to finish. Where did he finish? 12th. And understand, if Ryan Tannehill comes back and you got to understand that these guys are going to be making a strong run for the Super Bowl. I imagine this is his last hurrah, this is his last stand. And he's going to play with absolute certainty. Now, would I be comfortable having him as my starting quarterback? Would I be thrilled? Last year, I had Justin Herbert as my starting quarterback. It's a little more exciting, a little more upside, but Ryan Tannehill's a guy that you can plugin, that can anchor your team safely week in, week out. And can perform on that level every single week.
Not going to be the sexiest pick, but it could be a value pick that can carry you every single week. And again, I'm going to pull up his stats here real quickly in 2021. And they weren't the nicest, but he's always producing. In his lowest game, he had a couple of low games. Week nine pointer, eight pointer. Then a nine-pointer and week 15. But overall, you're getting the 12, 15, 20 points a game. Very consistent throughout the entire season. I understand, this was season pretty much with Derrick Henry being gone. Derrick Henry coming back is really going to help him a lot I think as well. I know they're going to run the ball more. You're saying, "Well, Joe, they're going to run the ball more." But it's going to give him more time, better past protection. I got an outlet for him, a safety blanket, maybe more time to throw the ball. And just work that offense a little more efficiently with Derrick Henry there. Again, he's performed well with Derrick Henry there. I still think Tannehill could thrive.
And that's pretty much it, guys, for sleeper quarterbacks. In this episode, there are tons more sleepers. There are tons more to talk about. Make sure you guys are subscribed. We are here in the off-season. Get that 16 round draft solution for the lowest price of the season and stay subscribed. Stay in tune in the off season, put in the work now and the analysis. So you guys can train hard, fight easy.
Make sure you catch the full episode here: https://youtu.be/uWCtklqvhcc
Follow on Instagram here: http://bit.ly/ffcounselorinsta