[iframe style="border:none" src="//html5-player.libsyn.com/embed/episode/id/14183018/height/100/width//thumbnail/no/render-playlist/no/theme/custom/tdest_id/1750511/custom-color/3db4fa" height="100″ width="100%" scrolling="no" allowfullscreen webkitallowfullscreen mozallowfullscreen oallowfullscreen msallowfullscreen]
Here is a list of the TOP 10 Fantasy Football WR's for 2020. That I handpicked for you. Be sure to target some of these guys earlier in your drafts if you do decide to go WR early on.
Top 10 Wide Receivers 2020
Davante Adams
Michael Thomas
Julio Jones
Kenny Golladay
Tyreek Hill
DeAndre Hopkins
Cooper Kupp
Mike Evans or Godwin
AJ Brown
Juju Smith-Schuster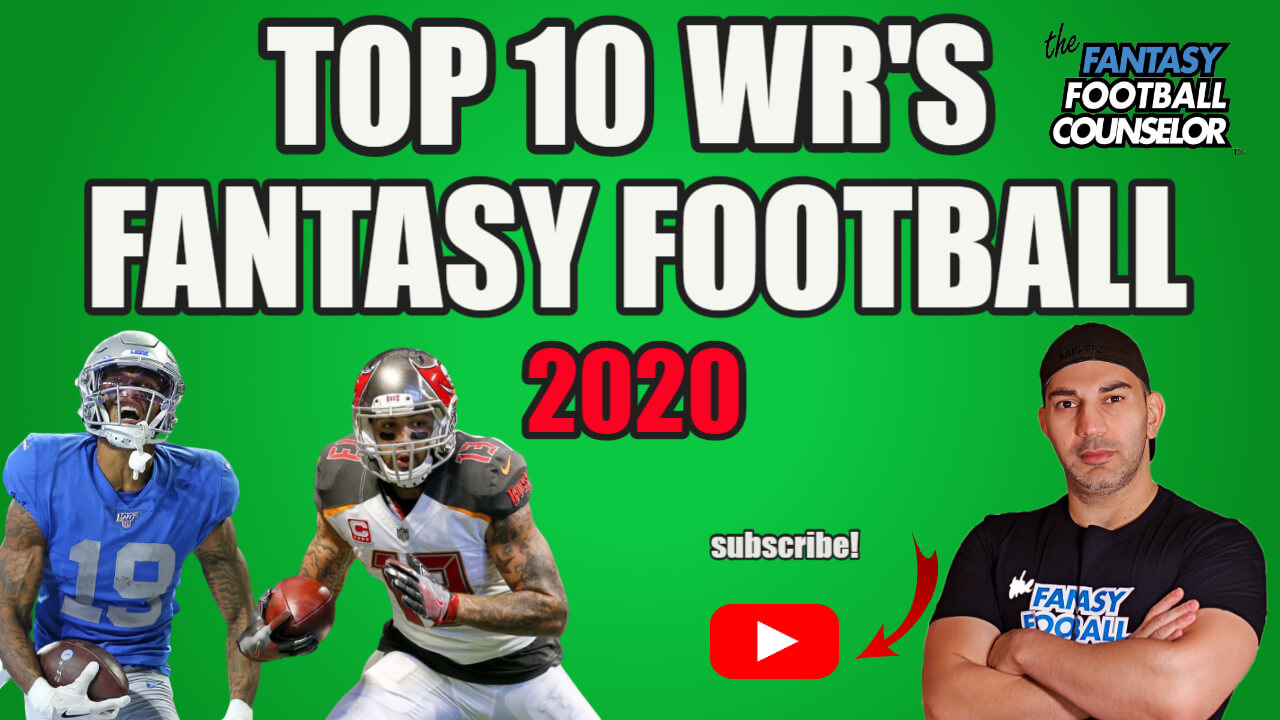 I'm excited to get this Top 10 Wide Receivers of Fantasy Football 2020. You know me, I don't really like wide receivers early but this year could be a little bit different. There's a couple of guys I really liked early on. Before we get into these guys, make sure you head on over to thefantasyfootballcounselor.com or click on the link below. I have a pinned comment. Get the 16 Rounds Drafts solution, which is the first-ever only video training. Going to help you guys crush and dominate your leads for fantasy football 2020.
Excited to share all my knowledge with you guys in there. Breakout sleepers, dynasty players, and I've got something called the Sneaky 7 Strategy that's going to help you guys crush. It's almost an unfair advantage guys against the competition and your friends, or your league mates or the guys, whoever you're competing within the league for that matter. Get the 16 Rounds Draft Solution. All right? All right, Top 10 Wide Receivers for 2020. Now, this is an interesting list here because last year we had a couple of guys fall off due to unforeseen circumstances, things that we didn't really anticipate, and that was an injury.
1. Davante Adams
Now the first guy I got here was injured, only played 12 games last year. Okay? Guy, I'm talking about at number one, now some people may disagree, but you got to understand the opportunity's there. The guy I love at number one is Davante Adams, okay? That's who I've got at number one. Now you got to understand guys, there are variances every single year. What goes up must come down. You got to compensate. You got to look at things that are going to change; things that rise, things that fall. Now everyone is saying Michael Thomas first, but I'm going to disagree because I'll tell you why.
In 2018 he finished sixth, guys. Sixth amongst wide receivers. How come he didn't finish first the year before, right? But as soon as he finishes first, everyone's like, "I got to draft him first day and he's got to be the first wide receiver." Not the case, guys. You got to be able to compensate and make up for that, right? The reason I like Adams is that he finished second in 2018, so he's due for finishing first. That's one reason, but that's not the main reason. But the main reason is that the Packers have Aaron Rodgers, the guy's got a chip on his shoulder.
Everyone's saying he's done, he's washed up. They've drafted Love now as a backup. I think there's going to be a lot of fire under Aaron Rogers' butt there. He's going to have to succeed. He's going to have to perform. He's going to have to make a Superbowl run here, okay? That's one of the main reasons. Number two, the Packers did not acquire other wide receivers. That tells me either one, they're stupid or number two, you guys can leave a comment below. I'd like to hear your feedback on this. Or number two, Davante Adams is the guy they believe in now.
They just signed I think for one year. They signed a tender with Allen Lazard. I like him as a deep sleeper. A lot of people are sleeping on Lazard, but again, I love Davante Adams. I love the upside here. 169 targets for 111 receptions, 13 touchdowns, and 329 points back in 2018. 2019 like I said, only played 12 games which limited him to 127 targets on 83 receptions and only five touchdowns. I'm just under a thousand. You guys, I want to see that go up, okay? I know it's going to go up because it's Davante we're talking about. Adams is a primary target for Aaron Rogers and again, they had such a pinnacle year in the run game, they got to go to throw the ball more if they want to succeed. I like Davante Adams safe and secure. One thing I want to note, I want you guys to note this when you look at all wide receivers, there's a lot of wide receivers that came in. CeeDee Lamb with the Cowboys, it's crowded there. Jerry Jeudy with the Broncos, it's crowded there. There's a ton of wide receivers that came in and crowded particular situations. Even the Cardinals are crowded, right? They kind of got the crew they had, they added DeAndre Hopkins so they're crowded. You got to be careful.
When you are looking at wide receivers especially early on and talking about when to draft a wide receiver and the strategy if you do want to draft a wide receiver, it's part of my Sneaky 7 Strategy and 16 Rounds. Get it guys, linked below. I'm telling you guys, you got to be cautious and you got to get those guys that are almost guaranteed the target and volume count.
2. Michael Thomas
The other guy I want to talk about, number two. I got to put him here. The talent is there and again, other guys could surpass him. Golladay, Julio Jones could easily surpass him. But the guy I'm talking about here is Michael Thomas. Listen, number one amongst wide receivers in PPR in 2019. 374 points. Number one in targets guys, 185 targets. I don't see them hitting that yet again. 149 receptions. He had nine touchdowns, 1,725 yards, such a pinnacle year. I don't see him passing that at all, but you got to understand guys that when you are looking at wide receiver, he's a guy that's safe early on.
I don't recommend going wide receiver in the first round. You got to secure that running back and you can probably get Golladay in the second. That's one of the strategies I talk about in the Sneaky 7. I go over which wide receivers draft if you draft them early and when. But again, Michael Thomas in regards to a ranking point of view I mean he finished, what, number six in 2018. Worth 315 points amongst wide receivers and then finished first amongst wide receivers in 2019. The guy's a beast, he's a monster and a primary target. They did draft Andy Trautman, a tight end there in the third round, the Saints did, but I'm not too excited about him. Thomas is going to eat.
3. Julio Jones
Coming in at number three, safe, solid, and secure. You got to go, Julio Jones, man. Number four in PPR 2018, number three in 2019. I absolutely love Julio Jones. A guy that's consistent not only in yardage but he's also consistent in PPR. Now his touchdowns, not the greatest. He had six touchdowns last year. I mean, I want to see that go up but Julio Jones is not really a touchdown machine. But he is a PPR and a yardage machine and he always ends up finishing in the top 10 no matter where it is. I really like the Atlanta Falcons offense. I am excited about their offense. They did not acquire any offensive players. I want to note that, which means that they believe in the guys they have. They believe in Gurley, they believe in Ridley, and they believe in that offense. This is the year that I think the Falcons are high octane offense. They did draft a center, so slight improvement on the O-line, but I love, love, love the Atlanta Falcons. And Julio Jones, number three. I feel comfortable there.
4. Kenny Golladay
Coming in at number four, and I think this guy's got one of the highest ceilings. I love the upside. The guy I'm talking about is Kenny Golladay. Now when you are doing your draft, ADP-wise you're going to see Hopkins go ahead of these guys. Again, if you see me rank players higher, it means you can draft them later and you're going to get more upside. Again, I'm really, really good at looking at guys that could taper off. I mean everyone's telling you guys Odell Beckham first round last year. Guys, the worst thing you could do. I had one idiot analyst say that Odell is going to have a pinnacle record-breaking wide receiver year. They're crazy, you guys, absolutely nuts. But I'm telling you guys, you got to be cautious. You got to know when to hold them, know when to fold them and look for trends. But Golladay is a guy that could absolutely crush it. Finished ninth in 2019. An absolute monster when it comes to talent. Now 116 targets, not exciting. When I look at a wide receiver, I want to see at least 140 targets and up. Ideally, the problem was Stafford got hurt, but if you look at the first six, seven games he was getting a lot of targets. He was the primary receiver. As soon as Stafford went down, Driscoll came in. He was a disaster at quarterback.
His numbers kind of were a little more volatile, okay? But with Stafford back and healthy, now they've got a run game with Swift potentially. I love the upside of Kenny Golladay coming in at number four with the highest ceiling.
5. Tyreek Hill
Coming in at number five, he finished 32nd last year. I understand he missed a bunch of games. He only played 12 games last year. 89 targets, 58 receptions, and just didn't get the touchdowns that he had in 2018 which were 12 in 2018 and just did not meet that at all this year with seven touchdowns. The guy I'm talking about is Tyreek Hill. Listen, high octane offense, number one receiver, dynamic, great playmaker. The only problem I have with Tyreek and I'm probably not going to draft him this year, is that yes, they have a lot of targets and amounts to feed. They got Robinson, they got Hardman, they got a tight end. They got Kelce, they've got a pass-catcher back in Clyde Edwards this year. Again, when you are looking at Hill you could say, okay, be cautious here. But again, what concerns me is his volatility. He has those 40 point games and he comes back and has a seven-point game.
That's probably because they have a lot of targets, okay? So, Tyree, Hill, got him at number five. But again, I don't feel warm and fuzzy with Tyreek Hill as a consistent guy. Not as consistent as a Thomas or Julio or the guys I stated above, okay? Be cautious. Tyreek Hill, a very volatile, and I'm staying away from him early. But from a ranking point of view, he has that ceiling where he can get 40 point games. He got three or four or five 40 point games and rank them up. He'll get those big games and rank him up in the top 10. But again, he won't be as consistent, so be cautious.
6. DeAndre Hopkins
Coming in at number six, got to put him here based on talent, but again, I'm not drafting him. His ADP is going to be far too high for me, and it's DeAndre Hopkins. Listen, he finished fifth in 2019 which is great, 150 targets. The problem I have with Hopkins is the limited targets he may get. This may be a similar situation we saw with Odell Beckham going into Cleveland were back in 2018 I had told you that Landry had 149 targets and that's where they maxed out as, as the number one receiver. Landry was still there and I told you Landry was better than Odell.
Now, this is a different situation. We're coming in now. Hopkins is coming into the Cardinals where Kyler's going to spread the ball around. Larry Fitzgerald had 109 targets. Christian Kirk had 107 targets. As far as I know as of late April now, they are still going to be there. Maybe Kirk gets shipped off. If he does, this is going to change my tune. But if Kirk and Fitzgerald are still there, they're going to still eat and they're going to still demand targets. If DeAndre Hopkins wants to eat, he needs at least 140, 150 targets to become a top-five receiver. How is he going to get that if Kyler spreads the ball and their number one receiver last year in targets was Fitzgerald at 109? Those are the questions. Mathematically it doesn't make sense and less for some unforeseen circumstance or for some reason or an anomaly, Kyler says, "Okay I got to go to Hopkins," and that's all he targets and Hopkins gets 170 targets. If that's the case, Kirk and Fitzgerald become non-relevant and then I don't see that happening, right? I mean it could happen but I don't trust Hopkins. A lot of people are drafting him in the first round.
I'm going to go ahead and avoid that situation. Coming in at number seven, it gets really nitty-gritty here near the end because there's so much uncertainty. So many wide receivers could emerge. Some rookie wide receivers could emerge. I'm telling you guys, this is such a weird year for wide receivers. You can literally roll the dice on some lottery picks later and hit a top 10 wide receiver. That's how crazy this year is. But I got to go with safe and consistent in the top 10 and again I'm probably not going to be drafting a wide receiver in the first three rounds, but if I do, these guys are the safest.
7. Cooper Kupp
Number seven is Cooper Kupp. Listen, this guy is the number one wide receiver with the Rams. The bottom line Kupp has the rapport with Goff. Number four in fantasy points last year. He had 10 touchdowns on 134 targets. Woods is a sneaky sleeper I think people are going to be sleeping on and could get a lot of volume as well. They drafted Cam Akers as a running back and Dan Jefferson at wide receiver as well to fill the Cooks spot. But again, Kupp is the guy, bottom line. If you want to safe wide receiver, go Kupp. But I wouldn't invest him in a second-round pick.
I'd probably start looking at him in rounds three and four to get him but he may be sniped a little earlier. Be cautious, okay? But he is safe and solid and a guy that's going to get the volume. Now you can make the debate that you could draft Adam Thielen in and around here as well. That could be a debate. Now with Diggs gone, yes. Okay? That could go either way, but I'm leaning a little bit more towards Kupp here. It's going to be interesting to see how this all pans out, but I like Kupp.
8. Godwin or Evans
Coming in number at eight, and I want to make an argument and debate here, I'm going to say, Mike Evans or Godwin. Now again, I'm covering my butt here, but we don't know. Nobody knows and a lot of people are going to have Godwin ranked ahead of Evans because he finished second in PPR amongst wide receivers, but a lot of people are going to have Evans ahead of Godwin because he's technically the wide receiver one. Looking at size and frame, Godwin's a little more small, compact, little more versatile and I think he's going to be used a lot more, the Tom Brady. More kind of like an Edelman was used type of thing, right?
But when you have Evans, he's going to be more of a deep threat guy and I don't see Brady using the deep threat as much as he used to with Moss back in the day. If I were to lean towards anyone to finish in the top 10 it's probably going to be Godwin. But I think only one of these guys emerges. Another guy's going to completely fall off. It'll be like this. I don't see it being like this. And a lot of the mainstream experts have these guys that top 10 which is absolutely crazy. And again, with Gronk coming back, O.J. Howard, who knows what's going to happen with him. Bright. There's a ton of targets. Ronald Jones catching the ball in the backfield, a ton of targets and Brady's going to spread the ball around. If you look at it, I mean James White had 95 targets last year. Ronald Jones or Ke'Shawn Vaughn or whoever's going to be back there catching the ball in the backfield is going to get a lot of targets. That means the volume will go down for Evers and Godwin and again Gronk being a primary target. Be cautious, okay? I'm going to lean a little bit towards, slight edge to Godwin. But I could be wrong because Evans could be the guy at eight.
9. AJ Brown
Coming in at number nine, a lot of people don't have this guy at nine. But again when I'm looking at wide receivers, I'm looking at situations and the situation is very favorable when you're looking at A.J. Brown at number nine. 84 targets, 52 receptions, eight touchdowns. Tannehill's back, and again Tannehill made Landry a pretty significant a wide receiver a couple of years ago. A.J. Brown is extremely talented. A lot of defense will be focused on Henry in the run game. I like A.J. Brown potentially cracking that top 10. And again, in a position to succeed because he's a clearcut wide receiver one. Where you look at other situations where people are drafting Amari Cooper ahead of A.J. Brown where I'm going to say CeeDee Lamb may come in and take some volume. The same with Michael Gallup, so be cautious.
I almost feel safer, actually going A.J. Brown and getting him a little bit later than going a guy like Amari Cooper in the second round where there's a lot of question marks, so again be cautious there. But I do like A.J. Brown potentially cracking the top 10 for the reasons that I stated.
10. Juju Smith-Schuster
Rounding out the top 10 here we got JuJu Smith. Now, I have a lot of question marks in regards to especially with the acquisition of Claypool, Deon Cain being there, and of course, Diontae Johnson who emerged last year. But JuJu is the wide receiver one. That could work against him or it could work for him.
How it works for them is that Big Ben gravitates towards him and gives him a ton of targets. Now, why I like JuJu is because of the target count and because Big Ben was number one in passing attempts back in 2018 with 675 making JuJu and Antonio Brown both top 10 wide receivers in PPR. JuJu having 166 targets that year, this upcoming year Juju could still feast, right? The only problem is if he sees double coverage, is he going to be able to handle it the way that Antonio Brown did, and I'm going to say no. But when looking at it from a volume standpoint, he can get that target. Now I would suggest maybe going Diontae Johnson and Claypool later, getting that value and having one of these guys potentially emerge as a wide receiver one rolling the dice. I like Claypool, super late. Chase Claypool, if you haven't looked him up, he said he looks like an absolute stud. A little bit raw on the rut running, but great hands, pulls everything down, good speed. Again, he had Calvin Johnson believe or not Megatron statistics man, I'm telling you, at Combine and he's gotten Megatron size almost and he's got speed.
This guy, I mean he could be special there. I'm looking at Claypool, I'm thinking maybe get him late and possibly not get JuJu. But from a volume and a wide receiver one perspective and a rapport with Big Ben, how do you deny JuJu? The other options other than that, who else do you put in the top 10? Do you put down Robinson with a questionable Mitch Trubisky? I mean, who do you put in the top 10 here? Do you put D.J. Moore there with a new quarterback? I mean, how do you even trust that? You go JuJu because you know you're going to get the volume.
Now, another guy that cracked the top ten is T.Y. Hilton with Rivers there, right? Again, guys, you can get a ton of value in wide receivers. Not necessarily for a second round, but even in the third and fourth round. I talk about the Sneaky 7 Strategy in the 16 Rounds Drafters so make sure you guys get it below. That's it, guys. A very early top 10 list. Adams, Thomas, Julio, Golladay, very solid. When we get to five with Tyreek Hill, you got some volatility. Could finish top 10 but that's only because it's going to have some volatile games.
Number six is Hopkins. Simply putting him in there because of talent, he could get volume but there's a good chance he could fall out of this top 10 just because he won't get the distribution and he hasn't built a rapport with Kyler. Coming in number at seven, Cooper Kupp. Safe, solid rapport with Goff. Coming in at number eight Evans or Godwin leaning towards Godwin because I think Brady's going to gravitate towards him. Coming in at number nine, clearcut wide receiver one on the Titans, A.J. Brown. Coming in at number 10 due to volume and rapport with Big Ben, I'm going JuJu.
That's it, guys. Man, that's a lot of information to absorb. I hope you guys got some knowledge out of it. I'm deep-diving into statistics, facts, deep-diving into depth charts, looking at opportunity, looking at which quarterback throws the ball and everybody here has got an awesome and a great quarterback throwing them the ball. Again, they're going to get the target volume and they're going to put up the fantasy points. That's just the bottom line. Top 10 Wide Receivers. Let me know what you think who else could crack the top 10 and we'll chat soon!
Subscribe to this #1 fantasy football podcast to dominate your leagues here: https://thefantasyfootballcounselor.com/