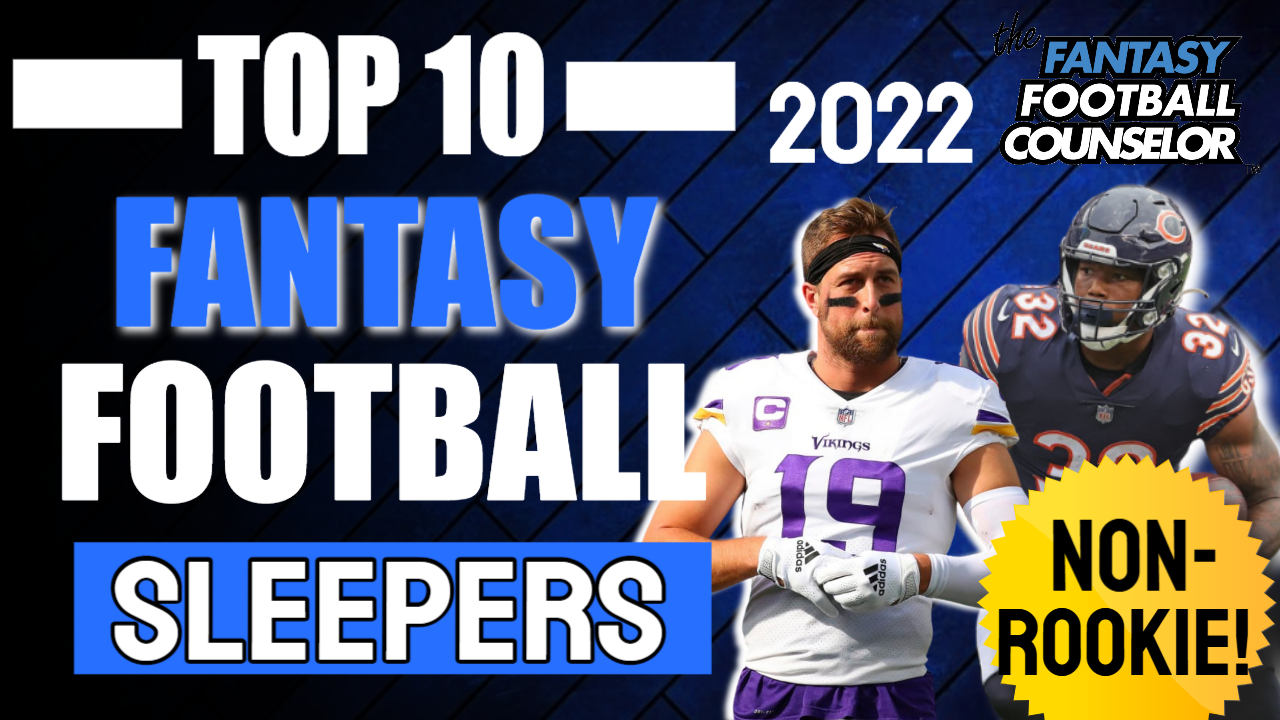 Top 10 Fantasy Football Sleepers 2022
Matt Ryan
David Montgomery
Saquon Barkley
Amari Cooper
Darnell Mooney
Christian Kirk
Courtland Sutton
Robert Tonyan
Adam Thielen
Mac Jones
Matt Ryan
So, the first sleeper here is not popular, he's just not. And, again, you could say he's old, but the guy I'm talking about is Matt Ryan. I got him as my first sleeper. Why do I like him? Now, I'm not telling you to draft him as your QB one, although I think he could finish top 10 easily this year. Easily. In 2018, he was the number two quarterback in fantasy. A long, long time ago, back in 2018, Matt Ryan was the number two quarterback in fantasy points. In 2019 he finished 11th amongst quarterbacks, not bad. So you could see that there's a big drop off there. And then where did he finish last year? I finished 19th last year. I think in 2020 he was like 12th or something.
So he finished 19th. He had a bit of a dip typically from where he finishes. But I think that Matt Ryan, I think he had enough with the Falcons. I think he was like, "I've had enough of his team, the O-line's not protecting me. I'm not fond of coaching. I need a new environment. I need to shake things up." And I really genuinely feel. not just being a bit of a Colts fan, I really genuinely feel this is a perfect home for Matt Ryan. Now there are some question marks about wide receivers, I think T.Y. Hilton at the time of this recording was talking about getting shipped off. Some teams showing interest in him. They got Alec Pierce. On paper, one of the best pure deep ball receivers out of this 2022 draft class.
So they got Alec Pierce, they've got Pittman, they've got one of the best running backs arguably, if not the best running back in the game, in Jonathon Taylor. They've got a good O-line. Ryan's going to get revived. And all I'm saying to you is this, he throws a lot. Like throws more than anybody. So his attempts are going to be there because he doesn't run very much. So he is going to make it up in touchdowns, he's going to make it up in passing yards. So he's got more time to do it with a good O-line now. All I'm saying is this, in a two-quarterback league make sure you got him. In a one-quarterback league, make sure you consider him as a backup. I like him. He's on the Colts. He's starting. He's going to get the volume. He's going to get a lot of passes. He's going to get a lot of touchdowns. Matt Ryan is going to eat. Bottom line. He's going to throw the ball a lot. He's going to get volume. He wants to get a super bowl here with the Colts. So don't sleep on Matt Ryan as a backup quarterback. And again, right now, currently sitting 20th amongst quarterbacks. So in a one quarterback league, a lot of people don't stack to quarterbacks so he is going undrafted. So Matt Ryan's my first sleeper on this list.
David Montgomery
The second guy here. Now, from what I'm hearing from inside information you can't say who, when, why, what, apparently he's put on 10 pounds of muscle. The guy I'm talking about is David Montgomery. Sitting 16th amongst running backs right now on the consensus. So I look at a guy like David Montgomery, what I'm seeing here aside, from Khalil Herbert being there. Now Khalil Herbert as a backup running back is good. He stepped in those games that Montgomery missed last year. Montgomery played 13 games, with 225 attempts, 849 yards, and seven touchdowns. Had he played those three, four games that he missed, we're talking over 1200 rushing yards, we're talking 250 plus attempts, we're talking 10 touchdowns. But he didn't play those.
So he lost some yardage, lost some attempts, and that type of thing. It would've been almost 300 attempts. David Montgomery's come back healthier. There's no naggy to hinder his performance. Fields are now into the groove, and now wide receivers they've got Mooney, which we'll talk about later. But Montgomery's going to eat. Now he may face some stacked boxes. He has been plagued with some injuries, some nagging stuff here and there, but I still think David Montgomery's a winner.
I think that you're going to get him for value. I see him coming off as late as the third round, which I think is a steal. Because you have other guys that won't get that volume being drafted ahead of him. Guys like Deandre Swift, Aaron Jones, who's got Dylan breathing down his neck, and Antonio Gibson, are all ranked ahead of David Montgomery. And I really like David Montgomery as a sleeper. So this guy could be that first round, top five, top 10 finisher for fantasy points, but he's coming off for value. Now finally, no hindrance with naggy, which is really exciting. I still think he's a sleeper based on that value. Being a workhorse with no committee, they didn't draft anybody else, he is the guy. David Montgomery is a sleeper. Now, again, we're talking non-rookies. There are a ton of rookie sleepers. As I said, Tyler Allgeier, Davion Pierce, I could go on and on with a bunch of different rookies that we're talking about. So make sure you guys are subscribed and everything is in 16 rounds.
Saquon Barkley
The third guy here, now a lot of people disagree with this guy, and I got to talk about him is Saquon Barkley. He is a sleeper because Saquon Barkley is actually sitting 19th, which is ludicrous. At the time of this recording in standard, sitting 19th amongst running backs. So I mean, where is he sitting in PPR? Actually, he's a little higher in PPR, and 14th in PPR. 14th in PPR, 19th, and standard. Either way, I'm giving David Montgomery, I saw him, I did a mock draft the other day, and he actually fell to the third round. Which is pretty remarkable.
Now when you look at a guy like Christian McCaffrey, you got to look at a guy like Saquon Barkley. Christian McCaffrey's coming off he is the second-ranked running back right behind Jonathon Taylor in PPR. I'm looking at it right now. They've got Taylor McCaffrey, Eckler, Naji Cook, and Henry in PPR. I'm still drafting Henry as number one, doesn't. PPR doesn't matter. Half point PPR doesn't matter, standard. Henry's the number one running back in football right now. Taylor's going to have a natural regression, but that's a whole other topic. We'll talk about it in 16 round draft solution and other videos down the road.
All I'm saying is this, Saquon's a stud, and had a good 2018 year. 2019 I think he played 13 games and then fell off with injuries. Had that major knee injury. Now he's two years removed. They've improved the O-line. They preserved him last year. They knew they weren't going to make the playoffs, they preserved him. They put Booker in there, had a lot of volumes, and preserved Saquon Barkley. Smart move. Now they're ready to cut him loose. This is the year of the Barkley and it's a contract year.
Contract year, improved old line. He's hungry. He's two years removed from injury. He's ultra-elite talent. This is the year for Saquon Barkley. I miscalculated last year. I'm going to be straight with you. I miscalculated. I thought he'd be ready to go. Sure enough, now he is. So Saquon Barkley is a big-time sleeper. This guy can finish as the top running back in football this year. I'm stashing him in second rounds in all my leagues. I'm taking that risk. And again, I can afford to do that because I know where I can get depth in case Saquon doesn't work out. I have a backup plan for a backup plan. So if you do draft Saquon make sure he's part of a robust RB strategy where even if he busts, which I don't think he will, unless he gets hurt. That's the biggest issue.
But again, anyone gets hurt. People are drafting Dalvin Cook ahead of him. He hasn't finished a season. He's guaranteed to get hurt. Dalvin Cook is guaranteed to get hurt. Yet people are still drafting him top five. So I look at Saquon Barkley. That's a steal. That's a sleeper, for me. Top three, top five, maybe even top one, running back in fantasy points by the end of the year. So I'm all over that.
Amari Cooper
The next guy here, going back to wide receivers, is Amari Cooper. I mean the guy's been in the league, he's going into, what, his eighth season or something like that? Amari Cooper is sitting 18th amongst wide receivers right now. So I'm looking at Amari Cooper and thinking, "He's a wide receiver, one." And I don't care anyway you look at it, I know they drafted David Bell third round out of Purdue, but I'm looking at Amari Cooper from Cleveland, Deshaun Watson if he gets going, there's no suspension, everything's good, he's the wide receiver one in Cleveland. Volume is going his way. Bottom line. There is no Gallup there, there's no CeeDee Lamb. It's Cooper time.
Then here's the cool thing about him, he hasn't been a phenomenal receiver, like over the top, but out of the seven years, he's played he's five for seven in regards to receiving yards over a thousand yards. So he's had five seasons over a thousand yards receiving. So that's pretty interesting. And again, he's the wide receiver one. Why I call him sleeper is this, I'm looking at the rankings, I'm going to pull them up here in PPR. Now I'm seeing him sitting 18th. I see guys like DJ Moore who's done nothing. I see Jaylen Waddle who's the wide receiver two, And T Higgins who's the wide receiver two, sitting at 13 and 14. Higgins at 13, Jaylen Waddle at 14.
I see AJ Brown, who's done nothing for the past couple of years, sitting there with a quarterback who may or may not break out with Devonte Smith being there. Devonte Smith is still the one there. He was the one, AJ Brown's coming in. You can say that AJ Brown is coming in as the wide receiver one, and very possible, but Devonte Smith was slated as the one and drafted to be the one in Philly. Is there going to be enough targets and volume to go around? I don't know. Devonte Smith had like 104 targets last year and he's still there. How is AJ Brown going to finish top 10 where he's sitting with Devonta Smith there and he's peaking at just over a hundred targets. Doesn't make sense to me. So I've got all these other wide receivers I'm seeing ranked ahead of Amari, and Amari I'm getting in the fourth round in mock drafts. That, to me, is a sleeper. That to me is a wide receiver one. That to me is a steal. That's constant production, consistent production. So am I over the top excited, over the moon, over Amari Cooper? Absolutely not. But I'm seeing the value. I'm seeing a wide receiver one, and I'm getting him in the fourth round. Bottom line.
Darnell Mooney
Next guy here, another steal. This guy's sitting 10 spots below Amari Cooper who's a wide receiver one on his team, is Darnell Mooney. Another sleeper. Guys, listen, he's going into his third season, he's got no other competition there at wide receiver. They've got, what, Pringle? Pringle is the wide receiver two. Now you can say, "Well, Joe, is he going to be able to handle top coverage?" I don't think I care. I think he'll be not only good enough to handle basically the top receiver, cornerback I should say, but I don't think he's good enough to draw double coverage, so I think he can handle the one on ones.
And not only that, it's a volume thing. He's going to get the volume. And apparently, he's been training offseason, he's really good friends with Justin Fields. So I think there's going to be a good connection there. And I think he's completely underrated. So Darnell Mooney finished 23rd in PPR last year, with 140 targets, 81 receptions, 1055 yards, and four touchdowns. That tells me there's more of a ceiling to be had, more touchdowns to be had. There's no hindrance of the nagging as a coach, Fields gets into the groove and you're getting this guy for an absolute steal. You're getting a wide receiver one later.
So I don't even know what to tell you, but you're getting this guy like round six, maybe even earlier. I don't think his ADP's going to slide upright. Value. All right. Now, these sleepers, don't sound exciting, but they could pretty much shock you. And again, I'm going to mix and match these guys with my wide receiver sleepers that are rookies, as well. Now you've got huge breakup potential. These are just non-rookies. So it gets really interesting when you combo this and line up that optimal roster with a mix of these guys with your rookies, got an amazing combination.
Christian Kirk
All right, coming to number six here. Now talent-wise, obviously, we haven't seen it with this guy, but Christian Kirk is number six. I'm not overly excited. What I'm excited about with Christian Kirk is a couple of things, why I'm excited. Number one, they paid him a lot, which means he's going to be used. I don't see any other way around it. So he's getting a lot of flack. He's getting a lot of like, "Oh, you guys think I suck", which he has sucked over the past couple of years. But I don't think the volume was there for him. He had Hopkins. He was lining up with better receivers. So he never really got going. Now he's got an opportunity. So I'm looking at him, where is he sitting? He's sitting like 40th. He's with Jacksonville now, with a quarterback who couldn't get it going in Trevor Lawrence last year. He was number one. This guy is drafted, he's an elite, according to football, elite player, Trevor Lawrence. He just never got it going last year. Travis Attien was hurt, in his rookie year, just never got it going.
Now in comes, Christian Kirk as the wide receiver, and Marvin Jones is still there. They've got Laviska Shenault. They don't really have a lot of options. Christian Kirk, based on volume, based on a chip on his shoulder for everyone hating him, based on the fact that he's a wide receiver one with a young quarterback who was highly sought out in last year's draft, there's opportunity. There's something there. There's a seed there, there's something brewing that could result in fantasy boom-type potential. Now, the cool thing is, I don't get to pay a lot to get him. I'm not saying draft Christian Kirk, round 1, 2, 3, 4, or even 5. You can get this guy later. See where he falls. Do a bunch of mock drafts. Maybe you get him in round five or round six. I think that's where he is actually coming off, round six.
You're getting a wide receiver one, potentially on a team that is a little suspect obviously, for absolute value. So again, Christian Kirk, sleeper, some upside there, boom or bust type pick. All right.
Courtland Sutton
Number seven here, again big-time sleeper sitting 24th amongst wide receivers, is Courtland Sutton. Now Cortland Sutton, again, didn't have the greatest year last year. But there was crazy at quarterback with Teddy and everybody else. It was just a disaster. Now they've got a quarterback. They've got Russell Wilson. I'm looking at Cortland Sutton's numbers last year, 98 targets, 58 receptions, 776 yards, and two touchdowns. Nothing to get excited about, and I understand. But he's a touchdown monster and he's there to replace DK Metcalf. He is now Russell Wilson's DK Metcalf. And it's so funny because DK Metcalf is ranked as 17th, and we've got this guy, Cortland Sutton, ranked like… where's Cortland Sutton sitting? Cortland Sutton is sitting 24th.
So he's well behind. Now he's got Metcalf's quarterback. So there's a ton of upside with Russell Wilson there. I still think Russell Wilson blows up this year, has a big year, and I think Courtland Sutton's the beneficiary. Now Jeudy's up there as well. Jeudy's only had like three touchdowns in the past two seasons, and hasn't really got it going. Judy and Sutton are sitting at 23 and 24. It's crazy because one of them is going to be the wide receiver. They've got a good quarterback that makes fantasy receivers pretty high. One of these guys could crack the top 12. Jeudy or Sutton could. It looks like the off-field issues with Jeudy, I don't know if that's going to lead to suspension, we're not sure. But Sutton's a bit of a safer option right now. Jeudy, again, Russell, they were training a lot. They are training a lot together. Again, the jail with Jeudy and what happened there in the off-field issues, that's a bit of a concern to me. It's turned me off a little bit about with him, but I like Sutton here as a sleeper at seven. One of these guys going to go off. You're getting a wide receiver one.
Even if you go in later rounds like round six, seven, or mid-rounds, you go Jeudy and Sutton back to back, you're getting a wide receiver one on that team with Russell Wilson throwing the ball. So again, that's what I'm telling you. There's so much value at wide receiver. It's incredible. All right, so Courtland Sutton is there.
Robert Tonyan
Coming in at number eight, Robert Tonyan. Listen, he's sitting, right now, 16th amongst tight ends, which is an absolute steal. Now, why do I like… or sorry, 19th in PPR. I apologize. 19th. I think 16th in standard. 19th in PPR Robert Tonyan. Why do I like him? Well, in 2020 he played 16 games. He had 59 targets and 52 receptions. So he's catching everything coming his way pretty much. 59 targets, 52 receptions, and 586 yards. I believe he had like 11 touchdowns. So you're saying, "Well, Joe that's great. Last year he had a bad year. He dropped." Now he only played, I think, eight games last year, two touchdowns, and got hurt.
Now, why do I like him? Aaron Rogers likes his tight ends sometimes. He liked them a couple of years ago. I like him because Adams is gone. There are 169 freed-up targets. So I'm rolling the dice on Christian Watson and Tonya as two of the beneficiaries guys, two of the beneficiaries for Aaron Rogers with Adams out. So Tonyan, I'm stealing in later rounds. Like he's an absolute steal. You can get him around nine, or 10.
Now his ADP should go up as you're starting to hear all of the off-season stuff, and the training, and all that stuff, his ADP should rise. But Robert Tonya guys, I'm telling you, he is an absolute sleeper and a steal at the tight end position. 169 free-up targets. No Adam's there, guys. Someone's got to get that load. A healthy Tonya, you're looking at 10 to 12 touchdowns. Big year coming for him. I'm telling you right now, Robert Tonya, sleeper. Okay.
Adam Thielen
Number nine here. Not a popular opinion, but that's okay, Adam Thielen. Now I just did a storyboard on my Instagram, I had a bunch of numbers here. I'll show you these numbers actually, maybe I could pull out the paper. It's chicken scratch here, but take a look at these numbers here. So if you're in the car guys, I'm just showing a bunch of numbers that make absolutely no sense.
It's got two numbers, one on top of the other. Now, "Well Joe, why do you have these numbers written on a paper?" We're talking Adam Thielen here at number nine as a sleeper for me, a big-time sleeper. Adam Thielen is currently sitting 37th amongst wide receivers, and we already talked about wide receiver two sitting very high on the ADP. We talked about Jaylen Waddle and T Higgins. Higgins at 13, Waddle at 14. They're the wide receiver twos on their team respectively, and clearly, the wide receiver twos, because we know Chase is better than Higgins. We know a hundred percent that Tyreek is better than Waddle. What you don't know is if Thielen is still the wide receiver with the Minnesota Vikings. You're saying, "Joe, you're crazy. You're nuts. How is that even possible? Jefferson's a clear-cut wide receiver one."
Very well true, but I don't want to spend a first-round pick on Jefferson. I like value. Now, going back to these numbers, what do these numbers mean? Very simple. I've got two sets of numbers. The top one is the target. These are targets from Jefferson and Thielen, Thielen and Jefferson, first nine weeks. So the top number is Thielen here. 10 targets to Jefferson nine-week one. Thielen had more targets. Week two, seven to 10 in favor of Jefferson. Jefferson had more targets. Week 3, 9, and 11. So 11 targets for Jefferson, nine for Thielen. Jefferson wins again. In week four, Thielen had eight targets, and Jefferson had seven. Week five, three targets for Thielen, eight targets for Jefferson. Where are we now? Week six, 13 targets for Thielen, 14 targets for Jefferson. Week eight, nine targets for Thielen, four targets for Jefferson, and week nine, seven targets for Thielen, five targets for Jefferson.
What's the point of this, Joe? The point is there are some weeks where Thielen out-targeted Jefferson, and out of all the weeks, except for pretty much, I'm just talking the first nine weeks, I know Thielen got hurt near the end of the season, except for week five, where it was like three targets for Thielen and eight for Jefferson, they were pretty close in targets. And I want to emphasize this because this is an important point here. So how is Thielen sitting 37th amongst wide receivers and I've got Waddle and Higgins like 13th to 14th, and their wide receiver twos, and we know that I think there should be a big gap between those guys, their wide receivers. And not to mention, we don't even trust Tua. How is waddle up there when he didn't have any major targets last year? Tyreek kills there.
So, I don't know what to tell you. I mean, you could say that Thielen's fallen off but I'm drafting him for value. I don't really care. He's a steal for me. So he's a sleeper, 37th amongst wide receivers. I'm still debating whether he's the one or not. And he still had, I think they had the same amount of touchdowns last year. I think Thielen and Jefferson, look it up. I think they both had like 10. Look it up. All right, anyways, again, rankings make no sense to me. You got to draft the best player based on research, depth chart, opportunity, volume, talent, all that stuff, right? It's about adding depth. If Thielen busts, I don't care. I got Alec Pierce. I got Christian Watts. I got so much depth at wide receiver I'm still getting about three or four-wide receiver ones on my team. I don't care. I'm getting the value.
Mac Jones
And number 10 here now, again, not a popular opinion, this one doesn't get me excited, but got to talk about him is Mac Jones. Mac Jones sitting now, again going undrafted as well, good backup. I think people are sleeping on him. I think he's a relatively good quarterback. Now he finished 18th last year amongst quarterbacks, with 3801 in regards passing yards, 22 touchdowns, and 13 interceptions, not the greatest. Apparently, he's been working heavily off-season going into his second season, and he's saying that he really, really wants to improve. He's got good coaching there. Belichick and the coaching staff there, know what they're doing. They know how to groom quarterbacks. They obviously believe in Mac Jones as that replacement for Brady. Is he going to be the next Brady? Probably not, but I get the value. I get the value for him as a backup that's going to be consistent.
Now there were a couple of dud games. I looked at his stats. There were a couple of dud games, but hey, there were a bunch of games where he was really consistent and had a couple of 22, 23, and 24-point type games. Value. Especially if people are scrounging for a two-quarterback league when you want that third quarterback as a backup. And remember if you're in a two quarterback league, always get three quarterbacks. If you want that quarterback guy, Mac Jones could be that guy as a backup. He's going to be safe, one of those slow and steady wins the race kind of guys, lower ceiling. That's okay. Mac Jones is a sleeper and I still think the talent is there. They've improved their receiving core a little bit and got him some more weapons. Could be an exciting year for Mac Jones and a sleeper at the quarterback position. Sitting 23rd right now going undrafted.
So again, these are the nonrookie sleeper list. We got Matt Ryan, Dave Montgomery, Saquon Barkley, Amari Cooper, Darnell Moody, Christian Kirk, Cortland Sutton and Judy, Robert Tonya, Adam Thielen, and Mac Jones. Guys, these guys are great value, and they're all pretty much starters or wide receiver ones, or running back ones on their team, that is just being underrated. These are wide receiver ones. So it's not like I'm pulling this out of a hat and saying, "Oh, you know what? Darnell Moony, he's just a sleeper because I like him. Because he's a good-looking guy or whatever."
No. No. These guys are top of their depth charts. I don't know how else to tell to you. Other than Thielen, but he's sitting 37th amongst wide receivers, and Jefferson's sitting what, like top three? Number two. Give me Thielen at 37 when their target share was pretty much equal between the first nine weeks. Does this make sense? Hopefully, it does. I'm not just telling you to draft them in this order because they finished on top last year. Outside the box thinking, that's how you win your leagues, guys.
Subscribe to the channel, comment below, drop a sleeper below, and subscribe to the channel and get 16 rounds, you'll crush your leagues. If this is making sense to you, join the Line community and grab 16 rounds.
Watch the full video here: Top 10 Fantasy Football Sleepers.