Top 10 Fantasy Football RBs 2022
Derrick Henry
Najee Harris
Jonathan Taylor
Saquon Barkley
Joe Mixon
Breece Hall
Christian McCaffrey
Ezekiel Elliott
Javonte Williams
Kenneth Walker
Let's dive into this list of non-consensus running-backs rankings. Yes, guys like Dalvin Cook and Austin Ekeler are left out for many reasons. We don't copy and past last year's rankings over and tell you to draft them in that same order as everyone else. For the truth and to know where to draft these running backs, grab the 16 Rounds draft solution.
1. Derrick Henry
The absolute workhorse and king of RBs Derrick Henry is due for a massive bounce-back season. He is ready to crush it, and I don't expect anything short of an extraordinary season.
When you look at Henry's stats last season, you can see that he was putting up top 10 points in rushing yards, rushing TDS, and attempts. He was on pace for a historical and record-breaking season. He put up top 10 numbers and he only played 10 games. While most people will say well he got hurt, he showed us he is human. He had his down year and this year I am looking for a bounce-back season.
The Titans are a run-first team and I am confident that Henry will run all over opposing defenses as long as he stays healthy. I would imagine the workload will lessen by touch, but he is still primed for at least 300 rushing attempts, 1500 yards on the ground, and 12 touchdowns as a floor!
Don't ever sleep on the king, as he has at least one more monster year left in him and I believe this is the year!
2. Najee Harris
Primed for another year and massive workload, you can't sleep on Najee Harris this year. The only question mark with him is going to be the QB situation. Will either Mitch Trubisky or Kenny Pickett get the ball to Harris enough times to make Harris boom in fantasy?
No matter what we know that Harris is young, hungry, and will get the volume this season. There is no committee and he will be the guy. This is what you need to know when you're investing a 1st round pick on a guy. Najee is as safe as they come when you're looking for a running back primed to dominate the season.
I like Najee Harris as my second running back off the board as the ceiling is high and so is the talent and the opportunity. I really love Najee!
3. Jonathan Taylor
I love Taylor but I will be staying away from him this year. Yes, the talent is there and he is the workhorse with the Colts. The problem lies when you look at last year's numbers. They were too high and there is no way but down. The question is how low will he go?
We keep seeing videos of Nyheim Hines getting work in training camp, and there is buzz that he will be used a lot on 3rd downs. I just feel there will be a significant enough regression to push Taylor out of that top spot. The mainstream all have Taylor as the top RB. This is because they want to play it safe and are just riding the hype train.
All the consensus fantasy analysts are just trend riding instead of trend projecting. History shows us that it is very unlikely and rare for an RB to finish on top two years in a row. This is why Taylor will regress.
4. Saquon Barkley
Mr. Bounce Back Saquon Barkley is in line for a massive season. Everyone is sleeping on this man as he has not been fully healthy for the past few years.
Now he is in a prime position to succeed as he is in a contract year and two years removed from his big injury. He is in a must-succeed situation. There is no room for error on his part and if he doesn't perform, he doesn't eat.
Saquon is currently sitting 10th on the consensus rankings but his ceiling is much higher. There is no committee here and he will be the focal point of the Giant's offense. Nothing is getting in the way of Saquon running wild in the league this season. Not to mention this is a do-or-die type career season for Daniel Jones as well who has to do something and perform if he wants to keep his job.
5. Joe Mixon
The man is on a high-octane offense coming off a massive year. Joe Mixon is primed for another good season. As long as he stays healthy we are looking at a top 5 fantasy football RB points producers.
You have amazing WRs here with Chase and that should take the pressure off the run game. I am super confident that he will eat and that nothing should stand in the way of a true workhorse doing his job. Joe Mixon is finally in the groove with a great offense and the young team should only improve this season.
6. Breece Hall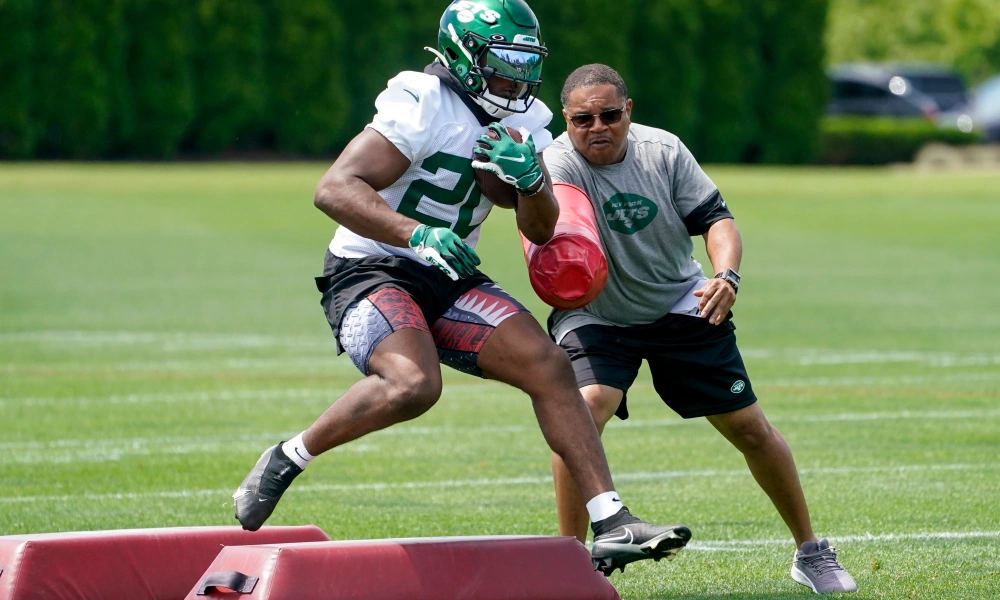 They call him Breece the Beast for a reason. Breece Hall is the most talented RB in the 2022 draft class and he will eat. The Jets invested super high draft capital in him and there is no reason why he shouldn't get a ton of workload.
Just looking at the numbers from last year, I am projecting 1200 rushing yards, 240 attempts, and 10 rushing down season as a floor. The guy is an absolute monster and we should be expecting some really explosive plays and lots of fantasy points productions.
He is a third-round draft steal, and you should draft him as part of a robust RB strategy. The risk is there but the reward could potentially be massive. I like the ceiling and love the upside here for Breece the beast! He will make the Jets a much better team in 2022!
7. Christian McCaffrey
I don't really trust Christian McCaffrey but based on talent and opportunity he has to be in the top 10. Assuming he stays healthy he is a top guy no matter what. The problem I have with McCaffrey is that he has only played 10 games the past two seasons. He has also been paid and really doesn't have much to pay for.
The man got hurt and missed the season last year and no one even touched him. Getting hurt without any contact is the biggest reason for concern for me. I can't trust a guy like that. The only reason he made this list is that if he stays healthy he will get the volume and should put up solid RB 1 numbers.
8. Ezekiel Elliott
Everyone is sleeping on Zeke Elliott this season and he is currently sitting 17th on the consensus rankings. This is crazy considering he finished 7th among RBs in fantasy points, playing with a partially torn PCL.
This year I am expecting another safe and solid year out of the vet and he will be a steal in fantasy football drafts! Coming off in the 3rd round on average, he is great value and has that top 5-10 fantasy points finish upside.
I like the fact that I can draft a workhorse in round three and that is what is making him so appealing right now. Don't sleep on Zeke this season, as I feel it will be one of his last big ones!
9. Javonte Williams
Javonte Williams is primed to dominate this season with only one thing holding him back from absolute dominance. That is Melvin Gordon. As long as Melvin Gordon sees a massive reduction in volume then Javonte will thrive this season.
The sky really is the limit for a guy like Javonte who is slated as the starter. Last year he was limited to 203 rushing attempts and 4 touchdowns. The Broncos believe in Javonte and I am sure the hot hand of Javonte will prevail. I like a floor of 1200 yards on the ground, and 8 rushing TDs on 220 attempts.
10. Kenneth Walker
This one comes as a shocker but Walker is in a prime position to succeed. He will eat this year and I don't doubt it. I am so sick of the Rasaad Penney talk as he has had years to wow us and we are not wowed. I don't see Penney as a threat to Kenneth Walker this season at all.
The Seattle Seahawks invested a 2nd round pick on Walker and they will use him a lot. They want the best back on the team, and according to his college stats, Walker was a workhorse.
You can watch the full fantasy football podcast here: