[iframe style="border:none" src="//html5-player.libsyn.com/embed/episode/id/15118334/height/100/width//thumbnail/no/render-playlist/no/theme/custom/tdest_id/1750511/custom-color/3db4fa" height="100″ width="100%" scrolling="no" allowfullscreen webkitallowfullscreen mozallowfullscreen oallowfullscreen msallowfullscreen]
Your non-consensus top 10 fantasy football players for 2020. The Counselor lays out the truth.
Let's talk about the top 10 list. This is non-consensus guys. This is completely non-consensus. So typically consensus lists are really crappy because those guys that finish on top last year won't finish on top this year. I hate doing lists. That's why I do the 60 round drafts because I literally give you all the optimal players that I like in each round based on ADP that you can get.
So for example, I like David Johnson a lot this year, so I'm recommending him in round three pretty much, right? If you get him in the third round, that's a great value. I recommend him there and I recommend him with the other guys I like in the third round? Who are the guys that are best to draft in the fourth, fifth, sixth, seventh round? A lot of people don't know certain players. A casual fantasy guy will have struggles after around five or six or seven because they know the big names. After that, what do you do? How do you draft? Where's the optimal player? So when I do these consensus lists, it's really off the ADP a little bit, but they're players that I kind of would like in that order, essentially, okay? So stick with me here.
All right, guys, before we look at our top 10, the one that I've come up with here, the non-consensus list, let's recap last year's top 10 finishers. Here they are. Now, understand there's a lot of quarterbacks that got integrated into the top 10. Now, you don't want to draft a quarterback in the top 10. I mean, you can wait. There are 12 personally if you're drafted, and you could technically wait. I see Lamar Jackson coming off round two typically. Pat Mahomes round three. Russell Wilson, Dax, Kyler, all-round five typical right? It's a PPR league. But listen, in top 10, sometimes these quarterbacks finish in the top 10 in regards to points, so let's look at last year's top 10 finishers in PPR. Christian McCaffrey, Lamar Jackson, Michael Thomas, Dak Prescott, Russell Wilson, Deshaun Watson, Aaron Jones, Zeke Elliott, Austin Ekeler, and Jameis Winston. So you see a lot of quarterbacks slide. Now Jameis Winston's very volatile. I wouldn't draft them early at all, even if he was starting this year because he threw a lot of interceptions and I don't trust that, okay? I don't trust… Sometimes these guys get a lot of points, but they throw a lot of picks and they cost you certain games.
So my secret is when I created my top 10 is I want workhorse running backs early. When I designed my top 10 lists, I don't really integrate a lot of wide receivers because I know there's a lot of depth at wide receivers. Now I'm in this Fish Bowl thing this year. There's a current draft going on right now. I went robust RB. I don't care if it's a two-quarterback Superflex. I like to load up on this position.
Now, even in this Fish Bowl that I'm in, the quarterback, it's a Superflex, so you start one quarterback and you have four flexes. One of them could be a Superflex with a quarterback. But listen, everything is pretty much leveled out because that quarterback is minus four points if they get an interception. So they're going to be penalized either way. So you've got to get an efficient quarterback in this league.
The bottom line is this. When I'm doing my top 10 list, I still want those workhorse running backs. We looked at last year's top finishers' top 10, a lot of quarterbacks integrated. You could wait on quarterbacks, so you don't have to accommodate the quarterbacks in the top 10 list. You can wait. But when you're looking at this year's top 10 list, based on the consensus, CMC, Saquon, Michael Thomas, Zeke Elliott, Alvin Kamara, Dalvin Cook, Adams, Henry Mixon, and Julio. Dalvin Cook is out. I mean the guy has not finished the season for three years, had a pinnacle year, threatening hold out. No business being in the top 10 right now. Mixon's not a guy to trust. Mixon's not a guy that has a high ceiling. I understand he's on an offense that's made some improvements, O line, this and that, but Mixon, you just can't trust him. When I pull up his numbers, I'm going to pull them up right now and look at them, his pinnacle year guys were 243 fantasy points. That was back in 2018 with 243 fantasy points. He peaked at 1,168 yards at eight touchdowns. The most touchdowns Mixon has had in a season is eight. That's it. He's only finished one season and that's in 2019. So I don't like Mixon in the top 10 at all. Give me David Johnson in the top 10. Give me someone. Give me Todd Gurley ahead of this guy. Don't trust him. Julio, top 10. I think he's going to be a great receiver. Michael Thomas will have a bit of a decline this year. So, that's the consensus top 10. Let's go to my top 10.
1. Saquon Barkley
Number one it's Saquon Barkley. I'll tell you why Saquon Barkley, getting onto my list is why he's number one. So Saquon Barkley clearly has the highest ceiling. There's no doubt about it. Physically the most talented and gifted running back in the game. Dynamic playmaker, runs catches, speed explosiveness. He is the complete package. Now he was running behind a pretty bad O line last year. The thing about it is he still rushed over a thousand yards, 1003 yards only playing 13 games, a little hurt, and then 4.6 yards per carrying and six touchdowns. Still finished top 10 in PPR only playing 13 games behind that bad O line and a young Daniel Jones getting into the groove. The ceiling is high. If I'm looking at first overall, I'm looking at Saquon Barkley this year. Everyone's saying CMC. I understand CMC. You can get CMC and trade him, work on a good trade because you got a lot of leverage if you got him, but I'm still going Saquon Barkley and securing him. There isn't too much of a difference when you're looking at value for these guys this year.
2. Christian McCaffrey
Coming in number two, guys, Christian McCaffrey. Now listen, I'm staying away from him, but I may draft him second overall because I may trade him. I may want to get Derrick Henry packaged with a better wide receiver or something like that. I don't trust Christian McCaffrey. I'll tell you why, because the decline is there. Now I shouldn't say I don't trust him. I think he's going to decline this year. I mean, he had a pinnacle year last year. He's not going to finish on top again. There's no way he's going to finish… A running back does not finish on top two years in a row. Just very rare it happens. The last time it happened was 2002, 2003 with Priest Holmes. You guys know the story. Christian McCaffrey pinnacle year, everything was perfect. 116 receptions on 141 targets. Guess what? Quarterback change. Bridgewater is there. Okay? They've got Robby Anderson this year. They're going to want to throw the ball more. They got a new coach. He peaked at 471 points. Now you're saying, "Well, Joe, he had 471 points. If he has 450, I'll be happy. How big is the decline?" Listen, it's significant enough to push him out of first overall. That's all I got to say. I like Saquon a little bit better. I like Henry a little bit better even in PPR. I know that sounds crazy. Henry is a monster. He's going to get over 1500 rushing yards and 20 touchdowns on the ground. So he's going to make that up.
CMC is going to see a decline. He's been paid. That's another big reason why I'm staying away from CMC. He's been paid. It's a full stomach. Do you want to eat when you're full? I don't. So again, that's another reason why I don't trust Christian McCaffrey this year as the first overall, okay? I don't want to say completely don't trust him as the first overall pick.
3. Derrick Henry
All right. Number three here, Derrick Henry. I mean he's a workhorse running back and I see, again, compared to the consensus, they've got Michael Thomas at three. Why would you get a wide receiver who had a pinnacle year as well as a third guy? Give me Derrick Henry. I mean, why not secure that full workhorse running back? Derrick Henry is an elite talent. He's solid. He's consistent. He led in attempts. That's one thing I look at when I look at a running back. Led in rushing yards and attempts. 303 rushing attempts, 1,540 yards. Now I understand the coaching's saying they're going to bring the rookie at, Darrynton Evans, playing more and all that stuff. I'm not sold on it. I think Derrick Henry is still the guy. I don't know if he's going to sign and lock up to a big mega-contract. I know he signed the year tender for about $10.2 million. Listen, this guy needs to get paid. He needs to get incentivized. He's still hungry. I think the stomach is still there. It needs to be filled and I love him at number 3.
4. Ezekiel Elliott
Number four is Zeke Elliott. Now again, if I'm seeing the draft comes along and I want to pick a guy, that's who I would pick, okay? I got to go here with Zeke Elliott. I got to go with him because again, another guy that gets a ton of volume, 301 attempts. I understand Pollard is there, but they've got some great receivers, including CeeDee Lamb, who was drafted by the Cowboys. They've got some good receivers that are going to take away that pressure off the stacked boxes. Dak is hungry. Hasn't got paid. By the way, Pat Mahomes, congratulations man. This guy getting over $500 million. Breaking some records here over 10 years. Phenomenal Pat Mahomes.
But when you're looking at Dak, he's still hungry, right? We're talking about that stomach again. He's hungry. And I think the entire offense is going to eat. Zeke Elliot is going to be the guy that's going to get all the work. Now Pollard is going to probably come in here for some passing plays, stuff like that. But I think Zeke's still going to be a workhorse. Got him at four.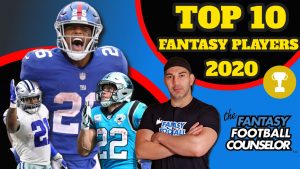 5. Josh Jacobs
Number five, Josh Jacobs. Now their number five is Alvin Kamara. Listen, Josh Jacobs is just set for a more of a workload. There is no Latavius Murray there, right? He is a full and true workhorse running back, young, dynamic, like him, I'm going to go with Josh Jacobs here, okay? Coming in at number five. And again, last year, he only played what? 13 games, 242 attempts. That goes up. He had 4.8 yards per carry, seven touchdowns, and over 1,150 yards. Not bad considering he was a rookie getting into the groove. They had no receivers, right? So some stacked boxes were there. They brought in Ruggs. They're going to throw the ball a little bit more, hopefully, open things up for Josh Jacobs. I like him. Number five. I mean, between him and Kamara, give me Jacobs. Jacobs is just going to be set more of a workload, but Kamara is going to be solid as well because he's got a hungry stomach as well, okay?
6. Alvin Kamara
Coming in number six, I got Alvin Kamara there. The consensus has Dalvin Cook. I'm not drafting Dalvin Cook. I explained why. Years to wow me. I'm not wowed. He wowed us a little bit last year for a little bit, but Mattison, trust me and lookout. Kamara, if healthy will get you top 10 per fantasy numbers with over 80 plus receptions.
7. Todd Gurley
Number seven here, Todd Gurley. Got to go with Todd Gurley here at number seven. Their number seven is Adams. But listen, Todd goes a full workforce running back with no committing. The arthritis is not going to concern me at all. He passed a physical. He's good to go. Absolutely love Todd Gurley. This season, high-octane offense. He's going to catch the ball a lot as well. And don't think he's going to see any stacked boxes because with Hurst there, Ridley and Julio, who's going to want to stack the boxes where they got to defend these amazing receivers? Todd Gurley's elite talent. Last year finished 14th amongst running backs, managed to get 12 touchdowns on the ground, 223 attempts. He was preserved. He wasn't utilized, which is great because this year is the year he could really explode and take off. I'm glad the Rams preserved him because he's ready to go for this year. And I believe the Falcons want to win a Super Bowl. Trust me, it's a tough division this year. I think the Buccaneers win the Super Bowl this year, but believe me, the Falcons will make a run and they're going to be a contender this year. Todd Gurley, number seven.
8. Davante Adams
Number eight here, I'm going with Davante Adams because again, based on a wide receiver, if I'm waiting this long based on ADP, I can get Devonte Adams in and around here. Why not grab him? All those running back workhorses are gone. Adam's here I think he's going to be a top receiver this year. Like him, like I'm a lot. The ceiling is high if he stays healthy. Love him, because he will get a ton of volume, receptions, and touchdowns.
9. Michael Thomas
Number nine here, Michael Thomas. Listen. I mean, why not get him here? You can trade him, work a deal out. You're going to get an ace wide receiver based on ADP. I mean, why not? That's the way I kind of look at it here. You get Michael Thomas. Absolutely love him and you're going to get him at the end of the first round.
But he will decline from last year. A pinnacle 149 receptions. It's very, very unheard of for a receiver to get that consistently year in, year out on 185 targets. I mean that's a lot of targets. I mean, going back to I think it was 2017-ish, Antonio Brown was the number one receiver and he had 163 targets. Going back to 2018, let's keep reverse engineering here, Hopkins was the number one receiver in 2018 and he had 163 targets. So again, very, very hard to get the amazing high target count of 185 for Michael Thomas. it could happen, but I really doubt it, okay? But he's coming at my number nine and the consensus have Mixon in at number nine, which I don't trust.
10. David Johnson
Their number 10 is Julio, understandably so. My number 10 is David Johnson. I would get him early second round. It depends on how it falls, right? But David Johnson is a full chew workhorse running back. I absolutely love him this year. He's going to have a phenomenal year. He is the man and you guys know I love him. And again, who else could you get? You could get Eckler, but I think David Johnson finishes ahead of him. You can get Nick Chubb, David Johnson finishes ahead of him, right because there are other guys creeping just outside of the top 10. Guys, I don't trust.
And if you think Dalvin Cook is top-five and you don't think David Johnson should be in top 10, you don't know fantasy because this guy has had a series of bad events that happened. The wrist fluke injury the year after his pinnacle year, uncontrollable. It's not that he's injury prone. The year after finished top nine amongst running backs. Okay, guys, remember guys, he still finished back in 2018. Still had a good season. Everyone was thinking, "Oh, well, David Johnson sucks." In 2018, he actually had 246 fantasy points, finished top nine in PPR amongst running backs. I mean that's 2018 and then in 2019, he got screwed by the coach. Now he's set. He's in] for a big year. Love him in Houston and there's only a handful of running backs you can get. Unfortunately in the Fish Bowl, I didn't get him.
Someone sniped him in the fourth round. Because I literally went Saquon Barkley because I had the second pick, came back around, went Jacobs, and then went Gurley. I was so close to going Gurley and Johnson. It was hard to pass up on Jacobs. It really was. And trust me, David Johnson could outperform Josh Jacobs this year easily. That's something I was torn on. I thought that David would fall coming back. That's why I had to take Jacobs there, but David Johnson got sniped and I'm very, very upset. I would have gone four running backs there, but I ended up getting Kenny Golladay actually at the fourth pick I believe. Then I went Tannehill because I needed a quarterback and they were running low and I needed a quarterback. I'm okay with Tannahill, man. Trust me, believe me, I am. I've got my three workhorse running backs and I got Golladay. So the draft is going well there.
Now again, very upset I didn't get David Johnson that particular league, but I absolutely love him for this year. You know me guys. I mean, my name is attached to this guy. I endorsed the brand a couple of years ago. I've been promoting him for years. You have your ups and downs. I couldn't control what the coach did last year, out of my control. It is what it is, okay? But he's going to have a big year.
So there it is guys. Saquon, again, non-consensus guys. If David Johnson could fall to the third or fourth, get him there. I'm not saying go draft him top 10. What I'm saying is this is the order that I like when it comes to top 10 rankings. I would rather have David Johnson there than Mixon, which is crazy that Mixon's even in the top 10 right now. But Saquon. We went CMC, Derrick Henry, Zeke Elliott, Josh Jacobs, Alvin Kamara, Todd Gurley, Davante Adams, Michael Thomas, and David Johnson. That's more of a realistic top 10 of guys you'd actually want to draft pretty early on over Mixon and Cook. Come on, man. What's Mixon and Cook doing there? It's crazy. Michael Thomas at three, really? I'd rather have Derrick Henry. It's crazy the way it's laid out. I don't like it. And some people say I'm crazy, but you got to think outside the box.
Last year, for example, I said, "Landry's better than Odell." Turned out well, right? Last year I said, "Josh Allen will outperform Baker Mayfield." People thought I was crazy. I said, "Stay away from Le'Veon Bell round one." People thought I was crazy, right? And Antonio Brown, everyone was drafting Antonio Brown round two. I'm like, "What are you doing?" He's on a different team, stay away from Brown. Then you saw what happened. So you got to accommodate and compensate and look at all the variables before you put anybody on your roster, guys. Be extremely selective with who you pick, okay guys?
That's it, guys. I mean, that's pretty much it. I'm beyond excited about fantasy football 2020. Get the 60 round draft decision, leave your questions below. I'll get back to as many as I possibly can. And there's your top 10 list, top 10 players for fantasy football 2020. As of right now, July, I may change my mind a little bit as we get closer to the season, but this is something to go off of and be aware of who to draft and who to avoid. But the full list is in the 16 round draft Solution, which you can get at thefantasyfootballcounselor.com You're going to get all the details in there. Everything you need to dominate fantasy football in 2020. Thanks for being here guys and hope you enjoy the show and I am out.
Make sure you are subscribed to this #1 fantasy football podcast to dominate your leagues in 2020.