Fantasy Football mock draft hosted by the Counselor and implementing the Robust RB strategy. He is drafting 1st overall and giving you a taste of the first 5 rounds.
What is the Robust RB Strategy?
The robust RB strategy is drafting as many running backs in the early rounds as possible of your fantasy football draft. Focusing on acquiring RB's that are in a minimal committee is important because the running back position is very scarce in fantasy football. Ideally, to implement the robust RB strategy, you'll want to secure 3 running backs in the first 5 rounds of your draft.
The outcome of this Mock Draft using the Robust RB strategy: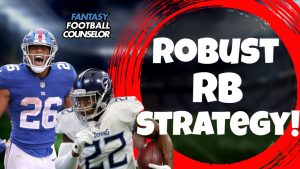 In this fantasy football mock draft, the Counselor was able to secure Saquon Barkley, Todd Gurley, and David Johnson in the first three rounds. You will want to note that all three of these guys are true workhorses with no committee. They are in a position to succeed and get a lot of volume, and the upside is through the roof. The Giants, Falcons, and Texans believe in their RB's and you will be very happy with their fantasy production. The running backs run super thin after the 5th round, and you will be looking at guys that are stuck sharing volume with other guys on their team. The wide receivers are typically deeper and you can get tons of value and fantasy football sleepers with upside in mid to late rounds. This is why you must secure those workhorses RB's early and implement the Robust RB Strategy.
Some people also end up drafting quarterbacks and tight ends early on as well, and you will notice that the Counselor does not do that. The QB's are always deep and you will be ok drafting one after the 5th round and never invest in a tight end early. We talk about this in our fantasy football draft strategy.
Make sure you are subscribed to this #1 fantasy football podcast to dominate your leagues. Also, grab the 16 Rounds draft solution to get the edge over the competition.
[iframe style="border:none" src="//html5-player.libsyn.com/embed/episode/id/14483099/height/100/width//thumbnail/no/render-playlist/no/theme/custom/tdest_id/1750511/custom-color/3db4fa" height="100″ width="100%" scrolling="no" allowfullscreen webkitallowfullscreen mozallowfullscreen oallowfullscreen msallowfullscreen]