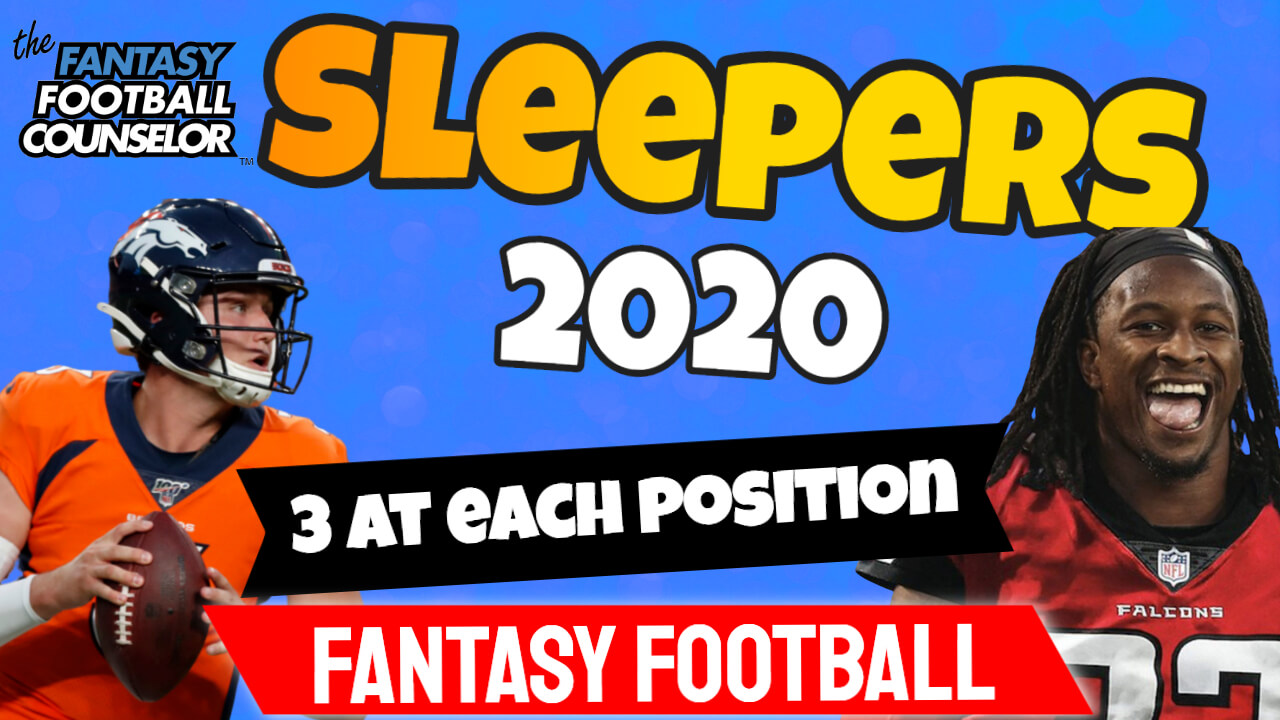 Joseph Robert:
Welcome to the show, everybody. Joseph Robert, the Fantasy Football Counselor. I've got a special guest here today. We're talking Fantasy Football sleepers at each position and he's going to give them to you. Who is he? He is the ambassador, the page ambassador of ProFootballChase. His name is Isaac. He has got one of the most interactive, busiest, and I would say it's so full of information on breaking news. He dominates Instagram when it comes to breaking news. So, welcome, Isaac to the show from ProFootballChase. You are crushing it on Instagram. Now I'm crushing it for fantasy on Instagram, but you're just crushing it in general for pro football. So, welcome to the show. What's happening?
Isaac:
No, you know, man, thanks. I appreciate you, of course, inviting me on your show. Big fan of yours as well. You put out a lot of good content. You're the top of the food chain when it comes to fantasy football, so keep up the good work on your end, man. But I'm doing well. Excited to keep things going with coverage. We had a busy free agency and able to cover a lot of different stories. And so now we're ready to get going in continuing our football coverage moving forward.
Joseph Robert: Okay, so let's first of all talk about… We're going to get into your sleepers. Before we do just two minutes to talk about you. You've got this page, you post like crazy. You've got 34,000 posts on Instagram. I don't know how many posts you got, 35,000. You're posting as news breaks. Do you sit by the phone all day? How does this work? Are you just constantly on your phone? This is serious hustle. How does it work? You get breaking news, you get it from contact or whatever and then you're immediately on Instagram. Is your phone on you all the time? What if you're in the washroom? How does this work?
Isaac:
Yeah, man. So, I'm trying to adapt to the life of being breaking news, because as you know, you see all the top guys who work with NFL Network, Rapaport, Schefter with ESPN. But again, still relatively young. Just graduated, man. So, right now as I was telling you, man, it's all about consistency, keeping monitor of my phone at all times. Whenever I leave the house or I'm leaving my kitchen or I'm leaving the restroom, I'm making sure I have my phone at all times, because you never know when that one scoop is going to come in. And there's been times when stories have come in and I haven't been around my phone.
So, it's a race to get my hands on it and get the news out there for all the followers and stuff, man. But as I've told you, it's really just been about networking with the agents and the agencies that I have been able to collaborate with and get their clients on. Right now it's a really busy time with draft interviews because as you know, they've kind of canceled a lot of the NFL visits and stuff like that. So, getting them on and agencies emailing me, contacting. So, yeah, it's continuous, man. Just trying to keep up with it and I also am a play-by-lay analyst as well, so I juggle that in the fall as well. But obviously no sports right now, so full focus is on this right now.
Joseph Robert:
I'm super excited to have you on and again, the hustle is real. Now have you done a lot of face reveals? I know you've got a lot of pictures on your Instagram. Have you done a lot of face reveals or is this one of your first ones?
Isaac:
This is one of my first ones. I've done a couple, I mean, dating back really to the 2018 season is when I got the podcast going. I did a little bit of YouTube coverage where I was able to come on and analyze some match shows. But since then, man, I've moved from after I graduated college. I'm back in Texas. And so I told you I was on the road a lot covering basketball for Conference USA, softball, baseball. So, now that I'm set in stone, I want to start doing more face reveals getting my brand out there. And so I'm glad for the opportunity to join your show today.
Joseph Robert:
Thanks, a good place to do it. So, let's get to the… Now you got the background, you should definitely check him out and follow him. There's a ton of value if you guys haven't heard of him yet to follow ProFootballChase. Because again, you're going to get the breaking news pretty much as it's happens. Now, I get breaking news pretty quick and you always beat me to it on certain things. There's certain new defensive players I don't even waste my time with. More of the fantasy-relevant news I'm kind of into. But today it's not about me, it's not about my sleepers. You're fully immersed in the football world. Now, do you play fantasy first of all?
Isaac:
I do. I do actually. I play in a big-time money league with my brother-in-law and he has a couple of his buddies. And it's a league of 12 teams and we put in some nice money. So, it's pretty competitive, man. And this past season, of course, I stumbled upon your content, bro. So, I was able to see some of your advice and the way you interact on Saturday nights and getting my lineup set. So, I'm a big time fantasy guy.
Joseph Robert:
Thank you. Yeah, make sure you guys get the 16-Round Draft Solution. Guys, there's a link here below. 16-Round Draft Solution, the first-ever video training where I give you guys the optimal players to draft in each round, the game-changer. And you can get it at Thefantasyfootballcounselor.com, if you guys are listening on audio. All right, so we're going to have sleepers at each position here. Let's start off with your sleepers at quarterback. Can you give me three sleepers at quarterback? And once you give me those, I'll give you kind of my critique on what I think in regards to that, please.
All right, man. So, number one on my sleeper list for quarterbacks, I'm going to go with Drew Lock from Denver. I know he didn't start the entire year during his rookie season. Of course, you had Joe Flacco there. And finally, he got hurt and was put out and Drew Lock showed a lot of promise, man. He's got a strong arm and I think John Elway, they may have finally found their long-term quarterback and he showed flashes of real promise. He completed 1,000 or threw for 1,020 yards, seven touchdowns. He looked pretty stout during his time there. And of course, you look at what Denver did this offseason. He brought in Melvin Gordon who's going to combine with Phillip Lindsay as that one-two punch. You got Courtland Sutton on the outside and then Noah Fant at tight end. I really like Lock, man. I like his potential. I like what he can develop into. And so for me, I look at Drew Lock as a guy that could surprise a lot of people when it comes to the 2020 season.
I'm going to say I 100% agree with you. I'm not the yes, man. I really analyze. If there's something I don't like, I'll tell you. And yes, you made a lot of good points, a lot of upside. I'm going to add two points to that to kind of reinforce your thinking. When I met Drew Lock, I met with his agent. Now agents are typically biased towards their players and always talk them up. But his agent was pretty at it. We kind of had a good talk and he said, "Yeah, Drew Lock is the real deal." And after watching tape on him, his release is really smooth. It looks pretty accurate when you look at his college tape. I love it. He just makes the ball fly off his hands. It looks really seamless. And another thing is, I've already heard talk of the Bronco's probably getting one of these top receivers, one of these top five, six receivers in the draft.
If they do, you arguably have potentially two of the best receivers in the game on a team. I mean, Sutton is a beast and he can be a good red-zone target. Fant, he's not even… He hasn't tapped a ceiling. And then you get a guy like… Could be anyone, it could be CeeDee Lamb, could be Jefferson, it could be anyone. I mean, who knows who they end up getting. But man, this is exciting for the Broncos. It's going to be an offense to watch for 2020 and Drew Lock definitely a sleeper. Let's move on to your number two. Who else do you have at sleeper for quarterback?
Isaac:
And one more point real quick, if I may. On the Drew Lock front and they also hired Pat Shurmur as offensive coordinator. Now, we know he wasn't the greatest head coach. He does not have a good resume there, but he has had success as an offensive coordinator going back to his time in Minnesota. So, I think he's actually going to help Drew Lock continue to develop.
Joseph Robert:
Right. Excellent. All right, who else do we got?
Isaac:
All right, man. Number two on my list of quarterback sleepers, it's Daniel Jones from the Giants. Now, this is another rookie from last year who came on. He superseded Eli Manning. They finally sent him to the bench. But Daniel Jones, he didn't really have a lot of weapons early on. Remember Golden Tate, who was suspended. Then he dealt with a lot of concussion issues. Now, one receiver who did come along was Darius Slayton, the rookie, who put up some numbers towards the end of the season. But Daniel Jones, one thing that intrigued me with him is his mobility. Not only can he hurt defenses with his arm, but he can also scramble. And we saw him hit pay dirt a couple of times for the Giants, of course, Saquon Barkley's there. Now, I do think they need to add some more weapons to the perimeter. Evan Engram can't stay healthy, although his potential and upside is still there.
Joseph Robert:
Same with Shepard.
Isaac:
Yeah, same with Sterling Shepard as well. Yeah, exactly. But that's all still look at what they did. They brought in Jason Garrett, the former Cowboys head coach as the offensive coordinator. And we know that Garrett who gets criticized heavily for his head coaching duties and him not having enough fire. But I think he's done a lot in terms of developing Dak Prescott, I know he's another scrutinized quarterback. But we've seen what he's been able to do under Garrett. So, that is an intriguing asset for Daniel Jones. So, I would say keep an eye on him as well.
Joseph Robert:
I think you've been stealing my notes. Do you have any inside information here? Because that's… I love Daniel Jones as well. And not a guy that I'm going to be drafting with the intention of him making him my first quarterback, but definitely a backup quarterback with a ton of upside. And I typically do that if you go back a couple of years, everyone is sleeping on the homes before he broke out. I was suggesting in my 16-round draft solution in around the ninth to 10th round. Had him in pretty much all my leagues and I think I had… I think it was Matt Ryan or someone like that. Him or Drew Brees, one of those guys. And he was my backup but then he ended up starting obviously. So, always get those quarterbacks with backup if you are looking at fantasy football draft strategy. Always get a good backup. All right. Who is your third quarterback fantasy football sleeper 2020?
Isaac:
All right, man. This one I think… I'm not sure how you stand on this guy. But I think with a new head coach in town, he may be able to finally get back to producing. It's Baker Mayfield, the Browns quarterback. I know a lot of people are down on the guy. And frankly looking at him as his character, his personality, I cringe at times when I see some of the antics that he's done off the field. But I know the Browns, they are a hot topic now. They got Odell Beckham, Jarvis Landry. But look what they did, man. They brought in Austin Hooper in free agency, who's going to combine with David Njoku who of course, if he can stay healthy. They got Kevin Stefanski now coming from Minnesota.
And so my whole thing is, it's not so much about me buying into Baker Mayfield. It's more so looking at what's around him. Now, I know they solidified their offensive line as well. I think they're probably going to use their first-round pick on an offensive tackle I would assume. But Nick Chubb, Kareem Hunt, you're going to have well-balanced, maybe that opens up the play-action game. So, I think Baker may feel… I can come back and have a bounce-back season. Again, he is a sleeper. I'm not going to take him as a QB one. But I just think he's worth mentioning.
Joseph Robert:
Very interesting. And that what you said is very possible, very reinforced. I like it. I personally won't be drafting Baker. I'm still not sold on Odell. I like Landry better than I like Odell and people thought I was crazy, man. How could you think Landry's better though Odell? And then Landry performs them. So, again, I definitely see where you're going with this. There is some upside. Let's put it this way, if he doesn't get it together this year then, man, they really suck. Okay, so let's move on to running back, one of our favorite positions. Everyone loves talking about fantasy football running backs, running back rankings, running back sleepers. Anything with the fantasy football running back we love. So, who are your three running back sleepers? Let's get to it.
Isaac:
All right, number one, man, David Johnson of the Houston Texans. This guy saw the bench a lot in Arizona. Kenyan Drake came along and a lot of people forget this is an all-pro running back. You look what he did in 2016, 2017 was his big year. Of course, he's battled injuries, man. But look, this guy's a bell-cow. He's in every-down back and I really like his fit in Houston. A lot of people are of course, are livid over DeAndre Hopkins being traded. But you look at what Carlos Hyde did, man.
Joseph Robert:
Nothing.
Isaac:
He went over 1,000 yards with Houston this past season. So, I think David Johnson who's way more talented than Carlos Hyde is going to even do more than that when it comes to running the ball. But being versatile in the passing game as well.
Joseph Robert:
No, no, good point. Yeah. He's a much better running back than Hyde. But Carlos Hyde did nothing from a fantasy perspective. Yeah, but the yardage, I'm impressed over 1,000. But again, just didn't reflect so much in regards to fantasy. I think he had about… I don't have the numbers. In fact, about 240 some odd attempts. But yeah, Carlos Hyde is nothing compared to David Johnson. David Johnson should run over them and he should also be used as a receiver, maybe in the slot, they're going to utilize him. And after meeting him and talking to him, I know he's got a chip on his shoulder. This was probably… This was years ago in regards to haters. You count him out and that's when he thrived.
So, I'm looking for a massive year out of David Johnson, the guy who got screwed by Kingsbury. I don't care what anybody says. That was the… I remember if you watch wrestling, you might be a little too young for this. But Bret Hart lost a match to Shawn Michaels years ago and it was called the Montreal Screw Job. We need a name for this one man, and maybe it's the Arizona Screw Job. So, it is what it is, man. Good one, I like it. And I think a lot of people will be sleeping on it. Who else do you got number two for sleeper?
Isaac:
All right, here's another back that had a career-low, but I think a new environment will serve him well, Todd Gurley of the Atlanta Falcons. Now his knee, of course, that's a continuing concern with the arthritis developing. But man, I really like the look in Atlanta, bro, to be honest with you. You're going to go with Matt Ryan. You're going to have Julio Jones on the outside. So, it's going to take off some pressure from Todd Gurley. Because you look in Los Angeles, Jared Goff, we saw what he was this past season. He struggled a lot.
Now the Rams offensive line was also depleted. They lost Rodger Saffold in free agency. They couldn't pay the guy. So, I think in Atlanta he's going to go back to where he played his college ball. And I think he's going to be able to have a little bit of a resurrection in 2020. I think he can come in, produce. We all know what he can do when it comes to running the ball. But how about looking at him as a pass catcher as well. So, I think Todd Gurley could be on a rebound in 2020.
Joseph Robert:
You know what? It's funny because I'm agreeing with everything you said, aside from the Baker Mayfield thing. It's yeah, it's good analysis, because I like all these guys. I can't argue that. I think Gurley was preserved last year on purpose. I think he still has a lot left in the tank. Great receiver, great offense, he's going to get all the goal-line work. I don't see anyone else coming in and taking that vibe away. And at this point, man, just run him, run him into the ground. You're out there to win a Superbowl. I mean, how many years does Matt Ryan have left in him, right? You want to win, you want to fire it.
And also, there's how many good years does William Jones have left in him? You got to utilize your weapons now. Don't think preservation, I think that's a problem with a lot of teams. They think preservation and they ended up missing a lot of guys in their prime because they try to preserve this guy and that guy. Derek Carr, talking to a Raiders guy had the same issue. Are they preserving Derek Carr? Dude, just run, play. And I love Gurley, they got to utilize him. Who else you got?
Isaac:
And my final third one-year sleeper and this is kind of up in the air, man, because if they draft a running back, it could change. But right now I'm going to give it to Ronald Jones a second in Tampa Bay. We know that Peyton Barber moved on and signed with the Redskins. And right now the two running backs on the dev chart, it's Ronald Jones and Dare Ogunbowale, I think that's how you enunciate it. But I really like what Ronald Jones was able to do last season. He rushed for 724 yards, 4.2 yards per carry, average six touchdowns on the ground. We know they got Tom Brady in town, so who knows.
They may be going to the edge just as much as they did with Jamus at the helm minus the turnovers. But look, Ronald Jones, he's an explosive running back. I think he was knocked a lot for his inability to catch out of the backfield. But he was able to have a little bit of success in that category. But if Tampa Bay does not add another running back, I'd say early in the first two, three rounds, Ronald Jones could be a guy that can come in and serve as maybe a flex play.
Joseph Robert: Yeah, he's going to be solid if they don't add another running back for sure. Especially with Brady there, they got a lot of weapons. Man, it's going to be a crazy offense. This is a team I'm going to be watching this year. So, I definitely agree, but I do think they're going to add that other back. I'm not sold on them believing a Ronald Jones, that's for sure. And let's move on to the wide receiver. Who do you have at wide receiver?
Isaac:
All right, man. I like this guy a lot and he's coming off 1,000 yard receiving season. It's Michael Gallup for the Dallas Cowboys. I know they brought back Amari Cooper on that big five year, $100 million dollar contract. And Michael Gallup, he puts in work. And I think you even… They even asked Amari Cooper about Michael Gallup. Last year being the number two and Cooper's… I don't see a number two with Gallup. He is a number one receiver and you see it every single week. His ability to create separation, his route running is just continuing to evolve every year. And Dak Prescott, we know the Cowboys, they went to the air a lot now with Mike McCarthy in tow. I'm interested to see what that philosophy is going to look like. I know Kellen Moore is still going to call the plays, but I think he has a ton of upside. Michael Gallup should be drafted a little bit higher than when he's been going in previous years.
Joseph Robert:
Yeah. I mean, Gallup, I was just talking to Laws Nation part of the Cowboys. He's one of the guys I talk to as one of the ambassadors there. He said that Gallup alone isn't… I don't know if he can handle the wide receiver one role. But with Cooper they're is one of those situations where having Cooper there is going to help him as he's going to draw some of the double coverage. And Gallup's just going to run over the secondary there. So, I like Gallup this year. Who else do you got?
Isaac:
All right. I got Diontae Johnson from the Pittsburgh Steelers. He was a rookie last year. And let's remember the revolving door that Pittsburgh had. We know Big Ben went down with that elbow injury. And then it was Mason Rudolph and then it was Duck Hodges. But this guy still managed to produce with whoever was there. 59 reception, 680 receiving yards and five touchdowns and that's not bad considering the circumstances. He's got speed. They drafted him out of Toledo in the third round of last year's draft. So, this guy is another one. We know that the Rooneys have an eye for identifying receiver talent and they may have hit on another big one with Diontae Johnson.
Joseph Robert:
It's weird, man. It's like I swear you're looking at my notes. I've never had… And we honestly had not talked about this before the show. Yeah, Diontae's the big sleeper for me. Predicated on the fact that they do not draft another wide receiver there. I think if they stick with what they got, he's much better than Washington. I think JuJu will still draw a bunch of double coverage. I think there'll be some good things there. Ebron will take some targets or draw some coverage as well. Maybe take some targets away from Diontae, but I think Diontae has a lot of upside, especially with Big Ben, a guy that likes to throw the ball a lot in regards to volume. So, love, love Diontae Johnson. They'll be sleeping on him. Everybody will be. So, I'll be getting him later rounds for sure. What else do I… And our last receiver, please?
Isaac:
All right, man. This guy, a lot of people probably don't know much about him, but how about Preston Williams, the wide receiver for the Dolphins. He's 22 years old, undrafted in 2019. He missed the last part of the season with a knee injury, but 32 receptions, 428 yards, three touchdowns. Was leading Miami in receiving at the time of his injury. And let's remember he's working with Magic, right? So, it's not any ultra-elite quarterback, but what Preston Williams thrives in his red-zone offense. His ability to win against the smaller corner. He also has immense athleticism and if it wasn't for some off the field issues at Colorado State, man, this guy would have for sure been a mid-round pick. So, keep an eye on Preston Williams and what he could do in Miami.
Joseph Robert:
Yeah, it should be interesting. I'm not really a big Miami fan for obvious reasons. But I hope they do well in the draft depending on what they do that could inflate his value. Definitely a guy to keep an eye on. I just was talking to a Patriots guy, Patriots Global. We just did a show with him on fantasy impact. Deep sleeper for you and I wanted to get your opinion on this. Because this guy was not on my radar, but apparently he has really good connection with Jarrett there at quarterback and Jarrett gets a start with New England or Jakobi Meyers as a deep sleeper. Because apparently they have a connection. Yeah. Do you know much about Jakobi or not really?
Issac:
Yeah, NC State product. Last year I think he was what, a mid-round pick, third, fourth-round pick. And I did see he played a lot last year because of New England's I guess, receiver position. And he's a guy that brings some good size. He's over six, three I believe. And so just as I was talking about Preston Williams, Jakobi Meyers actually can do some damage in the red zone. You obviously saw some of those hiccups as a rookie last year, but Jarrett Stidham coming in together. I'm sure they got a lot of work in, in the rookie minicamps. So, that actually is a name that could maybe do some damage actually. So, Jakobi Meyers, not a bad name to keep on your mind.
Joseph Robert:
Deep, deep sleeper. And again, if they get a receiver, there's go back to quarterback again, another sleeper at quarterback, Jarrett Stidham. You never know, right? I mean, someone's got to do the job and I heard he's really… He's athletic, he's good, he's young, he's got some good mentorship. Obviously one of the goats teaching him. So, that's a situation a watch. And yeah, before I let you go, I want your opinion here. Because we're just talking again with Patriots Global, that division since we're talking Patriots… And again, even the Patriots Global guy agreed. Do you agree that the Bills are the team to beat this year? They are the favorite in that division.
Isaac:
Man, the Bills, honestly I would… I'm kind of torn, man, because right now I also like that the Jets have done some stuff to shore up their defense. So, I know the Bills they made the splash moves going with Stefon Diggs, acquiring him via trade. But actually I'm going to say the Jets. I know that that's-
Joseph Robert:
They don't have a receiver.
Isaac:
I know, yeah, right. With the draft pending you don't know who they could land. They're also another team that's been linked to the Judys, to the rugs. They can land a legit receiver one. I like what they have in place in New York because Sam Darnold, we know that he's kind of been up and down. Or obviously, he missed six games with mono last season and then he came back, right? But Le'Veon Bell's still there. If you look at what New York did, solidifying their offensive line and free agency, Brandon Shell bringing in Connor McGovern to go in and start at center, which I think was a really nice signing. Of course, losing Robby Anderson was never good. But defensively they retained a lot of their own, James Burgess and Neville Hewitt, bringing back Jordan Jenkins on a one-year deal.
So, I think there are still questions with their secondary at the corner position, right? I think that's fair to say. And I think the Bills do have that advantage. The Bills defense is really good. But I actually, I'm going to say the Jets. I know that's not a hot topic. I know everybody's saying the Bills.
Joseph Robert:
Not a popular opinion.
Isaac:
Yeah. But I'm going to go against the grain, bro. I'm going to say the Jets right now. I like Jamal Adams. I like how he can anchor that defense. So, we'll see how it shakes out though.
Joseph Robert:
We won't dive too much deeper. I'm just not sold on Darnold being the guy. But again, we're going to have to see. It could be a little bit under the radar, he could shine eventually. We're going to give him some time to come out of that shell. So, ProFootballChase, Isaac, thanks for coming on. Make sure you guys go follow him. Great insight. Love the sleepers. And again, I'm not going to argue any of them. Usually, I argue like, I don't like that guy. I don't like that team. But you are spot on. A lot of these guys that I like could be sleepers, could be some upside. Again, we're not saying go draft these guys in the third round. We're saying these guys are sleepers, there's the upside. And I'm sure you're going to get them for a really good value.
Now, we don't know where the EDPs are going to fall. We're going to have to see after the draft, as mock drafts start happening. But as of right now, man, I think these guys could be some great value. Thanks, Issac for coming on, man. I really appreciate it and we're going to get you on way more often.
Isaac:
Hey, man, I appreciate the invite. I enjoy talking fantasy football, so for sure.
Joseph Robert: A lot of insight. Thank you very much and thanks, guys. Make sure you guys smash the thumbs up. Leave a comment below, let us know what you think of the sleepers. And we are out talk soon. 3 Sleepers at each position brought to you by the Fantasy Football Counselor and Isaac from Pro football Chase. Great inside and some solid sleepers to target this upcoming 2020 fantasy season.
Make sure you are subscribed to this #1 fantasy football podcast to dominate your leagues. https://thefantasyfootballcounselor.com/