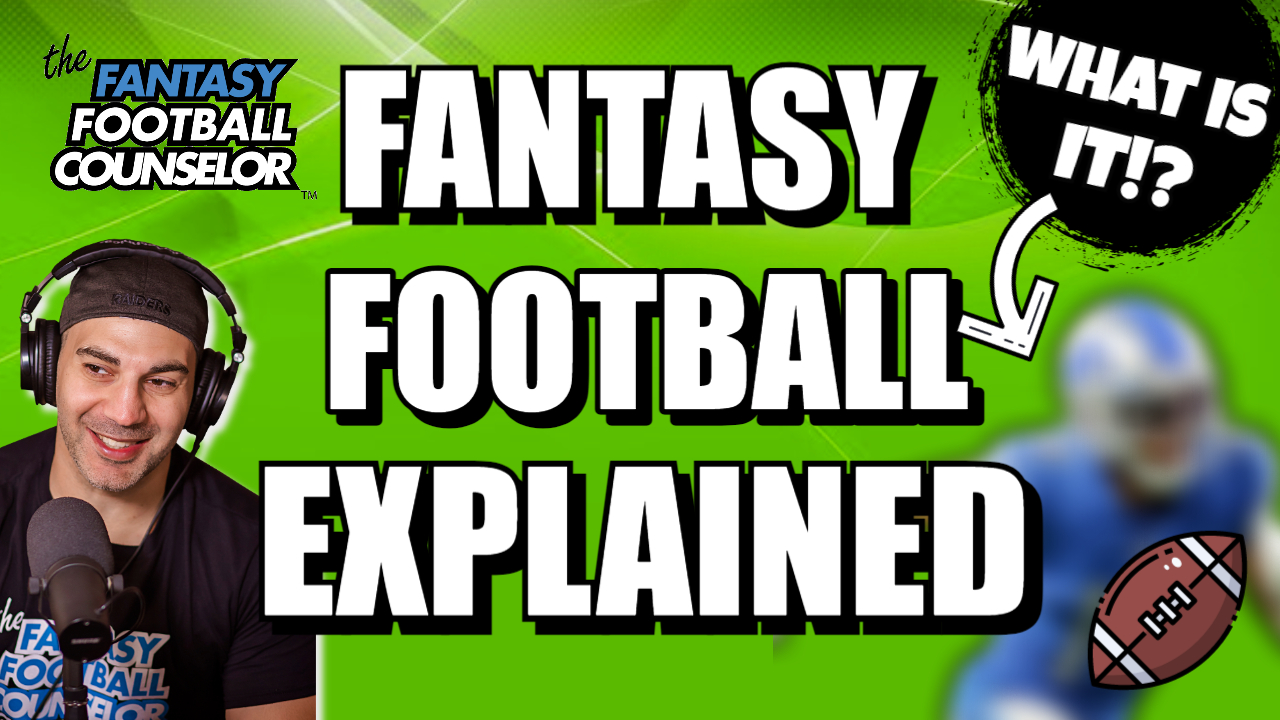 If you are new to fantasy football then this is the video and place to be for you! I dive into what fantasy football is and some common questions about it.
What is Fantasy Football?
To put this to you simply, fantasy football is a points-driven game based on the real-life production of NFL players.
The players put up real points when they play, and if you own them on your fantasy team you will get points for that. Your team will be made up of different real-life NFL players from different teams and at different positions. The players you select will be selected in a draft that will take place with your friends or league mates. Typically fantasy football leagues consist of 8 – 14 fantasy players. Each fantasy player will select a player to fill out their rosters.
What makes fantasy football so exciting is that you are immersed in your player's performances each week as they work hard on the field to accumulate points for you. For full details on How to Play Fantasy Football check out that article in our 101 section of this site.
What is a Fantasy Football Roster?
A fantasy football roster is made up of players that you drafted to fill up the designated roster spots. Typically a roster will include 1 QB spot, 2 RB spots, 2 WR spots, 1 flex spot, a kicker, and a DEF spot. These roster spots vary based on league setting and what your commissioner sets. You will typically have at least 6 bench sports on average. You always need bench players to cover your bye weeks, injuries, or just pure lack of performance from your starting fantasy players.
What is the Difference between PPR vs Non-PPR formats?
Fantasy Football can be played in many different ways which include standard, half-point PPR, or Full Point PPR.
In Standard leagues, your receivers, ( Which include anyone that catches the ball) will not be awarded a point for catching the ball.
In Half-Points PPR (0.5). Your Receivers will receive a half-point when they catch a ball.
In Full Point PPR. Your Receiving player will get 1 point for each ball caught.
Full point PPR is the most popular way to play fantasy football. With more and more Running Backs catching the ball out of the backfield, this just makes fantasy football more fun to play.
What is a Snake Fantasy Football Draft?
When you do a fantasy football draft you typically draft in a snake format. This is the most popular way to draft and is preferred over Auction Drafts.
Using a 12 person league for example if you get the 1st overall pick you will get pick #1 and #24. If you are the 12th pick, you will get picks #12 and #13 then it will work back to the player that picked 1st overall and he gets to go back to back.
What is the most popular position in Fantasy Football to draft?
There isn't a most popular position to draft, but the Running Back position is a favorite to draft in the first round. This is because you only have a handful of RBs that are not in a major committee and you want to load up on workhorses early that get the volume.
More and more teams are using a running back by committee approach. This will limit the production and volume of your fantasy RB and you want to secure an RB early on. Running backs tend to be most exposed to injury and you want to make sure you have a lot of depth at this position.
When is the best time to draft your fantasy football team?
The Best time to draft your fantasy football team is about 1-2 weeks before the season starts. This way you can minimize the risk of your player getting hurt in the off-season after you already drafted him.
The Fantasy Football Counselor likes to draft his team earlier in the year like June. Because he thinks ahead, he is able to spot the sleepers and breakouts and roster them before everyone catches on. Some player may have breakouts in Pre-Season and their ADP's ( Average Draft position) goes up in drafts the closer you get to the NFL season starting.
It is a trade-off, but if you know the players very well and have a lot of depth on your roster it may be an advantage to draft earlier in the off-season.
Why is Fantasy Football So Popular?
Fantasy Football is really fun and gives you an opportunity to own your own football team. Yes, it's fantasy, but the sense of ownership can be really exciting. It also lets you connect with a large community of like-minded fantasy football players and it enhances the game-watching experience.
Following your NFL player's performances is much more excited when you are invested in them. If you are new to fantasy football make sure you dive in and experience it for yourself.
How to Win Fantasy Football?
Winning at fantasy football is a combination of the following:
Drafting the Right players
Starting and Sitting the Right players each week
Proper team management
Awareness of NFL news and Injuries
Staying sharp on the waiver wire
Avoiding recency bias and the consensus rankings
Being Confident
Everything you need to draft the optimal roster, which is 90% of the battle can be found in the 16 Rounds Draft Solution.
Final Thoughts
Just dive into fantasy football. There is no better way to learn anything like total immersion. Don't put too much pressure on yourself and dive in! You will know if this is something you want to pursue yearly after you get into it.