Tight ends to target in 2020 fantasy without having to pay for an early-round draft pick. Some solid sleepers here for you.
You can wait to draft a tight end in fantasy football, and you should never invest in one early on in your drafts. The Counselor and the Bald Guy share some solid tight ends you should target in your drafts for 2020. You may call them fantasy football sleepers or just great upside value pickups.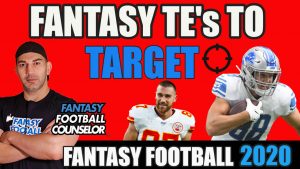 The names mentioned in this episode include Eric Ebron, Hayden Hurst, TJ Hockenson, Noah Fant, and Mike Gesicki. These guys have a solid upside and can easily fill in your TE position. I highly suggest when you are looking at your fantasy football draft strategy you should wait on the tight end until later you in your draft. I would never waste a valuable early 1st round pick on a TE as I am focusing on getting my ace RB's early on. This show is valuable because you are getting some solid names to consider later in the drafts.
Tim's suggestions were Eric Ebron and Hayden. I personally like Hockenson a lot better because the upside is there. Another draft tip is that you have stay away from the tight end committees that same way you avoid the running backs by committees. You need to target tight ends that are the dominant ones on their respective teams. I really hate two tight end sets and that is why Hockenson and Fant really stand out to me. Also, if you are drafting your TE's later you need to always get two of them. Because you are drafting later you are taking a risk and you need to double your chances of getting an ace TE. So always draft a backup tight end and that way you are covered.
Make sure you are subscribed to this #1 fantasy football podcast to dominate your league
[iframe style="border:none" src="//html5-player.libsyn.com/embed/episode/id/14465690/height/100/width//thumbnail/no/render-playlist/no/theme/custom/tdest_id/1750511/custom-color/3db4fa" height="100″ width="100%" scrolling="no" allowfullscreen webkitallowfullscreen mozallowfullscreen oallowfullscreen msallowfullscreen]