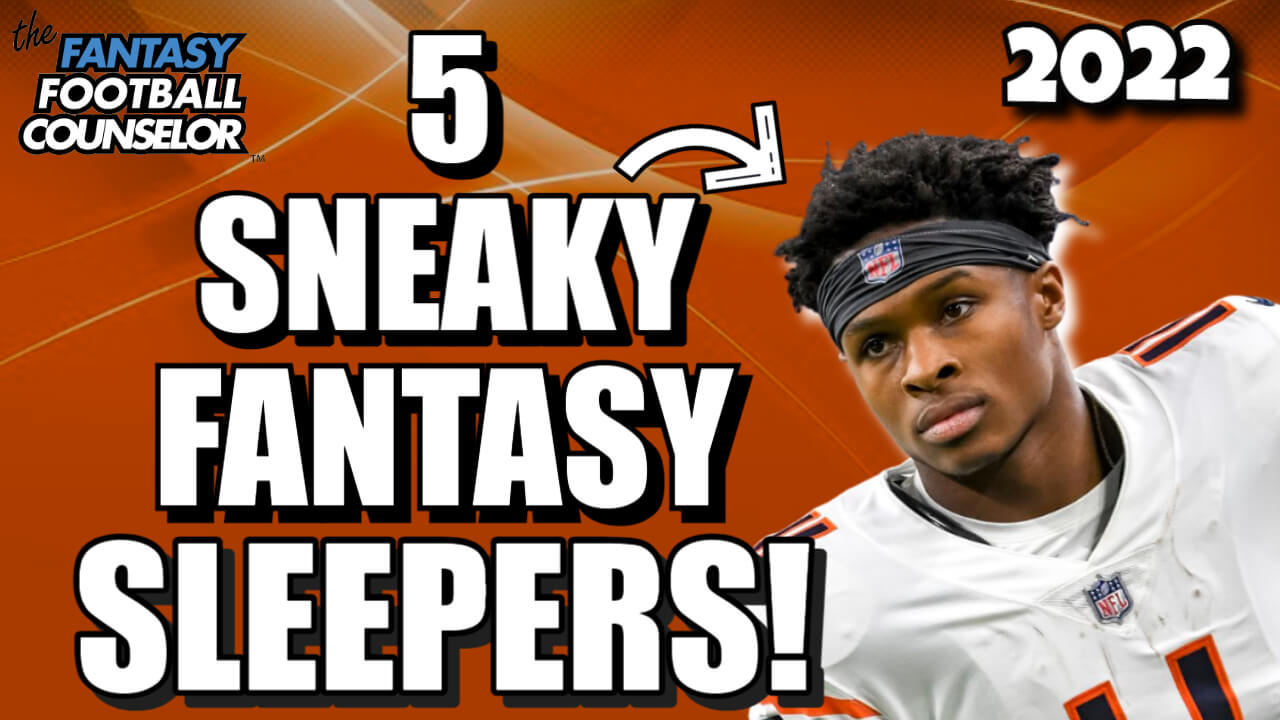 Today we're talking about five sneaky sleepers for your Fantasy Football 2022 roster. It is never too early to get ahead of the competition and the Consheepsus and the league mates. Everybody in fantasy football is sleeping right now. They're not thinking about fantasy football, but you guys are. We're thinking ahead of the curve. We're thinking light years ahead of the competition. So we're talking about five sneaky fantasy football sleepers, got a bunch of wide receivers here, a quarterback and a running back and I laid out here for you guys and make sure you guys target these guys because I think a lot of people are going to be sleeping on them. So we're going to get into this episode. Let's dive into it. If you are new to the channel, make sure you guys do click the subscribe button and if you are on YouTube, make sure you smash that thumbs up. Five Sneaky Fantasy Football Sleepers. Let's dive into it now.
Five Sneaky Fantasy Football Sleepers. All right. Now there's a ton of sleepers. I'm telling you. I'm just looking at this right now. It's so funny, because when I look at the Consheepsus, the consensus rankings, for Fantasy Football 2022, I'm seeing a lot of copying and pasting, which happens every year. It actually kind of makes me sick to my stomach, because the mainstreamers are literally taking last year's top finishers and telling you to draft in pretty much in that order. Right?
Now, last year I looked at this and Najee Harris, and I kept screaming this at the top of my lungs, Najee Harris was outside of the top 10. He's squeaked into the top 10 now. He's number 8. This guy's a top 3 running back in the League based on volume, opportunity, talent, youth, and all that fun stuff. So it's kind of comical how you see right now looking at the consensus rankings, that Dalvin Cook is ahead of Najee Harris. Dalvin Cook is on the decline. Again, there's just so much to talk about. I mean, that's why you got to subscribe and thumbs up because I've got so much to dive into you from sleepers to break-outs, to rankings, to analyzing it for you from outside of the box perspective.
I'm just so sick to my stomach with the way the mainstream does it. Some people say, well, "Joe, you talk about the mainstream sheep so much." Right? It's because this information is out there to a lot of people that are unsuspecting. They don't know. They haven't maybe discovered my channel. I know a lot of people have. I'm number one on Instagram, number one Fantasy Football Podcast. But a lot of people still have yet to discover this show. So they're listening to the-they buy a magazine at the newsstand or listen to the mainstream news or they open up an app and they see a personality and they're like, "Oh, you should follow that guy." These guys are idiots. So again, there's a lot of sleepers.
They're sleeping on stuff and oh, it's amazing. When I look at this, I don't even get upset anymore. I'm upset that unsuspecting people are getting this bad advice, but what I'm not upset about is I could see things while other people don't. So let's just dive into it here. You what I mean here, when we dive into it, when I give you actual practical examples. Okay.
1. Darnell Mooney
So let's talk about the first sneaky sleeper here. The guy I'm talking about is Darnell Mooney, sitting at number 36 on the consensus Consheepsus rankings, finished 23rd last year, this guy was around five pick for the Chicago Bears in 2020. He's going into his third year. Now when I look at Darnell Mooney, I see a lot of talent, right? He's not a super tall receiver or anything like that, but the guy gets it done where he's lacking is the touchdowns. Last year, 140 targets. Number one in targets on the Bears, 81 receptions, over a thousand yards, 1055 yards, and four touchdowns. So Darnell Mooney is the guy that is slow and steady, safe, and helps you win the race. He's a guy that you can get, for example, there's Hunter Renfrow last year, who was that guy that was kind of off the radar, but continued to produce week in week out. He was solid. Now he's higher obviously on the consensus rankings and people are all over him because he finished really well last year. So I'm looking here, I'm seeing Darnell Mooney, sitting 36. I still think people are going to be sleeping on him. There's obviously going to be a coaching change. There's a coaching change there with Nagy being gone. I still think they got to figure out their quarterback situation. I'm not sure if Fields is the solution there, played about 12 games last year.
Dalton came in, played around seven games, seven to eight games. So I'm looking at these guys and I'm saying, "Okay, there are some changes that need to be made." I really still think that Darnell Mooney is part of that core and a guy that could eat and benefit when improvements are made. Now I think it's no way, but up for the Bears. Allen Robinson, I think he's going to be shipped off. Again, this is before the NFL draft. This is before free agency moves. This is very early on these rankings here and these sleepers, but Allen Robinson only had 66 targets last year, just didn't get it done, didn't play a full season. Darnell Mooney was the guy. So I don't see him being the one there. Maybe they bring in somebody else, there are some changes. Maybe they draft a solid rookie, but I just still see Darnell Mooney being a sleeper that you can get for a super good value that could produce week in and week out and give you a safe floor of points.
Okay. Maybe 10, 12 points, a game consistent with the receptions, maybe the volumes there. But I don't really see a problem here with Darnell Mooney. So I like him. I like him as a sneaky sleeper you can get to add to that wide receiver depth on your team. I mean, again, I'm not singing his praises here and saying he's the best wide receiver. No, he's not an upside wide receiver. We're going to do upside players. That's why you got to hit subscribe, thumbs up, right? If you're on YouTube channel, if you're on Spotify, if you're on Apple, make sure you guys click the subscribe, follow button. Also by the way, guys, please, if you're on Apple iTunes, please leave a five-star rating review. It does help the channel. I do appreciate to taking the time to do that, means a lot. So again, Darnell Mooney to wrap this up here, I think he's going to be solid, I think he's a sneaky sleeper and I think people are going to be sleeping on him. Okay? Currently sitting 36th on the consensus ratings. I think he'll perform above that. Okay? Now actually in PPR is around 32 either way, I still think he's a steal.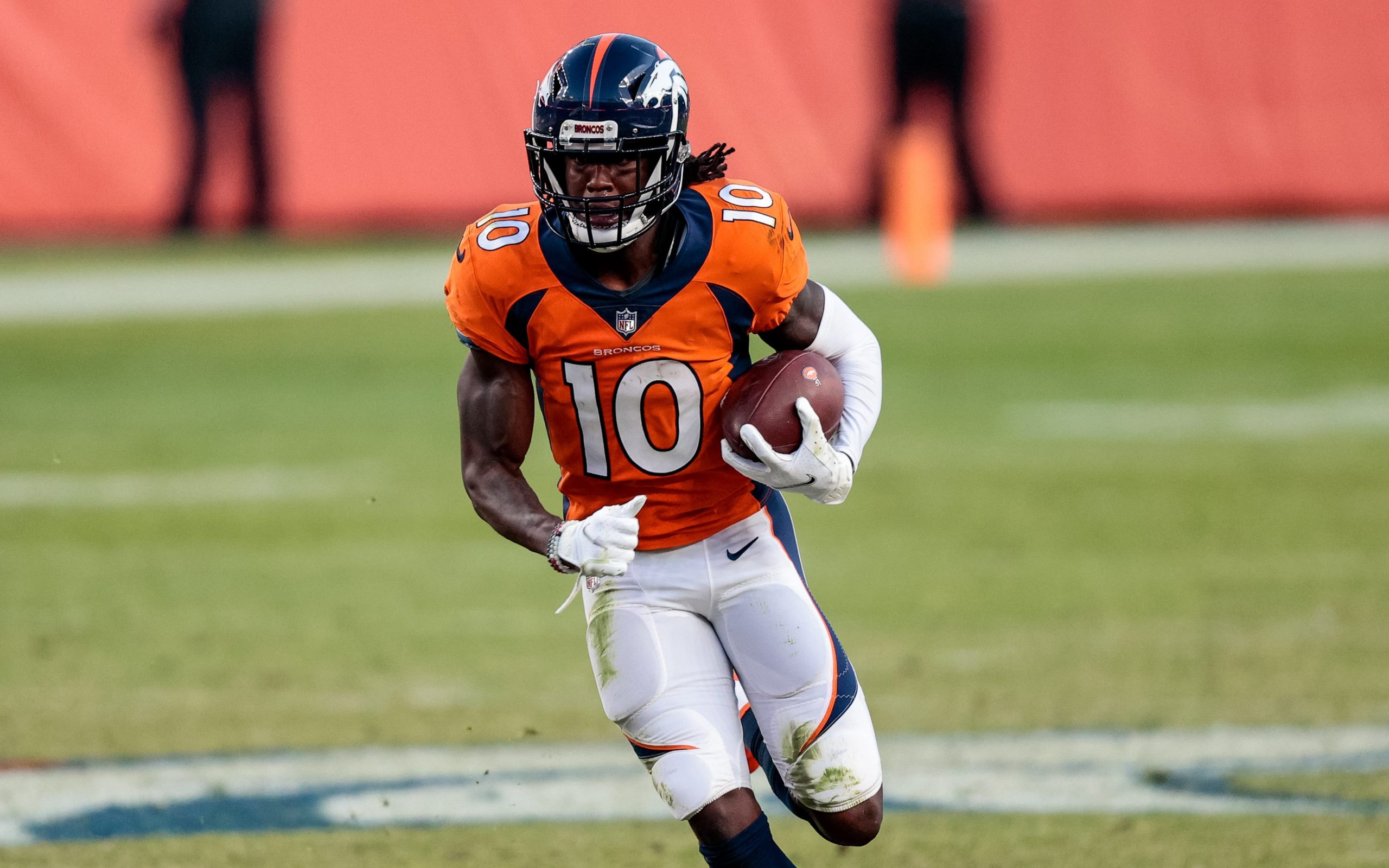 2. Jerry Jeudy
The second guy here, now again, it's a one, two combos here and I've talked about these guys a little bit in my other videos here in my early talk. But Jerry Jeudy and Courtland Sutton, I think these guys are completely being slept on. I still think these guys are very, very good receivers. I think Jerry Jeudy's a solid receiver. Mind you, he's got to finish a full season. He's got to play throughout and he's got to start scoring some touchdowns. But when I pull up Jerry Jeudy's stats, and here's the thing again, what I see with Jerry Jeudy is he obviously needs the volume, he needs to stay on the field, but he also needs touchdowns.
He's not really a touchdown guy. Okay. That's one of the problems that I have here with Jerry Jeudy, three touchdowns in two seasons, played 14 games in 2020, and only five games in 2021. You know, he's good. He's really good. This guy's a first round pick, 15th overall in 2020, right? He's a good receiver. He's just got to stay on the field. He's got to finish the year and then also get touchdowns. I don't know what else to tell you, but why do I think he's sneaky? I just don't think the opportunity's been there for him. I don't think the quarterbacks have been there for him. I mean, Sutton seems a little more appealing because with Sutton, at least you get a little more durability. You get a little more touchdowns, but I think Jerry Jeudy could get there.
I think you can be a PPR monster. I genuinely do. But I still think the quarterback situation was a disaster. If they can fix their quarterback situation with the Broncos. And I think they do this year. There's also rumor at the time of this recording that maybe Aaron Rodgers ends up there. That would be amazing. So as of right now, these guys probably will shoot up, but I'm trying to think ahead of the curve here. Like that's what I do. Either Jeudy, Sutton, or both could really thrive with a quarterback change. Again, the guys that were there last year, Drew Lock, Teddy Bridgewater could not get it done. These guys are not good quarterbacks. Drew Lock was drafted in the hopes that he'd be a potential. I mean a real potential franchise guy. He just never did it. He hasn't done it.
Years to wow me and we've not wowed guys. I mean it's time to move on. I think they got to address the quarterback situation. I think they're set at wide receiver with Jeudy and Sutton. Tim Patrick is there. He's been pretty decent and safe. They also got Javonte Williams. They got to ship off Melvin Gordon and they may keep Gordon, I hope they don't. Just for depth, but I just heard there was a post from a Bronco's Insider saying that Melvin Gordon doesn't want to take a backseat, and I kind of get that, but he's not good. Melvin Gordon's had one 1,000 yard rushing season throughout his entire career. I don't know how many seasons he's played like 5, 6, 7. The guy is not good. So Javonte is the future. I want Melvin Gordon to move out of the way, so Javonte gets in. But either way, going back to the point here, I think Jerry Jeudy is the guy. Here's a sneaky sleeper.
I think you can get him for good value. I think he could really thrive this year with a good quarterback change and a full season under his belt, he will really thrive. A little more upside than Sutton, I still like Sutton as well, either way, a quarterback changes, these guys will thrive. So keep them on your radar. Okay? When we're talking Fantasy Football Sleepers 2022, make sure you keep them on your radar.
3. Gabriel Davis
Number three here. I talked about him in another video recently, but I got to bring him up again. Gabriel Davis is my third sneaky sleeper. Now we're saying, well, Joe, that's obvious like Gabriel Davis, he kind of broke out last year. People are going to be all over him. Not necessarily and I'll tell you why. Gabriel Davis right now is currently sitting 46 on the consensus rank on the Consheepsus. Why? Very simple, because he didn't finish.
He finished, I don't know where he finished. He had a bad year. Let me pull this up here because again, he didn't really get going. He didn't have his breakout till later in the season. Right? So if you look at Gabriel Davis, the guy played during the season, what did he have, 16 games he played. I think he started like four of those games. He wasn't even on the field pretty much the entire season. He had 549 yards, six touchdowns guys. Okay. So when you look at a guy in the postseason that crushed it, I mean he absolutely crushed it. Five touchdowns, 244 yards, 10 receptions. Okay. 10 receptions. And I think he played the two games in the postseason. So this guy had four touchdowns in one game. I'm looking at Gabriel Davis. I'm thinking this guy's got to break out this, I mean, he's got to really shine.
He broke up. Again the postseason, but again, Cole Beasley is not the solution there. Diggs, if he gets hurt, Gabriel Davis really thrives. So it's exciting with Gabriel Davis, but he's still being slept on because the mainstream sheep currently have him ranked 46th. All because he didn't break out till the postseason. But we saw the breakout. We know there's a ceiling there. So going back to the copy and paste, they're just going to take him because he didn't finish on top last year. They're not going to paste him over, but this guy could easily finish if he gets the volume, right behind Diggs, he could be a top 10 guy. Yes. There's that much potential here for Gabriel Davis. I really think the talent is there. So, Gabriel Davis, is a guy that I genuinely feel has a ton of upside.
People may forget that breakup. They may just look at the copy and paste rankings and say, "Well he's not ranked high," and just sleep on him. I really feel he's a sneaky sleeper still. I don't know if that was enough just with the postseason and having that one big game for people to say, "Oh, I'm going to draft him a little earlier." I'm going to draft him a little earlier, to be honest. So we're going to have to see where his ADP falls. It's going to be super late. It looks like it's going to be well after the eighth, ninth round. I may grab him a little bit earlier if I want to, if I see him there. Okay. So Gabriel Davis getting into his third year, finally had his breakout and super exciting. A sleeper that I'm definitely considering.
4. Mac Jones
Okay, here is a sneaky one. Number four here, I'm going to a quarterback and I think people are going to sleep on him and I still think there's a ton of upside with him. The guy I'm talking about is Mac Jones. Okay. Let's talk about him. Let's talk about his season, 352 completions, 521 attempts, 3,801 yards, 22 touchdowns to 13 interceptions. Now, when I look at this, I look at a rookie. Guys, this is a rookie and this is a guy that didn't really have any good receivers. He didn't have any superstar receivers. This is Mac Jones in his first year. And I'm telling you, here's the thing that's exciting about him. Mac Jones actually finished 18th amongst quarterbacks in fantasy points. Well, you say, "Well, Joe, that's not exciting." I know it's not exciting, but there is a ton of upside.
There's no way but up. He's definitely going to improve his touchdown to interception ratio from 22/13, that's definitely going to be improved. He's going to definitely throw more touchdowns and they've got to make some improvements at the wide receiver. When you look at the wide receiver for the New England Patriots, the top wide receiver for the last year was Jakobi Meyers with 126 targets. Nelson Agholor was there with 37. What do you have? 64 targets. Kendrick Bourne, 70 targets. So the receivers were average at best, slightly above par. N'Keal Harry was there. He had a great catch throughout the season. He's got decent receivers, but nothing to get excited about. I understand he's a rookie quarterback. He had to get into his comfort zone. He's got to get settled in. He's got, Belichick. He's got a good coach.
So again, this year, we're going to have to see what the improvements are in the off-season and in the NFL draft, what's going to happen. But I genuinely feel that this guy's going to be a solid quarterback week in, week out for you. It's not going to be sexy. It's not going to be a total upside. It's not going to be a guy that's going to tear the roof off the place every single week. But a guy that's going to be solid as a solid backup with massive, well, not massive, but massive safety. That's the word I'm trying to use. A guy that's going to be super safe for you guys, week in, week out that you could draft as a backup, that could be a sleeper. Again, in a one-quarterback league, I always have two quarterbacks. In a two-quarterback league, I always have three quarterbacks to cover my bye weeks, to cover potential injury, and to cover potential lack of performance. So I always stash two quarterbacks or have two quarterbacks in a one quarterback league at all times. At all times. All right guys?
5. Travis Etienne
All right. So, that's number four. Number five here and people are completely sleeping on him simply for the fact that he didn't play last year, but last year he was a top 12 running back, going into the season. I was dodging him simply because James Robinson was there. Now James Robinson could return. I know there's been some drama with Jacksonville and James Robinson simply because they drafted Travis Etienne, who's number five. So Travis Etienne is my number five guy here that I'm personally going to be considering drafting because he was a first-round draft pick for Jacksonville, got hurt with a foot injury, and never played. That's the problem. Now, when I look at James Robinson's numbers to look at, something to compare to, now James Robinson played 14 games. He had 164 attempts, not a lot of rushing attempts and eight rushing touchdowns that in the receptions, he had 31 receptions 46 targets. Okay.
So that's a good sign, 46 targets. And James Robinson can catch the ball, but he is not really a pass-catching back, not as good as Travis Etienne and Travis Etienne's got that rapport with Trevor Lawrence. So I really believe that Travis Etienne is a guy that could really shine, become a PPR monster this year. We're going to have to see what happens in the off-season. Is James Robinson going to stay there? Is he going to want to stay there? I mean, he wasn't really durable this season. And the fact of the matter that he drafted Travis Etienne, maybe this could be a one, two punch, but I'm definitely keeping Etienne on my roster for a guy with some massive upside. Especially if James Robinson doesn't end up staying with the Jacksonville Jaguars. We're going to have to see what happens. Does he stay? Does he go? Do they keep him? What happens with James Robinson?
That's really going to predicate the impact that Travis's Etienne, who I believe is a super sneaky sleeper because again, he didn't finish the season, right? He didn't play the season. He didn't start the season. Right? So if that's the case, we don't know what he's capable of. So people are just going to sleep on him because he was unranked last year, right? There's nothing to compare it to. So he is going to be really low on the rankings. Again, I don't know, I don't have the rankings in front of me, the Consheepus, but I'm pretty sure Etienne will be slept on. He is currently sitting, I don't even see him here. He is well low on the rankings. Oh, 35th right now on the Consheepsus ranking. So this guy could be a top 10 running back with James Robinson gone. So he's a sneaky sleeper, similar to other sleepers like Michael Thomas.
Final Thoughts
There's a ton of guys this year that a lot of people are like, "Oh they didn't do well last year. We're going to forget about him." Calvin Ridley's going to be slept on. There's a ton, more sneaky sleepers. Again, there's too long of a video for me to go into every one of them. I go over all this in my 16 round draft solution. So make sure you guys do get the solution. I've linked it below here on YouTube, but head on over to thefantasyfootballcounselor.com. But I'm telling you guys, there's a lot of value this year, looking at the landscape here, early in the office season. There's a ton of upside this year for a ton of players. So you don't have to invest early on certain guys. You can get the value for wide receivers later. You don't have to invest early. Ton, a ton, a ton of sleepers this year.
Okay, guys. Again, this is a very early video. We're working into the 2022 Fantasy Football season. If you are new to the channel, make sure you guys do subscribe. I appreciate you guys for being here. Let me know what you guys think of these sneaky sleepers. Darnell Mooney, Jerry Jeudy, Gabriel Davis, Mac Jones, Travis Etienne. Let me know what you guys think. Do you guys think these guys have top five, top 10 upside? Love to get your feedback. Okay, guys. Subscribe, thumbs up. I'm out.
Make sure you catch the full Fantasy Football Sleepers Video here on Youtube.  Subscribe to this #1 Fantasy Football Podcast here on audio as well.