5 Bounce Back Fantasy Players 2022
DeAndre Hopkins
Robert Woods
Saquon Barkley
Matt Ryan
Derrick Henry
We are talking about five bounce-back players for fantasy football 2022. These players may have had a bad season last year or prior seasons even, and just couldn't get it together through the past year or two or three, but finally, are set and primed for a bounce-back season. Now, this could be a make-or-break season for some of these guys, or it could just be the fact that they are just overdue or they just got injured last year and they are due for a big season. And the thing is, most of these guys, I'm going to lay out here for you. Four out of the five are an amazing value that could finish in the top 10 at their respective position. So, the value here. You could call them fantasy football sleepers, but I'm calling them to bounce back because they're coming off a down year for a particular reason and they're set to bounce back. So, I'm excited to give you guys these names and, of course, the reasons why they're going to bounce back.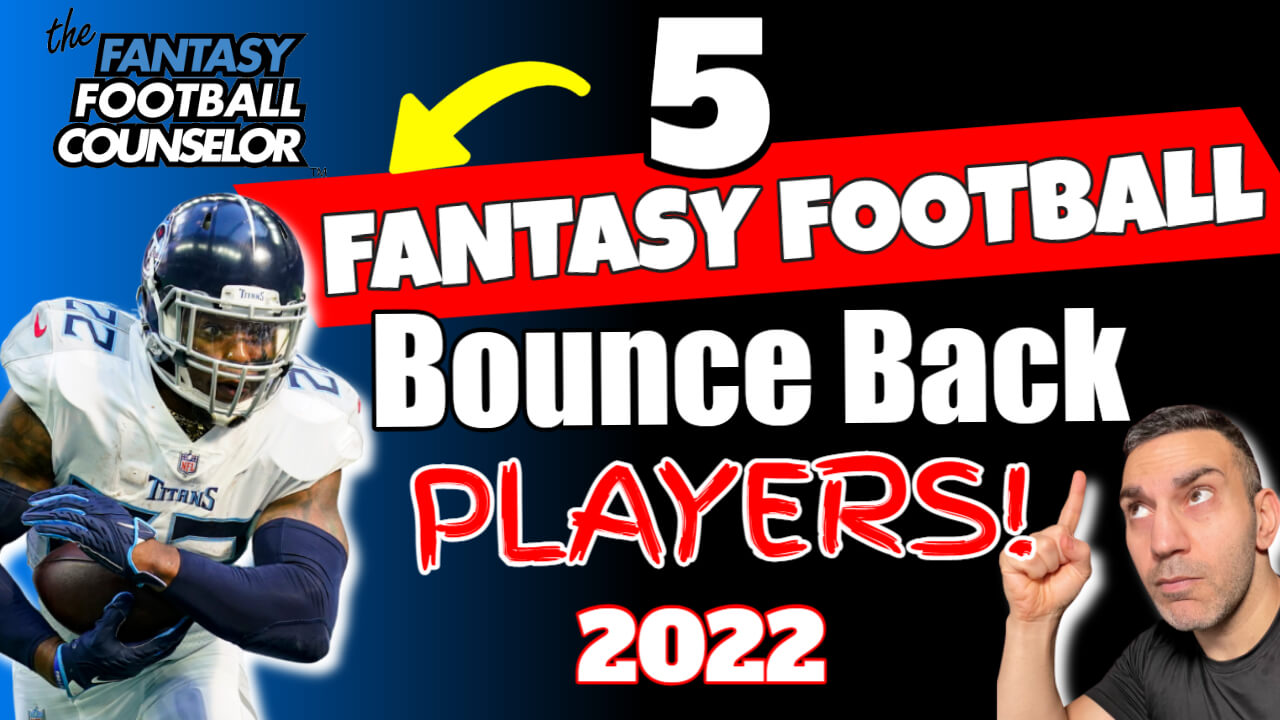 1. DeAndre Hopkins
The first bounce back player and it amazes me here and what amazes me… Let's talk about it. It's DeAndre Hopkins. What amazes me here is that he's sitting 11th amongst the wide receiver rankings. Now, this is simply predicated on what? One bad year. Okay, so I look at a guy like DeAndre Hopkins, and I see a guy that is one of the most, if not the most, talented wide receivers in the NFL. He's been in the league since 2013. Okay. This was by far, this past year… 2021 was his worst year. Why? Because he played 10 games. He got banged up, which led him to only 64 targets. It happens. Sometimes people get hurt, right? And this was an anomaly because if you look at his career prior to this, he's missed maybe one game here, one game there, but he's been consistent through his entire season. This guy does not miss games, knock on wood. Arguably one of the best wide receivers in the game, and all the mainstream loved him last year.
I said, "No, avoid him. I'm not paying a first-round pick." Sure enough, he busted. What goes up, must come down. And now he's down and he's immense value. Everyone's telling you to draft Cooper Kupp. Can you believe Cooper Kupp's ahead of Hopkins? Had I said that last year or the year before, to say Cooper Kupp is better than Hopkins, people thought I would've been crazy. Do you know why? Because well, Cooper Kupp really isn't better than Hopkins. He had one good year, and I told you to draft Cooper Kupp last year at value and avoid Hopkins. Does that make sense? I said, avoid Hopkins, get Cooper Kupp in the fourth round and he was valued.
I'm telling you again, avoid Cooper Kupp now, and get Hopkins for value. Right? When they zig, we zag, right? You got to do the opposite of what the consensus does for the most part. Now, the mainstream consensus rankings are just a guideline, right? But they use it as a religious testament or a tablet for the way things are done throughout the season. When you sign up to a league and you do a draft, that's how all the players are ranked based on the consensus.
So, guys, listen, Hopkins, I think is going to value this year, Christian Kirk was shipped off, and Kyler's got something to prove. This is a big year. I think it'll be a big year for Hopkins, as long as he maintains the 150 to 160 target count. That's what he needs. He needs at least 5 to 10 touchdowns, and he needs those receiving guards up over 1,200, which I definitely think is achievable for the talent that is DeAndre Hopkins.
So, I'm looking for a bounce back and that's easy because he bad year based on injury, and again, everyone is ranking him based on that one bad year, and that's just not how it works, guys. He's talented, he's good, and if I can get him for value, if I could steal this guy in the third round, as my Wide Receiver 1, I could still get a ton of other Wide Receiver 1s later. Michael Pittman's going to fall. Amon-Ra St. Brown's going to fall. There's going to be so much value at wide receiver, I don't really care. I'm going to get Hopkins, and I get Hopkins for a deal, and I get my Wide Receiver 1. I don't have to pay that first-round draft capital for him. That's a steal. I'm looking for a bounceback for DeAndre Hopkins. This is an easy bounce back for me and a good value and a wide receiver sleeper. I understand the finished fourth right in 2020, right? One bad year. He's due for a bounce-back, believe me.
2. Robert Woods
All right. The next guy here, I'm not as excited about him. Simply for the fact that Ryan Tannehill doesn't throw a lot, but the guy I'm talking about is Robert Woods. Now, Robert Woods is definitely due for a bounce back. Now, listen to the value of this; he's currently sitting 37th amongst the wide receiver rankings. This was a guy… Guys, let me just remind you here, this guy was ahead of Cooper Kupp last year in the rankings because that's where the mainstream had him. Robert Woods has ranked ahead of Cooper Kupp. And I said, well, Robert Woods is not that good, give me Cooper Kupp in the third or fourth, right? I'm fading Robert Woods completely, I think he's overrated. I believe Cooper Kupp's the one, if you got 16 rounds, you understand what I'm talking about.
So, Robert Woods, guys, is currently sitting 37th amongst wide receivers. Now, if you guys remember last year at the rankings, Julio Jones and AJ brown were both pretty much in the top 10, I think give or take a couple of rankings. Again, the same thing with Godwin and Evan's story. Same thing with Waddle and Tyreek. And sure enough, both those guys busted. I told you to avoid both. I actually said this. If you're not following my Instagram, go follow Instagram, Fantasy Football Counselor. I told you this, right? I'm fading, both.
And A. J. Brown had no business being in the top 10. And the funny thing is, yet again, A. J. Brown is top 10 on the consensus rankings. Why? I don't know because they're messed up, they're sheep, and they're just trying to save face from last year. And they think AJ Brown is a phenomenal talent. I think A. J. Brown is really good, I just don't think the volume is there for Tannehill to throw him enough passes to make him viable.
Now, here's the thing. Why do I like Robert Woods? Robert Woods is value. That's number one. He's sitting 37th on the [inaudible 00:08:01] on the consensus rankings. Now, I look at Robert Woods, and I look at his points going back to 2020. He had 245 points, which makes him a safe wide receiver, what, two? Maybe. So you look at his targets, 129 targets. He got it done with that amount of targets, six touchdowns, and he had 936 yards. The year before, 1,134 yards, only two touchdowns. So this guy gets it done. His yards after catch are pretty good. He gets it done with his receiving yards, he can catch the ball, he's reliable, and he doesn't need a lot of targets. And listen to this, he had 129 targets. He caught 90 of them, so not bad. That's a good ratio there. I like it.
So, the thing I like about Woods is that he's safe and reliable. He doesn't need a whole lot of targets to get the work done. He'll get you over 1,000 yards on 120 targets. And again, I just think that the value's going to be there. And here's the thing, A. J. Brown has shown sides of injury. If A. J. Brown goes down, Woods kind of steps up as the one, and they're going to be keying in on Derrick Henry a lot. It's going to be a run for his team for sure. So if Robert Woods gets open, he's that kind of guy that can get open, get a lot of receptions, and get the job done. Robert Woods is going to be of immense value.
So, give me Robert Woods for free later, 9, 10, round 8. After round eight, instead of spending a first second-round pick on A. J. Brown, where I think Robert Woods can supersede him this year. So, I'm all over this, and he's definitely going to bounce back after that injury last year. So, I played nine games last year, and that's going to go up. So, Robert Woods definitely due for a bounce-back and an amazing wide receivers sleeper. A safe one for that matter. Ceiling… I don't see a major high ceiling, but I am excited.
3. Saquon Barkley
All right. Number three here. Now I might get a lot of, "Mm, Joe. Yeah, I don't know." But I love him, Saquon Barkley. Now, Saquon Barkley, guys, listen to this. This guy's immense value. And I don't know where he's on the rankings, I think he's like 15th amongst running backs. He is of immense value at the running back position. Saquon Barkley. Here's why I like him, okay? This guy was in a make-or-break season last year, and I take full ownership. I had him as part of my robust RB strategy. Actually, he's currently sitting 20th on the consensus rankings right now. Here's the deal, he's had some bad years. He hasn't played well since 2018, so you're thinking he's done, he's washed up. But if you hear statistically, and if you look at what doctors say, two years removed from an ACL or a major knee injury for that matter. Two years is kind of that healing mark where the player comes back to full force.
Now, I may have jumped the gun last year on Saquon Barkley, telling you to draft him in the first round. And he was top four, top-five running back across the board.  And at the end of the day, it doesn't matter. I had Najee Harris. I had a ton of depth at running back. I was okay and I won the championship.
So again, Saquon Barkley, if I can get this guy in the third or fourth round, he could be the league winner. And I'll tell you why. Last year guys, they kept running Devontae Booker. I think they shipped Devontae Booker. He's gone, right? They wanted to run Booker a lot because they wanted to preserve Barkley. Remember, going into the season, they said they were going to work Barkley in. And as soon as they started realizing they were losing, they weren't going to make the playoffs, they weren't going to do anything, and they started really decreasing the load of Saquon Barkley. And it wasn't because Saquon Barkley sucked, and as an emotional fantasy player, that's what I thought. I thought, okay, well, how can Booker get more volume? But the emotional sidestepped out, and I'm like, okay, let's look at this from a logical perspective, right? Saquon Barkley is the focal point of the offense, he's talented coming off an injury. Booker's obviously not better, we know that.
They, obviously, have O-line issues, which they're going to address in the NFL draft. I guarantee it. By the time of this recording, it's before the NFL draft when I'm recording this. But I'm telling you after the NFL draft, I guarantee you it's going to be an O-line guy with their first overall pick, if not second. Either way, they're going to beef up that O-line. They're going to get an offensive tackle. They're going to work around Saquon Barkley. At the time of this recording, they've decided to keep Barkley, which is good.
So, he is a focal point of that offense. I think the talent is there, and I think the value is there. I think he's going to be the steal of the drafts. I really do. Saquon Barkley is 100% due for a bounce-back this year. This is the year they do it. They improve that O-line, he bounces back, he's fully healthy, and he gets the volume that he deserves. Saquon Barkley is not only going to bounce back, Saquon Barkley could finish as the number one running back in fantasy football this season. Yes, sit down in your seats. You heard to hear first. Yes. Saquon Barkley, yes, could finish as the number one running back in fantasy points in 2022. You heard it here first. I know it sounds crazy, but you don't have to invest a first-round pick on him. Get him for value, I like him, and I'm going back to this one because I was off by one year.
4. Matt Ryan
Number four here. Now, this again is not a popular opinion here, but that's fine because I can get him as my quarterback two on your team for value. This value QB is named Matt Ryan. Now listen, Matt Ryan has been declining the past couple of years, I'm not going to deny it, you can't deny it. It's pretty obvious, but here's the deal with Matt Ryan: better O-line. It is very simple guys, he didn't have time to throw the ball. He was under pressure a lot. This is a guy that needs time in the pocket to throw the ball because that's what he does better than anybody else in the league. He throws more than anybody else pretty much in the league, period.
That's it. He throws the ball. He can't move. He's like a tall giraffe that's very slow-moving. He's just a giraffe. That's it. He's a lanky skinny dude that just spends time in the pocket and throws and can scramble if his life is in danger, but that's it. That's all you've got with him. So, Matt Ryan at the end of the day needs time. He's going to get time to throw. They just need to add a compliment to Michael Pittman at the wide receiver position. He's got the running game. He's got an outlet in Jonathan Taylor. Good O-line. Matt Ryan is going to bounce back. He is 100% is going to bounce back. Currently sitting at 22nd on the consensus rankings, major value, and he can be a QB1.
Heard it here, I'm going to do a bold prediction episode. Bold prediction, guys, Matt Ryan top eight quarterbacks in fantasy football in numbers by the end of the season. I know that's crazy. There's so much talent at quarterback this year from Mahomes to Herbert to Murray to Jackson to Burrow to Prescott to Wilson bounce back to Hurts to Rodgers. But Matt Ryan, if in the group and, there's an and, they line up, they get another wide receiver with Pittman that's good. Matt Ryan has a phenomenal year ahead of him potentially. Throws for over 4,500 yards, 35 touchdowns, only 10 interceptions. Matt Ryan gets it done this year. As a safe Quarterback 2 with massive upside, always as a good backup that could be your starter.
5. Derrick Henry
At number five here, guys, I'm going to wrap this up here, is Derrick Henry. Now, Derrick Henry, guys, it's very simple here for Derrick Henry for me, very simple. This isn't tough math. This isn't overthinking. This guy is a phenomenal talent. We know it. I know it. Now, he is higher on the consensus rankings. I got this guy head of Jonathan Taylor. Jonathan Taylor coming off a pinnacle year, set to regress a little bit. Obviously, Derrick Henry set to incline a little bit. And again, what I love about Derrick Henry, is it's very simple, guys. He played eight games last year, with 219 attempts, 937 yards, and 10 touchdowns. Am I reading this right? I had to look at this again. Okay. 10 touchdowns, 219 attempts.
Now, this is a guy that played eight games. He played eight games, everybody, eight games. And I look at it from an attempt perspective that puts him top 10 in attempts. Okay. Eight games. I just want that to sink in a second, okay? When you look at touchdowns, he was sixth in touchdowns, and I'm going to repeat this again, just so it sinks in. Eight games. Number six in touchdowns, beating Josh Jacobs, beating Nick Chubb, being Leonard Fournette, beating Melvin Gordon, beating James Robinson. Melvin Gordon played 16 games and only had 8 touchdowns. Derek Henry played 8 games and had 10 touchdowns. Josh Jacobs played 15 games and had 9 touchdowns. Leonard Fournette played 14 games and had 8 touchdowns. Okay. David Montgomery played 13 games and had 7 touchdowns. Dalvin Cook had 13 games and had 6 touchdowns. And again, Derrick Henry 8 games, 10 touchdowns.
So, what I'm trying to say here is this. Coming off the injury, he's going to be healthy, he's going to be good to go. The focal point of that offense. They brought in Robert Woods, right? They've got some offensive weapons, Tannehill is finally in the groove, right? He's set with that offense. Henry's going to run the ball. They're looking to make a run this year. This is it. They've only got Henry in his prime pretty much for this last, maybe one, two years, max out of him. Tannehill, they've kind of groomed to kind of be the guy, hopefully. I don't think he's the guy to take them to the promised land, but they've groomed him to be the guy to take them to the promised land. They brought in Robert Woods. A. J. Brown, they're trying to think he's like their franchise ace receiver, which I don't think anyway. I think they've got all the pieces to make a run, but they need Henry to run, and he's going to run this year. Predicated he's healthy, knock on wood.
I love Derrick Henry. He's an amazing centerpiece to any fantasy football offense, and I absolutely love him. I like him first overall. He or Najee, I'm all in on. Okay, then I like Taylor as well. Make sure you implement a solid fantasy football draft strategy when drafting RBs and your entire roster.
All right, guys, those are your bouncebacks. Coming off injuries due for a bounce back. That's pretty obvious. Okay. Hopkins, Woods, Barkley, Ryan, and Henry; are five bounce-back players. Guys, listen to what I'm saying. All right. Get 16 Round Draft Solutions, it's going to help you guys crush your leagues and make sure you guys are subscribed. If this is making sense to you like, "Oh, Joe's making sense today. He's not copying and pasting rankings like everybody else. He's not playing it safe. He's not afraid to take risks. And that's what I got to do to win my league. If this is kind of going through your head, subscribe, thumbs up, and leave a five-star rating review on iTunes. I appreciate it.